FSX MAAM-Sim B-25 Mitchell Update
Type

Patch

Download hits

3,620

Compatibility

Microsoft Flight Simulator X (FSX) including Steam Edition & Prepar3D (P3D)

Filename

bt_fsxu1.zip

File size

5.52 MB

Virus Scan

Scanned 13 days ago (clean)

Access to file

Free (Freeware)

Content Rating

Everyone
MAAM-Sim B-25 Mitchell Update. Allows MAAM-SIM's North American B-25J 'Briefing Time' FS9 aircraft to be used in FSX. If you are not an owner, you can obtain your copy from the MAAM Store. This update primarily addresses changes in the panel and aircraft configuration files and gauges. Thumbnail pictures for the FSX Select Aircraft Menu are included. Future updates will address visual visual and flight dynamic changes. From Mid-Atlantic Air Museum Simulations, MAAM-SIM.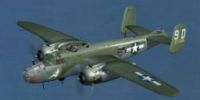 Screenshot of MAAM-Sim B-25 Mitchell.
Unzip the archive r4dFSXup1.zip, then click on "install_doc.htm" and follow the installation instructions for this update. PLEASE READ THESE INSTRUCTIONS OR YOU WILL ALMOST SURELY COME TO GRIEF!
Below is a plain text version of the illustrated instructions in the htm document. If you use the htm doc, you need read no further in this one.
This is a free update to allow owners of the MAAM-SIM B-25J 'BRIEFING TIME' for FS2004 to install and use the FS9 aircraft in Flight Simulator X. If you are not an owner, you can obtain your copy from the Mid-Atlantic Air Museum Store and help a great organization restore some marvelous airplanes in the process.
There have been many changes from FS9 to FSX. This update primarily addresses changes in the panel configurations and gauges, as well as providing thumbnail pictures for the Select Aircraft Menu in FSX. This upgrade will allow you to use the planes in the new sim, but more remains to be done, and there are features that are no longer supported by FSX. As time and other MAAM-SIM projects allow, later MAAM-SIM updates will address further changes in FSX, including visual and flight dynamic changes.
MAAM-SIM AIRCRAFT COVERED IN THIS UPDATE:
MAAM's B-25J 'BRIEFING TIME'IN PRESENT LIVERY
MAAM's B-25J 'BRIEFING TIME'IN BARE-METAL LIVERY
B-25J 'FALCON' GUNSHIP
Includes Full, Medium & Light Models
These MAAM-SIM produced aircraft are the base aircraft for more than 50 repaints by non-MAAM-SIM artists, all of which are available at our FREE STUFF Enhancements Page . Sorry, but you are going to have to re-install any of these repaints you want to port over to FSX, after your B-25J 'Briefing Time' package is safely hangared in FSX. Let's get on with it.
INSTALLATION
Before you can update the MAAM-SIM B-25s for FSX, you must install them. If you are an advanced user, have already done so, and everything seems to be working, more or less, you may skip ahead to step 10. All others, please follow along carefully.
1. Insert your MAAM-SIM B-25J 'BRIEFING TIME' CD into your CD-ROM drive and click on INSTALL TO FS2004. Your interface may look different, depending on what CD Edition you have. No matter which version you have, just execute the installation for FS9/FS2004.
2. Click Next on the first two screens of the installer. You may disregard the instructions on these pages - this time.
3. Check the I agree... button on the next page, then Next.

4. On the following screen of the installer you must change the installation directory to match your FSX directory. By default, this will be: C:\Program Files\ Microsoft Games\ Microsoft Flight Simulator X
4. Click on Next, then Start. Installation will begin.
5. When installation is completed, click Exit. You may remove the CD from your drive and put it away for safe keeping. You never know!

One of the things MS changed in FSX is where the planes are kept. They are no longer to be found in the Aircraft folder within the main FS directory. This is going to goof up a lot of auto-installers, including ours. So much for easy compatibility! So the FS9 installations you have just performed have created an Aircraft folder in FSX and placed your B-25J there.
6. Highlight and copy the folder. In Flight Simulator X, Individual aircraft folders are kept in Flight Simulator X\SimObjects\Airplanes, so this is where you need to move them:
7. Paste the folder you copied from the Aircraft folder into the SimObjects\Airplanes folder. When you are done, you should have something like this, (which includes our DC-3s) plus any other third-party aircraft you already have.
8. Optional: After you have finished this copy and paste (or drag and drop) procedure, you may delete the Aircraft folder and its contents. This will save you 312MB of hard drive space.

9. Finally, it's time to run the FSX update. Just click on b25FSXu1.exe. If you have a non-default FSX installation, remember to change the installation directory when prompted. Answer YES to allow all files to be overwritten. Don't worry, only MAAM-SIM files will be replaced - no alterations will be made to FSX, itself, or to your registry.

10. Optional: If you wish to use the packaged Briefing Time flights, open the FSX\Flights\maambt folder. Copy all 19 files and paste them into your My Documents\Flight Simulator X Files folder.

11. The first time you select one of the MAAM-SIM B-25s you will have to press the Run and Yes buttons on the warning boxes that appear. Unlike the late and unlamented FSSound.dll file, you will only have to do this once, unless you say Don't Run and No!
KNOWN ISSUES
As previously noted, this update is but the first planned toward full FSX compatibility. Rather than further delay the release of our next project, the TBM Avenger, we have take the decision to release this Basic Compatibility Update to address the most vital issues and postpone fixes for other aspects with later patches. We appreciate your patience. Some, but not necessarily all, of the remaining known issues are:
1. FSX does not recognize default Gmax colors on untextured surfaces. These items will appear black or dark gray during daylight and when unlit at night, and light gray or brownish under night lighting. This is a purely cosmetic issue but will take quite a bit of work to rectify.
2. Photo-real (or any other) 2D cockpit views are a thing of the past. MS have, for reasons known only to themselves, eliminated the Fixed Window portion of the panel.cfg that supported them. Instead, when you pan around from the 2D cockpit you will see the appropriate quarter-view of the VC. Gone are the photo-real bombardier's, waist gunner's, and top-turret gunner's views. There is no fix for this. You will still be able to move in the VC to the nose or top turret, however.
3. Some video cards, or some settings, may cause certain glass effects objects to disappear. As an example, I can't see the green eyebrow window or VC gun sight glass in BT, but all the other MAAM-SIM team members can. The cause is unknown.
4. With FSX there have been changes to the flight model parameters, once again. These may be minor and not noticed by most users. We have not made any changes to the air file in this patch and will address these later, if required.
THANKS FOR SUPPORTING THE MID-ATLANTIC AIR MUSEUM.
MAAM-SIM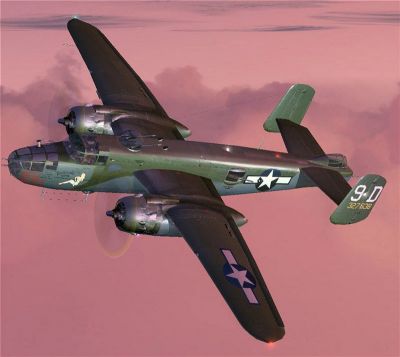 Screenshot of MAAM-Sim B-25 Mitchell in flight.
The archive bt_fsxu1.zip has 27 files and directories contained within it.
File Contents
This list displays the first 500 files in the package. If the package has more, you will need to download it to view them.
| Filename/Directory | File Date | File Size |
| --- | --- | --- |
| BTinstall_doc.htm | 03.28.07 | 13.02 kB |
| bt_bm.jpg | 03.29.07 | 78.17 kB |
| bt_co-panel.jpg | 03.29.07 | 416.54 kB |
| bt_dusk.jpg | 03.29.07 | 86.08 kB |
| bt_falcon.jpg | 03.29.07 | 78.38 kB |
| BT_FSXu1.exe | 03.28.07 | 4.35 MB |
| BT_FSXu1.gif | 03.29.07 | 6.84 kB |
| bt_panel.jpg | 03.29.07 | 161.06 kB |
| bt_vc.jpg | 03.29.07 | 127.50 kB |
| FILE_ID.DIZ | 03.28.07 | 455 B |
| images | 03.28.07 | 0 B |
| BMthumbnail.jpg | 01.06.07 | 6.39 kB |
| bt1.jpg | 02.13.07 | 22.39 kB |
| bt2.jpg | 02.13.07 | 25.10 kB |
| bt3.jpg | 02.13.07 | 15.56 kB |
| bt4.jpg | 02.13.07 | 44.75 kB |
| bt5.jpg | 02.13.07 | 37.98 kB |
| bt6.jpg | 02.13.07 | 32.26 kB |
| bt7.jpg | 02.19.07 | 39.89 kB |
| BTthumbnail.jpg | 01.06.07 | 5.64 kB |
| FGthumbnail.jpg | 01.06.07 | 5.98 kB |
| MAAMSIM3.gif | 01.08.06 | 10.30 kB |
| ml200_lilac.gif | 01.09.07 | 11.95 kB |
| Readme_first.txt | 03.28.07 | 7.11 kB |
| BT_FSXu1 | 03.29.07 | 0 B |
| flyawaysimulation.txt | 10.29.13 | 959 B |
| Go to Fly Away Simulation.url | 01.22.16 | 52 B |
Installation of Add-on Aircraft/Scenery
Most of the freeware add-on aircraft and scenery packages in our file library come with easy installation instructions which you can read above in the file description. For further installation help, please see our Knowledge Center for our full range of tutorials or view the README file contained within the download.