Every year, the simulation community manages to create new and improved aircraft and scenery for many locations around the virtual globe. From top quality designs that perfectly portrays some of the most important airports in the world, to lesser-known aircraft that you may never have heard of, many mods exist.
However, with so many options out there on the market, it can be increasingly easy to lose track of some of the most popular releases.
This article specifically focuses on freeware - created by developers who work on these projects in their spare time for fun, not profit.
We have updated this article with new additions for 2023. We will add to these sections throughout the year - visit regularly to see the latest updates.
You can jump to the separate sections using the links below as this article is quite lengthy:
Amidst the development of the likes of X-Plane 11, many simulation fans may have missed out on some classic Microsoft Flight Simulator X: Steam Edition releases. If you still use this classic simulator (as many of us still do), you may wish to look at some of the files below. They make up some of the most impressive releases that have come to light in recent times for this classic simulator package for PC.
All of the files featured here work with both the Steam Edition and boxed versions of FSX.
Aircraft
Some of the best releases tend to be aircraft. After all, realistic and authentic aircraft are part of the reason someone would use a flight simulator in the first place; so let's take a look at some of the aircraft we've introduced to simulation fans.
Each aircraft is noted because it's gained a reputation for delivering top quality realism and impressive attention to detail. If you would like to make your flight simulation experience a touch more dynamic, we recommend that you take a look at the following aircraft mods that fall into our Top 10.
Airbus A380 Mega Pack
New for 2019
We have countless Airbus A380 packages in the file library which our users have enjoyed over the years but this latest release really sets the bar for one of the finest we have ever listed, worthy of a place in this article. Some may even mistake it for payware.
This "mega pack" add-on for FSX brings the Airbus A380 to your virtual flights. It even works with Prepar3D - including the latest v4 and 5 (P3Dv4/v5).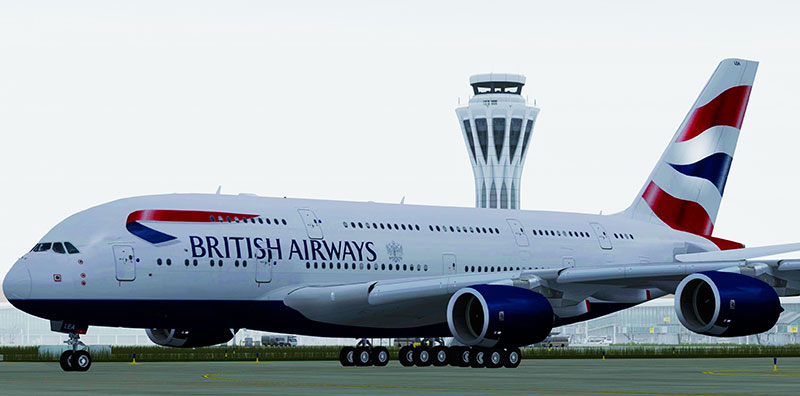 The aircraft has a fully working 3D virtual cockpit (VC), a functional FMC (flight management computer), and a true-to-life Rolls Royce custom sound pack included.
Featuring a fully working VC (virtual cockpit) and an advanced base model developed by Project Airbus along with custom sounds (RR engine sounds) and 12 repaints - this is a complete package.
Repaints and liveries included; Lufthansa, China Southern, ANA 'Fly A380 to Honolulu', Emirates Expo 2020, HiFly 'Coral Reefs Protection', Korean Air, Emirates 'United for Wildlife', British Airways, Emirates, Qatar Airways, Singapore Airlines, Asiana Airlines, Etihad. All of the airlines are true-to-life and actually run the A380 in their fleet.
Finally, also included (and worth mentioning) is a fully working FMC which we know users will be pleased about. Final note: the virtual cockpit is based on a modified version of an A320 as no freeware A380 VC currently exists. But it serves its purpose.
This is a package that has been sourced from works by various freeware developers and combined into a single release.
File Size: ~2.18 GB
View/download the file over here.
Concorde Mega Pack
New for 2022
With a virtual cockpit, afterburner, smoke effects, and a legendary profile that says "I am the king of the skies," the Concorde is unlike any other aircraft in the FSX pantheon. Originally modeled after the Air France model from FS2004, it was later upgraded and released for FSX.
This latest update brings this legendary aircraft to your copy of both FSX and Prepar3D both P3Dv4 and P3Dv4 (64-bit compatible).
This mod is the most popular file in our library and has a rating of 5/5 stars by our PRO members.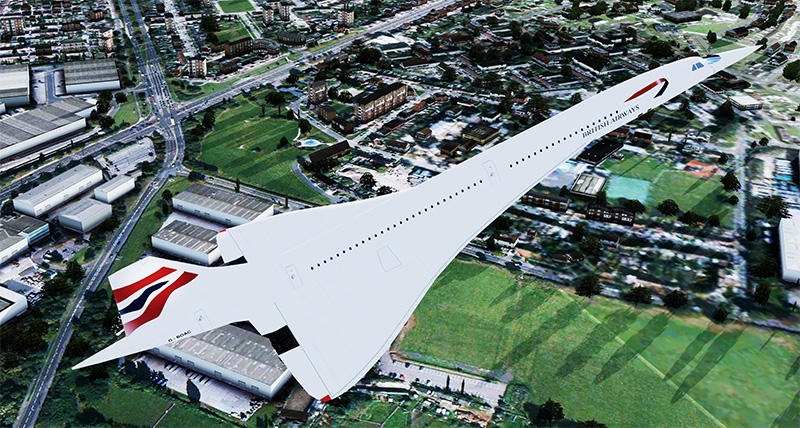 The Concorde was a joint effort between British Air and France's Aérospatiale. It began commercial flights in 1976 and continued until 2003. The first supersonic jet airliner, the Concorde was able to shuttle passengers across the Atlantic in half the time.
This is a fantastically realistic package that will give you all the help that you need in settling down into the incredibly fun virtual Concorde cockpit.
The add-on comes with 18 paint/livery schemes: Air France (F-BVFA), British Airways (G-BOAC), Air Canada, Air India, Alitalia, American Airlines, Braniff, CCAA, Continental, Iran Air, Japan Airlines, Lufthansa, MEA, Olympic, Panair, Qantas, TWA and United Airlines.
The flight characteristics are like the real plane itself—powerful but touchy. It takes some getting used to, but any chance to fly an iconic plane like the Concorde is a treat.
File Size: ~568 MB
Boeing 787 Dreamliner Mega Pack
New for 2020
The Boeing 787 Dreamliner is actually one of the most requested aircraft on the site and just listed in our downloads library is a fully-featured FSX and Prepar3D v4/v5 compatible version which consists of a compilation of mods and repaints bundled into one package.
The Boeing 787 Dreamliner won the hearts of thousands of aviation enthusiasts during its development and release. Originally dubbed the 7E7, it has become famous within the aviation industry and even with holidaymakers knowing it as the "Dreamliner" as it has been promoted in advertising campaigns.
The package includes three different models/varients including the 787-8, 787-9, and 787-10 along with 56 repaints compatible with the models of real-world aircraft that have adopted this next-gen Boeing aircraft. Although, a couple of the repaints are fictional such as the Air Force One repaint.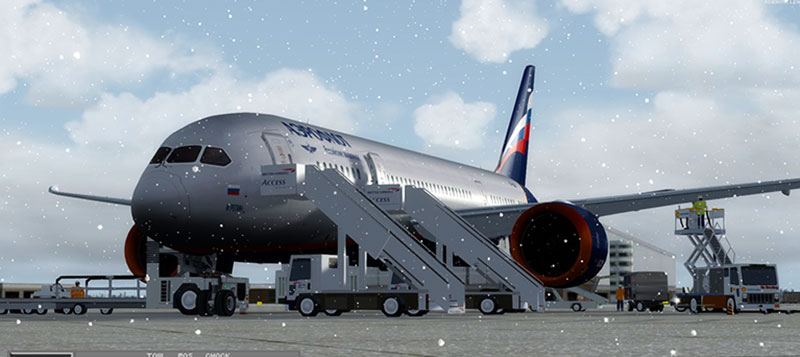 Some of the repaints include; Aeroflot, Air Canada, British Airways, TUI, Japan Airlines, Air China, United Airlines, Air France and many more - there are 56 airlines in total.
It's quite a large package at ~4 GB but includes an abundance of virtual flight opportunities.
The package featured a custom sound pack, fully functional VC (virtual cockpit), advanced animations compatible with the latest versions of the sim, GPWS along with checklists, manuals, and documentation.
Also included is a fully working virtual cockpit (VC) which we notice that most of our users are requesting (it is 2020 after all!).
Along with a VC and many models, all liveries included (56 of them) are based on real-world airlines. Finally, also included with the pack are full documentation, GPWS systems, and an FMC.
The package was originally compiled by Chris Evans from work by TDS, FSND, and many repaint developers.
File Size: ~4.16 GB
View/download the file over here.
Boeing 727-100/200/ADV Mega Pack
New for 2020
Quite possibly the most complete (freeware) Boeing 727 pack for FSX and Prepar3D is this one we have featured in our file library here. Containing three different models including the 727-100, 727-200, and 727-200 Advanced along with 25 liveries and repaints (even including cargo airlines).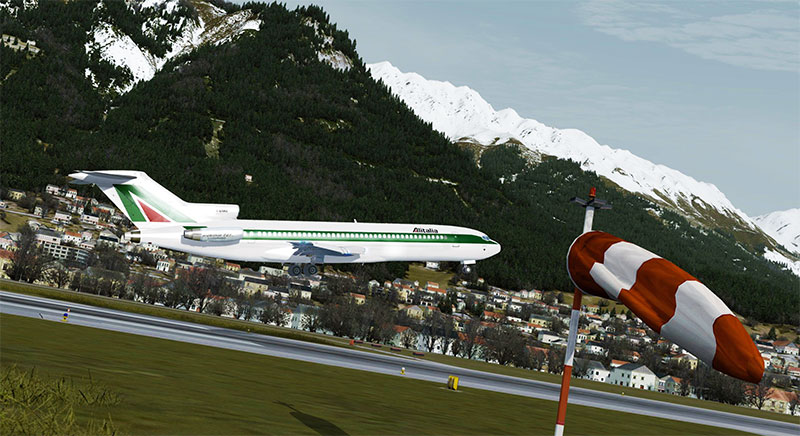 Everything has been included including a custom sound pack, three different 727 models (100, 200, 200 ADV) along with over 25 liveries based on real-world passenger and cargo airlines. Oh, and a fully functional 3D VC (virtual cockpit) is also included. The original model was developed by the well-known Thomas Ruth with the repaints from various freeware hobbyists/developers.
Along with all mentioned above, also included is a full flight manual for the aircraft with recommended settings, checklists, and procedures.
This model works in all versions of FSX (including Steam Edition) and all versions of Prepar3D including the latest v5.
File Size: ~522 MB
View/download the file over here.
Boeing 747-400F Cargo/Freighter Mega Pack
New for 2020
This is a huge mega pack containing a complete Boeing 747-400F model along with over 32 repaints and liveries based on real-world cargo aircraft. A complete in-house Fly Away Simulation development based on the original POSKY 747-400F model.
All of the repaints were meticulously handcrafted based on real-world cargo operations.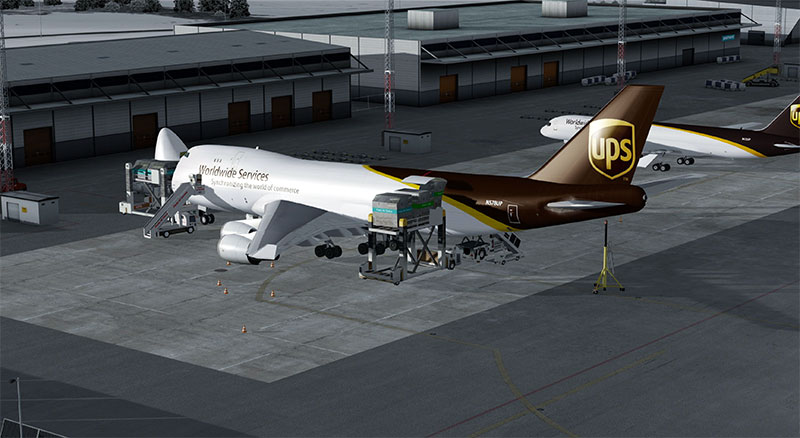 The model is based on the original POSKY model from many years ago however has been modified based on user feedback. Users report the aircraft is unusually hard to turn on taxiways and on the ground. We have tweaked the model and aircraft.cfg to hopefully make it lighter and easier to turn and move on taxiways.
Some of the big cargo names included are; Air China, Atlas Air, British Airways World Cargo, Cargolux, KLM, Nippon Cargo Airlines, TNT, UPS Worldwide Services, Emirates Sky Cargo, and many more.
The model features a brand-new fully functional 3D VC (virtual cockpit) that could even satisfy VR setups. Most of the buttons, switches, and animations are fully functional in the VC. Also, the color of the cockpit is grey as opposed to the 747 default of cream/yellow.
Fully compatible with, of course, FSX and also P3Dv4 and P3Dv5. The video above was produced in v5.
File Size: ~513 MB
View/download the file over here.
Lockheed P-3C Orion Mega Pack
Another "mega pack" featuring the Lockheed P-3C Orion based on the model by Team FS KBT. The P-3C Orion is a well known military surveillance and anti-submarine military aircraft that really has stood the test of time - originally released for service in 1959 and still in use today by some units.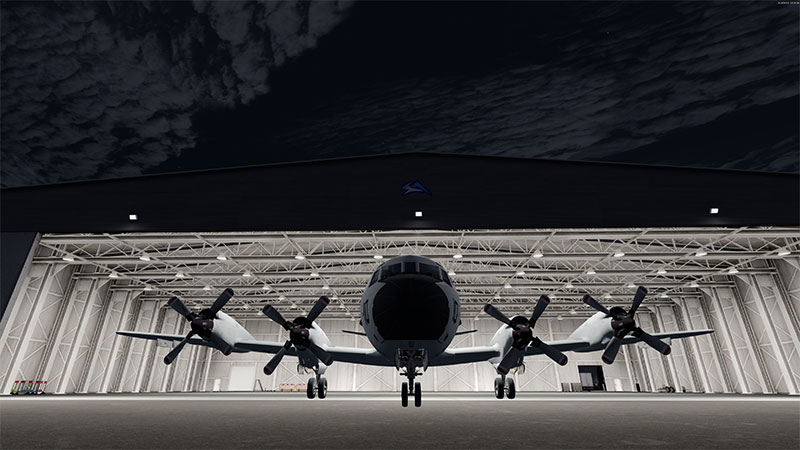 The original base model features full DX10 compatibility and is a native FSX model which means it will also work in P3Dv4 and P3Dv5. No FS2004 port-overs or conversions.
Included is a full 3D VC along with a 2D panel for users who prefer to fly with this setup.
We have also thrown in over 11 repaints and liveries based on real-world missions and configurations the P-3C ha been used in over the years - examples include; Armada Argentina 6-P-55, RNZAF, Forca Aerea Portugues 601 Sqn, Pakistan Navy, German Navy P-3C Orion MFG 3 50th Anniversary and US Navy P-3A VX-1 JA2.
Installation is easy (drag/drop) and full details are provided in the ZIP file for ease of installation.
File Size: ~215 MB
View/download the file over here.
de Havilland Venom & Sea Venom Complete Pack
The de Havilland Venom is a post-WWII British built aircraft with its maiden flight in 1949. The aircraft is quite a niche request in the flight sim world but the developer Robert Richardson has created an amazing model for both FSX & P3D that features everything you can expect from a freeware release and to be honest, I would say it's as good as payware quality. You can have fun with a piece of aviation history.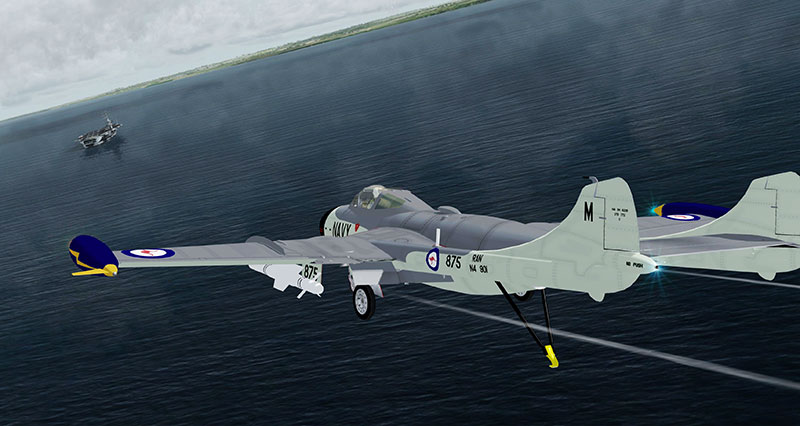 The model and pack feature three different models including; Sea Venom, FB 4, FB 1 along with over 10 repaints depicting the aircraft in its real-life liveries (as it would have served around the world) including repairs for Royal New Zealand Air Force, the RAF, and Royal Australian Navy.
Also included with this "complete pack" are lots of advanced animations along with a fully functional and complete 3D Virtual Cockpit (VC). Many users of these next-gen sims only seem to want to fly with aircraft that have a 3D VC and this has one. I am more used to 2D panels - but I guess that shows my age!
It's a fun aircraft to fly and perfect for carrier-ops - an aircraft carrier is a home to this bird and we have a great freeware carrier available here.
File Size: ~195 MB
View/download the file over here.
Douglas C-47 Skytrain/DC-3
As the latest take on the ever-popular Douglas C-46 SkyTrain, Version 3 offers a whole new host of impressive changes. Adding much-improved realism to the cockpit with a whole new sound suite alongside impressive crew communication systems, this is a fine choice for pilots who enjoy an extra touch of immersion.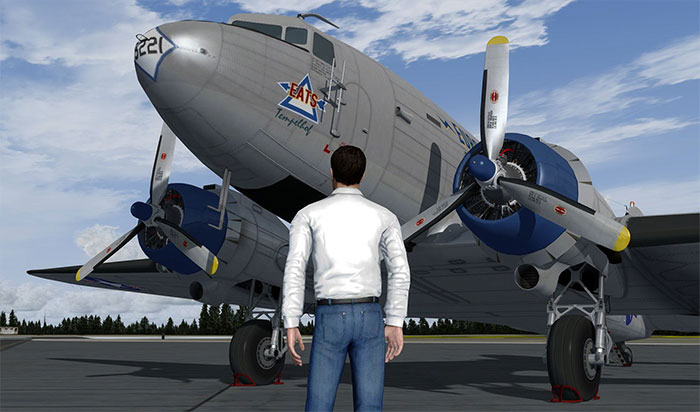 This impressive development should make it easy for you to utilize an audible checklist, too, further improving your ability to control this impressive piece of kit. From the authentic and impressive model to the realism of the interior, this is a very close take on the SkyTrain overall.
This classic by Jan Visser is constantly seeing new developments and versions, too, making it a popular choice for those who love flying the "Sky Train".
This is fully compatible with all FSX versions and all P3D versions (even v5).
File Size: ~560 MB
View/download the file over here.
Piaggio P.180 Avanti Mega Pack
New for 2020
Originally developed quite a few years ago by Mario Noriega for FSX, with some tweaks this is now also compatible with Prepar3D v4 (and what a beauty it is).
The Piaggio P.180 (real-life version) is manufactured by the Italian company Piaggio. It's a one-of-a-kind aircraft and has a strange configuration with a stabilizer at the front of the aircraft by the nose. It's also has a very strange humming sound if you've ever heard one fly in real life.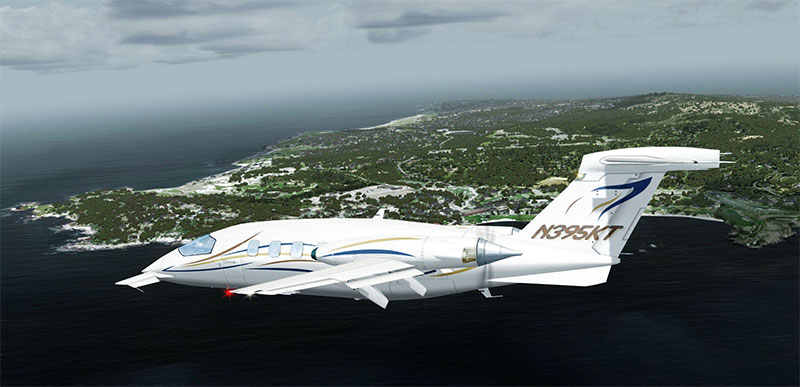 This model features a full passenger cabin area, custom sound pack and a fully animated and working virtual cockpit (VC).
Also included with this "mega pack" are over 30 stunning HD repaints based on real-world versions of the P.180. Even the aircraft that regularly flies into my local planespotting airport (London City) is included!
File Size: ~250 MB
View/download the file over here.
Boeing-Stearman Model 75
New for 2021
New for the year 2021 in the Fly Away Simulation add-on library is this stunner of a pack featuring the Boeing-Stearman model 75.
Compatible with both FSX (all versions) and Prepar3D (all versions including P3Dv4 and P3Dv5) - this model originally developed by Dave Eckert and Ed Akridge brings this legendary bi-plane to your virtual aircraft hangar.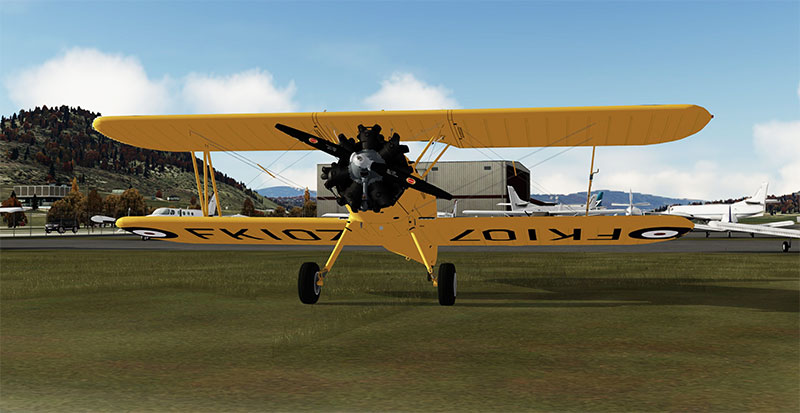 When you think of a bi-plane you automatically imagine the Stearman (although you may not know the name).  It's one of the most iconic and famous bi-planes to exist.
Designed and released in the 1930s and providing active military service until the 1960s - this aircraft has served some years.  Many still exist (in private hands) and fly even to this day.
The model features a fully working and functional 3D VC (virtual cockpit) along with many other features and perks to go along with it. 
Over 8 repaints are included as standard featuring both military and civilian paints with plans to add many more to the "mega pack" - so bookmark the download page to stay up to date with the latest liveries released for this pack.
File Size: ~106 MB
View/download the file over here.
De Havilland DH82a Tiger Moth
The De Havilland DH82a Tiger Moth is a classic, iconic aircraft from the roots of aviation as we know it. Designed and built by UK company de Havilland in the 1930s, this aircraft is very well known by all aviation enthusiasts who know their early stuff. The "Moth" is a bi-plane aircraft that features two wings instead of one and is likely iconic and well-known because of that.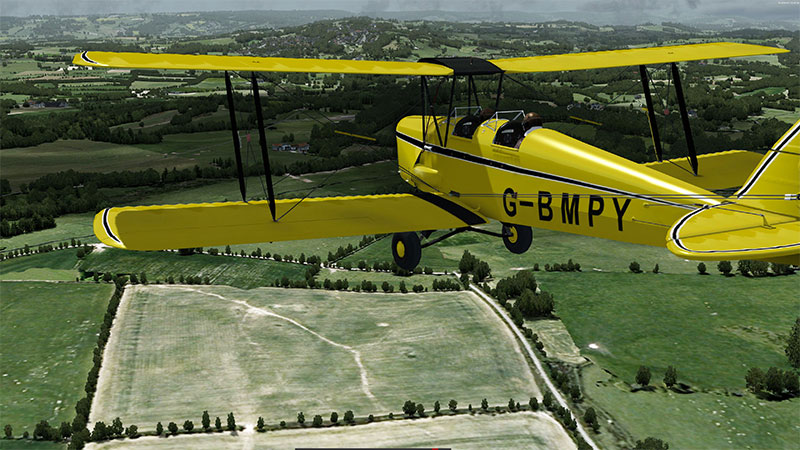 This base model developed by Anthony Lynch has been designed as FSX SP2 native - which is also compatible with all versions of P3D. The model features a working VC with custom "smooth" gauges to make flight even more realistic.
Also featured are many more perks of a period aircraft such as wheel chocks, pitot cover, and tie-downs.
The pack includes over 20 repaints and liveries for the model (exclusive to Fly Away Simulation) in a single pack. All of the repaints are based on real-world representations of the aircraft used over the years.
Watch the video above, it makes an interesting watch, and (in our opinion) this release is truly sensational. It really brings the "Moth" to life in both FSX and P3D.
File Size: ~422 MB
View/download the file over here.
Boeing/BAe T-45C Goshawk
New for 2020
Another from Dino Cattaneo - he creates such great military aircraft that we have featured two of his models! The Goshawk is a modified version of the original BAE Hawk that you may have already heard of. Its first flight was in 1988 so this aircraft is a little gray around the whiskers, although they were retrofitted with some modern cons and features.
This model works with all versions of FSX and all versions of Prepar3D including v4.
Dino has created this aircraft to great detail and includes some really nice bump-mapped textures with the package. She flies quite nicely, is easy to control but at the same time very realistic. The version I'm linking to here is the second draft (v2.10) and is a complete remake of the original version one.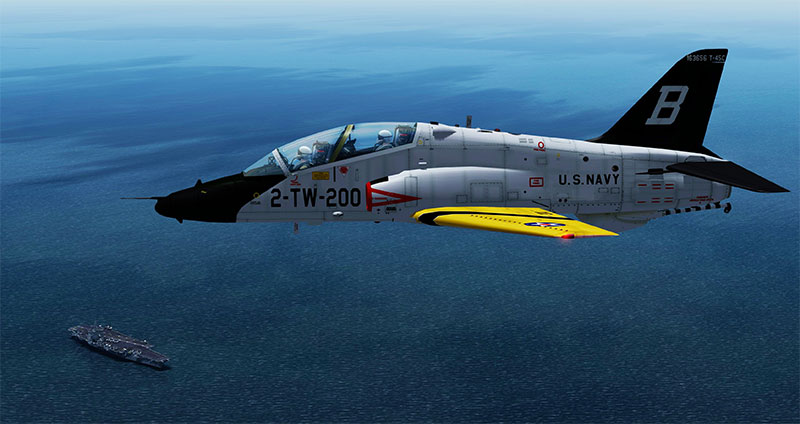 At one stage owned by McDonnell Douglas, the Boeing T-45 Goshawk received a huge amount of praise when it first came on the market; and the reasons why are fairly obvious once you get to see it in action. A massively modified of the BAE Hawk land-based aircraft; this added a whole new army of features to help improve the firepower and flight capacity of the aircraft. First released in 1988, the aircraft is still in service as of today; it's used as a trainer that allows people.
This new version includes a brand new visual model, a fully functional virtual cockpit, and new high definition textures for FSX. Also included is a HUD (Heads-up-display) system created by Jivko Rusev and Scott Printz. He didn't mention how many livery designs came with the download, however, I can see there are about three (although there could be more). At over 128MB in size, it's quite a large download but the bulk of that size goes to the higher definition textures.
This aircraft is fun to fly with aircraft carriers (which you can download here) and is very good at STOL (short take-off/landing). It's one of the better Goshawk packages out there - and certainly the best freeware available.
File Size: ~176 MB
View/download the file over here.
Grumman F-14D Tomcat Mega Pack
New for 2020
Another from Dino Cattaneo is his fully-featured F-14D Tomcat package for both FSX (all versions) and Prepar3D (all versions including v4).
Quite possibly the best Tomcat package available (for freeware) and the most highly detailed.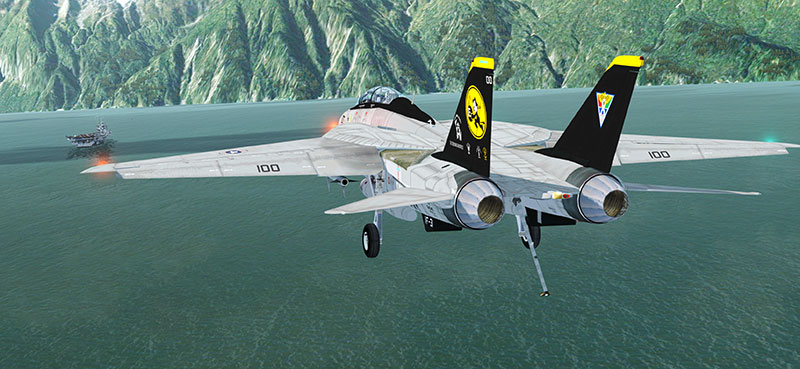 This package brings the entire F-14 model along with over 10 real repaints/liveries to your flight simulator. Included is a full flight manual of over 150 pages (PDF).
The model features a new visual model, with self-shadowing, bump mapping and photoreal hi-res textures, working virtual dynamic cockpit, 3D gauges, and a completely new flight model.
File Size: ~442 MB
Boeing B-50 Superfortress
The Boeing B-50 is a very impressive aircraft that, for its time, was among the best in its class. While today it feels awfully aged, simulation fans who like a throwback might enjoy picking up this particular take on a popular model.
This stunning pack brings the Superfortress to life and includes 5 different repaints and models.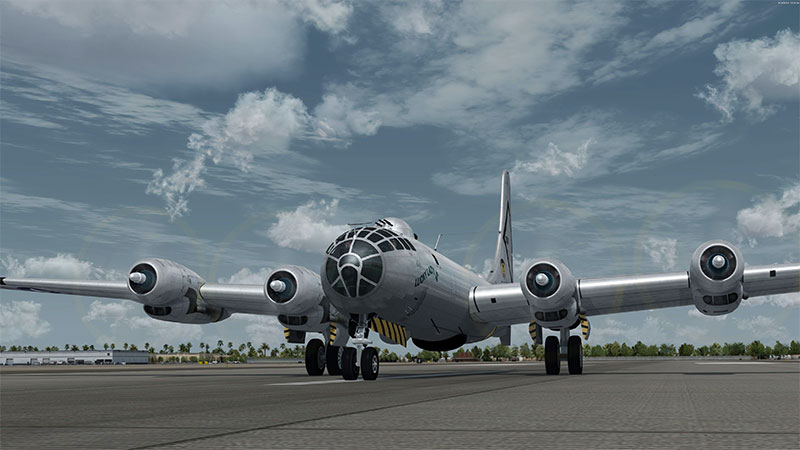 Also included is a custom sound pack based on the real-world engines.
Included repaints and models; B-50 Ridgeway, B-50D City of Ridgeway (DLR), RB-50G Project Haystack (DLR), B-50A Lucky Lady II, WB-50D 90285 (DLR).
The model features many 3D animations and operating parts including bomb bay doors, cargo, and loading doors/ramps along with a stunning 3D VC (virtual cockpit).
File Size: ~300 MB
View/download the file over here.
Delta Airlines Boeing 737-900ER
New for 2019
Added to the aircraft section for this article for 2019 is the stunning 737-900ER by Tenkuu Developers Studio (TDS). This model is one of the finest we have seen for a while which is why we have featured it here. It has received a complete 5 out of 5-star rating from our PRO members. At just over 24 MB it's also an easy one to download.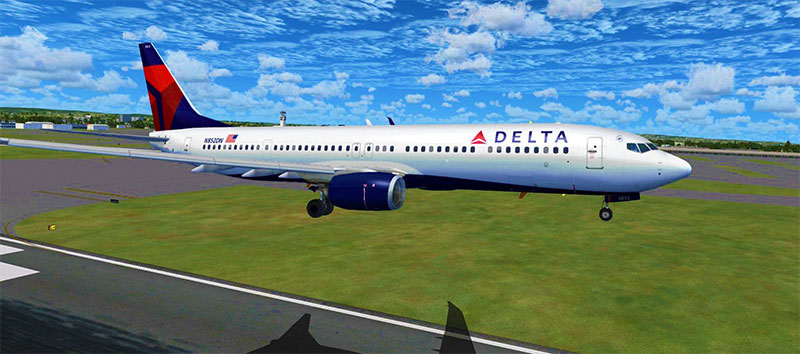 The aircraft model has been developed by the team at TDS including developers such as Hiroshi Igami, Nick Wilkinson, Kyle Scherb, and many other big names in the freeware developer industry.
The model developed for FSX (and even works in P3D) has a host of features including hi-def textures so you won't have any pixelation on the actual paint when loaded in the sim. It has many 3D perks including animated nose wheels, rudder lock, spoilers for use on the ground. It also has a fully working 3D virtual cockpit (VC) that many users favor these days. I am used to 2D panels and prefer them myself but I have noticed a shift and people now only seem to use 3D VC's.
The model also has opening ground doors, fully animated rolling wheels along with night lighting (full), and ground service vehicles such as baggage and fuel.
We have created a featured video and loads of screenshots that you can check out on the file library page before you decide on downloading.
File Size: ~24 MB
View/download the file over here.
Honda HA-420 HondaJet
I couldn't finish the jet section without mentioning something more exotic. The HondaJet by Mitsuya Hamaguchi is a Honda HA-420 HondaJet aircraft model just for FSX. The HondaJet is produced in Japan by Honda, which I'm sure you may have heard of because of their cars. They actually manufacture aircraft too (among other things).
Its first flight was in 2003 and commercial production began in 2006, making it one of the newest and most modern private jets available. The modeling by Mitsuya has been done to very high detail and you can really notice it when looking at the aircraft externally.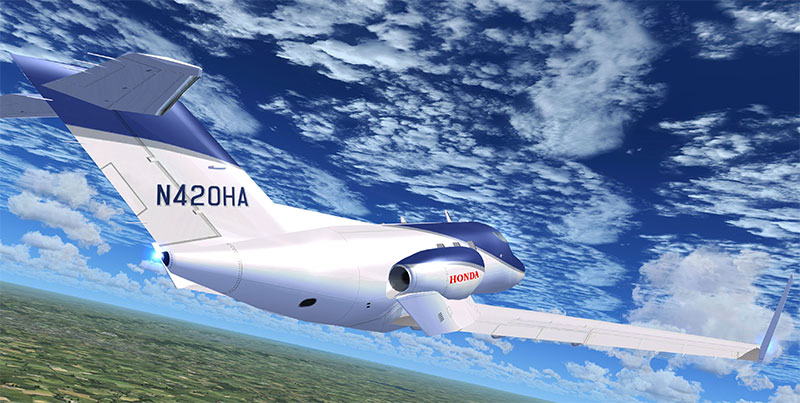 As you might imagine with an aircraft of this sheer caliber and class, the attention to detail is almost second to one; as the first-ever released by the Honda Aircraft Company, this device found it easy to break into the market and capture the attention of people due to its sleek design. It's expected to receive full FAA certification in 2015 but until then you'll be able to make use of the innovative changes and features that have been brought in by Honda since the project was first announced back in the late 1980s when they studied aviation deeply.
While the file size is not that large, you really wouldn't notice it from looking at the aircraft. In fact, when choosing what to download I'm the type that usually goes on file size - expecting larger to be better... this isn't always the case and this aircraft is a demonstration as to why.
While not much documentation comes with the file, it has many features including animated steps up to the aircraft, a female co-pilot in the cockpit, and a fully animated virtual cockpit.
The paint scheme is Honda's original factory colors which are white and blue with "Honda" in red painted on the engines. Honda actually manufactures their own engines too for this aircraft, which is very rare as you usually see external manufacturers create the engines for aircraft. You'll enjoy this one...
File Size: ~18 MB
View/download the file over here.
Boeing 727-200 Full Pack (153 Liveries)
This add-on was originally created for Microsoft Flight Simulator 2004 but has been ported to FSX. It was well known in the FS2004 days as quite possibly the best free 727 package available and many of the reviews, comments, and ratings reflect that.
The port to FSX was made possible by David Grindele who converted certain aspects of the package such as the aircraft.cfg file, the engine smoke, and navigation lights to work correctly (and more realistically) in Flight Simulator X.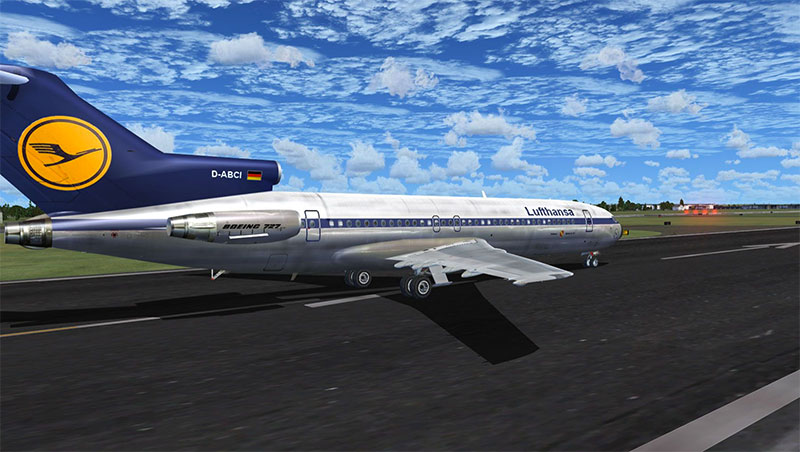 The 727-200 was a reshaped and reformed version of the 100, with more than 20 feet of length added on for good measure. Also, an extra ten-foot fuselage section was brought in to go in front of the wings, as well as the same again behind them.
The aircraft itself had a five-year lifespan before the 727-200 Advanced came along in 1972. However, more than 300 of these aircraft were created and have since become hugely popular among flight collectors and simulation fans all over.
This file includes some great features including wing views, engine smoke, and full compatibility with Shockwave's 3D landing lights enhancement.
The file is a whopper at over 600 MB as it includes 153 full liveries with hundreds of airline paint schemes all in one package.
File Size: ~604 MB
View/download the file over here.
iFly Boeing 747-400 Package
Quite possibly the most realistic and fully functional free 747-400 package is this one from the developers at iFly. If you're a more serious simmer with attention to detail then you won't be disappointed by this one.
Featuring a fully functional FMC (Flight Management Computer), TCAS System, and Audio/visual TA/RA system - it's the best you're going to get without paying a premium. Sometimes it's hard to believe this one isn't payware and with many strong reviews and ratings, the community seems to love this aircraft.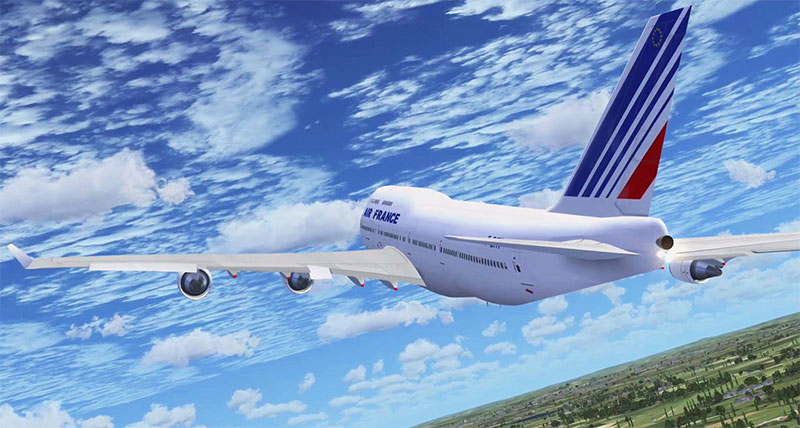 The 400 editions have moved forward with the times more and include a far more efficient to fly and equally safe to use aircraft. The wingtip extensions were also included to give this model something a bit more unique aesthetically – however, it also comes with a glass cockpit that can easily fit two crews.
The picture above does not do this file justice, you have to check out the download page for all the screenshots and details.
This package from iFly includes seven paint schemes: iFly livery, Air France, Northwest, Lufthansa, Air China, China Airlines (Boeing), and Cathay Pacific.
Also included are 3D cabin models so you can explore the plane while in flight as if you were a passenger on the aircraft.
A virtual 3D cockpit is also included and it fully functions with features such as working switches and displays (yes, in virtual cockpit mode!). Before you buy the PMDG 747, check this one from iFly first.
File Size: ~51 MB
View/download the file over here.
Canadair CL-215
While the Canadair CL-215 is a much larger aircraft, I thought I'd add it to this section as I wanted to share it with you. You may already have seen it before on TV or in real life delivering water to forest fires or any other types of fire.
It's known as the "waterbomber". Its first flight was in the '60s and is still in service to this very day, putting out fires worldwide. Production went all the way up to the '90s and over 125 were built.
The Canadair CL-215 is also well known for "scooping" up oil spills at sea and has been given the nickname, "super-scooper".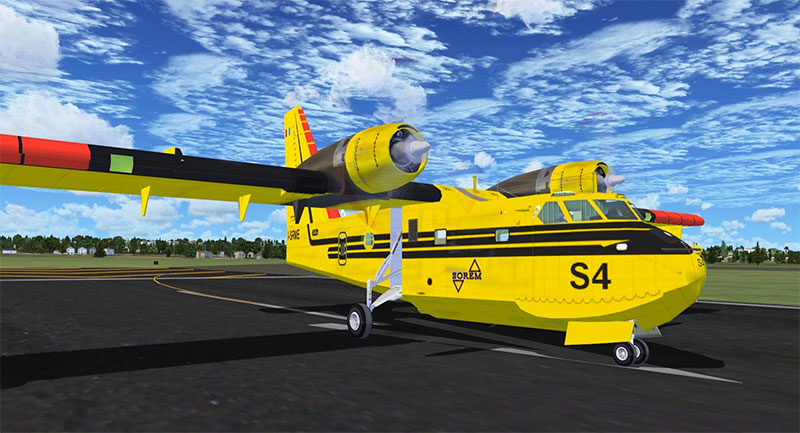 Flying this aircraft is a great blast (excuse the pun) - you can simulate forest fires or oil spills and respond with your very own model of the Canadair CL-215. In fact, there are complimenting missions to add alongside this aircraft to make it more realistic and meaningful.
The 3D modeling is of a very high standard and many developers have got together to create this beauty, which is why I haven't assigned it to one individual.
The aircraft includes a 3D virtual cockpit and standard 2D panel too - so you can have the best of both. The aircraft is amphibious so you can land it on a runway when needed and also make a sea landing too (to pick up water supplies).
File Size: ~22 MB
View/download the file over here.
Cessna Citation 500
This Citation 500 created purely for FSX (not backward compatible) by Alejandro Lucena is one of the best free native models available. In fact, it's one of the most popular private jet aircraft we have in our library.
With support for DirectX 10, you can really get some eye candy going on with this add-on. The model was created in Gmax - which enables the developer to give much attention to detail - and that shows for sure.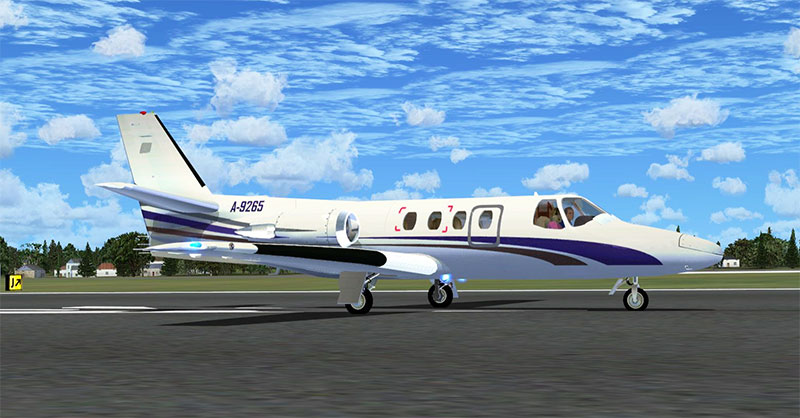 As a truly epic aircraft that received a huge amount of acclaim when it first hit the markets in the late 1960s, the Cessna Citation has long been a really important member of the business jet lineage.
The flight dynamics of this model (how it flies in the sky) were created by Brett Henderson who actually pilots a real-life Citation 500. He was very particular and you can expect very realistic flight dynamics for ultimate realism when flying.
Like many of the other "best of" aircraft featured above, this one features a fully functional and interactive virtual cockpit (for those who prefer that to a 2D panel system).
The aircraft also has many dynamic moving parts and special animations including a front cargo and passenger door.
There are a few livery styles chucked in with this file, however, none of them are commercial names you may have heard of - in fact they are all default private livery styles - but hey, you're flying a private jet... right?
File Size: ~62 MB
View/download the file over here.
Edgley Optica
Updated for 2021
A strange one to begin with, as it's a very unusual aircraft. Originally designed and created to provide a low-cost alternative to buying a helicopter, the Edgley Optica is British built. Its first flight was in 1979.
The design of the aircraft is very strange with a cockpit area that almost looks like a helicopter cabin strapped to a pair of wings. It provided great views while in flight with almost 360-degree visibility. You could also look directly down from the cockpit - just as you can in most helicopters.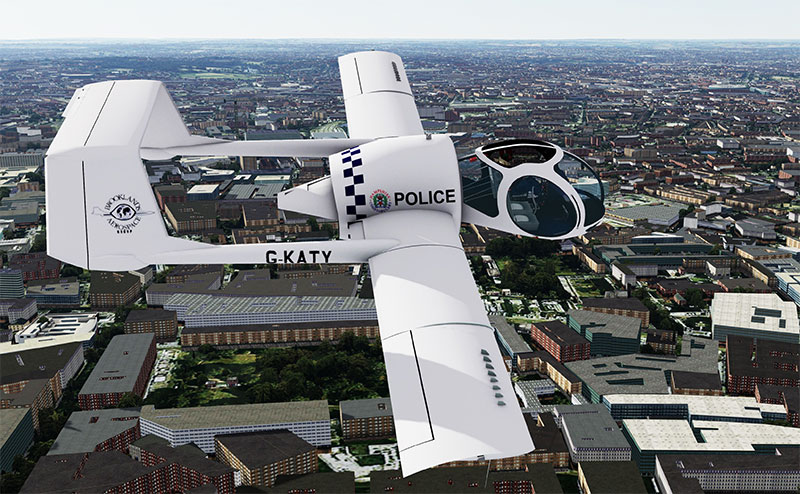 The prospect of a hybrid between both had never really been looked into until now, and it posted a very interesting question with regards to the design and quality of the aircraft itself – with just 21 built, this still managed to beat expectations and helped to pave the way for more aircraft.
The virtual model created by Craig Richardson has been recreated to a very high standard. The 3D modeling is superb and there are no jagged or sharp edges to the model or any of the textures for that matter, and if you have high anti-aliasing settings turned on, you can be prepared for a very smooth aircraft.
Included are 5 different paint schemes to choose from, with one being a "Police" livery for a UK police department, "G-BOPO" as pictured above.
The cockpit is fully animated with 3D gauges and "baked" textures. Also included are 3D pilots.
File Size: ~178 MB
View/download the file over here.
Cessna 56X With VC
The Cessna 56X is a popular aircraft, though one that many people might not have had much chance of flying due to its age. This take on the aircraft by Alex Sandro Guedes Silva will allow fans of the Cessna 56X to try it out in FSX: Steam Edition without any issues.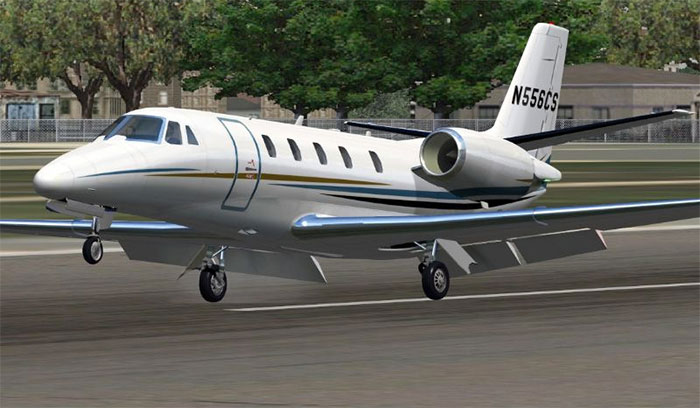 Easy to install and simple to get up into the air, this offers a very impressive take on what is a rather complex aircraft model. A great choice for anyone who would like to see just why this aircraft is so popular with veterans and newcomers alike.
High-quality 32-bit painted textures look great, while everything from the flight dynamics to the limitations of the aircraft in the cockpit is all based on its authentic counterpart.
File Size: ~177 MB
View/download the file over here.
TDS Air France Boeing 787-9 F-HRBA
This awesome rendition of the popular Boeing 787-9 F-HRBA is a great choice for anyone looking for reliable consistency and quality in both visuals and performance. The outcome of four members of TDS who helped to develop a fair reflection of this Air France equivalent, this is a fine addition for those who enjoy roleplaying, taking on various routes that pilots would take on in real life.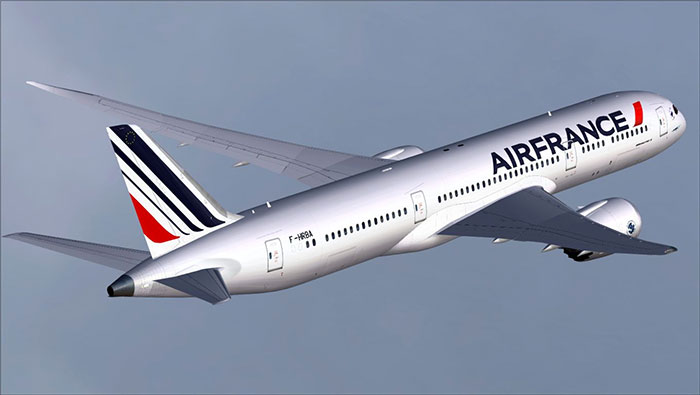 It's a fine choice for anyone who appreciates a touch of variety in their aviation and should make your Air France flights feel a whole lot more enjoyable than beforehand. A challenging aircraft to fly, this makes a great choice for those who would like more of a challenge in their day-to-day aviation experience. This certainly provides that.
File Size: ~20 MB
Aero Commander AC680S
The Aero Commander AC680S is a very impressive and powerful piece of kit. With three models included in this download, you can get to try out an interesting little piece of aircraft that tends to generally differ from what you might be used to.
Easy to install and with a vintage feel to it, this might pose a challenge for pilots who are used to flying something a little bit more simplistic in shape and style.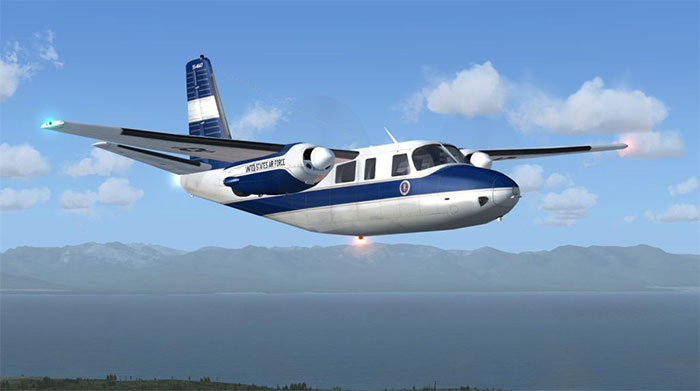 Two custom panels and era-specific gauges help you to find the age of Aero Commander that you feel comfortable flying around in. While a dated aircraft, this should pose a fine choice for anyone who appreciates an aircraft with a more dated feel.
File Size: ~48 MB
Space Shuttle Atlantis
Tired of earth-bound flight? The NASA Space Shuttle add-on takes you miles above the earth. It has been altered so that it can take off like other aircraft from airports and even aircraft carriers. The reverse thrusters and slats give it very good handling. If you are simply interested in speed, the Space Shuttle will max out FSX's speed limitations.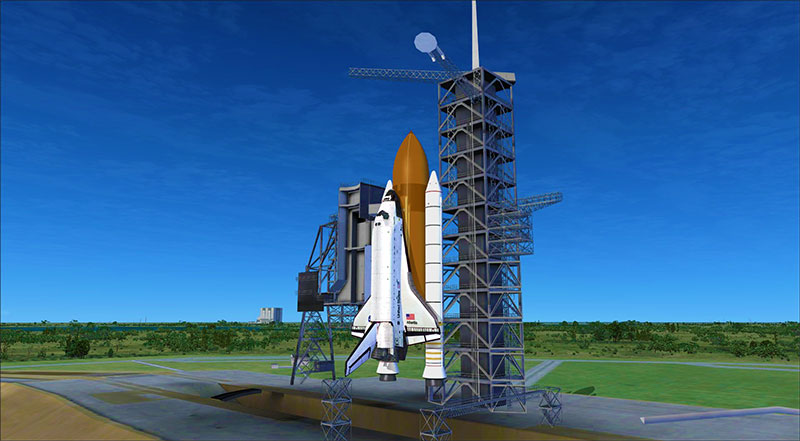 NASA Space Shuttle was constructed with the tools in Flight Simulator Design Studio. It has a number of animated features including working cargo bay doors. The gauges are all custom XML configurations.
It's fully animated with 3D moving bay doors, SRB separation, external tank separation, and even the robot arm and control is animated.
File Size: ~19 MB
Scenery Packages
Of course, no aircraft would be complete without high-quality scenery. Scenery matters a great deal and often needs you to put in a lot of work to help believe you're visiting where the simulator claims. Many cities, locations, and airfields often feel quite barren and generic, so simulation scenery packages help to fill in the gaps that were missed beforehand.
If you would like to see a significant improvement in your simulation' realism, then it pays to make the most of the various scenery packages on offer at this moment in time. All of them are very impressive, so let's take a look at what's out there today.
All of the scenery packs below are fully FSX compatible and should also with any version of Prepar3D including the latest release, v5.
Photorealistic (VFR Scenery) Packages
New for 2020
We feature a whole range of photoreal scenery add-ons for both FSX and Prepar3D in the downloads library. They are compatible with all versions of both sims - from the first version right up the latest (Steam Edition and Prepar3D v4).
Photoreal adds realistic images to the ground terrain displaying landmarks, points of interest, and true-to-life terrain thanks to satellite imagery. This is why it's sometimes called "VFR scenery" - as it aids in VFR flights.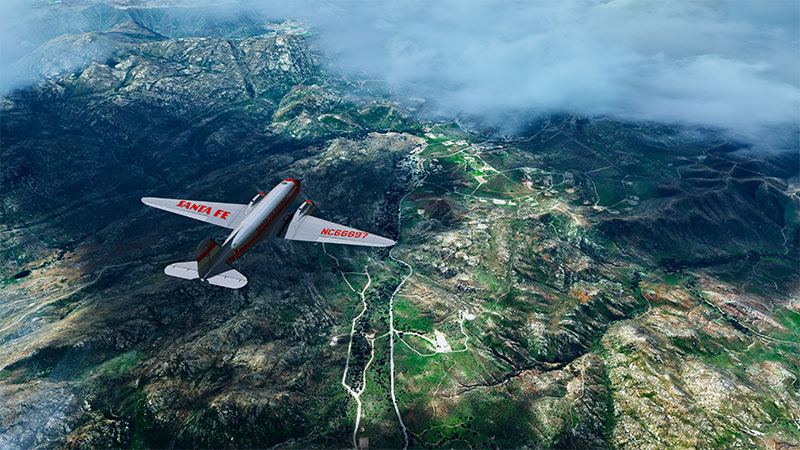 Most of the packs are quite large (several GB) so you'll need a fast Internet connection in order to download them however they can be downloaded over any Internet connection.
Coverage includes most of the USA, many European countries, and islands.
We have purposely left out photoreal scenery from the article as we have a dedicated article on the topic as it's too much to cover here.
Locher/Sarentino Airfield (Italy)
New for 2020
A stunning little private airfield based in the Northern Italian South Tyrol area on the borders with Austria in the Alpine region. This airfield has gained quite a reputation in the flight sim and aviation world along with the YouTube world because of its unique nature and how the airfield came about.
The airfield is privately owned by Locher Gebhard and shares the site with his factory which produces fire doors for industrial purposes.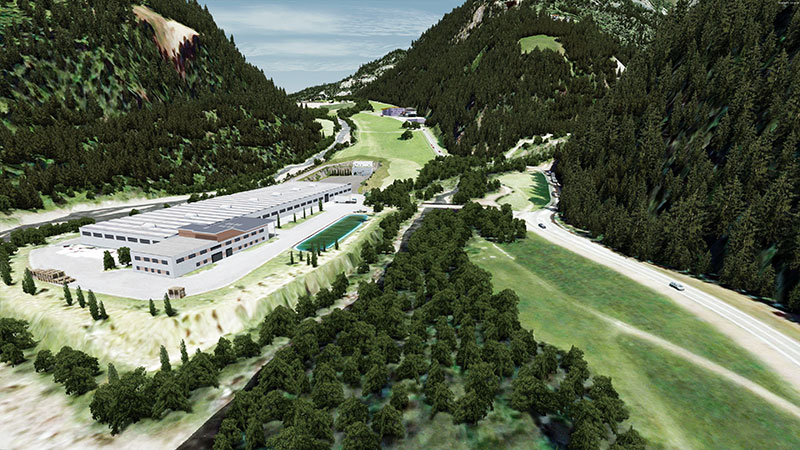 The scenery features a complete photorealistic area covering the airfield and necessary surrounding regions. Also featured is a custom "local" mesh to really being the region to life - it adds extra detail to the terrain such as the cliff edges, mountain regions, and the general ups and downs of the terrain surrounding the airfield.
The entire package was developed by Vassilios Dimoulas due to his interest in the airfield. He has done extensive research into the airfield and his recreation is the only and of course the best available for both FSX and P3D.
The pack includes all of the features of the well-known approach which includes the "church on the hill" along with all of the powerlines that must be avoided on approach. All buildings, 3D objects, and scenery are included. Also included is the garage type hangar along with a taxi-ramp up the grass runway. It's a lot of fun.
File Size: ~410 MB
View/download the file over here.
OZx 3.5 Australian Airports Scenery Complete Package
New for 2020
This compilation package was initially available as individual downloads from OZx but since the demise of the OZx group (and their website) it has been harder and harder to find the files they generously gave away for free to the flight sim community.
OZx developed many (hundreds) of freeware airports and airfields around the whole of Australia for FSX. Some say their work was of payware quality.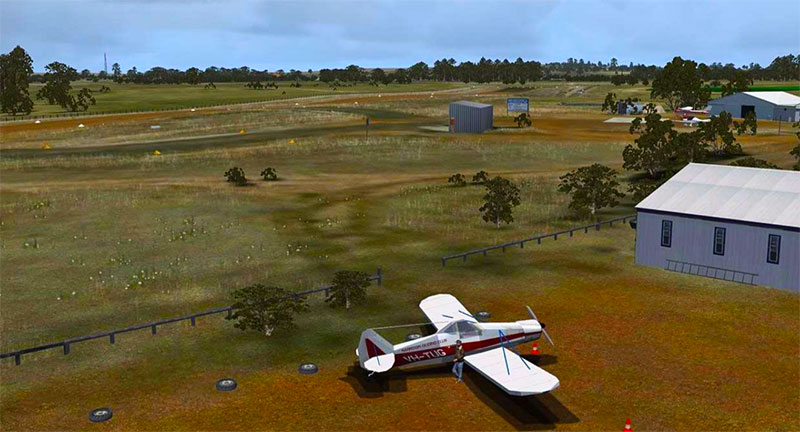 We have managed to source the entire OZx library up to the latest v3.5 installer which includes over 426 airports, heliports, and airfield scenery add-ons for Australia. Also included are 28 Airstrips for the Orbx PNW region.
This really is a "complete" package and is a must for any flight simulator enthusiast that takes to the skies over Australia.
File Size: ~5 GB
View/download the file over here.
FreeMeshX Global Terrain Mesh Scenery 2.0
New for 2019
We had to include this amazing package in our 2019 recommendations - it's simply stunning and almost unbelievable that it's totally free to download and use. Created by the amazing development team at Nine Two Productions, this add-on will transform your entire global mesh to a new level. The whole world is covered in this one package.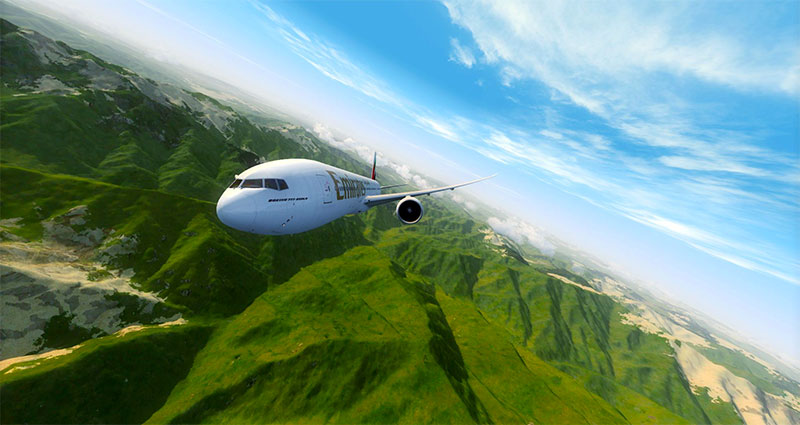 Mesh scenery maybe be a little confusing to the new flight sim virtual pilot. Essentially, what mesh scenery add-ons do is increase the detail of the terrain in your simulation environment. They make "flat" areas alive again and add some additional 3D detail to terrain and ground-scapes. They really bring mountainous regions to life. Flying over areas such as the Alps, Rockies and the Pyrenees is much more realistic because all of the 3D terrain detailing is in the correct place.
The developers at Nine Two Productions have gone to great effort to create a package that covers the whole world. With that said, it's a pretty hefty package at just under 46 GB. If you have the hard drive space, it's definitely worth checking out. At the time of writing, it has 4 out of 5-stars as rated by our PRO members but we have noticed that all of the negative comments stem from the size of the package.
It may take a long while to download if you are using our free tier but PRO members should be able to download this with no issues as long as they have a fast connection to the Internet. The comments have also been great; users have noticed a huge difference in their ground terrain.
File Size: ~46 GB
View/download the file over here.
City Of Paris - France Scenery
The city of Paris is among the true jewels of European culture, yet in FSX: Steam Edition it can feel a little dead and empty. This helps to add authentic French and Parisian style buildings to the city, alongside major landmarks that delivers a much more diverse take on this awesome city.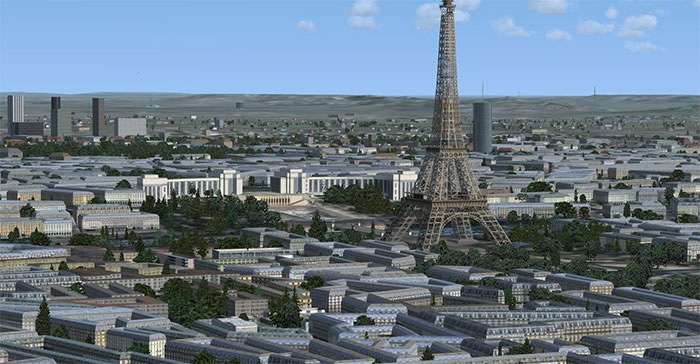 New autogen scenery helps to make Paris finally flourish, while the photorealistic meshing and iconic landmarks around the city jutting out into the skyline to make Paris look like it should. From replaced train stations to added buildings that were sorely lacking beforehand, a trip to Paris is now much more likely to be representative of the glamor that makes this city such a fine place to visit. Make Paris truly stand out from the rest of France.
File Size: ~1.5 GB
View/download the file over here.
Ibiza X
As one of the premium party destinations around, Sierra Foxtrot Design has helped to turn the island of Ibiza into the party location it actually is. Rather than the empty and flat island that it once was, this helps to add much greater detail and diversity to an island that previously felt quite empty and dull within the context of flight simulation.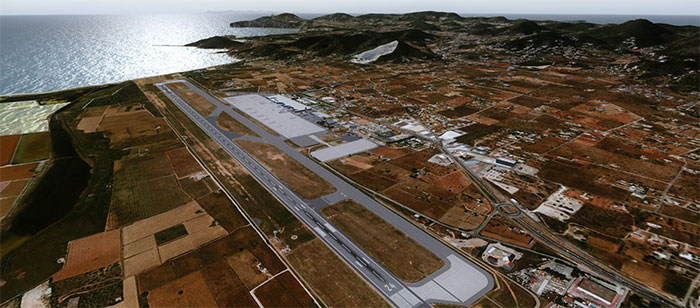 Using this, you should find it easy to make Ibiza feel like the central point of partying for Spaniards and many people who decide to fly over for a wild weekend. The perfect choice of scenery package if you want to help make key landmarks such as the island of Ibiza finally stand out from the crowd of islands nearby.
File Size: ~121 MB
View/download the file over here.
Skydive Dubai
If you have ever had the pleasure of visiting Dubai, then you will know how diverse and unique the landscape is. In FSX, though, this isn't really captured as it should be. Now it will be developed to look exactly as it should.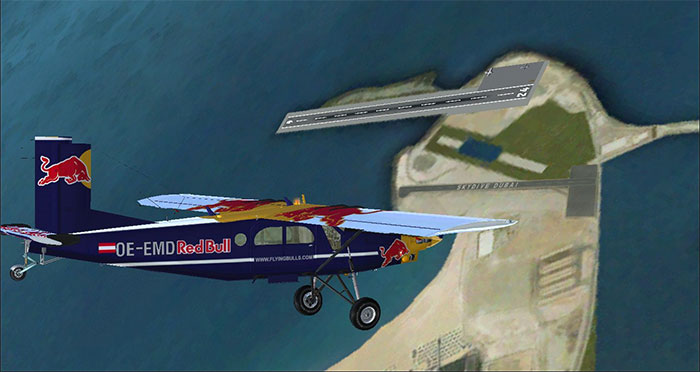 The new Flytampa Dubai development will help to make the old track look much more as it should, with the impressive 2250x100ft runway developed to the correct scale with regards to the simulation itself.
A very fine and impressive take on what is a very popular part of the reason to fly to Dubai. AI traffic now flies around the area, too, helping to add much-needed life and energy to a part of Dubai that, by default, feels barren.
File Size: ~2.2 MB
Fort Worth Alliance Airport (KAFW)
Fort Worth Alliance Airport is a scenery package that helps to turn the 1989 airbase into the industrial heartland that it is. Previously, it felt empty and cold and without much of the character that often makes locations such as this feel unique.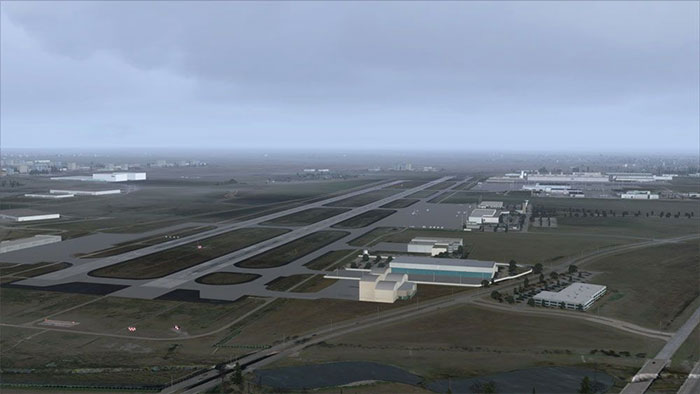 Constructed as the first-ever industrial airport, this modification by Brandon Thetford makes it far more likely to succeed. Home to the likes of FedEx, Bell, American Airlines, and other companies this is a major part of American aviation. As such, this helps to ascribe the importance to the airbase that should have been delivered by default.
While it's been closed for a few years now, those with nostalgia for the airbase or a desire for a busier world should try this out.
File Size: ~440 MB
View/download the file over here.
Pompeii, Italy
The unique setting of Pompeii is a truly special part of those who would like to do a tour of Italy. In the flight sim world, though, Italy is a nation that suffers from a paucity of options. This helps to add the famous ruins of Pompeii – the city more or less eradicated by the eruption of Mount Vesuvius – now stands out from the rest of Italian architecture like never before.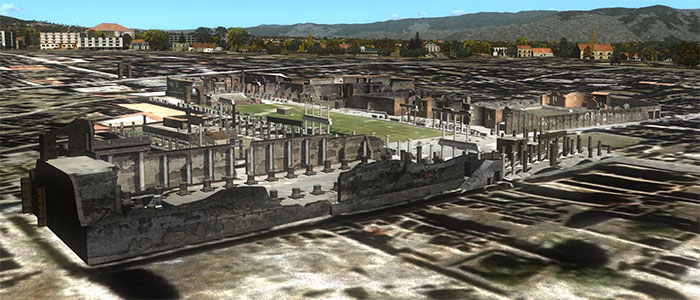 Easy to install and more than capable of delivering a far more impressive take on such a culturally important part of Italian architecture, this is a must-visit location for those who appreciate the unique beauty of Italy. Come and see Pompeii developed in full form by Peter Olsen and Kevin Wynn.
File Size: ~315 MB
View/download the file over here.
Saint Lucia Island Scenery
A trip to Saint Lucia Island in FSX: Steam Edition normally would likely leave you let-down. This tropical paradise is among the most beautiful parts of the world, yet it's entirely lacking in any kind of meaningful detail by default.
This helps to correct such an oversight, making sure you are left with a far more refined take on the island. With two coasts re-developed as well as two new airports; George F. Charles and Castries Hewanorra International, both flying and arriving here will become a much easier experience to piece together.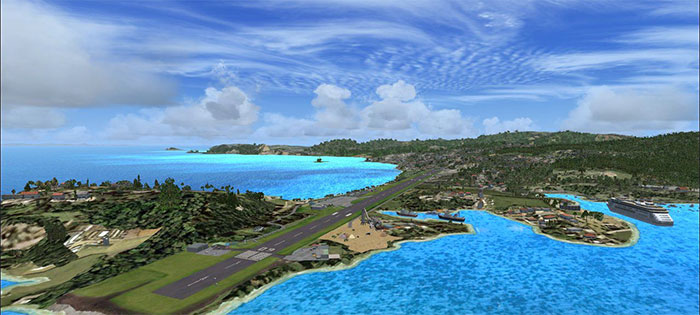 Should you ever choose to arrive in a location like Sainte Lucia, you should use this package to help make the trip look a little more like the real thing, with the Hess fuel storage area included for extra diversity.
File Size: ~47 MB
View/download the file over here.
London Heathrow Terminal 5
With the help of London Heathrow Terminal 5, you can transform the old part of Heathrow and make it far more like the real thing. Despite being one of the most popular airports in the world, even Heathrow suffers from a lack of identity normally.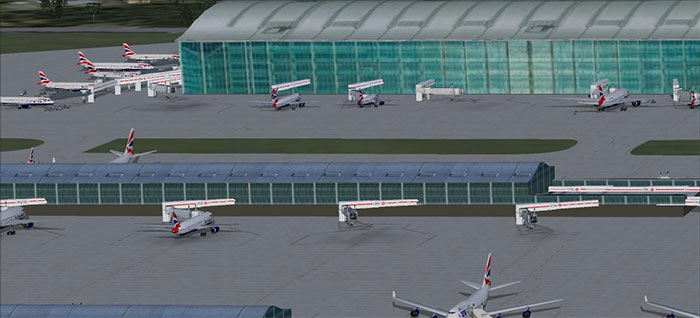 This helps to make users find that Heathrow's Terminals 5A, 5B, and 5C now look far more as they should in terms of attention to detail. It's a fine choice for anyone who would like to make Heathrow feel a little more inclusive. Adding the new control tower, too, this helps to make this majorly important airport feel a lot more like it's real self.
File Size: ~6 MB
View/download the file over here.
Team GEX Enhanced Autogen World Scenery
This must-have scenery addition helps to take the old, dated autogen scenery of FSX and replace it entirely. By Team GEX, this helps to add some much-needed precision to the autogen of the world with 522 new building textures and alterations making wholesale changes to the way the entire world around you looks.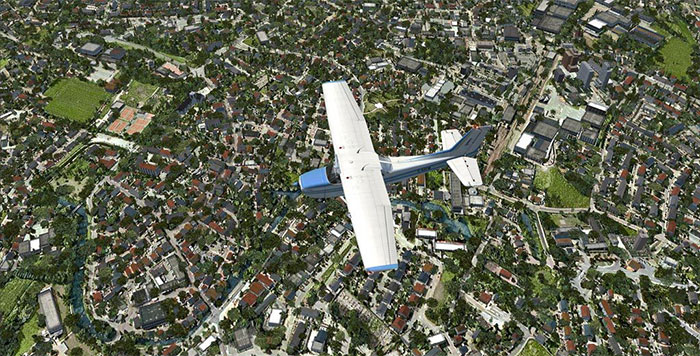 A great mixture with other GEX releases such as their GEX Europe package, this helps to make the whole world look a bit more as it should. Greater definition, more impressive autogen, as well as a promise of no performance dips, make this a must-use solution for anyone who would like more modern texturing on the autogen they see as they fly.
New and improved night lighting also makes it easier for you to see the world below if you choose to fly during the night.
File Size: ~60 MB
View/download the file over here.
TreeX
Originally released as "FSX Enhanced Trees," TreeX is a comprehensive collection of highly realistic photographs of trees. It comes in 3 quality levels:
Hi-Fi Version- Textures are 512x512 – 171 Kb.
Quality Version- Textures are 256x256 – 43 Kb.
Performance Version- Textures are 128x128- 11Kb.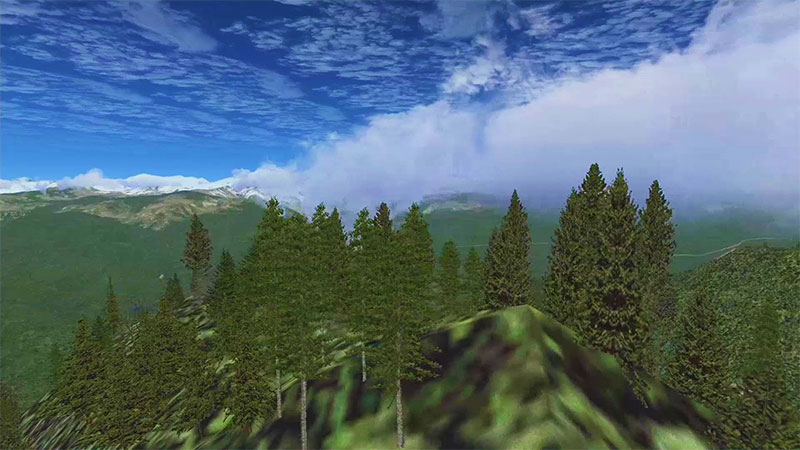 Hi-Fi version should be used if you have a muscular computer with plenty of RAM and CPU speed. Previous versions of TreeX should be removed before installing an update. The textures will be available all over the world and will automatically adjust for seasons.
On installation, users choose between lighter or darker versions of Acacia trees, as well as four different versions of Larches trees.
With these simple configurations selected, installation is a breeze. It's important to pick the right version to match your computer's performance capabilities to get the most out of this impressive vegetation package.
This mod will make trees throughout the world look far more realistic, making it much easier to incorporate yourself into the world around you as you go.
File Size: ~14 MB
View/download in the file library here.
P3Dv5 & P3Dv4 Compatibility
Most of the newer add-ons here have been fully tested and confirmed to be working in Lockheed Martin's Prepar3D package v5 and v4. These versions are the most vulnerable to compatibility because of the changeup to 64-bit mode.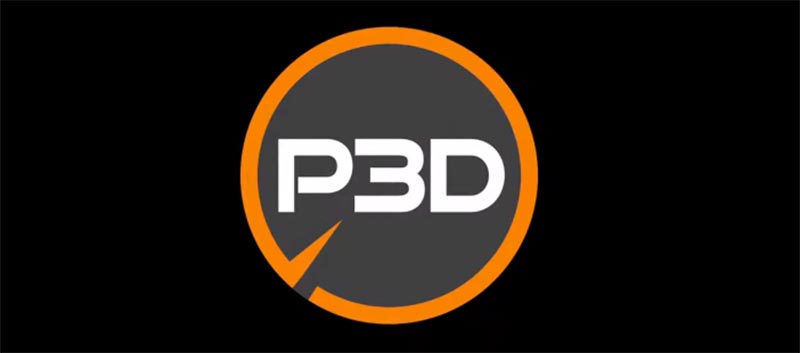 As new mods are released (and updated) we will be removing the incompatible ones and replacing them with next-gen P3D compatible versions.
Have you already made the switch from FSX to Prepar3D? If so, you'll be interested in checking out our Prepar3D freeware coverage here.
So, what will you try first?
With so many different models to try out, we think you will have a great time when it comes to using any of the above. Some of these are among the most popular in their class and should help you to make FSX (both Steam Edition and normal) and Prepar3D (even P3Dv5) feel even more impressive.
Should you wish to help uplift your simulation to be a touch more authentic in various ways, then this can help to add another layer of glamor to the software, making it look a touch more modern.
Video Roundup
The video below shows only a few of the aircraft addons featured in the article above but it makes for some fun watching. It's a concise, narrowed-down version of this article in video format. Enjoy!
Installation Help
Installing all of these add-ons is pretty straightforward and most of the downloads come with a README file that includes easy to follow instructions. However, if you are having trouble you can view all of our tutorials from the Flight School here. These tutorials cover both aircraft and scenery.
There are lots more...
Don't forget, these files for 2018-2021 are just a snapshot of the files available for FSX: Steam Edition and P3D. The downloads library contains over 24,000 add-ons and many (most) of them are for FSX.
To view all of the files, don't forget to visit the file library here. Finally, if you're new to this flight simulator you can read our full review here (before you buy) and of course, download the demo here (be aware, the demo is older than the Steam Edition version).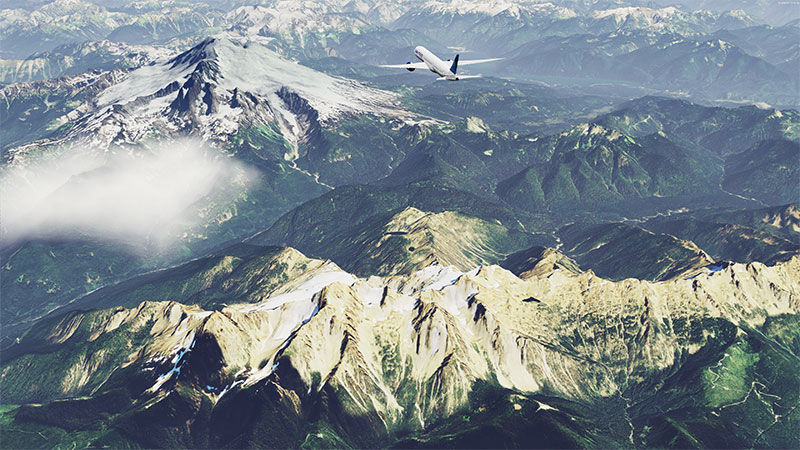 Also, updated for 2020, we have released our article demonstrating the best add-ons to make FSX more realistic.
Update October 2020
If you have abandoned both FSX and P3D in favor of the brand new Microsoft Flight Simulator (2020 release) then you can view our new MSFS add-ons library here. It's updated regularly with new add-ons so be sure to keep an eye on that page.
Let us know your thoughts
Remember, the files we have featured here are guaranteed to work in the Steam Edition of FSX, however, they are all backward compatible and will work in any of the boxed editions (Gold, Standard, Acceleration) too.
Please post your comments below. Let us know your favorite files, let us know your reviews of the files above, and let us know what you feel we have missed from the list so we could update it or even include it in the 2022 edition - well, this year we will have a new flight sim so let's see where this goes!
Comments below, please!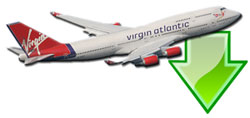 Don't forget... We have a huge selection (over 24,000 files) of free mods and add-ons for MSFS, FSX, P3D & X-Plane in the file library. Files include aircraft, scenery, and utilities All are free-to-download and use - you don't even need to register. Browse on down to the file library here.