Mustang Tales: Post WWII and Navy Service is a combination of 18 North American Aviation P-51D Mustangs, a World War II aircraft carrier of the United States Navy, and 22 simulation flights using various models at various locations.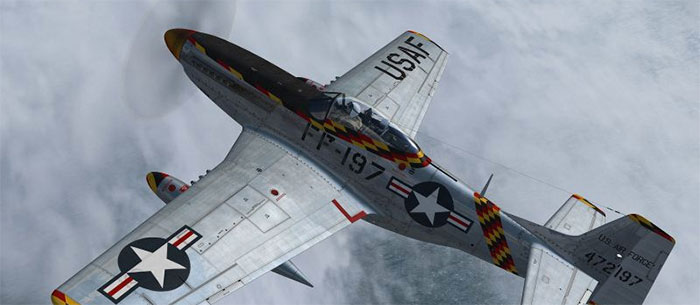 The

P-51D

Mustang

North American Aircraft's P-51 Mustang was a long-range escort fighter and ground attack fighter-bomber used during World War II and the Korean War. With its excellent maneuverability, speed, and range, it served in almost every combat theater of those wars and is considered among the best fighter-bombers used by the Allies during the period. Typical armaments were six .50-caliber machine guns and either ten 5-inch rockets or 2,000 pounds of bombs. The D model, which is considered the definitive Mustang, was powered by the 12-cylinder, 1,695 horsepower Packard V-1650, which was manufactured in the United States under license from Britain's Rolls Royce.

The P-51 Mustang is slightly larger than the Cessna 172SP Skyhawk in FSX, yet much heavier and faster. The following specifications were obtained from several sources: Warbirdsim's documents first, the National Museum of the U.S. Air Force for data not available from Warbirdsim, and Wikipedia for data not available from Warbirdsim or the National Air Force Museum.
Physical Characteristics
Crew: one pilot
Length: 32 FT (10 M)
Wingspan: 37 FT (11 M)
Height: 14 FT (4 M)
Maximum weight: 12,100 LB (5,488 KG)
Empty weight: 7,635 LB (3,463 KG)
Useful load: 4,465 LB (2,025 KG)
Engine: 1 Packard V-1650
Power:1,695 HP (1,264 KW)
Performance
Maximum speed: 437 MPH, 380 KTS
Cruise speed: 362 MPH, 315 KTS
Service ceiling: 41,900 FT, 12,800 M
Stall speed: 100 MPH, 87 KTS
Range: 1,434 nm, 2,656 km
Armaments
Six 0.50 caliber machine guns
Up to 2,000 lbs bombs
Up to 10 rockets
All figures are rounded, approximate, or typical as appropriate.
Warbirdsim's P-51D Mustang
The P-51s rendered by Warbirdsim is the definitive D model with its Packard V-1650 engine. They include models flown by air forces of Australia, Canada, New Zealand, South Africa, and the United States, as well as several post-war civilian models. The product description identifies each aircraft model by year of production with 12 ranging from 1944 to 1953 and three that were each restored in 1972, 2001, and 2010.
Warbirdsim says its P-51D Mustang "provides users with a unique insight into the flight mechanisms and reality behind some of the most exciting aircraft of our time." It further explains that it implemented every detail possible within the FSX engine for authentic cockpits, designs, sounds, and spoilers "creating a realistic representation of fifteen different Mustang models." Warbirdsim designed its P-51D Mustangs using authentic North American Aviation blueprints, U.S. Air Force Technical Orders, assembly and usage manuals, pilot manuals and various other forms of expert, first-hand research.
"Mustang Tales provides you with the most legitimate representation of the aircraft ever seen in a simulator," Warbirdsim promises.
While 15 models are promised in the Warbirdsim product description, three have a second variant, making a total of 18 models. The two U.S. Navy models each have standard and catapult variants, and the Geraldine model has a standard variant and a 2010 Reno Air Races variant.
Warbirdsim's Liveries
P-51s have been owned by so many people over the decades, and they have been painted with so many liveries, that matching each of Warbirdsim's tail numbers and liveries to real-world photos is a daunting task. I found many similar liveries and one tail-number match: Warbirdsim's NACA127 looks exactly like the real-world photographs. I have no reason to doubt the accuracy of Warbirdsim's liveries.
NACA127, 484900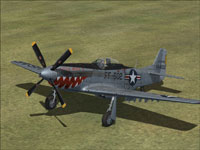 Little Beast II, 484602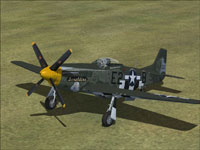 Geraldine, 414320
Warbirdsim's P-51D Exteriors
The developer says it used original drawings and specifications to render its P-51D models. Precise attention was given to shapes such as the nose and wings; equipment such as the engine, exhaust stacks, landing gear, and flaps; and details such as screws, bolts, and fasteners, the developer says.
The 18 models fulfill the developer's many promises. Overall dimensions look accurate, as do details such as seams, rivets, hatches, and antenna. Surface textures show irregularities, especially when light shines from just the right angles. Reflections and shadows appear normal and realistic.
A unique P-51D rendered by Warbirdsim is the NACA127, which was used for speed testing by NACA, which was a forerunner of NASA. This model is distinguished by long probes on each wing, the lack of armaments, and an instrument panel unlike any of the other models.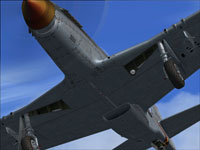 FF-197 Fighter-Bomber Squad, 472197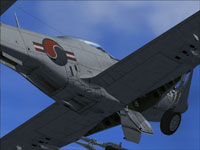 By Faith I Fly, 474692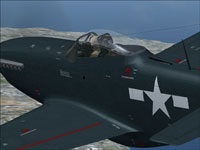 FJ-1D Seahorse "What-if" 102640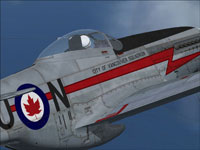 RCAF 442 Squadron, 9595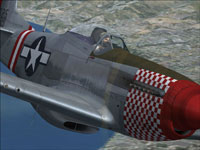 Shangri-La, 475025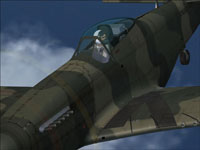 Ex Guatemalan AF, N74190
Warbirdsim's P-51D Interiors
Warbirdsim says it portrays every aspect of the real cockpit with three of them reflecting different models. These cockpit models are identified in Warbirdsim's User Guide as "early," "late standard," and "post WWII modifications."
Not finding any clear correlation of the three cockpit models with the 18 aircraft models, I looked at the interiors of each aircraft model one by one. I found one consistent with the early cockpit, several variations of the late cockpit, and one other cockpit. Some have gunsites, and some do not. Some have worn floors, and some do not. All cockpits except one of the late models have green interiors; the other is black.
In response to my question, the developer explained that the NACA127 aircraft model contains the post WWII cockpit. It has instruments not commonly used in P-51D aircraft because it was an NACA speed-test aircraft.
All cockpit models are crammed with instruments and controls in front and to each side of the pilot — even behind his left and right which seems to have required some contortions to reach them. Not only are the cockpits different, but the equipment behind the pilot are different, which are exposed after the canopy is removed.
My screen shots below show generally what the cockpits and their variations are like.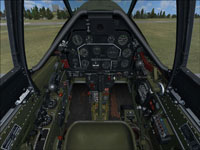 Early Model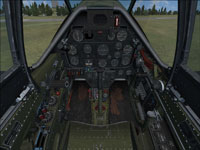 Late Model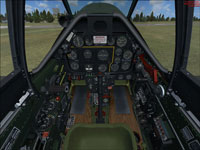 Late Model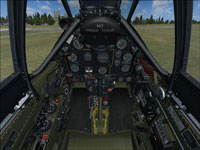 Late Model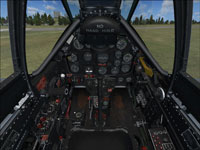 Late Model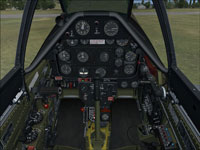 ​NACA127 Model
Warbirdsim's P-51D Instruments and Controls
The main instrument panels correspond to the three cockpit models recreated by Warbirdsim and are the major distinguishing features of each cockpit. Instruments on these panels are arranged differently from those that became standard after World War II and that modern pilots are most familiar with. Although the six primary flight instruments are grouped together on each panel, the navigation and engine instruments are placed around the flight instruments in no logical order instead of grouped together like modern panels.
The primary flight instruments on some of the "early" and "late" models are set off by a yellow or white border, and some are not. Some panels show signs of wear, and some do not. Some of the instruments are color coded, and some are not, particularly the attitude indicator. The airspeed indicator reports speed in miles per hour instead of knots, which was common during the 1940s. The instrument labeled "radio compass" functions like an ADF by showing direction to a tuned NDB signal. Changing the frequency in the ADF radio causes the needle to change direction.
The manifold pressure gauge ranges from 0 to 100 inches of mercury with its green zone between 40 and 47 and its red line at 61. It has another red line at 67 that is not defined in the User Guide. These pressures are higher than commonly seen in modern general-aviation aircraft, which reflects the high power this engine produces.
The NACA127 instrument panel contains instruments that were not normally installed on combat P-51 Mustangs such as an acceleration gauge that reported G-forces, a mach meter, an air-temperature gauge, and a directional gyro mounted on its end to show longitudinal pitch. Its lack of heading indicator or magnetic compass makes navigation beyond recognizable ground references difficult, but the pilot could rely on the radio compass and NDBs for guidance if he had the appropriate charts.
All cockpit models have a hand-held Garmin® 295 GPS unit in a popup window.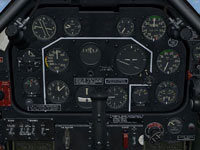 Navy Edition, 414017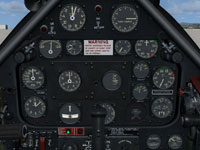 NACA127, 484900
​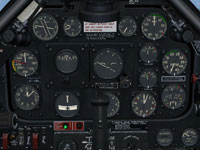 Royal Australian Air Force, 511489
Aircraft and flight controls crammed to the left and right of the pilot operate the throttle, fuel mixture, propeller, landing gear, flaps, trim tabs, radios, and lights. Other controls simulate the operation of oxygen, microphone, and circuit breakers. Their positions imply that real-world pilots had to stretch and contort to reach some of them. Simulation pilots simply pan around the cockpit or cycle among views.
On the gunsite, which is included in most of Warbirdsim's P-51D models, users can change the sun visor and reticle. Not to criticize the developer but rather to help users understand the gunsite description: Warbirdsim's User Guide misspells "reticle" as "reticule," which is a different object unrelated to a gunsite.
Warbirdsim says it has made "a significant attempt" to make every cockpit feature usable. "If you try and pull every lever and press every button, you will find that just about everything included has a genuine reaction in the game," Warbirdsim promises. Indeed, I mouse clicked control throughout the cockpit, and almost all were functional.
A two-dimensional instrument panel is not included. Some flight simmers like them, and some never use them.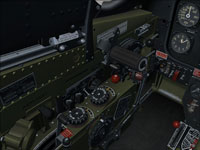 Navy Edition, 414017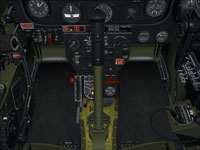 Navy Edition, 414017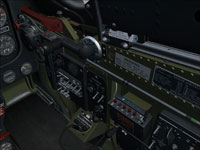 Navy Edition, 414017
Armaments
The product description says the P-51Ds have gun bays, rockets, bombs, drop fuel tanks, and assault rifles in the form of 0.50 caliber machines with accurate models and textures. The rockets, bombs, and drop tanks are controlled by switches in the cockpit. Warbirdsim's User Guide lists the aircraft types and their respective armaments.
I found one type of rocket painted in army olive, one type of bomb painted in army olive, and two types of drop fuel tanks, some of which are painted fancifully. I was able to mount and discharge the rockets, bombs, and drop tanks. Beyond adjustments to the gunsite in the cockpit, the 0.50-caliber machine gun neither fires nor makes firing noises.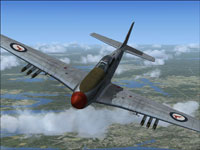 Rockets
SAAF No 2 Squadron, 318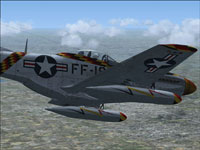 Drop Tanks
FF-197 Fighter-Bomber Squad, 472197
Warbirdsim's Documents
Warbirdsim provides a 55-page User Guide in PDF form. Using clearly written narrative and more than 50 annotated screenshots, it describes the installation process, the aircraft's history, the various cockpits, and the special features. A four-page PDF document explains the installation procedure. A short text file explains how to install the custom flights into the user's computer.
All three cockpit models are described in the User Guide. The early and late models are described with annotated screenshots. The post WWII modification cockpit is described in narrative with an unmarked screenshot.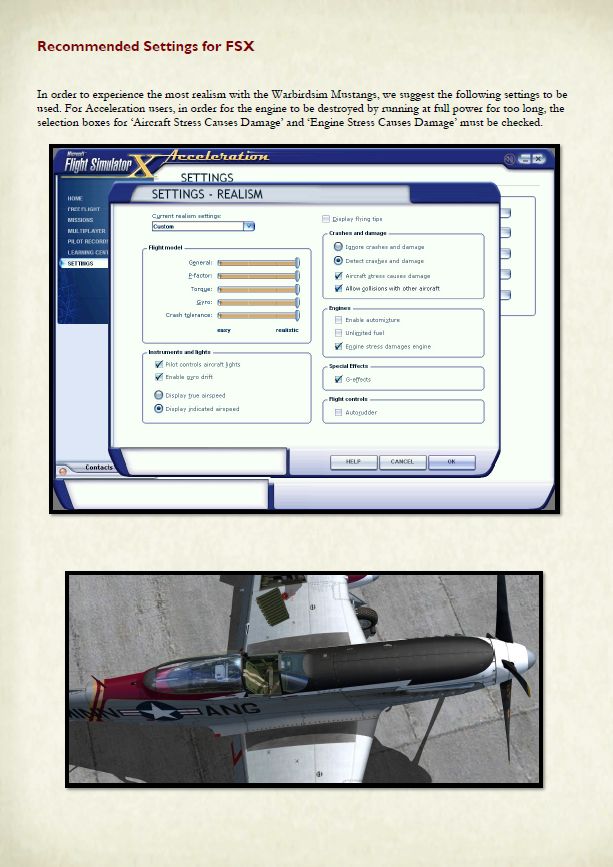 Page 4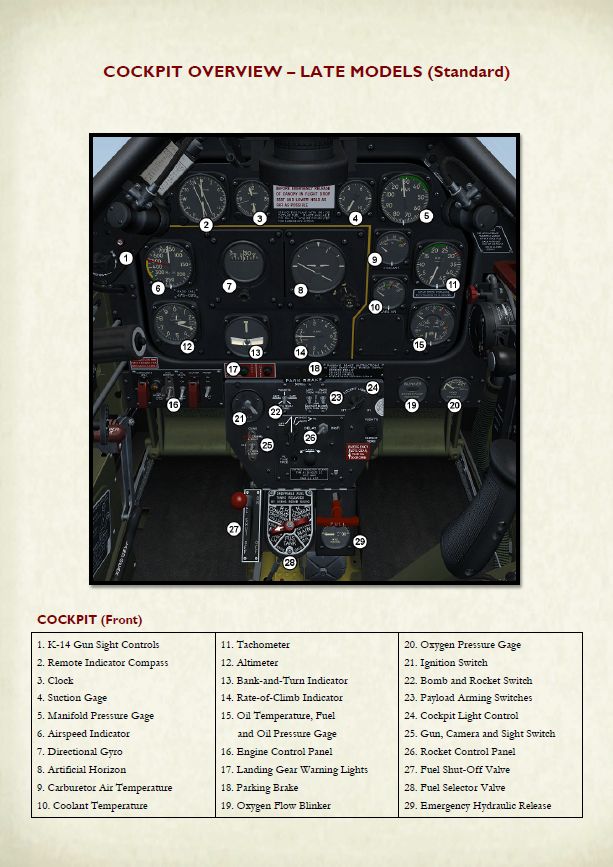 Page 10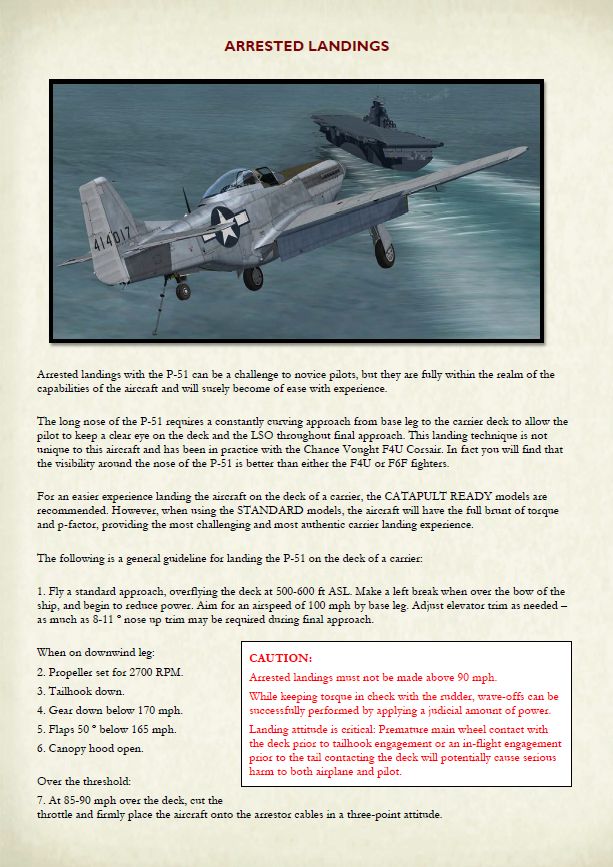 Page 27
Warbirdsim's P51 Performance
Considering the developer's deep attention to visual and audio detail inside and outside, we can assume that a comparable level has been applied to the aircraft's performance modeling.
I tested Warbirdsim's P-51D Mustangs at Royal Air Force Station High Wycombe in Buckinghamshire, England, because it was a significant airfield used by P-51 Mustangs during World War II. (It is listed by FSX under the name "Booker," and airport code "EGTB.") Elevation is 520 feet (159 meters), and its longest runway is 2,406 feet (734 meters) of asphalt. I used a standard atmosphere and the aircraft's default weight.
Weight and Balance: Different models weigh different amounts. As examples, the gross weight of these three models are as follows: NACA127 is 8,638 pounds (3,918 kilograms), RCAF 442 Squadron 9595 is 10,767 pounds (4,884 kilograms), and Ex Guatemalan AF N74190 is 11,427 pounds (5,183 kilograms). All carry full fuel tanks. All are 12,100 pounds (5,488 kilograms) maximum weight. I used the RCAF 442 Squadron 9595 model for its closeness to middle weight. The bombs and drop tanks are visual effects, only, and do not affect aircraft weight or behavior.
Taxiing: Warbirdsim's P-51Ds taxi like other tail draggers of similar size and weight. They will turn corners neatly with close attention to speed.
Taking Off: The checklist says to power up to 61 inches manifold pressure, which is at its red line. The product User Guide cautions not to run the engine at this level for prolonged periods to avoid engine failure. The checklist does not give a take-off speed. The tail lifted at 100 MPH (87 KTS), and the aircraft lifted off at 140 MPH (122 KTS).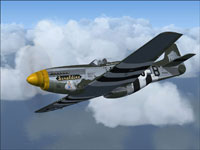 Geraldine, 4N5500S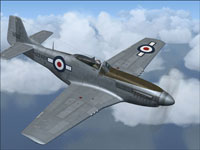 RNZAF No 1 Auckland Squadron, 511513
Climbing: The "Climb" checklist says to use 46 inches of manifold pressure, 2,700 RPM propeller speed, and 165-175 MPH airspeed. At these measures, it climbed away at 2,000 FPM. A "more economical climb" is offered at 42 inches manifold pressure and 2,500 RPM propeller speed. At these measures and 175 MPH, it climbed at 1,000 FPM. With the manifold-pressure green zone topping at 47 inches and the tachometer's green zone topping at 2,500 RPM, this aircraft can obviously climb much faster if needed.
With the constant-speed propeller, I could reduce power considerably while maintaining propeller speed and airspeed. The P-51 Mustang maintained 260 MPH (226 KIAS) during climb. It reached its specified cruising altitude of 41,900 feet (12,780 meters), but it didn't seem comfortable up there. Its airspeed did not exceed 150 MPH (131 KIAS), and its mach speed was only 0.46.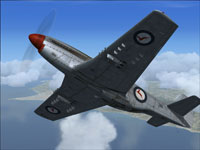 SAAF No 2 Squadron, 318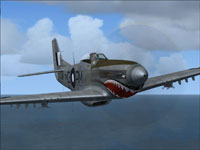 RAAF A68-750, 750
Descending: Descending simply requires adjusting power and propeller speed to glide at comfortable airspeeds and descent rates. The aircraft was easy to handle throughout the descent.
Approaching and Landing: There is no "approach" checklist. The Landing checklist recommends the military-standard overhead-break method, which is basically an oval instead of a rectangle circuit that begins with flying over the runway threshold at 1,000 feet (305 meters) above ground level. Warbirdsim's User Guide provides a nine-point step-by-step instruction for this procedure. Airspeed of 170 MPH (148 KTS) is recommended, as are flaps and gear down, full-rich fuel mixture, and 2,700 RPM propeller speed.
Landing per this method at the recommended airspeed and configuration was easy except that this powerful and sleek aircraft does not decelerate readily. Airspeed must be reduced well before entering the final-approach leg for the aircraft to touch down at 120 MPH (104 KTS).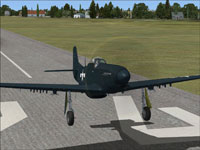 FJ-1D Seahorse "What-if," 102640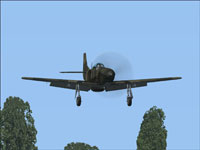 Ex Guatemalan AF, N74190
Aggressive Maneuvers: This aircraft will do almost anything. It looped, rolled, and climbed straight up under complete control at all times without straining. It was probably daunting for the enemy in dog fights, and it's probably thrilling to watch at air shows.
Stalls: I tested stalls under two conditions: At 10,000 feet, I pulled throttle and propeller back fully and pulled the stick back to climb at about a 20-degree pitch. After losing airspeed, the aircraft stalled at 100 MPH (87 KTS). On final approach in the landing configuration, I pulled the throttle back fully and held the nose up slightly. The aircraft stalled at 90 MPH (78 KTS). It always recovered quickly with increased airspeed.
Torque: Warbirdsim's User Guide mentions torque for several flight phases, especially the carrier landing, but I noticed no torque or P-factor at any time.
Overall: Warbirdsim's P-51Ds handle very easily in almost all flight maneuvers. They bank, turn, climb, descend, and return to straight-and-level flight with ease. The only difficulty I had was decelerating for landing, and that can be cured by beginning the landing deceleration well ahead of the airport. Having never flown a real-world P-51D, I cannot attest to the accuracy of Warbirdsim's flight modeling, but it performed consistent with specifications. Moreover, I have not tested any other P-51D for flight simulation, so I cannot compare this aircraft to any other P-51Ds. Given Warbirdsim's attention to visual detail, I have no reason to distrust its attention to performance accuracy.
Warbirdsim's P-51D Sounds
The developer says authentic P-51D Mustang sounds were used for recreating simulated sounds of the engine, inside, and outside. More than 84 hours of unique sounds were recorded from a real Packard Merlin engine, the developer says, and cockpit and outside sounds were taken from microphones positioned during flight "making it feel as close to the real thing as you are likely to experience."
These sounds are enabled by 63 WAV sound files in two folders. Four models use one set, and the other 12 models use the other set. I did not notice any difference between the sound sets, which is a subjective judgment in the first place. In response to my question, the developer said the two sound sets were required by the different modeling structures.
I cannot personally attest to the realism of these sounds because I have never flown in a real-world P-51D Mustang. They seem accurate for an aircraft of this type, and I have no reason to doubt Warbirdsim's explanations of its sound-recording processes.
Click to Listen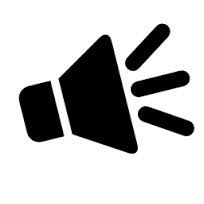 Startup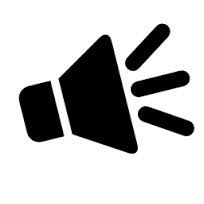 RPM2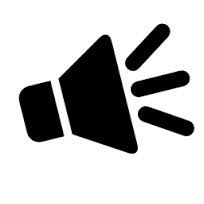 ​
Roll
Warbirdsim's Animations
Not much is said about animations. I found a few besides the usual landing gear and control surfaces:
The canopy slides open and closed with mouse clicks or the usual CTRL/E keyboard command. The canopy disappears during flight or on the ground when the yellow emergency-release handle inside the cockpit is mouse clicked. When the canopy is gone, equipment in the rear cockpit is exposed. The canopy reappears when the engine is turned off.
The gun-bay doors open and close, but a special keyboard command must be assigned by the user. I did not test this option. Pictures of these opened doors and instructions for opening them can be found in the product User Guide.
Pilots are animated, and several types are used in the various aircraft. Some wear goggles, others wear goggles with face masks, and others wear goggles with helmet face guard.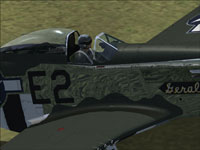 Canopy Open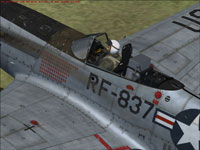 Canopy Gone
U.S.S. Shangri-La Aircraft Carrier
The developer mentions the U.S. Navy aircraft carrier Shangri-La in the product description and describes it in the User Guide. It follows an AI route from the Norfolk, Virginia, docks north into the Chesapeake Bay where the original P-51D trials occurred. The User Guide includes a map of this route.
I test landed the P-51D on this moving aircraft carrier and found it to be a rather thrilling experience (and accomplishment).
Mustang Tales includes a catapult system and two U.S. Navy aircraft equiped to use it. Warbirdsim's User Guide instructs its use step by step. It also explains that the default FSX catapult is powered for heavier modern jet fighters and is overpowered for the P-51D. For this reason, it provides a means of diminishing the catapult's power to suitable for the P-51D.
I tested the P-51D with the default FSX catapult, and it certainly works, replete with steam sound effects. Within seconds the aircraft was aloft at 326 MPH (284 KTS)! To determine this speed, I paused the simulation immediately after the catapult launch, and the top-line menu said 283 knots. I did not modify my FSX as recommended, so I cannot attest to the modified catapult, but I will accept Warbirdsim's promise that it works as described.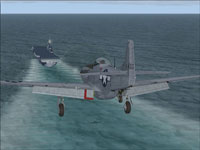 Final Approach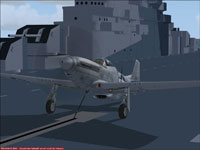 Ready for Take-off
Warbirdsim's Custom Flights
Warbirdsim provides 22 flights for FSX such as "On Carrier Cold and Dark," "Reno Parts 1, 2, and 3," and "Oshkosh 1974." They are installed separately from the aircraft files into a folder of the user's choice. I didn't look at all 22 of them, but their files names and text appear to represent all the aircraft models. The screen captures below are associated with the named flights.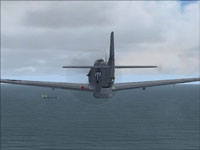 Navy Mustang Carrier in Sight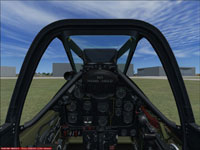 Mustang at Whenuapai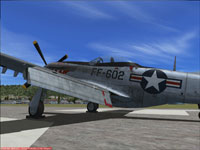 Little Beast at Chinhae AFB
Technical Topics
Warbirdsim's Mustang Tales is for FSX.
Computer requirements are not specified in the product description or User Guide. It worked perfectly on my FSX Acceleration with Windows 7, and it will probably perform well on most up-to-date computers. I cannot speak for older systems.
Warbirdsim advises that FSX Acceleration is required, and it provides non-Acceleration users a means of modifying their Mustang Tales to operate on their FSX without Acceleration. The method is clearly explained in the product's User Guide.
The developer recommends the highest settings in the FSX realism menus. I evaluated the aircraft with default settings, however, except using anisotropic imaging for the best screen captures. I observed no problems with the product's overall performance.
The developer also advises that although its P-51Ds will work as intended with default FSX, the best results are obtainable with a special DDS file available from elsewhere. The polished metal appearance in the Geraldine model is specifically mentioned. The polished metal looks good without this additional DDS file, so I would consider its use an optional enhancement rather than a requirement.
Compatibility with Lockheed-Martin's P3D is not mentioned, but many add-on aircraft I have reviewed are advertised as compatible with FSX and P3D. In response to my question, Warbirdsim said it does not mention compatibility with P3D because it has not tested its Mustang Tales on that simulator but customer feedback indicates P3D compatibility.
The downloadable archive file is 679 megabytes, and it downloaded in a few minutes at cable-internet speed.
An installation program extracts the compressed files for the aircraft and installs them where they need to be in the simulator, making installation very easy for all users. A password is not required. The process required a few minutes. The 22 FSX flights are installed separately, and users must designate their preferred installation folder.
Required hard-drive space for the extracted files is 2,192 megabytes. Add 679 megabytes for the archive, and the total requirement is 2,871 megabytes. The 18 distinct aircraft models, three cockpit models, animated aircraft carrier, and 22 flights undoubtedly account for the large storage consumption.
Customer support is provided through an email address published in the PDF installation instructions. "Please help us to help you and we will answer ASAP," it says.
My Overall Observations
There's much more to Warbirdsim's Mustang Tales than I can summarize fairly. Its most significant features include 18 well-designed models, several cockpit models, a moving aircraft carrier with working arrester and catapult, several pilot types each donned with various equipment, realistic sounds, working armaments, accurate flight modeling, 22 simulator flights, and a detailed 55-page User Guide. The more I examine the product's features and documents, the more I find. Users can enjoy it for basic sport flying, combat simulation, or myriad other flights, and they can enjoy its many supplementary features.
More information about the North American Aviation P-51 Mustang is available from Wikipedia and National Museum of the U.S. Air Force.
View screenshots, manufacturers description and purchase this stunning product over at SimShack.
Walkaround Video​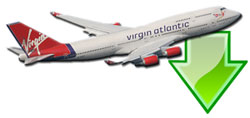 Don't forget... We have a huge selection (over 24,000 files) of free mods and add-ons for MSFS, FSX, P3D & X-Plane in the file library. Files include aircraft, scenery, and utilities All are free-to-download and use - you don't even need to register. Browse on down to the file library here.