Although no longer in significant service today, a part of the charm of simulation is revisiting the past. Today, we're going to take a look at the de Havilland Dove. The aircraft has an interesting history, and was an aircraft that took place in many different activities and engagements. However, it's an aircraft that has been created in the past to great effect.
As regular contributors to the market, could Just Flight continue their consistency?
We'll take a look at various elements of the aircraft. From the history of the aircraft to how close Just Flight have been to getting it right, we'll aim to be thorough. This has come after continued usage of the package. So, what was the take on this flight?
Product Background/History
The de Havilland Dove (known as the Devon to the military) was produced for over two decades. A source of pride for British aviation at the time, the Dove was an aircraft that served a need. Production began post-war, in 1946, and continued until 1967.
At the time, the Brabazon Committee had released a report which stated a need for a short-haul feeder for airlines, made in Britain. Immediately, research began into the creation of such a project.
The development team, which involved the creator of the Mosquito and the Comet, Ronal Bishop, was assembled. With an entirely metal structure, it was deemed to be a significant alteration from the similar Dragon Rapide aircraft by the same developers. However, the aircraft was a bit of an innovation at the time. Making use of retractable tricycle undercarriages amongst other bonuses, this helped to make important strides. Indeed, many view it as one of the pride and joys of post-war British civic aviation.
That does not mean, though, that the Dove did not carry a use in military environments. As mentioned above it was known as the Devon to the military. Several military styles came along, such as the Sea Devon which served as part of the Royal Navy. The aircraft began to be used by countries from across the globe in a military context. From Argentina and Iraq to Ethiopia and even Biafra, this aircraft was a massive hit.
VIDEO: Original Just Flight Promo
As such, it still has limited service in the world even today. They tend to be used mostly in civilian and private firms today. However, the aircraft still retains a popular memory for many pilots across the years. Serving as everything from a coast guard to federal police right down to National Test Pilots schooling, this was a versatile aircraft.
It's for this reason that it still retains such a popularity. The aircraft itself was created more than 540 times, with a massive range of uses and counties gaining from its creation. Whilst nothing in comparison to the modern wonders we can create today, this aircraft one helped set the tone for British aviation.
Installation
One of the most important elements when it comes to enjoying a mod is how easy it is to use in the first place. Although well-versed in the idea of poking around files and directories to install mods, it's not so simple for others. Therefore, it's always nice to see a mod that caters to every party and makes installation nice and simple.
Thankfully, Just Flight live up to their commendable standards on this front. Available widely in the easy to use downloadable format, you can get this up and running in no time. However, if you wish to have your collectibles on disk then some sellers do offer the chance to pick it up in that style.
The mod is 362 MB in size, and requires around 1.6 GB in HDD space to install, it's fairly bulky. Therefore, you should make sure that you have enough space and enough time/bandwidth to download the product in one sitting. Should you have limited connectivity, then you can grab a disk copy as stated above.
Installation is, thankfully, extremely simple to go through with. You merely run the installer and allow the process to take place – it's quick and easy for all experiences. However, if you wish to go through with an uninstall you need to do so through the Control Panel.
You can find more descriptions in the (excellent) manual, too. also, if you wish to have the full package you can install the South African, Dutch and British liveries add-on package for £3.99 as well. This is equally simple to install, meaning that all pieces of content for this mod install very well so far.
In terms of getting to use this mod, then, it's very simple. But is it worth going through the relatively simple installation process for?
Inclusions
As ever, Just Flight find a fair amount to pack in to your product. Given this costs £19.99, it's not unreasonable to expect a significant level of content for that price. Thankfully this does a pretty stellar job of delivering on that front. When you pick up this package, you are going to be getting access to various kinds of this aircraft. The models included with this includes;
DH. 104 'Dove' MK2 – Comes with a clear Perspex cockpit roof for added safety and style.
DH. 104 'Dove' MK5 – Instead has a solid roof, with a more up-to-date version of instruments.
DH. 104 'Dove' MK8 – Was a USA-only edition and has a longer cockpit. Compensates with roof aerials being removed.
DH. 104 'Dove' C20 RZNAF – Plexiglas viewing bubble and wing top has been included under the fuselage aerials.
DH. 104 'Dove' MK1 / Sea Devon MK20 – Both used by the RAF and Royal Navy in the past. Comes with a cool dash-mounted DeccaLog flight recording tool.
Also, the livery add-on also comes with;
DH. 104 'Dove' Air Lynx – G-BBYA.
DH. 104 'Dove' Fair Flight – G-AZPG.
DH. 104 'Dove' Martin's Air Charter – PH-MAD.
DH. 104 'Dove' South African Airways – ZS-BCCS.
Best of all, you get an excellent set of Virtual Cockpit selections included with this modification. All civilian aircraft comes with a period analog avionic set. Also, you can pick from a modern setting if you would prefer.
The military Devon versions, though, come with a militarized versions of the virtual cockpit in the other models. It's a nice touch, and went a long way to making sure that this aircraft has enough content.
Whilst the quality has been maintained throughout, there's plenty of quantity at the same time. For this reason, this feels like a well-created that's also fair on volume of content.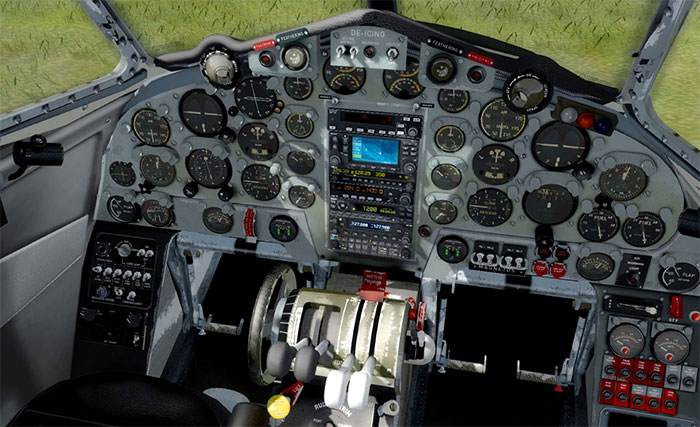 The Dove's stunning 3D virtual cockpit.
Performance and Specifications
As ever, the level of realism in the performance and the hardware specifications is excellent. The Just Flight team have always done a great job on recreating realism, and this package has been no different. If you want to see what the specifications of the aircraft are, they are included as;
Maximum Speed – 200KTS – 230MPH / 370 MH
Cruise Speed – 163KTS – 187MPH / 301KMH AVG 8000FT Economy Cruise.
Stall Speed – 64KTS – 74MPH / 119KMH.
Range – 765NM – 880MI / 1415KM
Service Ceiling – 21,700FT / 6,610M
Rate of Climbing – 1,135FT/Min – 346M/Min
This, then, is a model that prides itself on getting it right. It feels good to fly without having any kind of issues with feeling inauthentic. Overall, the developers have done a great job on making sure that it never feels out of place in the simulation.
Another major element, though, is the lengths gone to ensure it fits with the profile of the aircraft. For example, you will notice that it makes the most of the real characteristics for performance, including;
Crew – Two Max.
Passenger Capacity – 11 Max.
Length 39FT, 3IN - 11.96M.
Wingspan - 57ft - 17.40M.
Height - 13FT, 4IN 4.06M.
Empty Weight - 6,325LB / 2,869KG.
Fuel Capacity - 168IMP GAL.
Maximum Take-Off Weight (MTOW) - 8,950LB / 4,060KG.
Power Plants - 2 de Havilland Gipsy Queen 70 MK3. 6 cylinder, in-line, inverted, air cooled, 400HP / 289 Kw.
As far as we could see, the accuracy in terms of features was impressive in its overall consistency.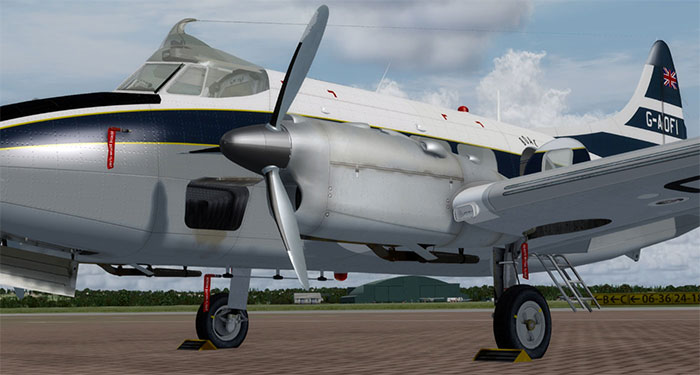 Image showing the aircraft engine.​
Manual/Assistance
Like just about every Just Flight project, this comes with a wonderfully technical and fun to read manual. With around 85 pages when read on a typical PDF viewer, this is a fun and engaging read. Not only is it educational, it's well-written and easy to take in. The writer of the document does a good job of making it easy enough for beginners to enjoy an education, whilst veterans can pick up the information they need at a level that never feels dumbed down or weak.
This is your guide to everything about this aircraft. From explaining the specifications and performance levels that it can reach right down to information about installation, this covers it all. Whether it's a bit of on-the-spot learning or troubleshooting to avoid disaster, the book provided with this does a wonderful job of making sure this can shine through.
The manual is also full of checklists and selections to help you manage the aircraft when in the sky. It helps you to get a refreshing take on the aircraft from the developers' perspective. At least then you can understand what you need to do within the context of the aircrafts own specific challenges!
Internal Design
However, the internal design of any aircraft has to be right for the feel to come through. All of the features can be there, but can you really see them in action? Does it have the right feel and "glow" to it?
In this case, it most certainly does. The developers have done a wonderful job of finding all three virtual cockpits equally important. Whilst some mods that take on such depth can feel hollow in some of the extras, tender care is given to all components of this mod. From the Dove cockpit and its grand simplicity to the black, sleek military cockpit of the Devon you get plenty of variety.
Detail is what makes a cockpit, of course, but functionality matters too. the developers have done a good job of making sure that each model comes with the right functions. The excellent use of the GPS and radio systems appropriate to each model is a thoughtful and impressive addition. As is, of course, the use of changes to the cockpit to depend on the service the aircraft is taking on.
VIDEO: David Womacks' Review
If you want to see more about what changes were made to the cockpit specifically, then you can do so. The manual included gives you a very thorough rundown so that you can see every little rivet and bolt worth noting.
From the small controls that you might miss to the usage of every button, you can find plenty to do from the cockpit. Whatever blend of this aircraft you decide to enjoy, each comes with a detailed inner cockpit. Some aircraft of this size can feel a little cramped and uncomfortable to fly with. Thankfully, this avoids the claustrophobic feeling of some virtual cockpits and helps you soar into the sky confident in each cockpit offered.
External Design
Whilst each model varies a little from section to section, the consistency of quality of maintained throughout. The developers have done a fine job of putting together a fluent and realistic set of models. Each of the models carries the right level and care of rendering, without going over the top. Some mods can be a work of art when it comes to the external design, but they don't look realistic. They look too much like renders, and the fact they are mere models becomes too apparent with a little too much work done to ensure it "shines" and gleams.
Instead, the external design here follows the tried and tested route of sticking to authenticity. The paintwork reflects nicely, but it's never off-putting. The bodywork also carries impressive detailing, from the location and placement of rivets to the details on just about every panel. From the realistic paneling and detailed textures used for the liveries, each model provided is quality.
That subtle shade of realism tallies in well with the rest of the aircraft. From the control surfaces that carry just the right level of glitz to the minor touches like rivets being placed correctly, this goes that extra mile.
Best of all, the view that you get from outside of the cockpit is great. You get to see the aircraft come to life, with the great interior shown best from the outside. You'll also get to see the cockpit and pilot(s) working away as they would in reality. It really is a great sight, too, to watch the animations kick into life.
As the wheel wells and fuselage voids start to work their magic, you can see the exterior model whirring into life. The aircraft might be outdated, but the level of precision and detail on this certainly is not.
Additional Design Features
Like all good modifications, this goes the full way when it comes to new design features. For example, the new animations provided here can be exquisite. The new animations come with the likes of fully animated control surface movements to side windows that can be open. Just Flight have done a good job on considering and then including a fair amount of depth within the new animations.
They do a lot for making the aircraft feel fun to fly and engage with. Watching from the exterior allows you to see all of the aircraft working its way into full throttle. Watch from the interior, though, and you get to see the various interactions needed to power and control an aircraft like this from your pilot.
The sound, though, is a major part of what fuels and improves this aircraft. Not only is the aircraft sound set fantastically well mastered and recorded, but it's got every aspect you'd expect down wonderfully. One complaint, though, would be the perfection of the engines – they make the "perfect start" sounds every time. No aircraft is ever so simple and consistent to start, so that's a bit of a minor issue.
However, when you hear the brakes being slammed on or the aircraft in general reacting to your flight adjustments, it's a nice feeling. The sounds go a long way to help the animations in making sure that the full picture is sold here. Just Flight have made sure that the DH.104 looks (and sounds) correct.
Realism/Dynamics
One of the most significant elements of any good flight simulator, though, is the detail in the dynamics. An aircraft can look fantastic, but if it flies like it's on rails what's the point?
By the same token, if an aircraft is made so challenging that only a real-life guru could fly it, then why would it be worth using?
For this reason, the dynamics has to be balanced and authentic. JF are more often than not spot on with flight dynamics. This de Havilland mod, then, does their reputation for this no harm whatsoever. It feels flash and flies very impressively. Given that it comes from an era of simple and easy to manage avionics, the aircraft might feel like a tram to someone used to the subway. Put simply, it cannot compete with the depth and energy of a modern aircraft.
VIDEO: Novawing24's Review of the aircraft
However, this is reflected wonderfully throughout any time that you spend in the cockpit of this aircraft. The dynamics feel genuine and applicable to the aircraft itself. You might be used to feeling your virtual skin peel back as you line up and boost for take-off, but this is quite tranquil. At least, it is by modern aviation standards!
The aircraft can get around 87 KIAS, and this usually means eating up a fair chunk of the runway to try and get enough acceleration. When you get into the air, though, it feels nice and steady – like you are balancing. It's about as close to an aircraft feeling like it's on stabilizers as I can remember.
Stability, then, is a major hallmark of this aircraft. The aircraft feels true to the real thing, and makes sure that the facts and stats you read about the performance in the manual actually feel like they tally with reality.
Simulation Performance
Overall, this flies very well. Bugs are light and limited and you don't ever notice any particular problems. Save for the odd issue with temporary clipping or things that take you out of "the zone" this runs very well.
Other mods might look great but have lots of problems under the hood. This feels well coded and seems to run with minimal to no problems in terms of compatibility. From this perspective, then, simulation performance can feel extremely detailed and will ensure you can feel close to the real thing. Nothing can compare, but the fluidity of this performance will help.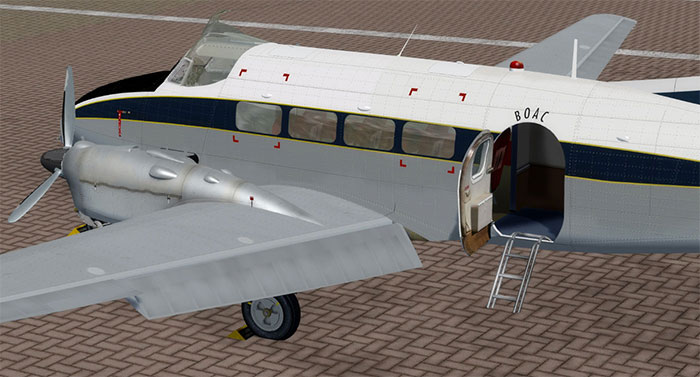 BOAC Dove with passenger door open.
Value
This is a very good piece of value for anyone who likes de Havilland aircraft, or aviation history. The developers do a great job of selling the right look and style for the aircraft, making it challenging yet rewarding. You might find that the lack of liveries is slightly disappointing, but the very cheap livery package does a lot to bring that together again.
As such this is a package that offers a fine level of value for anyone looking for a premium, and authentic feeling add-on. It's a great take on an aircraft that really needs more love.
Verdict
The final conclusion that can be offered, then, would be that this is a great quality add-on to include. Just Flight have gone and managed to capture that old-school aviation feel without making it cheap or exaggerated.
That is no mean feat and should be applauded. In terms of authenticity and enjoyment, few mods can provide the same detail for old-school aviation fans. Whether you want to try out something new or have had an eye on the Dove/Devon for some time now, this is one for the list.
As one of the last remaining bastions of British pride, it even serves as a useful tool for remorseful Brexiteers!
You can grab your copy right now over at the SimShack website.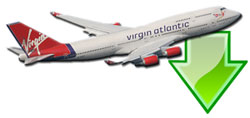 Don't forget... We have a huge selection (over 24,000 files) of free mods and add-ons for MSFS, FSX, P3D & X-Plane in the file library. Files include aircraft, scenery, and utilities All are free-to-download and use - you don't even need to register. Browse on down to the file library here.