Looking for a way to make your simulations even more fun and engaging? Then this mod is just what you need. The iFly Jets 747-400 aircraft takes the Boeing aircraft, and makes it look spectacular. The wonderful work carried out ensures that FSX users can update their simulator with an extensive, exciting and engaging aircraft simulation.
Capturing the Queen of the Skies in all of her glory, this makes sure that historical facts take precedence. It's got incredible depth within the simulation, with the cockpit combined with various other systems that you usually would not get access to. The extra load of features alone ensures that you get a premier-level of expansion added to your simulator.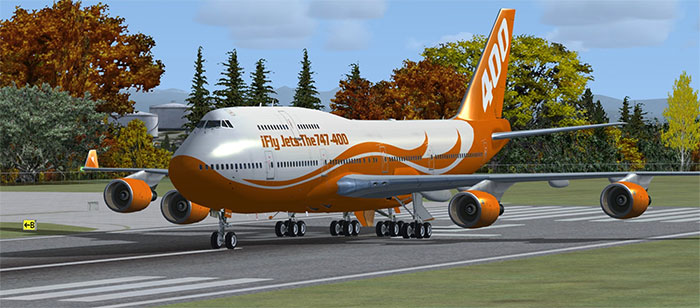 If you have been aching for a higher level of realism, then this is the one for you. Tested by genuine 747 pilots, this passes the gold standard for realism, quality and enjoyment.
VIDEO: The ​iFly 747-400 V2 Full Review
Flight Management Systems
In this take on the 747-400, this mod goes a long way with new FMS adjustments. These all go some way to making your flights more fun and extra engaging. Here are just some of the new features that you can expect to make the most of;
Winds aloft forecast entries. This is a nice touch, and adds another useful feature that you can use for sound analysis when forecasting.
New conditional waypoints are included for use in SIDS/STARS/Approaches. Its' a nice touch and the addition of Fly-by and Fly-over waypoints for SIDS/STARS/Approaches makes a welcome addition, further adding to your control in the cockpit.
A new Accurate Cost Index has been created for the ECON/LRC speeds. This helps to further infuse a bit of accuracy and realism into your flight, adding another important aviation function that you might not have used too often in simulators previously.
New horizontal and vertical navigation is included – it's a nice add-on and one that can make navigation a little simpler.
Improved further with the introduction of new user-defined waypoints. These are very useful for setting your own path and creating the right path to follow wherever you wish to go.
SID/STAR and NavData custom databases are included. This extra depth and detail will go a long way to making your flights a little easier to manage and prepare for.
Fuel prediction levels are shown alongside an ETA for the journey. Now, you know whether or not you are carrying enough to complete the journey or otherwise what this may mean.
Every page and menu has been implemented accordingly for easy viewing. The FMS systems can be a little tricky to use for newcomers, so the manuals do a good job of breaking all of this down and making it easier to understand.
CRT/LCD support – whether you are on a new or old machine, you should find that this works more or less fine regardless.
Full maintenance pages to be read through if you wish to get used to how to fly this aircraft without any of the usual problems faced.

Autopilot Systems
One part of simulations that is very important but can be left behind is that of an autopilot system. Sometimes these can feel basic or cheap, and lack the authority that they should be providing you with. In this mod, though, you'll be using an autopilot which can;
Provide an authentic AFDS system with full Auto-throttle assistance.
AFDS displays for FD, CMD, LAND3 and TEST functions. Easy to spot when you are in each form with simple visual cues.
Green/Amber signage to let you know if you are free to land or not when using the autopilot system.
Auto-throttle Active Modes is included, with THR, THRRED, HOLD, IDLE and SPD all included in the mix.
AFDS active and armed Roll Modes are included. This allows for access to HDGSEL, LNAV, LOC, ROLLOUT, TO/GA and LOC, ROLLOUT and LNAV systems. This extensive access goes much further, creating a genuinely easy to use Roll Mode that other autopilots may lack.
Leg types to be selected by your choice, from Direct to Fix to Radius to Fix. Plenty of options for your every need.
Left, right and cross-bar flight director options for easy manipulation and management of the flight.
A fully simulated AFDS status annunciation is included, also.
Mouse wheel support for simpler MCP window management.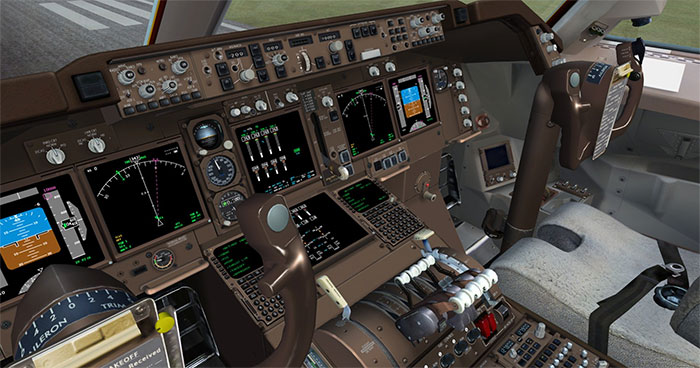 Modeling
The model is one of the main parts of any mod, and this is no different. As part of this add-on, you can enjoy a fresh introduction to important pieces of modeling like;
3DS Max Model is designed to the highest possible standards of realism, scale and detail. This goes the extra mile in making sure that you have a model that really does carry that premium feel. From the little extras to the scale of the model, everything is about as close as it can be.
Realistic and enjoyable control surfaces that are a piece of cake to be used. Its authentic design follows all the imagery that can be found, and it also ensures that the model itself offers the closest possible glimpse into what the real thing is going to look like.
Realistic flight spoilers are included alongside ground spoilers. These all go the extra mile in creating a fun and engaging model with all of the bells and whistles added.
Nozzle valve animations are included too alongside fully working APU doors. It's the added animation that goes a long way to making a fun and exciting looking aircraft that feels genuinely alive.
Entry and cargo doors work in the same way, with corresponding cockpit lights coming on and making the aircraft feel a little busier again.
High quality livery textures which look absolutely outstanding, each based on its real-life counterpart.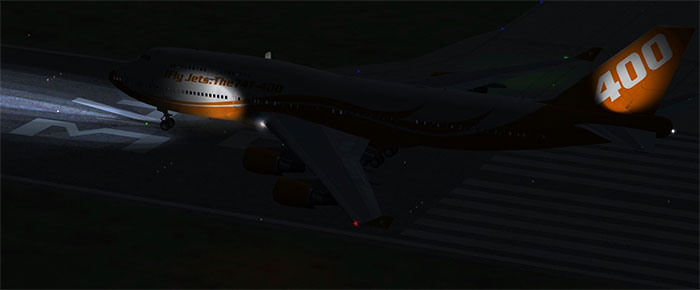 Virtual Cockpits
The Virtual Cockpit makes use of outstanding 3D modeling to try and follow the look of the real model. The cockpit itself is designed to give you as much control as possible without taking away from the visual aspect.
High definition textures look outstanding and carry the detail of this aircraft perfectly, offering a fantastic looking design that makes the cockpit easy to sit in.
Gages are all functional, fully animated and easy to use with your mouse. Animated window wipers are included as well, with two speeds to pick from to keep visibility up.
Windshield reflections go the extra way to add a nice level of graphical depth.
Superb instruments lighting is provided when flying at night, making sure you are always on track.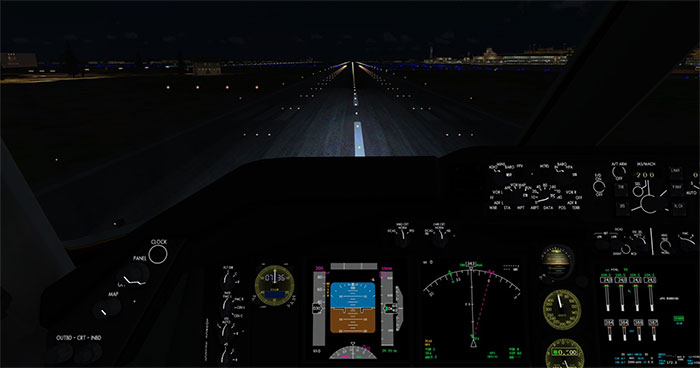 System Changes
The systems of the aircraft are absolutely vital. With this add-on you can make sure that you have access to systems like;
Intertail Reference Systems.
Terrain Displays.
NAV1/2 Radios with a fully working AUTO/MANUAL mode.
New Ground Proximity Warning systems that stop you from becoming a crash statistic.
Cabin pressurization has been managed and implemented fully.
Flap load relief protection has been included, too.
Failures and aural alerts are included to add a greater level of realism and an added challenge.
Left and right EFIS simulation is included, also.
Full TCAS logic with a traffic display on your EHSI system.
New weather radar and predictive winshear is included, with both requiring Active Sky Next.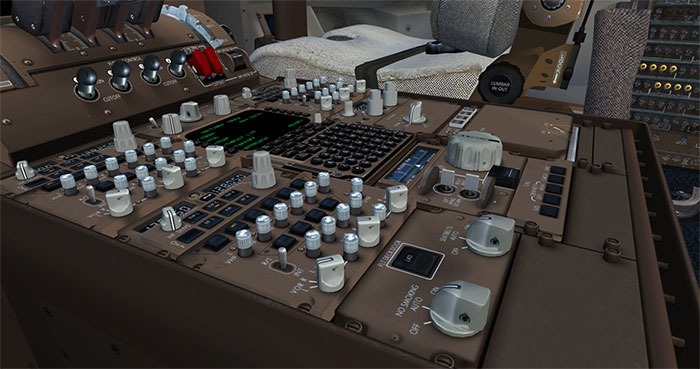 Other Changes
CRT/LCD Display units are included.
2D panel supports both standard and widescreen monitors.
Interactive Configuration Management is included, too.
New custom configuration options make it easy to tailor your systems as you see fit.
Derailed tutorials and operating manuals are included to make sure you can understand how to use this perfectly.
Aircraft performance is taken from flight model parameters, ensuring that performance feels authentic and challenging.
Custom Turbine Sound Studios audio using GE, RR and PW sound sets for the greatest performance.
More than 44,500 SID/STARs included in the package.
Ground support and push back provided.
Operate both Captain and First Officer instruments in various modes whilst in either 2D or Virtual Cockpit modes.
Don't forget, you can download a freeware version of this aircraft for FSX over from the file library here.
For more information, visit the official Flight1 product page here.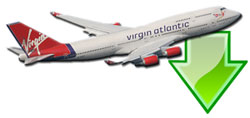 Don't forget... We have a huge selection (over 24,000 files) of free mods and add-ons for MSFS, FSX, P3D & X-Plane in the file library. Files include aircraft, scenery, and utilities All are free-to-download and use - you don't even need to register. Browse on down to the file library here.