For flight simulation fans, reality and authenticity is one of the most important factors that can be included in a simulation. One of the most jarring features is when you use a simulation that lacks depth in the graphical layout down below.
Flying over terrain is supposed to feel fun and look authentic; but that is rarely the case when using default textures and scenery. Thankfully, the community come together to replace scenery from across the world – even minor places you've likely never heard of.
One such place that has been covered is the excellent Mazatlán Airport. Also known as the General Rafael Buelna Airport, it's based in Sinaloa, Mexico. The airport is well-respected across international aviation and is used regularly to reach Mexico. However, it's not well-known outside of those who actually visit Mexico so it looks a little dated in comparison to other, more recognized airports around.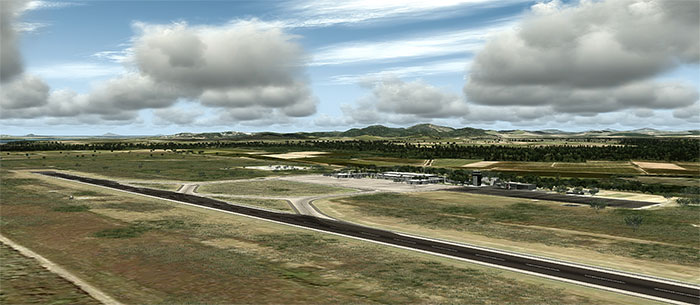 This mod, then, looks to fix that replace the dull and dour old Mazatlán Airport that stood here. If you want to make this airport come to life and show the quality that it's supposed to hold, then this is the place to start.
As the most important airport in the region, it has gone through an excessive remodeling process to make sure it's up there with the quality of the real equivalent. This helps to create a really deep, detailed and genuine airport design.
Now you can see everyone using the airport far more easily than the crammed, dull space that existed before. It helps to fill in the blanks in terms of what was not included before, and ensures the airport looks realistic. From the scale and the way that it operates, you'd think was an officially created and looked after recreation of the original airport itself!
Preview Video
What's Included?
In this download, you get access to a full remake of the airport and all of its associated features and facts. With the right scale, style and layout provided then this will offer a much cleaner, more enjoyable flight for you to engage with.
Since this is an airport which is used a lot for US-Mexico flights, it's got a lot of similarities to other US-related airports, adding a nice touch and look to the airport as a whole.
This provides accurate depth for the runways and the co-ordinates, following authentic protocol to make your flights here truly realistic. Stick to the real-life flight protocol and you should no problems at all in making your way here in time.
So, what do you get in this mod?
A wholly reworked airport that looks fresher and fairer than ever. Every care has been taken in the layout and the overall precision of where things go to add to that realism.
Deep, attentive care to detail in terms of color palettes and layout in general. Creates the perfect look and feel for an airport of this size.
Easy to manage layout means you can fly around and move from A to B at this airport without too much trouble. Makes traveling simpler in nearly every way.
And much more!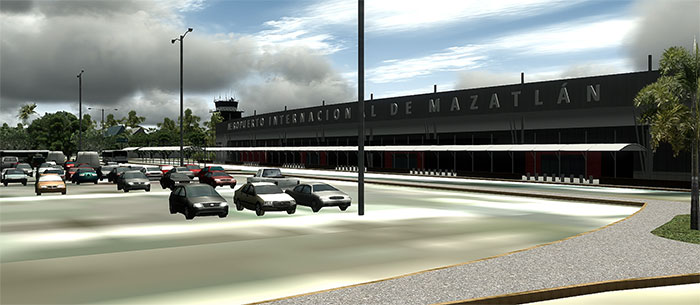 New Design Features
First off, one of the most important factors of this mod has been the implementation of the fresh new design elements. How an airport looks is very important and this mod goes a long way to helping you find the ideal design features needed.

With carefully built and detailed 3D objects, this airport takes on a much greater look and feel than it had before. Models have been made, optimized and included with the utmost attention to detail and precision at all points. The end result is an airport that looks the way it should.

Fully detailed buildings which follow extremely intricate designs closely. With each building in the airport being distinct and following its own particular layout, this goes a long way to respecting that. Close detail has been put into every factor of this airport, ensuring that it looks as close to reality as it can.

A new land-class has been added in to make sure that it looks much cleaner than it did previously. Without this then the contrast between new and old would be stark and would create quite an unappealing detail. Thankfully, this can be avoided with relative ease using this update. It helps to make sure that the world around the airport as much as the airport itself looks fresher, clearer and much more authentic.

Another major design change was that of the new static objects. This helps to populate the airport and give it a much-needed boost in vitality. Previously it was complained that this airport lacked any kind of depth of character. This goes some way to fixing those problems, rejuvenating the airport and making sure that it finally has its own personality included. Compare photos of the design this airport holds to the design in reality, and you'll see just how close it is.
Improved Detail and Features
This mod goes a long way to introduce some much-needed cosmetic improvements to the airport. Alongside the new design features, you'll find;
Realistic ground markings that help to make sure the airport is easy to navigate (you may find this mod useful). If you found it empty and confusing in the past, then this helps to fill in that substantial information vacuum that was making traveling around this airport a lot harder than it was supposed to be. Thankfully, the new ground markings solve that problem with ease.

Photorealistic background scenery is now being used to add that extra factor of authenticity to the surrounding area. This helps to make sure that nothing around the airport looks out of place, and that you have access to a much more improved look and feel. Designed in a manner that allows easy and simplistic inclusion without hampering your overall performance.

Realistic AFCAD has been used as well, making sure that every little must-have feature has been included. Goes the extra mile in creating that authentic finished image that looks so excellent.

Animals have even been animated – watch the world around the airport become more alive. With this, animals can easily become part of the scenery and offer a bit of extra life and vitality to what is already a very busy location. A must-have feature that does not limit performance.

Night illumination provided that goes a long way to offering a greater level of depth to the world at night. If you find yourself flying around and unable to see or work around the airport due to lack of lighting, this will help to correct this irritating oversight from occurring.
Other Changes
Greatly improved level of performance compared to other airport mods. Optimized and put together in a fashion that ensures performance will remain stable, this makes it easy for users to get a clean and decisive performance despite the fact this offers such a consistent and comfortable performance level.

Fully detailed autogen has been created to fit in with the climate and layout of the region itself. This goes a long way to making sure that your airport feels alive and well, with good autogen placement and design ensuring that the whole airport looks far more alive than previously.

All of these details go some way to making sure that we are left with an airport that's far more like the real thing. The easiest solution on the market is to use this mod for comprehensive improvement, especially for one of the most important airports in the whole of Mexico.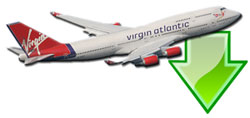 Don't forget... We have a huge selection (over 24,000 files) of free mods and add-ons for MSFS, FSX, P3D & X-Plane in the file library. Files include aircraft, scenery, and utilities All are free-to-download and use - you don't even need to register. Browse on down to the file library here.