Having been around for quite some time and creating a long list of respected products, CLS have been in the workshop again and have come out with another great product – their HD release of the Boeing 747-200/300. This product comes equipped with some very useful additions and, as you might imagine, has some truly epic textures and model detail to go along with the name.
CLS, or Commercial Level Simulation, have created this package for both FS2004, FSX and P3D. This makes it much easier for those who want to fly the 747 in this particular guise as this product comes with all of the proverbial bells and whistles attached.

The product itself is created with the intention of adding another layer of realism to the already impressive 747 included within most simulators. However, this takes the texture detail and the overall quality of the design to a much higher level and works incredibly hard on making sure the interior of the cockpit is as close to the real thing as it possibly can be.
By utilizing the power of the respective simulator, this pushes the boundaries and really forces the simulator to work!
It's an excellent remake of an aircraft model that has more than 40 years of service to its name, having always been updated and improved as time has gone on. The aircraft has had various engines, a new upper deck area and even new wing designs over the lifespan of each model so it's no surprise that, in this package, you get access to more or less all of that!

It makes it a whole lot easier to manage the aircrafts looks and overall style when you have this, ensuring that you can get the kind of help needed to really take things forward in a design that you feel at home in.
The main purpose of this project, then, was to create something enticing that people would be able to get to comfortable levels of usage with relatively quickly without removing all of the challenge for those who like their simulation to be a bit more challenging.
Inside this package you gain access to 24 different models and 57 different liveries all created in faithful style, using hours of footage and imagery for each to get the design as close to the real thing as it legitimately can be.
It does, overall, make a big difference and show you just what you are looking for in terms of a high-end quality of design. However, the model is not the only impressive part of this product; it's the actual addition of all of the little features inside that make it so useful. With all of the buttons and gauges that you need to really control an aircraft available to you, it becomes a whole lot easier to get the thing off the ground when the cockpit is such a nice remake of the real thing; if you have an idea about the interior of a Boeing 747, you'll be able to notice just about everything more or less right away!

With such a huge attention to detail in both features and in model style, you can be sure that this aircraft will give you all the support that you need when you want to start learning about the power of the Boeing 747. However, it's also equipped with some very nice "lite" features that actually make this flyable. Whilst realism and performance is very much a factor here, they have made sure that the light edition comes equipped here, too.
This means that those who don't have the time to take on a mini training course to learn about the aircraft can simply spend their time flying thanks to the massive changes made in the lite edition. This will give you high quality model designs and a huge attention to detail and features without going overboard and making you sit through an encyclopedia worth of lessons before you can even turn the thing on!
Whilst this might not suit the most hardened of simulation fans out there, it still provides enough realism and a strong challenge to really master the thing – it's also just been designed to help fit more casual members of the community as well. This makes a massive difference in the long run, ensuring that people can settle down and get to grips with its style and its power without being too overwhelmed at the sheer complexity of controlling and flying the aircraft in the first place. It can take a bit of time to get used to, sure, but the user-friendly nature and smart coding of the product itself ensures that getting mastery of the aircraft and making it work for you will stand you in good stead.
Key Features
Created for use with both Lockheed Prepar3D, Flight Simulator 2004 and Flight Simulator X, so that you can get compatibility with both – this ensures that users of both can get one amazing aircraft that they can enjoy using in both of their respective simulator choices

Updating using the most stunning features and textures possible, this manages to bring to life one of the most exciting aircraft that Boeing has released – it's a huge part of their flight history, and now you can commandeer one with relative ease.

Dedicated models created for usage with the simulators meaning that they come with the highest level of attention and detail possible for both P3D and FSX. This means that the whole thing will run smoothly as each texture and model part has been created with these simulators freshly in mind

Highly detailed passenger and cargo models on the exterior, bringing a much greater sense of life and realism to proceedings and therefore creating a much more enjoyable look and feel than many of their predecessors may have had. This makes a big difference to the overall quality of the model

24 unique versions of the model to bring everything together and make the whole package look and feel as effective as it possibly can, having all of the style and detail that you would expect to see along the way being added in there for effect and added choice

57 liveries are included within this package, ensuring that you can get the kind of precise look and detail that you were hoping for when you first download this package. Each livery is based upon a real-life design so you can get the look for this aircraft you like best

A HD livery paint kit included so that you can make up your own bespoke designs, too. Thinking of starting our own virtual airline? Then why not use this to show everyone what your new airline is going to look like? The paint kit is extremely user-friendly, making designing simple

A huge range of cockpit sounds made purely to ensure that you will feel like you are inside the middle of a real cockpit. 50 sounds in total were recorded in high detail and includes things like system sounds relaying important data back to you and even a talking First Officer for that enhanced realism

Extra sounds have been added in to make the aircraft really sound like it has come to life most of the time, as well. It's got a lot of different things going on at once in this craft so these sounds help to represent that perfectly and make the whole thing sound as if it has just truly come alive!

All of the main engines that you would expect to see are delivered here in style with the Pratt & Whitney, General Electric and Rolls Royce engines are modeled perfectly and captured in the right style along the way. The sounds are included for each engine, as well, making sure that you can hear them over anything else as you fly

Great FSX camera views are made up from scratch to make it nice and easy for you to look around and see the progress of the flight – and indeed the world around you – as you fly, bringing everything together in the most effective style and format it possibly can

A flight management computer system that provides a limited layer of functionality. Given that this is a whole new feature made entirely from scratch for use in this, it's a very impressive addition that goes a long way to providing the kind of stunning detail that you would have been hoping for

DX10 Preview Compatible to make sure that you can get the perfect blend between sheen, shine and performance. This balances it all out and ensures your simulator will be running as smoothly as it possibly can throughout the flight

Fully bespoke 3D landing and runway turn-off lights, to add a much greater level of authenticity to the design as well as to make a nice showing of the way that this aircraft would look when you are using it in a real life flight

2D panels with customized gauges included alongside the virtual cockpit to give you a really detailed listing of all of the main buttons and gauges that you would expect to be dealing with when you are flying something as advanced and as intricate as the model that you are working on

A completely interactive virtual cockpit has been named from scratch, including all of the key features any good 3D VC needs to really become effective. Loaded with features but also based on the design style and nature that you would expect when you are flying a typical high-end Boeing aircraft

A whole range of animations have been created to give you a much greater understanding of the work that can go on inside of an aircraft like this – from the passenger doors and cargo doors flying open and closing to the flaps and rudders moving around independently, you'll get a much greater appreciation for the amount of things going on within an aircraft. Elevators, undercarriages, engine fans, thrust reversers and even small spoilers will all be at work together during the flight to make the whole thing erupt into life and feel realistic

Customized engine reverser spray effects for another nice little touch, adding to the overall feeling that the aircraft is moving as a genuine entity instead of just being the model with some of the typically basic flight features added in – this covers all of the main things you'd expect to see

A dynamic wing flex that makes the aircraft look far more alive, acting as various parts of the aircraft work in their own way and in tandem with one another rather than feeling like a mix of random animations just playing for the sake of adding a bit of life to proceedings

Fresh camera views added to give you the clearest view of the entire ship possible, making it much easier to get to grips with the whole aircraft and to understand just how much work has gone into every last pixel within the textures and model of this stunning aircraft

Pushback trucks that can be switched on or off that adds yet another little layer of authenticity, bringing the little features together that can make every aircraft so different and unique from one another along the way, adding a nice dose of functionality to proceedings at the same time

Air stairs included for passenger models to be able to actually get onto the aircraft, creating yet another little realistic feel that makes the entire aircraft feel that little bit more appealing than it did in the past

Detailed flight deck that can be viewed form the exterior for the perfect view. This gives you a close idea of just how much work has gone into the design and style of the overall aircraft, taking in every aspect of it including the aircraft itself and the various sections that you can come across inside the aircraft itself, making everything look so much more combined and professional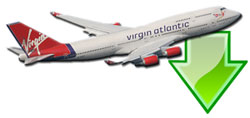 Don't forget... We have a huge selection (over 24,000 files) of free mods and add-ons for MSFS, FSX, P3D & X-Plane in the file library. Files include aircraft, scenery, and utilities All are free-to-download and use - you don't even need to register. Browse on down to the file library here.