Apple device users, rejoice!
Digital Aviation has completed a v1.0 release of its latest product, Radio Navigation Simulator. This free app has been released on the Apple App Store at present, and is now available for usage for anyone who finds the idea of using this cool little simulator useful.
This is a free rendition of the mega-popular, paid-for IFT flight training app made by the same firm. Now, users who have never had the chance or the finance to try out the mod can do so on one of their mobile devices with relative ease.
The basic version, of course, carries a limitation of the same features that the Premium edition would. It carries one single usable training nav-aid, which is a combined VOR/DME and NDB solution. It's founding within the pre-existing exercise flight environment with around 100x200 nm provided. This is fully and fairly populated with VOR, VOR-DME and NDB airfields which makes it easy for you to understand and appreciate the full context.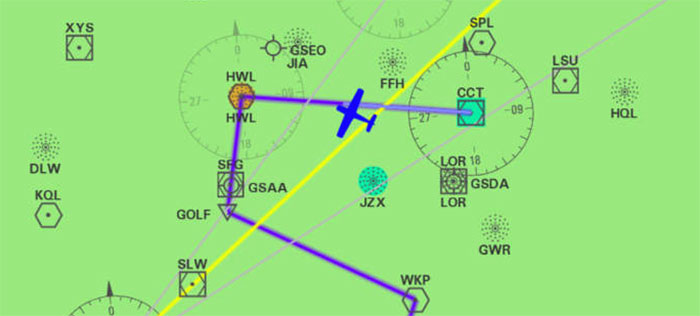 This serves as the timeliest and most effective introduction to the world of Radio Navigation Simulator. If you have never used it before, this is a great place to see if it's something that you would like to use.
Many of the apps provided as part of the Radio Navigation Simulator family all make flying aircraft and making them do your bidding much easier than it's been in the past. Many 2D simulators and training aids exist on their profile that allows for easy mobile simulation that's effective, actionable and lots of fun. This enables young pilots, fans of simulation and aviation students to study and become more proficient when it comes to using the various flight utensils pilots need to be fluent with to be a success.
The Radio Navigation Simulator Group
From providing high-end VOR, DME and ADF/RMI instruments, the Radio Navigation Simulator group of apps makes learning simple. You have access to also using all of these apps through the Directional Gyro on a choice of five realistic and fully authentic flight panel instruments.
These work within a small and pre-prepared exercise area, or it can even be used on a full USA data-set if you use a more powerful version of the app.
So, this makes the whole group of apps the perfect tools for learning, improvement and positive change. It's the perfect tool for making sure you can perfect radio navigation skills and to self-test your knowledge. However, this isn't just for newbies and newcomers; this also stands as a fine tool for veterans.
Test your skills and your know-how and see how you can manage instrument usage, or get used to proficiency testing as soon as possible. With this app, just about everything you need to test yourself and understand navigation is made pretty clear!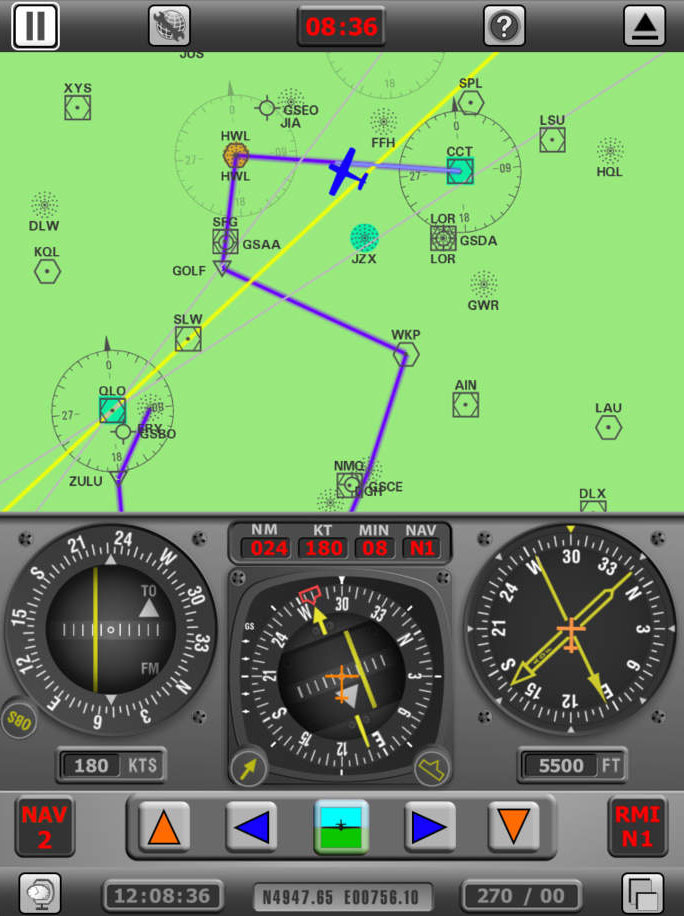 Major Features
New instrument panels have been optimized for specific use with smartphones. Don't worry about using these on a clunky touch-screen phone, they have been optimized for full support with retina displays.

With a scalable chart system, too, you can get used to seeing various symbols that should help you understand the skies a bit better. A great learning curve for making sure you are educated as much as anything else.

A new aircraft track plot trail is now displayed, allowing you to see how accurate you were in terms of your journey and your progression. Make sure that you can learn absolutely everything you need to make a success of your time in your skies.

New practice-tracking to NDB/VCOR has been provided. This also allows for tracking of radial interceptions as well as holding patterns.

Make sure that you are learning everything you need to know about piloting. With the learning features you can get access to information about major features such as interpreting NAV instruments or dealing with DME. These factors can help you become a much better pilot in a short space of time.

Fresh new flight panels have been produced that provide major instruments such as VOR, DME, ADF and Directional Gyro features. This allows a better level of understanding about how to use major and commonly accessible systems and tools you will find in most cockpits.

With an airspeed range of 60-600 knots, you can make sure that you can fly with the best comfort and freedom possible when you are up in the skies. A fine choice for getting used to air speed ranges as much as anything else.

New real-world variation magnetic models are included with display of current Variations on the chart. Another hugely useful learning tool, this can make progression and planning so much simpler in the skies.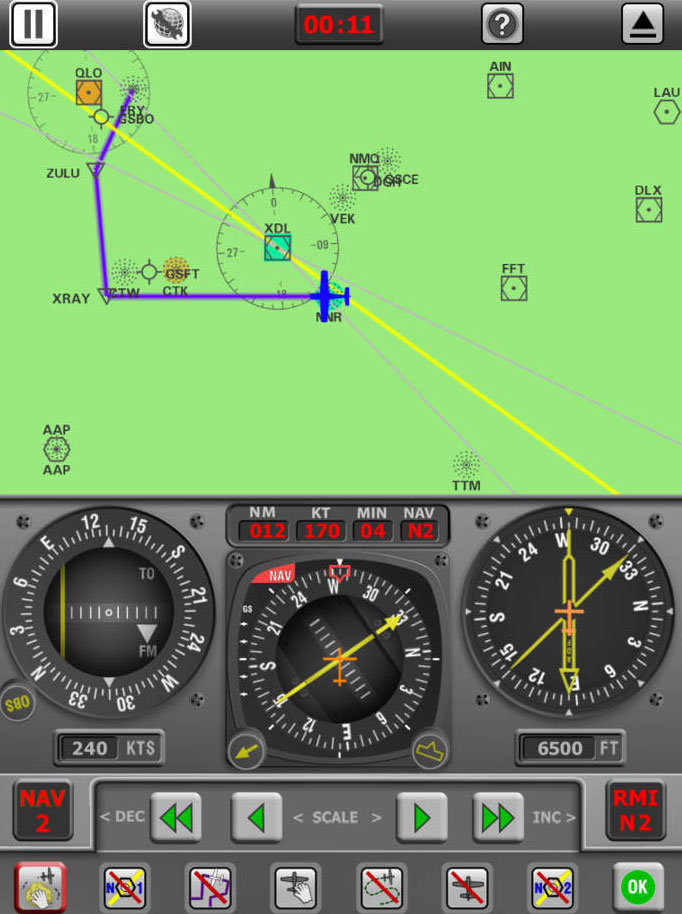 Minor Changes
Better altitude management thanks to the improved display that is provided to keep you well on track as you fly. The finest choice possible for keeping yourself accurate in the sky.

A flight profile in both Real or Compressed time. Take your choice with whatever you feel more comfortable flying with.

Make changes to the wind velocity if you wish. With this you can adjust from 0-99KTS, from any direction whether it is steady or it is variable.

You can also use dead reckoning navigation capabilities, which provide high-level flight environments matched clearly with Latitude and Longitude figures for easy management.

All instruments and charts can be controlled with an easy to work with multi-gesture interface. When using this, you can ensure that you have total understanding of the kind of instruments you'd need to deal with here.

Also, touch-button flying controls are provided to help make the mobile interface feel even easier to get to grips with as time goes on. A total change to the previous system.

Pop-up toolbars are included alongside Annunciators to manage flight panel facilities with relative ease. The ideal choice when you need better control, or understanding, of various flight panels along the way.

A Quick Start guide is provided to get you up and into the skies with the absolute minimum of fuss.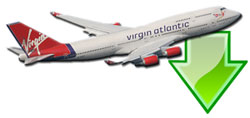 Don't forget... We have a huge selection (over 24,000 files) of free mods and add-ons for MSFS, FSX, P3D & X-Plane in the file library. Files include aircraft, scenery, and utilities All are free-to-download and use - you don't even need to register. Browse on down to the file library here.