As one of the most important airports in Indonesia, Bali Airport deserves major recognition. Indonesia is one of the most upwardly mobile and developed Asian nations, and its air commerce has been growing year on year.
However, it's always had poor representation in the world of flight simulation. The lack of detail and assertive information on the airport has made sure that flights over Bali have always felt a little hollow. An airport with such an immense importance domestically and internationally should be held to much higher standards.
Thankfully, Aerosoft have released Bali X to counter this. This release looks to introduce a whole new look and style for this airport, giving it much more attention to detail than it has had in the past. Available for use with FSX, FSX – SE and P3D, this is based on high-res satellite images that uses 0.4m/pixel resolution. This results in a deeply detailed and beautifully managed rendition of this popular airport, on a par with any other Aerosoft release.
This new custom airport environment comes with a highly detailed airport building, as well as new high-resolution textures. These make sure that the airport loses the dull and generic look that is held previously. Instead, it's swapped out for much more authentic décor and design that ensures the whole airport looks the best that it can.
For example, new additions include the SODE animated jetways to help add an extra layer of realism. The little touches really make all the difference here, and with Bali X you get more than SODE jetways!
Major airliners can now land at this location thanks to the massive expansion work carried out, too. The developers have taken this into account, detailing Bali X in a much clearer light than it has been shown in the past.
Graphical Improvements
The major changes have been graphically, where Aerosoft tend to concentrate their resources. This comes in the form of the expertly worked 0.40m/pixel aerial imagery sets that are included by the team. This makes sure that not just the airport is covered, but surrounding areas as well. Don't worry you aren't going to fly in and just find a magic circle where all the new details stop!
Also, the polygon count of the ground has been risen dramatically. Over the years the old poly counts have begun to look rather tired, old and dated. This helps to get around that problem by regenerating the ground to make it much more visually appealing. No more dealing with muddy-looking concrete and dull runways that look like they've spilled out of a can of paint; Aerosoft have changed the poly count for the positive.
This allows for much better flight control, especially as each building has become upgraded as well. By removing the confusion caused by the generic nature of the old airport, you can pick out locations and landmarks at this airport much easier than ever before thanks to the new changes.
Also, new custom models have been scattered around the surrounding area. These provide new custom looks to the airport that fits in with typical Bali architecture. This allows for the region to feel more like Bali, instead of looking like another generic 'Airport A' design that lets you down.
For realism in Indonesia graphically, this is a fine starting point. It should allow for much better detail and control of the airport since you should be able to see around the place much easier.
Add in the new static vehicles that line the area, too, and you have an airport that genuinely feels more alive than ever!
VIDEO: Bali X Official Preview
Performance Changes
That isn't all that has come to life in this airport, either.
The development team have done to great lengths to include new static objects such as buses, cars, trucks and airport handler carts all over the place. It makes the airport look like the busty metropolis that it is, rather than feeling like a mini ghost town as it has in the past.

This is a big part of the performance changes; it just makes the whole airport feel like a place you would enjoy visiting. From a Bali point of view, this allows for much better performance as the airport moves as one rather than feeling fragmented like before.

Also, the new SODE animated runways should make your flights to and from Bali much easier to handle. This goes a long way to improving these problems and getting you back in the skies using the easy to follow runways.

The little touches always make the biggest difference, and the new runways are certainly a part of that major difference being made. If you find that these limit performance (they shouldn't but could on lower-end machines) then you can turn them off with relative ease so don't worry!

Also, the 3D PAPI lights should improve general visibility when trying to get a landing at the airport. Rather than struggling to see in the darkness, the whole airport feels far more illuminated than it once did.

AI compatibility has been included, also. If you use any kind of AI packages they should have no problem getting to grips with the performance and overall management of the new airport layout.

Lastly, new manuals and charts have been made up for you to follow along with. This should make it much easier for you to control your aircraft in accordance with the facts given back to you by the new files.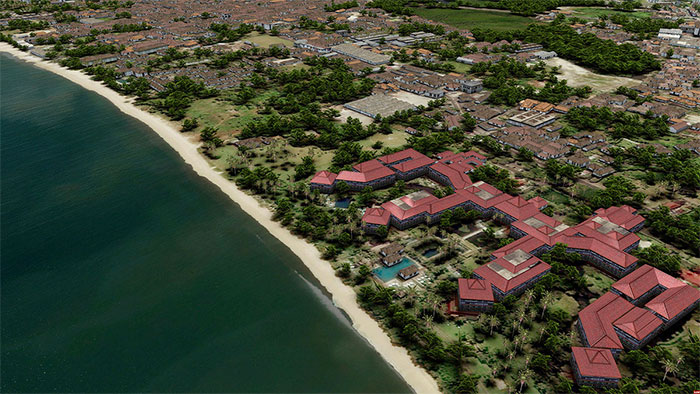 ​
Beautiful coastline of Bali.
Version 1.01
In the latest version of this airport mod, Version 1.01 has included some minor changes that you should definitely download if you have this mod installed already.
For one, it has made some impressive changes to the way that the water polygons work. These were bugged on release and this will help the South Mangrove Forest avoid looking like a mess thanks to the error with the poly count.
Also, a new VOR antenna was included to the airport, adding another minor – but important – little touch that helps make the airport itself feel more engaging.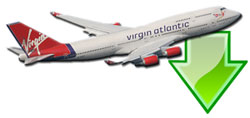 Don't forget... We have a huge selection (over 24,000 files) of free mods and add-ons for MSFS, FSX, P3D & X-Plane in the file library. Files include aircraft, scenery, and utilities All are free-to-download and use - you don't even need to register. Browse on down to the file library here.