For any flight simulation fans today, realism has become the norm and the expected demand. With the scope of how detailed we can be in the cockpit and beyond, nothing other than realism should be the aim. With this vFlyteAir take on the excellent Cherokee 140G, you get just what you are looking for and expect.
As a fine recreation of an aircraft that's a whole lot of fun to fly, this is great for beginners and veterans alike. If you are looking for an aircraft that poses an exciting challenge, this might just be the perfect place to start.
What's Included?
This package prides itself on offering more than the average aircraft selection. If you purchase this latest release, then you will get access to plenty of new content and features. Each can be used to help perfect the art of flying this aircraft, making use of various features that vastly improves your enjoyment of the aircraft.
For example, a new completely customized Aspen E1000 Primary Flight Display. Created by Mario Donick, this is the most reliable flight companion that you are likely to get. The perfect PFD for this. Alongside this, a new GNS 530 GPS and a GNS 430 GPS are put into the package, as well. These work to help give you both a Primary and Secondary GPS to help make navigation easier than ever before.
Additionally, you'll receive access to a Garmin GTX327 Transponder has been fitted into the cockpit, too. this has various custom features included such as Pressure Altitude, automated flight timers and count up/down timers. STEC 55X auto-pilot has been included, as well. This comes with HDG, VOR, GPS, ALT and VS modes. This allows for the utmost control and command when using this advanced auto-pilot.
Backup analog gauges have been installed to help manage your flights even better, as well. This includes an altimeter, as well as NAV2, OBS and ASI features for prominent aviation control. PS Engineering PMA 7000B audio panels are now added into the package, as well. This has simulated Bluetooth music included with the original Rundio soundtrack included for added enjoyment.
Need an easy way to enjoy flying around the skies, then? This package offers plenty of key features to make that so. If you want to master the art of flying an aircraft like the Cherokee 140G then each of these tools can play a big role in making that so. Thanks to this, you might just find that a little easier to implement.
Graphical Improvements
One of the most striking factors of this mod, though, is the major graphical improvements that have been put in place. Not only does this mod look to give you an aircraft that's fun to fly, it's great to look at as well.
This includes massive changes to the way that the instrument panels and knobs operate. Now with full support for mouse scroll-wheel manipulation, keeping count of your requirements has never been so easy.
New warnings are included that flash up on the screen and keep you alert of what is to come. From warnings to close doors and latches to letting you know when fuel tanks are low, these are great flight assistants. On-screen pop-ups annoying you? Don't worry. You can turn them off or down with the Control Menu.
3D propeller discs have been included and they now move to the motion and the pace of the aircraft. A much-needed and excellently detailed model ensures it looks authentic.
New HDR interior and exterior lighting is included. This adds extra visibility and makes those flights feel far more comfortable when you take to the skies in the darkness. A new strobe light is included, too, and can provide a staggered flashing sequence. Good for a nice touch of realism but can also be useful for landings in tight spots.
Wheel fairings are included, and can be introduced with a single click. You just need to head into the Control Menu and choose the wheel pants. These can reduce drag by around 2%, also.
Want style and selection? Then you'll get to make use of the nine awesome liveries are included with this. Each is based on a real-life aviation design so you can certainly get something that fits with the theme or format that you wish to fly with.
Fuses and circuit breakers are an optional bonus that only helps to add authority and style to the aircraft.
With all of this combined onto a fully animated 3D model, you get a design that is a fitting tribute to the real aircraft. Using high-definition textures (with a normal resolution pack included for those with limited hardware) further adds to the brilliant level of detail that holds this entire package up.
Performance & Usage
One of the main changes that has been implemented, though, is how this aircraft handles itself.
New flight characteristics that are based on flying experiences with the real thing. If you are worried about it being too floaty, or lacking a genuine challenge to fly, these dynamics help. Custom and situationally aware sounds come to life when you are flying. With external and internal sounds and Doppler effects, you can make the whole experience "feel" realistic.
Want to fly the aircraft from scratch? Then you can easily start up in the way that you choose, from total Cold settings to everything being ready to go immediately.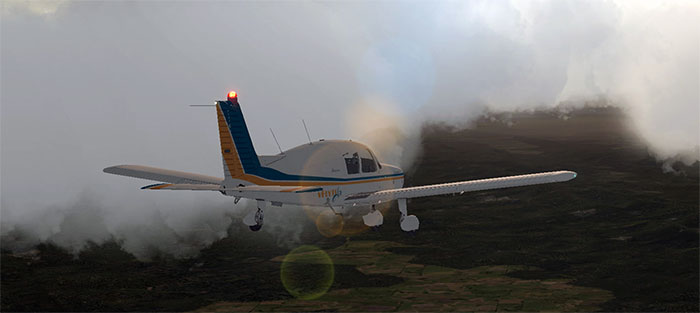 ​
Flying into the sunset.
The new autopilot function can make use of GPS flight plans and RNAV approaches with ease. This makes managing and accurately arriving at your destination just became so much simpler.
Also, new custom engine vibration effects are added that can effect everything from ignition to causing heavy vibrations that hampers the ailerons. A nice touch that adds a real weight to the flight. Sound too loud? Then turn it down using the fully working radio knobs! The new custom sounds cover everything that you might expect, including faults, so reducing sound can improve problem solving.
Note: While this has been tested on X-Plane 11 Beta, it's not fully compatible as of yet. This works with X-Plane Version 10.50 and above. However, more work is still required to perfect its performance.
More information over at the vflyteair website here.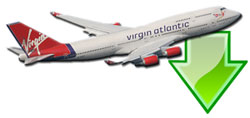 Don't forget... We have a huge selection (over 24,000 files) of free mods and add-ons for MSFS, FSX, P3D & X-Plane in the file library. Files include aircraft, scenery, and utilities All are free-to-download and use - you don't even need to register. Browse on down to the file library here.