As part of the vFlyteAir collection, this remake of the Grumman Tiger is worth installing. If you've got the original then you should definitely grab the new, updated version 4.1 edition. If you have never had the pleasure of flying this before then you would do well to make the time. Out of all the aviation experiences that you could enjoy, version 4 provides such a deep, engrossing experience.
It's a plug and play selection that you can get running and ready to go in a matter of minutes. It takes very little work to get installed and operational, meaning that you can be in the air and undergoing the unique detail of the Tiger very quickly. Also, it comes with a new X-Plane 10-ready G430 GPS system.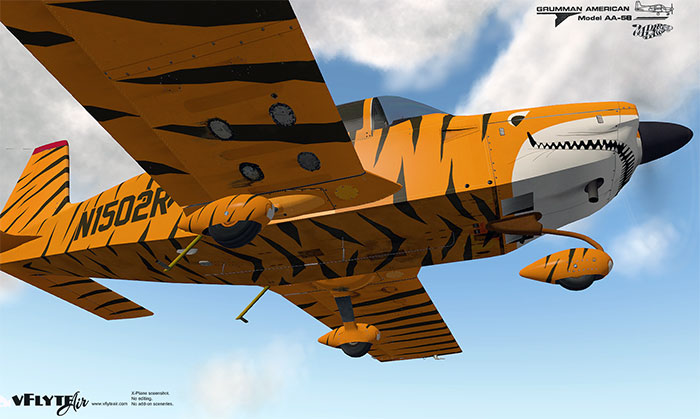 Tiger livery applied to the model.
For that reason, many people enjoy hopping into the cockpit of this aircraft. It offers a livery, too, which is a replica of a real design. It uses the N1502R with the serial number of 002. This is the very first Tiger to have ever been made and take off, so it's a little piece of history. If you would like to commemorate that history, this is the time.
Also, this mod comes with a unique Bengal Tiger livery that can be used. This is upgraded and improved to offer a nice touch of detail to any Tiger pilots. A fine choice for adding that extra touch of intricacy, vFlyeAir have helped detail what makes the Tiger so beloved.
Now, you've got the opportunity to take to the skies and appreciate such majesty. A fine choice for any aviation fans who are looking to see what such an important piece of history can provide. If you would like to maximize your aviation experience, then flying such aircraft may assist!
What's In Version 4?
So, one of the major changes the development team carried out was making X-Plane 10.50+ compatibility possible. This is a big change as previous iterations could not handle newer versions of the simulator.
Also, fresh new mouse wheel support was included for easy cockpit management and manipulation. If you found it harder to manage the aircraft without the right peripherals, then this can be an excellent choice for improvement.
A new, HDR-compatible aircraft with customized interior lighting has been added to this version. Now, interior lighting will operate so long as you grab the HDR ON feature in the Rendering settings within X-Plane itself.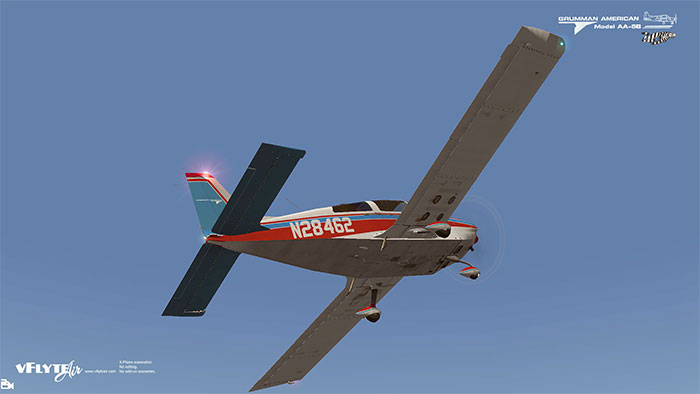 Original Grumman paint scheme.
New customized start-up logic has been written for the engines, too. Engines now take much longer to start when they are cold, meaning that a needed mixture is required. This means that you also need to open up the throttle by a half-inch when starting the engine. As such, this can make a very impressive change to the overall realism. A new GTX327 transponder has been included, too, using a 4-function display to help make sure you have all the tools needed. If realism is your thing, then this cockpit makes that easy to buy into!
One minor addition has been the addition of a new animated ignition key. It's a small add-on but a little extra that adds a much-needed sense of realism to the whole thing. If you would like to make startup feel genuine, this is a nice little touch.
Radio volumes can now be individually controlled alone. Simply use the radio control knobs to alter volume of COM and NAV volumes. It can help you better garner the message coming through various channels if you feel it lacks depth and sound.
Control the NAV OBS2 thanks to the improvement of FLAG indicators, LOC and GPS indicators, and much more. This makes it so much simpler for you to manage the next step of your overall aircrafts management in the sky. Also, a new digital Outside Air Temperature display is added to the cockpit. Again, it's a small feature but one that helps to complete the overall image and present the right kind of presentation.
Improvements to the STEC 30 AP has been included. This helps to regulate and normalize the behavior of the aircraft in time. With the new autopilot feature added, then, you can easily utilize proper GPS flight plans. Make sure they follow ILS approaches and GPS RNAV approaches, as well as HDG and VOR tracking.
Other Version 4 Features
New glass textures were included, too, which offers a nice touch of realism. It helps to make sure that you need to fly against the elements, dealing with windows that have lesser visibility. It's just another part of the challenge, but a lesson you need to learn and adapt around.
Also, new simulated music is included. This allows you to change the tunes to fit your own requirements. A How To guide was provided for you so that you can easily get access to this information without having to do too much. This sits on top of a glut of new sounds which have been recorded and mastered. These all offer genuine sounds that fit the situation in front of you. With sounds that actually suits the challenge of your flight, you can easily begin to understand and appreciate how – and when – to react or solve problems.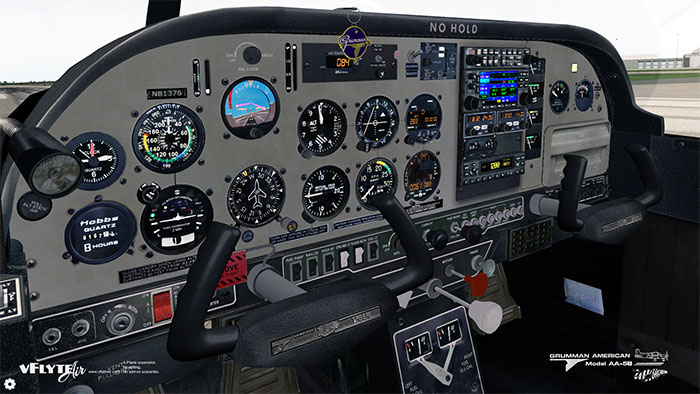 Highly detailed 3D virtual cockpit in X-Plane 10.
Another musical related touch was the addition of the new simulated headphones feel. Simply click on the pilot-side headphone jacks. By doing this you can attenuate the sounds and make it sound as it would for any actual pilot rather than the stereo sound that you get otherwise.
On-screen control menus are included, too, with operational management and view selections included. This offers the perfect choice for ensuring you can maintain your overall road control.
Note: Although no plug-ins were required, this does need you to have a modern installation of Microsoft C++ Redistributable Package installed. This can be grabbed directly from the Microsoft website.
Introducing Version 4.1
For any users looking to improve on the offerings that v4 provided us with, v4.1 is a must-see option. This looks to make various changes to the overall management of the aircraft. Some of the major changes and additions that were made, though, ensure that the aviation experience is improved.
For one, you now have yolk controls hidden via the lock manipulator as soon as you are taking off. This is because too many pilots suffered accidents and irritation by accidentally re-installing the lock mid-flight. Another nice change was the improvement of the A/P interrupt button on the yoke itself. Now, all it takes is a simple click to be held down so that you can make use of the Control Wheel Steering, even when AP is on.
Ignition key manipulation is now similarly hidden, too, after many pilots suffered from accidents. It's now located on top of the glare-shield when you take off. Many pilots would mistakenly take out ignition keys during flight. Now, unless magnetos are OFF, this will not budge.
Visibility logic has been changed, too, for the actual pilot figure that is included as part of the project. Now, the airplane is hidden when the aircraft is grounded or when the engine is off. It also means that the pilot is not there, regardless of the canopies condition.
Starter lamps will no longer illuminate, either, when trying to start up the engine with the keys on the glare-shield. A new Auto Amplifier logic has been included, too, which means that if the fuse is pulled, all audio volumes will go to 0, and the audio panel power lamp will switch off. This can then be saved and restored when the fuse is pushed in.
Fresh mesh textures are a fine choice when you want to make the most of the interior of the pilot yoke columns. These sleeves are also no longer transparent, making them easier to see.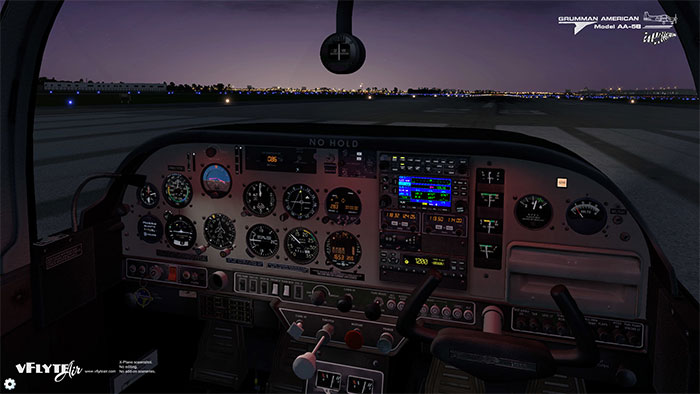 3D virtual cockpit with night lighting at dusk.
Flap panels are now operating using the Tiger POH. Simply click down and hold to deploy your flaps, and then click once more to see them retract.
COM2 radios had to be improved, also, which was carried out. Now, they no longer operate without COM2 power being on. The audio panel also has a new master volume to help further improve the ease of changing how loud/quiet messages which are coming through. The addition of a new 'squelch' noise is a nice touch, too, that helps to ensure that squelched volume takes place to ensure optimal audio hearing.
Also, with new COM2 and NAV2 frequency manipulators and volume knobs, you have more control over the aircraft in general than you would have had in v4.
New HDR instrument gauge lighting has been added, too. This does a spectacular job of ensuring you've got greater visibility when flying just as real pilots have in this aircraft in real-life.
You can visit the official VFlyteAir page here. Also, we have recently started adding X-Plane 11 add-ons to our downloads library - more information here.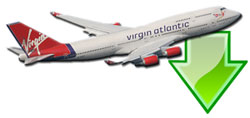 Don't forget... We have a huge selection (over 24,000 files) of free mods and add-ons for MSFS, FSX, P3D & X-Plane in the file library. Files include aircraft, scenery, and utilities All are free-to-download and use - you don't even need to register. Browse on down to the file library here.