Having been designed by Military Visualizations – MilViz – this recreation of the Cessna T-50 Bobcat is worth trying. An elite take on a piece of aviation royalty; this aircraft is one that all aviation enthusiastic should take the time to try out. Having set out to try and create a high-definition edition of the famous aircraft, the T-50 now stands on its own in terms of detail. This recreation looks to introduce every minor and major feature to make a comprehensive take on this old aircraft.
From quality audio and a better sense of overall immersion within the cockpit, the T-50 Bobcat acts as the perfect choice for experimentation. It's very different to most modern aircraft, adding a nice air of challenge to flying it for many younger aviation fans. Add in the fact that everything that is needed is animated and alive, and this makes testing out this piece of aviation folklore a piece of cake.
This model has been carefully altered and improved to ensure that the scale and style are perfectly matching. From the way that the model is portrayed to the overall way that the aircraft handles itself mid-air, this all feels very real. It uses genuine flight dynamics to make a smooth and interesting flight experience. If you are looking to take on a bit of history and see how old-school pilots would have handled flying such a beast, now is the time.
This detailed replica can be the perfect choice to help you really begin to enjoy countless hours of hard work. To finally see the culmination of all that testing, configuration and planning, download this model and try it out today.
For fans of the model and newcomers alike, this should astound!
About the Bamboo Bomber
The Bamboo Bomber was brought to life towards the end of the 1930s. Cessna sensed that they needed something cost-effective and light to compete with some of their upcoming competitors. What they managed to create was a spectacularly designed aircraft that was small enough to be enjoyed but powerful enough to be of use.
Eventually, this came to production in 1940 and before long the T-50 Bobcat was in the skies. The fabric-covered steel tubing was used inside to help create an aircraft that was sturdy and stylish. Adding in the next main landing gear and edge flaps, too, added a layer of functionality that was sorely lacking in the past.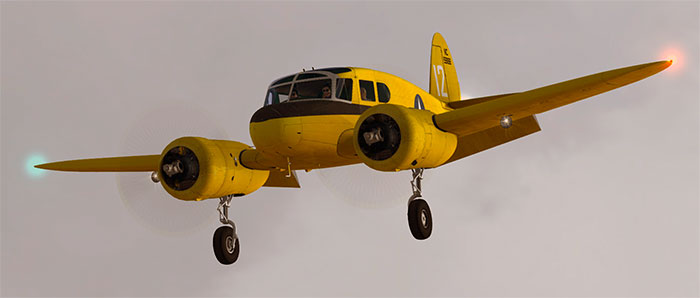 Yellow T-50 on landing approach.
The wing structure was improved, too, using laminated spruce spar beams and fuselage alongside spruce stringers. Thanks to this, the aircraft acquired the nickname that we all know it by so well now – the Bamboo Bomber.
Over time, this aircraft became an immediate hit with the military types who used it. it's multi-engine format made it a wonderful advanced level trainer for wartime pilots. It also managed to forge a strong reputation as a reliable utility transport. This variety made sure that it was a great aircraft for more than just training. The fact it was made from wood ensured that wartime aluminum – a valuable commodity – was not being wasted. Indeed, over 6,000 frames were put into the air, lasting until the end of the 1940s. By then it had been surpassed by too many aircraft and lacked the same kind of vigor that had made it so popular at the decades beginning.
However, it did hold a bit of a renaissance as a civilian vehicle, where many of them lived on for some time in private aviation. While a relic today, it was at one stage an aviation celebrity.
Key Facts
One of the most impressive factors about this release was the inclusion of its new multi-platform support. You can easily find a way to use this on just about any normal simulator. FSX takes it on both Acceleration and Steam versions, as well as on P3D v1 and v2. This ensures that you can use your purchase as much as you need, across multiple channels, for the easiest possible manipulation.
However, this also comes with a really impressive range of changes on the graphical front. For one, this adds a new high resolution model that comes with many configuration options. Using the MVAMS loader, you can easily make the adjustment that you need to manage performance better. If you find that your simulator is a bit slow on the uptake due to the performance needs, change to this.
With 6 HD liveries included, anyway, you can make sure that you are taking to the skies in an authentic design.
VIDEO: T-50 Bobcat
The video below is a demonstration of the aircraft created by YouTuber Rob Ainscough. It displays some good interior, exterior shots and flying the aircraft.
If you are someone with an artistic mind or a livery to create, you can use the high-resolution paint kit to work on your own creations, too. So long as you have Adobe Photoshop you can create your own liveries that look excellent. For anyone who enjoys being a bit creative, this can make it easy to develop.
Specular and bump mapping are used on the external model to ensure it looks authentic. This allows for genuine lighting and smart reflections to take place. By adding an extra layer of shine and sheen to the model, we are instead left with an ideal reflection of what makes the original aircraft so impressive.
The cockpit lighting should also go some way to making sure that when you are flying, you know exactly where you should be heading to!
Major Features
One of the most significant changes that this has brought to the table is how it uses radio ranges. This is a first for any MV product; offering a fully functional Low Frequency Radio Range system. If you want to get to grips with using something that's a major part of aviation back in the day, try this out.
With this new system you can get to enjoy a fantastically authentic take on an old 1930s radio system. This was eventually replaced in the 50s by VHF-band VOR. However, for now, it was a prominent part of the experience. So, you should get to enjoy this as realistically as possible!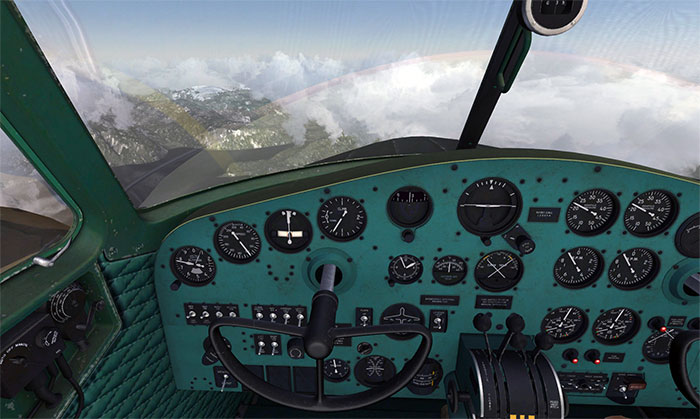 The highly detailed 3D virtual cockpit.
Now, you can "follow the beam" using the radio signals and the tones provided. This is a really exciting and fun way to fly and should offer a unique challenge to veterans of the aviation scene.
Also, this mod brings to life MVAMS configurations that allows for the utmost control and concentration. If you want to make sure that you are getting the best balance between presentation and performance, this is the perfect way to get started. It offers an easy solution to make sure you can load up your own unique settings without any delay.
The Bobcat, though, does allow for you to use avionics in any way that you please. Having avionics would have been a dream back in the day, but this mod allows you to use it as if the Bobcat has been re-imagined, as well. If you cannot live without flying without avionics, then you can use most third party editions with this mod. From using GPS and radar for weather to analytics and performance control, avionics are accessible here.
This mod goes so far to provide an endearing and exciting take on a wonderful aircraft.
Minor Features
Realistic and massively improved flight dynamics that ensures your flight can feel as authentic as possible.
Realistic start-up and shutdown, too, which makes the whole experience a little more challenging/rewarding.
New systems and avionics makes sure that you can control this aircraft as real-life pilots would.
Can also use third-party avionics such as Mindstar, Flight1 and RealityXP.
New modeling ensures that your aircraft carries all the hallmarks of its real-life entity for easy management.
High-resolution paint kits provided if you wish to try and create your own livery designs.
Cockpit lighting has been changed and improved to make sure visibility is never a problem.
For more information, visit the Milviz website here.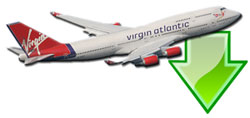 Don't forget... We have a huge selection (over 24,000 files) of free mods and add-ons for MSFS, FSX, P3D & X-Plane in the file library. Files include aircraft, scenery, and utilities All are free-to-download and use - you don't even need to register. Browse on down to the file library here.