As massive fans of the popular brand of aircraft produced by A2A Simulations, it's no surprise that we were more than happy to try out their latest release – the PA-28 Cherokee 180. It's got class and style in abundance, whist also offering you something a bit more whimsical to try out. In true A2A style this comes with all the bells and whistles that you might be expecting, but just how good is it in the end? Does it really give you everything that you need to get the most out of your flight simulation experience?
This guide will take a rough look at the A2A Simulations masterpiece and see just how good it is, whether it's worth your money, and if it delivered on all of the promises that were originally made about the potential and quality of the product itself. Looking for an easy way to see if this is the aircraft that you need to make your FSX experience even more enjoyable than before? Then this review will give you all the help that you need in making this decision.

Whilst this aircraft is included in the vanilla version of FSX to begin with, it's not exactly true to real-life. It's good and it's certainly got that vibrancy you would be hoping for, but it doesn't do the aircraft any kind of real justice. This is where A2A come in; making sure that you can get a paid-for edition that's truly easy to fly and is capable of giving you all the features and additions that make the right thing so inspiring to fly in the first place. It's an interesting concept for an aircraft and makes sure that you are able to get into the spirit of flying properly whilst getting access to all the features that you need to really have some fun up there in the skies!
But just how close is this to the real thing? Does it do it justice? Can you expect the aircraft that you are flying to be as reliable in a tight spot as the PA-28? This review will help readers decide if flying this remake by A2A is what they want to do or whether they are better looking elsewhere first.
Of course, you could always just download one of the many freeware versions of this aircraft – but it won't give you anything like the same representation of quality and power as this remake does. A thoroughly professional job, you'll be getting everything that you could possibly need in the one place so that you can take to the skies in this poplar aircraft safe in the knowledge that any features you might need to put into practice are included, and that the flight dynamics are as realistic as they possibly can be to give you a proper flight simulation experience.
Key Features
A2A are famous for their quality of flight gimmicks and additions, and this is a genuine representation of the aircraft in every possible way that it can be – it's a genuinely authentic propeller simulation

So many small features have been included along the way – for example, you are able to carry out a massively realistic pre-flight inspection so that when you finally take off you'll be doing so in style!

The aircraft has been taken right down to the very last bolt and rivet, ensuring that it looks just as ti would in real-life – compare and contrast with real-life images and you'll be very impressed about just how this aircraft looks in comparison to the real thing

Real-Time load manager included to help improve performance and ensure that you are getting a responsive and comfortable experience when you are up there in the skies. No longer should you need to try and hope the simulation can handle the package, as this runs in a streamlined manner in the background

Built entirely by the book, this gives you a truly reflective performance when you step foot within the cockpit – it looks the part, it feels the part, and you can easily settle down and start to enjoy yourself quite quickly at the cockpit. It's got all the controls and additions that you would be hoping for, and ensures that you are able to easily take off and enjoy yourself without having to go through long-winded trials that suck all of the fun out of the aircraft

Hundreds of hours of research have went into this aircraft to ensure its specifications and flight style is just as you would expect. Ever flown one of these in real-life? Then you'll find this to be the remedy to any feelings of simulation aircraft not being realistic enough – for the casual gamer this can seem almost too much at times!

Total support with the A2A Simulations add-on, ACCU-SIM

Built-in graphical features that can change the entire dynamic of your flight – for example, the 3D lights that come installed within the aircraft make your flight more visible but also more realistic. Now you don't need to get lost along the way thanks to the poor quality of the lighting that the original aircraft come with!

Pilot map sitting in the cockpit so you don't to guess your way from A to B – now, you'll be able to fly this aircraft anywhere in the world thanks to the help of your trusty map!

Built with Pure3D instrumentation so you can be sure that the aircraft is going to handle responsively, and give you all the help that you could possibly need to make the flight a comfortable one for you. Whatever it is that you intend to do, you'll find that the features provided by this excellent remake will provide you it

Every last feature you can think of has been included – this takes realism to a whole new level, ensuring that the aircraft looks and feels just as it would in the hands of a real pilot!
About A2A Simulations
A2A Simulations have been around for quite some time now, and in that time they have established themselves as one of the key names within the flight simulation industry. Well recognized for their attention to detail as well as their ability to design high-end models that perform as well as they look A2A have become a big name thanks to these consistent principles.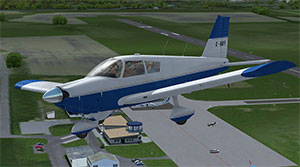 Their knowledge and passion for aviation has been passed down to other groups, too, as their work starts to become the "standard" on which just about every other kind of flight simulation mod is going to be judged.
If you've never used any mods before then you'll be absolutely blown away by what A2A add into the series – their knowledge and research time spent on any project is absolutely staggering. If you are finding that the aircraft in the vanilla just aren't doing it for you, you'll find all the help that you need right here – it' got character and charisma, that's for sure!
Nothing is easier to get involved with than a modding company that is happy to do the hard work and the long, difficult nights setting it up. A2A have proven they are willing to do so and this means that some of the finest mods for the entire flight simulation community have come directly from these guys. Looking for easy to use, friendly and engaging as well as absolutely packed with features? There's certainly an argument that A2A are the most developed team of modders in the whole community.
About The Cherokee 180
With more than 50 years of history hanging over this plane, you might be expecting to pick up a cheap looing aircraft that can barely take off anymore – but you'll be incredibly surprised at just how popular the Cherokee 180 is first introduced in 1960, it's still in use today across the globe with more than 32,500 of them being built. The PA-28 family of the Cherokee range is so incredibly popular because they are so versatile. Whether it's training, transport or just for personal cruising the 180 has always been one of the go-to planes.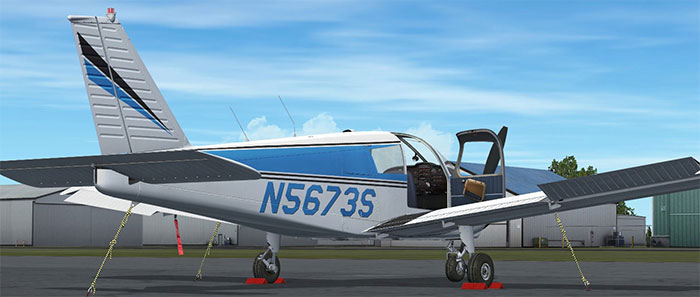 It's got various styles about the aircraft that have been copied elsewhere, and the actual family of the 180 has been changed so much over the years. From the popular first models right up to the Archer range, we've had plenty of fun in the skies with these awesome flight instruments! Well-recognized throughout the community as one of the finest models of aircraft ever to be made in terms of making the next step up in aviation development, if it wasn't for the Cherokee it's hard to say where we would be today in aviation. It helped to break down a lot of barriers and quickly made itself one of the go-to names within the industry, as people looked for an aircraft that could pick up speed, carry a small party and remain safe during the flight itself – making the Cherokee the perfect choice of aircraft.
Ease of Use
If you've never used an A2A installation before then you might be surprised at just how easy it is to get this software installed and in use – with the onus obviously depending on your hardware it can become very simple to get this up and ready in a matter of moments – all you need to do is follow the simple installer that you get with the product.
It'll let you install some of the basic add-ons as well for the software such as the popular ACCU-SIM. ACCU-SIM is the A2A-specific enhancement they released that pretty much changes the entire landscape of what you can and cannot do within the flight simulator – it adds so much to the experience that not installing it would only be a viable if you simply find the flight simulator too hard to fly normally.

Make sure that you remember to check out the A2A Support Forums as they'll have all the latest updates and improvements for this plane to download, free of charge. Installing both packages is fairly simple to do, you just need to download both files, install the PA-180 first and then the ACCU-SIM upgrade. This will take you a few minutes to run through and you'll need to have at least 700MB of free space on your PC, so be ready for a fairly length installation process!
Whilst you won't need to put in any DRM prevention codes to gain access to your latest A2A purchase, you will need to answer some basic questions about yourself after you install the product. Nothing too tough or intrusive, but you need to have this prepared so that you can legitimately use the software.
In terms of actually getting the software to work, it installs very quickly and simply through the installer wizard but it comes with no automatic updates. If you haven't updated n a while it's worth checking the official site and their forums for more information, as changed and upgrades are being made all the time to keep this as one of the most desirable projects to have for your flight simulator of choice.
To actually use the aircraft in the simulator, navigate to your start menu and you should find a folder called A2A Simulations. Inside this folder should be a folder for the ACCU-SIM Cherokee 180. This will give you everything that you need to configure your aircraft and the world it will be flying in, as well as a highly progressive manual that you can learn a lot from. If you don't know much about the plane or you've never really used an A2A product before, we'd highly recommending reading through the documentation to get a better of what you are actually going to be doing!
Because so much has been added in with ACCU-SIM it can be a bit tough to get used to at first – once you get there, though, you will find that your flight simulation experience has never felt more complete or more refined than it will here.
Attention to Detail
One of the most important aspects of using this software is the amount of attention to detail it pays to the actual aircraft itself. Despite being one of the most commonly known and prominent aircraft of recent times, this remake of the plane gives you everything you need to make it look even better than the in-game original did. The idea here was to create a flight experience for everyone that would look realistic and pay attention to each of the smaller details that make a flight simulator to exciting for the users.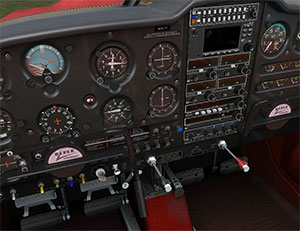 The interior and exterior are both incredibly detailed – the detail and positioning of each section and rivet on the plane's body is absolutely perfect, giving you an aircraft that closely details its real-life counterpart. Throughout the years, this aircraft has kept its historical shape and now it looks better than ever – with every tiny addition included on the outside and the cockpit being masterfully managed, you can have a plane that looks the part and performs just as it should.
The real benefit of having this package installed, however, is the fact that it responds as it should. Whilst we'll cover this more below, the actual quality of flying this aircraft is very much reminiscent of the real thing – it's got speed, it can turn quickly and it's fairly nimble. When it comes to finding quality aircraft there aren't too many to pick from that are of this size or style, so for anyone who prefers a light aircraft there might not be a more realistic option out there for FSX.
In terms of the attention and level of detail presented in this package, very few other mod teams can even come close. They are renowned for their quality of design and attention to detail, and this is no different. Everything that you could possibly hope to see included has been, with things like connection points and fill-up holes all easily spotted on the exterior. It helps the aircraft feel much more realistic when you might be used to a more basic style of design – ensuring that everyone can get settled and start to actually enjoy themselves when they are flying around in the Cherokee.
It's a bit of a nightmare to learn at first, though, because it's so different from traditionally modern aircraft. However, even this is authentic as the aircraft was noted as being quite a throwback when you look at more modern options. Would you like to commandeer an aircraft that's agile whilst being a bit of a challenge to fly? Then start here. It'll make the entire learning experience of software like ACCU-SIM easier if you are able to go at it from day one, so don't be tempted to turn off ACCU-SIM as it will reduce the quality and depth of the learning experience you will get when you are flying this aircraft, as ACCU-SIM helps to bring out its best features
In-Flight
Of course, the most important aspect of flying any aircraft is the actual flight – and you'll be pleased to know that this flies just as you would have hoped. The in-flight potential is helped by a feature-heavy cockpit that gives you all the help you need in getting off into the skies without any problems. For example, the cockpit has plenty of levers and switches you'll need to get used to – and it also comes with a GPS equipped. You can use anything from the default 400 GPS provided or you can set it to the Reality XP GPs system – it's entirely up to you, but having on the GPS will make your flight so much smoother!
Taking off is a huge part of the fun, too, as you'll need to go through the usual start-up process. Making sure that everything so working right is very important as ACCU-SIM brings in the chances for things to fail on you etc. so it can be a really nice way to start learning about flight protocols and what you should do, and when.
In-flight experiences can be hugely rewarding as you'll be able to use just about everything in front of you when you are flying – every gauge and button that you can see on the cockpit has some kind of use or tells you some kind of reading so get used to checking your cockpit and the gauges etc. in front of you, as it can be massively beneficial.

In truth, the depth level of this can be a bit off-putting for some – it's a massive jump from the normal FSX level of knowledge. In fact, ACCU-SIM feels like a new release altogether such is the amount of new features that it brings to the table. It's hard to get used to and maybe a little abrasive when you first do get started thanks to the jump in difficulty over the vanilla simulator, but once you get the hang of it this is just like any other A2A addition – an absolute godsend.
Things like radio and keyboard panels are available, too, so that you can get all then navigation aid that you can. Airways, VORs, airport information etc. will all show up around you in the cockpit so you'll have plenty to keep your eyes on with this aircraft. You can even mess around with the payload panel so if you want to change fuel levels or top up your low fuel reserves you are more than able to do so.
It's these small additions that make the flight so much more enjoyable for most users of this package; it's a nice change of pace from the challenging but rather basic rendition of the Cherokee that's already in FSX. When you make the change to the A2A Simulations version you should notice a strong difference between the cockpit, the design quality and – most importantly – the style of the plane. With so many new features and additions it can become quite challenging to master!
Extras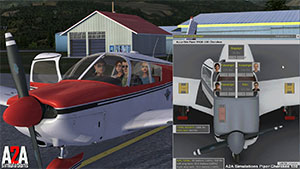 It's always nice to get some extras that you might not have been counting on, and with this package you'll get plenty of them. This arrives with a sweet set of seven liveries that cover US, Canadian, British and Swiss versions of this aircraft. They give you nice liveries to include with your aircraft so you don't need to fly the same one over and over again. This can be pretty useful if you want to get some variety in your flight or if you've a particular liking for one of the liveries.
Additionally, some of the other new additions were very impressive indeed. New animations that were made from scratch are always a nice addition to any project, so having them included is always going to be a nice bonus. To top it all off, you'll get a nice paint kit that lets you make your own livery designs if you are artistically minded enough. Add in the excellent bonus of ACCU-SIM and you've got a very complete package that is an absolute dream to fly.
Whilst you might not get hundreds of liveries and extras, the fact that this add-on is so realistic in comparison to many of the choices out there means its well worth having installed. Sure, you might "just" be getting one plane but it's so much more sophisticated and improved than anything else that you will find in the traditional FSX installation, so it's definitely worth picking up.
What's Missing?
One thing that we did find was sorely lacking in this package, though, was flight instructions. As this is run using ACCU-SIM the entire format of flying changes as it becomes more difficult than ever before to manage properly. When this problem creeps up on you, it can make learning much more difficult.
If you are new to A2A then you might want to spend a few hours looking at tutorial videos online and checking out their own forums because this is a very punishing form of flying that will take you a lot of time to get used to.
However, in terms of overall quality there probably isn't much out there that you could legitimately add – the fact that it's so realistic means that newbies will need a bit of free time to get used to the new kinks and improvements. If you are new to the series then be prepared to take the time out to actually start learning about everything that's been included, but this isn't to say it actually takes away from the experience.
Whilst it would be nice to have more tutorials and assistance for you in general, it's not a key issue that holds back the flight style. Sure, it might take you a awhile to work out that you need do a lot more than usual to fly the plane properly and to deal with things like stalling, but this is all part of the challenge that actually makes your successes even sweeter.
The Verdict
Overall, you need to be very impressed with the design qualities of this overall package. Its smooth to fly, effective to get into and has a whole ton of features that you might not have considered in the past – this makes it a fantastic choice for anyone who wants to have the Cherokee in a style that goes far beyond what the original game was able to throw at you. This means that developing your own interests and style with the Cherokee can take a bit of time, but once you get there it's incredibly effective.
Again, you'll be spending a lot of time just getting used to the features – especially if you have never used ACCU-SIM before – but once you get the hang of the controls and the new features, you'll be well on your way to having a really diverse aircraft you can truly fall in love with. It's got all the features and additions that you expect of a quality piece of hardware, and delivers all the add-ons that you might want to see included.

There are a few quirks though. For a start, the model seems to be a bit of a mismatch. It's beautifully designed and very accurate to the real thing, but it's a hybrid model. It's got some features of the very first Cherokee aircraft whilst it comes with state-of-the-art equipment like GPS and tracking inside. We've yet to come across an aviation school that gives you this kind of balance – it's typically one or the other. You either get a brand spanking new design with all the bells and whistles, or a nice retro addition instead.
Therefore it can be a bit confusing for Cherokee loyalists who want to fly a genuine remake of this aircraft. This combines different versions and, for the plane guru, this can kill the overall feeling and experience a little.
However, this isn't to talk down the package – for anyone who isn't a total Cherokee historian, you'll absolutely lovely this package. It's got all of the features you need to fly it at a high and consistent level, and its attention to the little details both inside and out make it really stand out in the flight simulation world. The fact it's a little bit unique and concept-art in its design really shouldn't put anyone off using it, as the overall quality of the flight itself is up there with all other A2A Packages.
Add in the fact it comes with ACCU-SIM totally compatible and you have one of the most comprehensive flight additions you could possibly have. All the little features that make a flight simulator so fun have been truly exposed here, so you can make sure that you get the most enjoyment out of your flight with these new changes and additions.
This is the perfect choice for anyone who has a real hankering to take their flight simulation to the next level, by simply adding in another layer of realism and improving the challenge in front of them. Whether you've flown this in real-life or just want something more dedicated than the vanilla FSX engine, you'll find everything that you need in this package – well worth your time and investment, if you like proper simulation.
You can pick up your copy over at SimShack.
Official Promo Video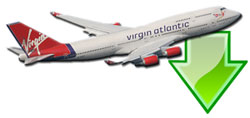 Don't forget... We have a huge selection (over 24,000 files) of free mods and add-ons for MSFS, FSX, P3D & X-Plane in the file library. Files include aircraft, scenery, and utilities All are free-to-download and use - you don't even need to register. Browse on down to the file library here.