For years, Aerosoft have been creating fantastic set-piece recreations of major parts of the world. From major recreations of the world's terrain to making sure that locations match up with their real-life counterpart, they play a vital part in improving realism. However, one of the most important parts of such mod packages is to help bring together airports to match their real-life versions.
Realism is vital in the world of aviation, and with this mod you can finally begin to make journeys to the city of Manchester in England more enjoyable. Manchester Airport should be more detailed originally, but now it's been re-designed to look as it should.
Made for FSX and P3D, this provides users with an easy way to visit Manchester Airport in all of its glory. Opened in 1929, Manchester Airport served as a major RAF base during the Second World War. Since then, it's become one of the most commonly used airports in the UK. It serves over 20m passengers every year alongside 93,000 tons of freight and transport. Indeed, it is the largest airport outside of London, serving over 180 destinations across the planet. That kind of variety and importance deserves recognition.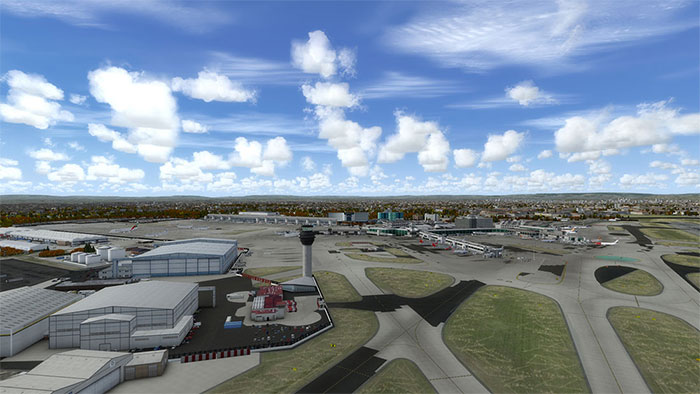 Manchester airport from the air (overview).
Thankfully, Aerosoft have finally made sure that a trip to Manchester in a simulator is as fun as it should be in real-life. This is an airport with incredible importance to the UK and as such it should reflect that level of importance in the detail level it provides.
So, what can you expect to see changing in a major way when you download this mod? What has been the major sources of improvement and change to make sure it matches the real thing?
How can you make sure that every trip to Manchester Airport will have a "Oh, look at X!" moment?
Major Features and Changes
For one, this airport now manages to bring off a new all-seasons look. In the past it used to just sit in the same look and style regardless of the season. Thankfully, this has been changed to make sure you get something far more authentic and fitting. If you fly here during the winter, you should be able to notice that change occur
Also, new billboard has been put into the whole airport. It looks fantastic to see the billboard coverage improve to fit with the billboard-happy nature of Manchester Airport. If you have been in the past then you will have noticed just how many of these that you see around the place! That has been changed to make the airport look better than ever before.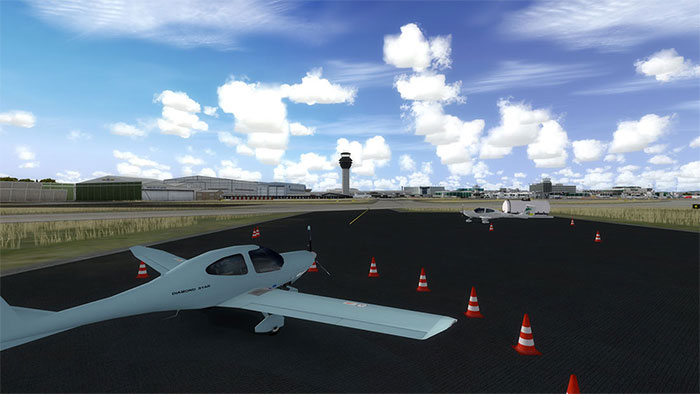 General aviation aircraft area with control tower in background.
New 3D grass has been added in, too, which goes a long way to make sure that the whole airport looks more authentic. Rather than the flat 2D grass that we once used to have to put up with, this adds an extra freshness to the whole look and feel of the airport, ensuring it feels more authentic than beforehand.
One of the most important improvements has been the addition of the new static objects, though. from cars that populate the airport to make sure it looks nice and busy, to airport ground services working away to improve aircraft and maintain the airports performances, this looks just as it should. Another important part of this, though, is the static people who make the airport feel as busy and as eventful as it is. If you've ever been here in the past, then you'll know just how busy it can feel – and how this mod can help represent that overcrowded effect!
Official Preview Video
Minor Features and Changes
Another change that has been built by the development team has been new AES-Lite dynamic traffic. Traffic is vital for making the airport look busy outside of the static objects. This plays a big role in making the whole place look a little busier, with people heading in and out.
Customized trees are a new part of the aircraft, too, going a very long way to making the whole place feel a little more authentic. Just like the new 3D grass, this does a great job of helping the whole place look a little better than it has in general.
Also, this is improved by the addition of new static aircraft that help to make the place look a little busier. While not as important as the people and the traffic that makes the airport look alive, these static aircraft play a major part in 'buying up' the place!
New scenery management is provided for you to make sure that you can successfully balance out performance with everything else. Thanks to this you can make sure that you get all the help that you need to see an airport that looks as busy as it should, especially Manchester Airport!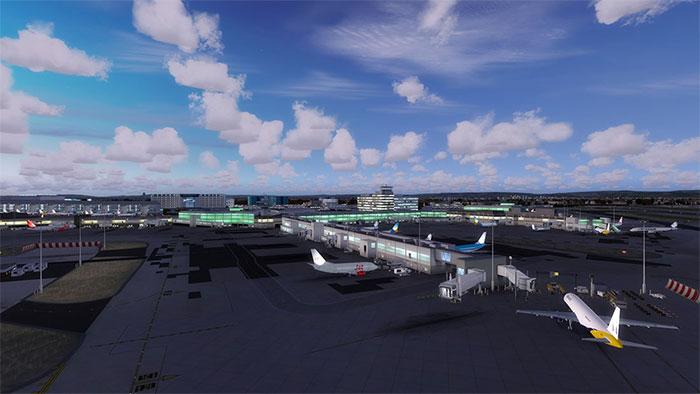 Terminal area at dusk.
A new charting system is included, too, meaning that you can easily navigate this airport and fully understand what is needed during the flight. For this reason, you can easily begin to get a much better grip of your time in the skies, using the new charts to plot accurate courses.
Version 1.01
The latest release of this take on Manchester Airport by Aerosoft has been the addition of new changes to the airports layout. One of the major changes that has been include is that of a new set of taxi signs, which have been positioned to where they should be.
Also, new static characters have been removed and made sure that they are in more natural and accessible locations.
New gates have been added, with gate sizes also adjusted to make sure the airport has enough space for everything that it requires.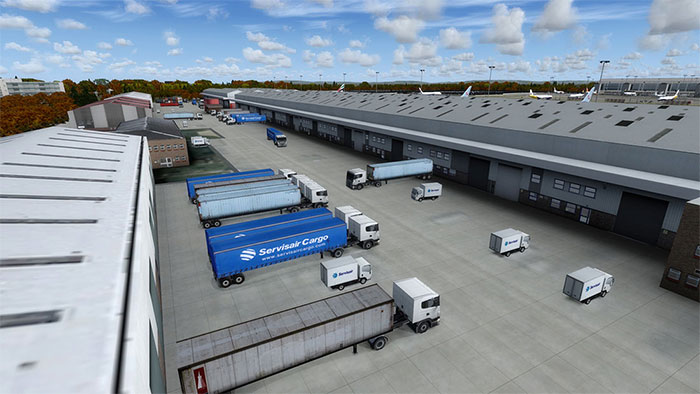 Cargo area.
Missing objects that had caused problems in the past have been removed to ensure that performance is balanced.
New disconnected paths are now changed and altered to make sure that this hindrance can be avoided with relative ease.
Replaced all parking lot cars with lower poly versions as they are a minor feature and tended to cause performance lags.
Also, a new manager update has been included to stabilize performance and usage.
You can purchase your copy over at SimShack here. If you're looking for freeware, we have a great AFCAD for Manchester Airport over in the file library here.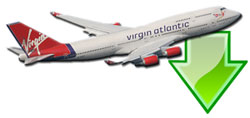 Don't forget... We have a huge selection (over 24,000 files) of free mods and add-ons for FSX, P3D & X-Plane in the file library. Files include aircraft, scenery, and utilities All are free-to-download and use - you don't even need to register. Browse on down to the file library here.