While for many people the Gloster Meteor is seen by many as one of the most successful British inventions, its creation was far less harmonious than it might appear. Indeed, it began during the late 40s when the UK was still dealing with the consequences of the hugely expensive Second World War. While it looked somewhat basic in comparison of what was to come in the future, this aircraft soon became an important part of British military aviation. It was a reliable and effective fighter which could more than handle itself in battles, becoming a mainstay of the 40s and 50s.
Indeed, over 4,000 of this aircraft were formed during the Second World War, becoming everything from night fighters to training and testing machines post-war. The aircraft is best known, though, for their record-breaking flight on November 7th, 1945, when it hit 606mph. The F4 came along and broke it a mere year later, but it was still a landmark moment for aviation. Also, using turbine driving propellers, the Meteor became the world's first aircraft to take to the air using turboprops.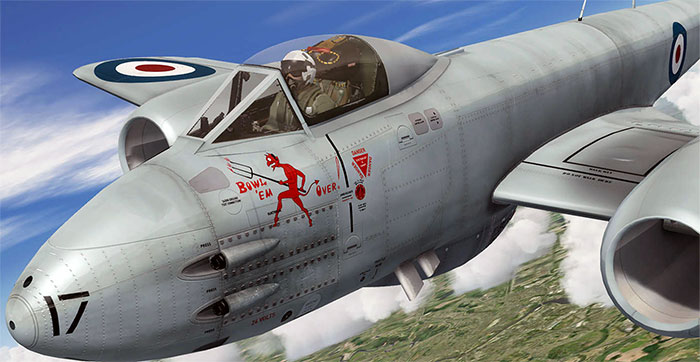 The Meteor with pilot canopy and pilot visible.
While today it's one for the record books, at one time the Meteor was seen as a massively important part of British aviation. It was quickly eclipsed, sure, but if it was never created then who knows where UK aviation would have gone?
It was a pioneer of the kind of changes that were to come and mark the industry, creating a whole new style of aircraft for the next generations. For anyone looking to make the most of that kind of aircraft, this new Just Flight model offers the perfect chance to do so. Equipped with 12 authentic liveries, this is a realistic and authentically made recreation of an important piece of aviation history.
VIDEO: Official Just Flight Preview
What's Included?
While the main part of the package delivers most of its content in the form of the aircraft, new liveries are included. These are split across both models and aircraft forms, making sure that you can get a nice, varied approach to aviation. To make the most of the equipment that you now have access to, you'll want to take a look at each of the new liveries. So, what's been included?
Meteor F.8
WF714 of No. 500 Sqn Royal Auxiliary Air Force, West Malling, Kent, 1953.
EG-10 MN-S of 350 Smaldeel, Belgian Air Force, 1950s.
FS4440 of the Brazilian Air Force, now resident at the TAM Aviation Museum.
A77870 of the Royal Australian Air Force 'Meteorites' aerobatic team.
A77851 of 77 Sqn Royal Australian Air Force.
A7717 of 77 Sqn Royal Australian Air Force, Korea, 1953.
VZ467 Meteor F.8 of 615 Sqn (County of Surrey) Royal Auxiliary Air Force.
WK 681 F.8 of No.65 Sqn, RAF Aerobatic Team, from Duxford, in December of 1953.
Meteor FR.9
WZ603 of No. 8 Sqn RAF, Sharjah May, Oman, 1960.
WZ956 of No. 208 Sqn RAF, Ta Qali (Malta) (Operation Musketeer), 1956.
FR-36 Meteor of 117 Tajeset, Israeli Defence Force, 1955.
WL 263 of No. 208 Squadron RAF, Nicosia, Cyprus, 1956
With each included livery, you can make sure that you are getting a nice little touch of realism that springs to life and makes an exciting, engaging experience. While it's just a small part of the process, liveries make such a nice difference to any aircraft that you decide to use. So, what other changes were made by Just Flight?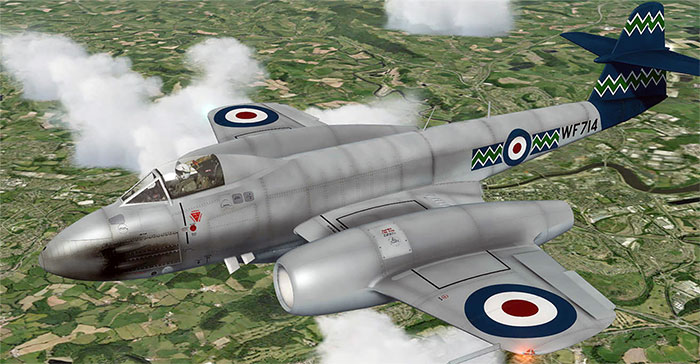 Screenshot showing Just Flight's Meteor in flight.
What other benefits can you get from if you decide to give this add-on a try? Other than cool liveries, what are you going to get access to?
Major Features
One of the most important inclusions, of course, is aircraft accuracy. No aircraft worth flying out there in a simulator lacks authentic performance. This takes the importance of authentic performance to a new level, being used to help offer a detailed, authentic version of both models. If you use this, then you get access to both the F8 and the F9.
A new cockpit has been introduced, too, which is the perfect solution for enjoying flights even more. Since you spend such a huge amount of time dealing with the cockpit and taking on features from that perspective, it feels good to have a proper cockpit. Many people can suffer from having a cockpit that feels quite empty, but this mod does a great job of avoiding that problem.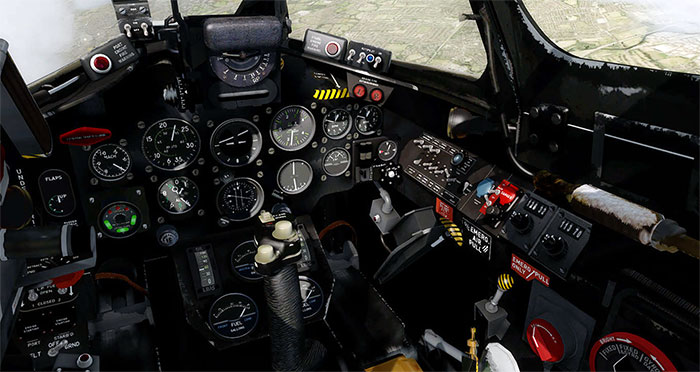 ​
The add-on includes a highly detailed 3D virtual cockpit.
New, authentic sounds are included are too. Presentation is about more than just using the right look; sounds matter hugely, also. With this, then, you get access to elite and authentic sound packages that follows the performance of the real thing.
A fresh, and retractable, reticle gun-sight is provided to be used as well. Want to get a few shots off down that scope? Then you should definitely look to use this piece of kit. It makes it very easy for you to fire off a few rounds with the cannons equipped on this aircraft.
New selectable wing fuel tanks or rocket-mounted payloads are allowed. While the rockets can't actually be fired due to hardware limitations, this does allow for an easy way to maximize the realism of your flight. Change the dynamics of the aircraft just by changing the firepower that you have access to!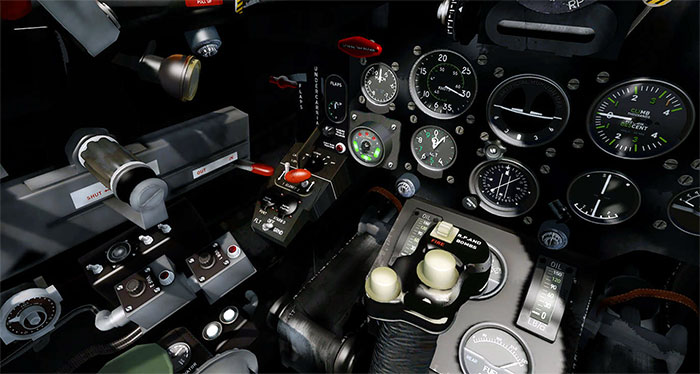 Cockpit panel and flight yoke stick.
The team have done a great job of putting together a really authentic take on both models. But, with that in mind, what other adjustments have they made?
Minor Features
A whole new UV cockpit lighting system has been added. This might seem like a small thing, but it can make such a huge difference to your aviation performance. A minor feature for most people, this offers a simulated cockpit lighting system that improves visibility. Sick of feeling like you are flying in the darkness? Then this can be a nice little feature to use.
Also, the team have done a great job of building a new autopilot function. While rather simple compared to more advanced models, it's about as powerful as the real aircraft would have had. Remember, this is an old relic in aviation terms – it wouldn't have anything like the autopilot of today!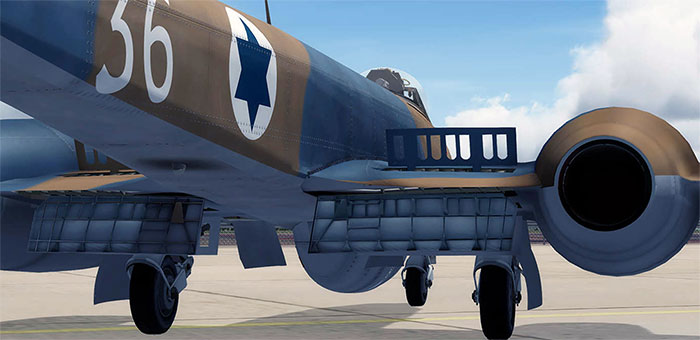 Aircraft on ground with flaps and spoilers open.
Simple aircraft operation is a major part of the process. Many people were quick to remark just how easy it is to fly while still feeling realistic. Given the age the aircraft came from it's common to have doubts about how it handles itself in the air. However, all it takes is a simple flight in the skies to realize that this is a very hospitable aircraft, indeed!
Also, this comes with an external battery cart which is a small but important little addition. It's the small features that makes aircraft differentiate from each other in the main, and this is definitely a noteworthy addition.
Full animations have been devised that shows the aircraft flying with the class and precision that it should. The Meteor is an aircraft with plenty going on, and you should be able to see that reflected. The new animations all flow smoothly, making the aircraft looks alive and busy. It also makes a big difference to ensuring that you can enjoy a more fluid flight performance.
Need Help?
With all the features that are included in this product, you might find yourself a little confused or uncertain. You get access to a great PDF manual that you can follow along with. It includes a simple tutorial that takes place at Gloucester Staverton Airport, helping you to master the operation and management of these models.
You'll soon be able to pick up your copy of this aircraft at the Just Flight section over at SimShack. In the meantime, we have a great freeware model of the aircraft in the file library which you can download now free of charge here.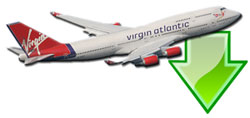 Don't forget... We have a huge selection (over 24,000 files) of free mods and add-ons for MSFS, FSX, P3D & X-Plane in the file library. Files include aircraft, scenery, and utilities All are free-to-download and use - you don't even need to register. Browse on down to the file library here.