One of our forum members, TomTheTank has accepted the offer to review Around the World in 80 Flights by First Class Simulations. This is only the second review by one of our forum members. The review starts: I first flew FS98 and was hooked. With each new Flight simulator release,I became a flight sim addict. FS2004 was at first a huge disappointment.
Around the World in 80 Flights Review by Steve Thomas
First Class Simulations
First a few lines about me and my flight sim time. I first flew FS98 and was hooked. With each new Flight simulator release, I became a flight sim addict. FS2004 was at first a huge disappointment. Poor frame rates and low detail, but some new memory and a new graphics card and I was drooling all over my keyboard again.

Flight Simulator X (FSX) was and still is a bit of a let down,even though my system has been renewed yet again. Do not get me wrong, FSX is very very good, yet there is something that lets it down for me. To be honest I cannot put it down to one thing,its a host of things,too colorful,too bright,the wrong views ? Or is it just different to what I had become very comfortable with. So FS2004 is my sim of choice,with FSX beeing a plaything for occasional use.
Normally you will find me flying the PMDG 737 to destinations that I have been and a few where I plan on visiting in the future in real life. Also the simulation must look good "out of the window"(so lots of scenery has been added)and it must sound good.
Main test system for FS2004 and FSX:
Athlonx2 6000(overclocked 3.5ghz x 2)
nVidia 9600 1024mb(overclocked)
2 gig of ram
Windows XP SP3
Also tested on an older system for FS2004 only
Athlonx2 4200+
nVidia 6150SE (on board graphics chip)
1 gig ram
Windows XP SP3
Recommended System requirements:
Microsoft FSX/2004.Windows Vista/XP
1 GB hard drive space and a CD.ROM drive.
Around the World in 80 Flights for FSX and FS2004 supplied in the usual CD-ROM case featuring the Lockheed Martin Electra aircraft against the backdrop of the Golden Gate Bridge. Contents of the case 1 instruction booklet and 1 CD-ROM.

Installation was a snip after inputting the serial key and selecting the flight simulator version you want to install it to. Default installation is for FSX.
Fire up FS2004 and head for "My Flights" and selecting Around the world in 80 Flights. Now you can select any of the 80 flights included. The first flight is Farnbourgh in the UK to Paris Orly in France. A 90 minute flight.
After loading you get the first look at this Lockheed Electra 10 aircraft.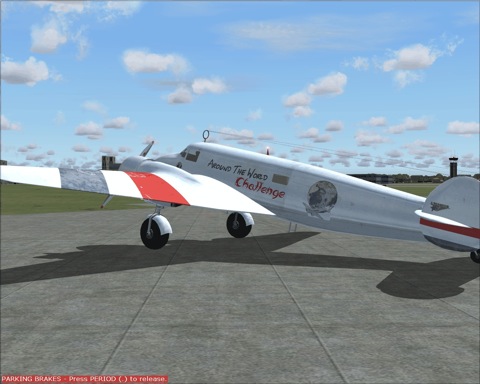 From the outside it looks good in the default Around the world livery. Two extra paints are included, US army and Panam.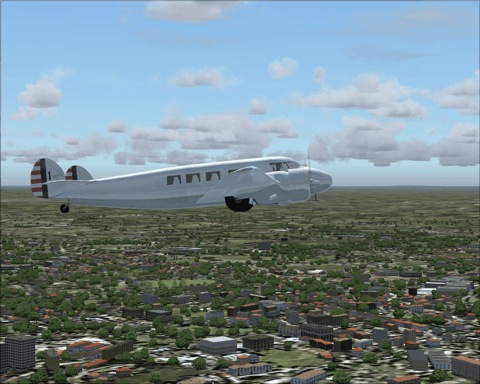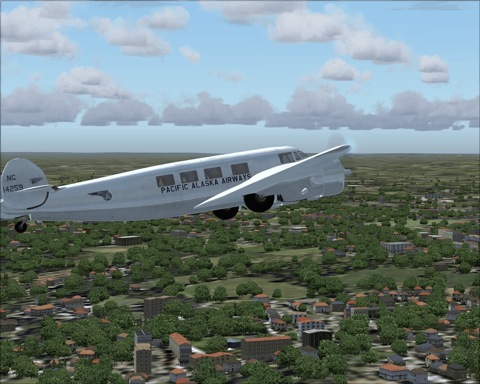 Inside you seem to be sat a very long way from the panel in the 2D mode.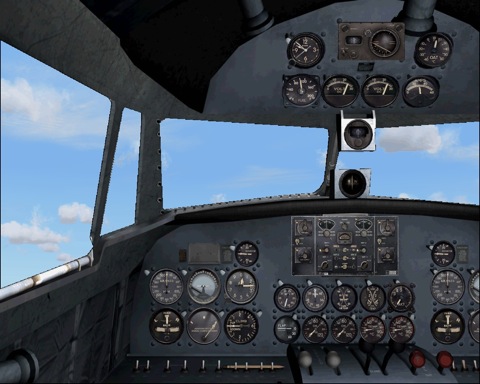 Switching to the 3D mode is much better.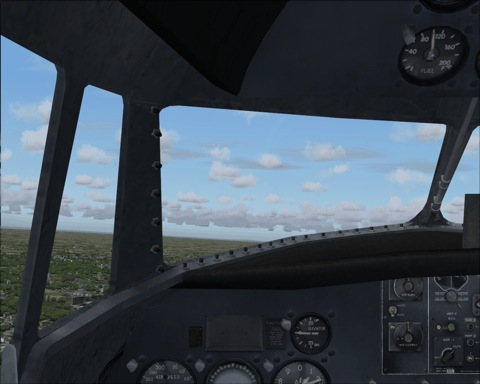 All required switches and knobs are clickable.

Time to fire this baby up, and boy oh boy what a sound. Taxi to the runway then open her up. It takes a short time to get to full take off power, but you know when you get because it sounds superb. Up in the air the aircraft handles very well.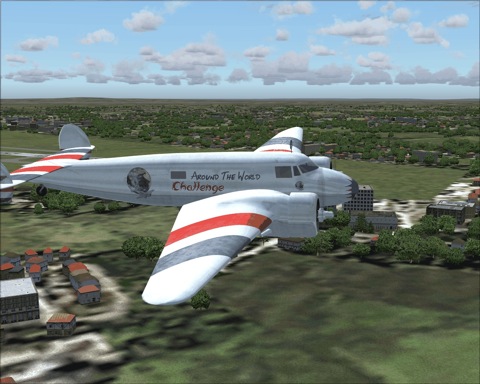 Which way to go? To find out you have to select SHIFT + 3 to call up the GPS and follow the course on the map.SHIFT + 4 calls up the auto pilot panel. The key F10 Will become youre best friend, as this calls up the kneeboard and all the keyboard commands are listed here. Its a shame that an ATC icon was not installed in the panel as the only way to call up ATC is via the "view" menu. (or maybe I missed something) When flying into busy airports you will have to contact ATC or just muscle your way in.
There are over 400 hours of flying to do here, flying to or over 112 countries picking up some of the best scenery provided by FS. There are some short hops or some very long haul flights. You can select any flight,and they do not have to be flown in order. You can also fly any aircraft that you have in you have already downloaded, which will improve the longevity of this add-on.
Around the World in 80 Flights also ran well on an older system with intergrated graphics. A helpful PDF file is included and installed inside the FS folder.So you will have to go and dig it out to read it.
I tried to run this on FSX but hit a problem.
No matter what I did in the settings of FSX and with the settings of my graphics card, I could not see the Lockheed aircraft.Just a small box with the pilot in. This is probably my system acting up some how, but this is installed on a fresh install of XP and both FSX and FS2004 are clean installs with nothing else added. The sytsem requirements do not give any recommendations for CPU,RAM or graphics card,only Windows Vista or XP and that you have Flight Simulator X or FS2004.
Update:
Upon speaking to the developer, this problem appears to be with some NVidia cards and older drivers. The suggestion from them is to first try the latest drivers and if that fails a video card upgrade may be required. This problem is not product specific, with the correct drivers and card, this will not occur. The Developer also states: "It usually came down to one of two things. Some older video cards can mess up FSX aircraft (even though the default aircraft in FSX appear fine for those people). This was traced to a rendering issue with the old cards not supporting some new features of DirectX that FSX can rely on with its texturing and model resolving. It all depends on how the model was built. This is a core incompatibility with some cards that Microsoft are aware of. The second thing that I have seen to cause this is that the user has not selected "advanced animations" in the display options of FSX. This can cause whole chunks of the aircraft to go AWOL too."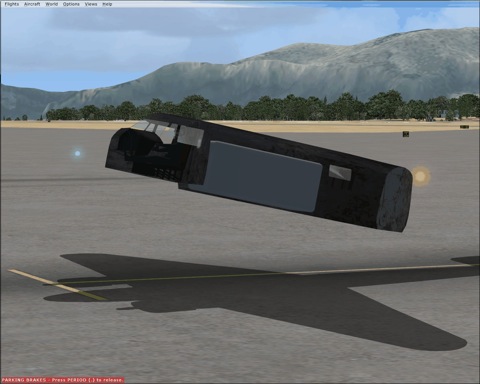 Product information released by First Class Simulations:
"Around the world in 80 flights! Circumnavigate the globe, heading east from the historic Farnborough airfield in the UK, on an epic 80-leg journey around the world. Fly over the Alps and Pyrenees before facing the challenge of the mighty Himalayan range. Explore the Far East and Australia. Blaze a trail from the frozen north, to tropical Africa. Conquer the lonely Pacific, leapfrogging across a series of islands as you make your way to the United States. Make landfall and catch your breath before flying over some of the most stunning scenery in the world as you head across the vast expanse of the USA to the Caribbean before venturing a trans-Atlantic crossing back to Farnborough.
Each of the 80 flight legs can be flown as individual or consecutive missions and are comprehensively detailed, with a flight plan, pilots notes, full briefing and a guide to many of the wonders of the world that pass beneath your wings. From man-made wonders such as the Great Pyramids and the Golden Gate Bridge, to natural wonders such as Mount Kilimanjaro, the Sahara Desert, the Indonesian Archipelago and the Grand Canyon, the entire route has been carefully chosen to showcase the breathtaking beauty of the planet.
Around the World Features
The entire trip is a little over 400 hours flying time
The trip covers nearly 35000 miles!
Over 112 countries are either visited or flown over!
The longest flight is nearly 3000 miles from Honolulu to San Francisco
The shortest flight is 55 miles from Helsinki to Talinn, Estonia, crossing the Baltic
The northernmost point of the trip is Sondre Stromfjord in Greenland whilst the southernmost point is Darwin, Australia
Complete the entire trip around the globe in a stunning recreation of the 1937 Lockheed Electra 10E and you will have truly earned the special circumnavigators' certificate awarded to master aviators"
Pros.
A very nicely detailed aircraft and panel.(FS2004 only)
A huge selection of routes.
Great sounds.
I liked the fact that you do not have to fly the routes in order.
You can change to any aircraft that you already have installed.
Cons.
Unable to run in FSX
Basic minimum requirements stated on box.
The panel could have included icons for the GPS and ATC
The PDF guide is inside the main FS folder.
If I could have run this add on in FSX I would have highly recommended this product.
Information
AUTHOR: First Class Simulations
PRICE: £24.99 / 27.74€ / $36.72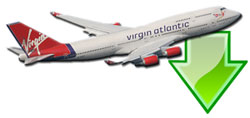 Don't forget... We have a huge selection (over 24,000 files) of free mods and add-ons for MSFS, FSX, P3D & X-Plane in the file library. Files include aircraft, scenery, and utilities All are free-to-download and use - you don't even need to register. Browse on down to the file library here.