Put away that boring old flight simulator and get ready to have some real fun--Aerofly FS is just what the doctor ordered! Bursting on the scene in the last year or so, for many veteran flight simmers Aerofly FS arrived seemingly out of the blue—it's a pleasant surprise.

Remote Control Roots
This small but impressive flight simulator started its life in the Radio Control world. It has true aviation roots. IKARUS, the German company that manufactures Aerofly FS, is located near the German-Swiss border. The founder is an old school helicopter Radio Control expert. He developed Aerofly FS to assist with RC training.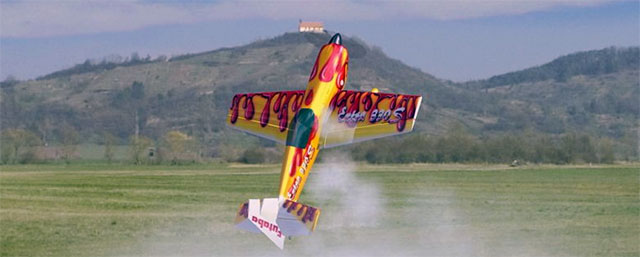 As a result, IKARUS originally made RC flight simulators. Originally, the simulators duplicated the experience of real Radio Controlled flight; standing on the ground and controlling the aircraft. Over time the computer simulators added a "fly along" component, and eventually they developed into a full flight simulator as we know them.
Stripped-Down Features
FSX fans will find certain characteristics of Aerofly FS to be lacking. For example, the engine stays in "on status," there are no switches that can be clicked in the cockpit, there are no landing lights, there are no navigation aids, and, while the weather can be modified, the maximum cloud coverage is 3/8.
In addition, it does not have any Artificial Intelligence aircraft so the airport seems a little empty. In fact, there's no ATC system at all. Pilots cannot start from a ramp, and there are no audio feedback triggers from adjusting flaps or the gear lever. Some flight dynamics are inaccurate. For example, spinning is not very accurate, nor is near stall.
There are no sloped runways, no rudder for turning, and no multiplayer gaming. As result of its weak areas, Aerofly FS is not considered a full substitute for more developed and entrenched flight simulators.
Flight Dynamics
Aerofly FS flight modeling characteristics are clearly defined. Turbulence and wind are reflected accurately and the aircraft models respond like real aircraft. For example, landing in light crosswinds produces a soft bobbing effect as the pilot negotiates a landing.
The pilot gets an accurate sense of the current speed. Flying at low levels along the mountain valleys or at high altitudes feels realistic. The flight controls are limited--pilots can access the stick, the throttle, routers, flaps and propeller control.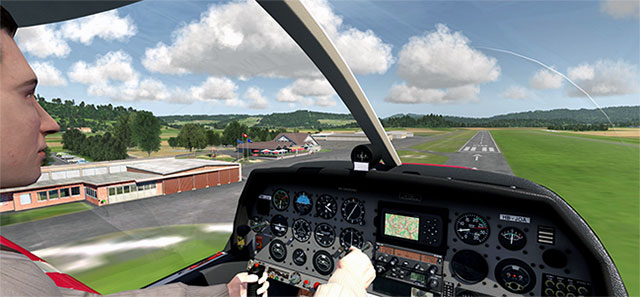 Flight modeling is the core of a flight simulator. Without decent flight dynamics, everything suffers. Aerofly FS delivers with flying colors. Pilots report that the handling characteristics of, for example, the Cessna 172, reflect very closely the real airplane. Pilots can perform side slips, roles, spins, loops and stalls.
Adjusting the settings to accommodate a joystick is simple. The program recognizes any primary controller and sets the elevator and aileron. Incremental controls can be adjusted by single keystrokes. On/off controllers will respond only to a single key. Both keyboards and joysticks have sensitivity settings.
Immediate Response
Aerofly FS lets users freely select wind speed, wind direction, turbulence, thermals, fog, visibility and clouds. The thickness of the cloud cover, its density, and low altitude limits are completely changeable.
Changes are immediately reflected in the simulation. Wind will even change depending on the local geography. Flight realism is enhanced when pilots feel their aircraft react as they adjust thermal and turbulence settings in real-time.
Aerofly FS pilots can win trophies by testing themselves in various challenges. Bronze, silver and gold trophies are available for pilots achieving assignments like:
Taking off from ground followed by climb out.
Making a full circle while climbing steadily.
Performing pattern procedures.
Making a spot landing.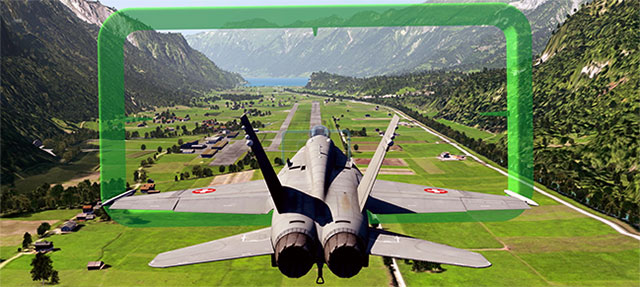 Moving Map
Every instrument in the cockpit shows values as the action takes place. A simple keystroke combo brings up the most pertinent flight data including speed, altitude, current flaps, course heading and throttle position. A constantly Moving Map assists the pilot in a completely separate window or the cockpit itself. Map indicators like "North Up", "Track Up," airfield markings and map zoom help pilots stay oriented and in control.
Aerofly FS has complete support for TrackIR, one of the most common head-tracking systems. Pilots can control the camera view in any direction using the infrared transmitter and the baseball reflectors. When their head is inclined toward the computer monitor, the image zooms in. Aerofly will work with any hardware that is compatible with TrackIR4 and TrackIR5.
Every aircraft is manned by a pilot. If the user chooses the copilot position, or views the action from outside the aircraft, the program will always make sure a pilot is in position. This is true even for two-stage autopilot operation. For autopilot, pilots need only set attitude and heading. The program will stabilize the plane, bring it to horizontal and follow course settings automatically.
Multiple Cameras
Aerofly FS has several camera angles to choose from. Users can select pilot and copilot view, view scenery off to the side, or see what is above or below them. The cameras are positioned at the head position, lending even more realism to the cockpit experience. As the pilot changes views, the cameras pan and zoom, allowing them to see both the instruments and surrounding terrain with exceptional clarity.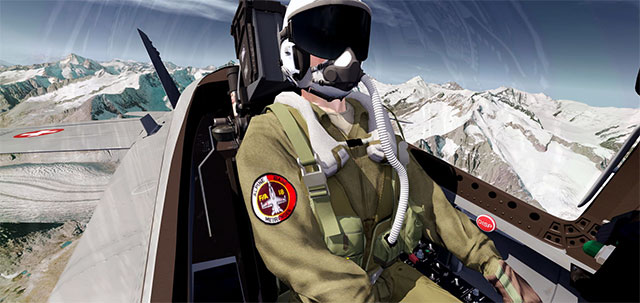 Real life aircraft features are fully developed in the simulation. Flaps act like the real thing, and rudders lose effectiveness as flight speed slows down. On the ground, the nose gear dips as brakes are applied and the airplane decelerates. The audio provides excellent sound from inside and outside the aircraft.
While sounds are impressive on the whole, there are certain missing audio files that would provide a better overall experience. Nonetheless, sounds like the Cessna engine are amazingly accurate. Engines, wind and cockpit noise sound great.
Graphics
Internal cockpit light and shadows render well, as do aircraft shadows on the outside. Graphic details in the cockpit are well done for the most part, with a few exceptions. Unlike some flight simulators, pilots will rarely experience blurred images for pixelation-- the images are crisp and accurate. While some of the controls are animated, the pilot cannot control them. The only cockpit interaction is with the keyboard or joystick.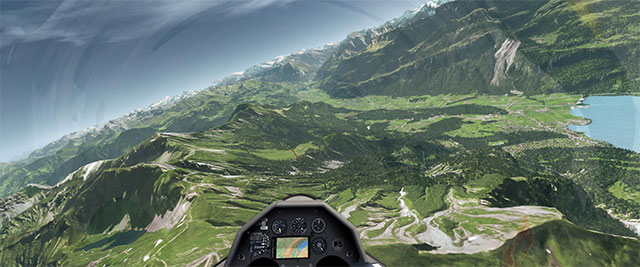 Aerofly FS is set in Switzerland. The excellent ground graphics are elevation mesh with photo textures. Mountains, rivers, cloud banks, meadows and valleys all render in incredibly realistic detail.
The difficulty is that there is only one texture group available. That means that pilots can only fly during the day and will never experience the changing of autumn leaves, as the season is always the same.
Ground Game
The Aerofly FS environment is a pleasant, sunny day in late spring or during the summer. Vegetation is lush and green, and water sparkles in the daytime sun. A few ground images, like distant villages, appear slightly murky but they are in the minority. The majority of the graphics in Aerofly FS are crisp, clear and accurate.
More than 10,000 names of towns, cities and mountains are superimposed on the terrain below. User can discover new areas and virgin vistas as they explore the Swiss countryside from the central Alps to the Matterhorn.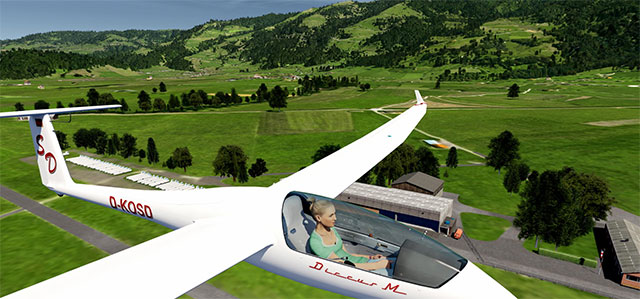 The modest weather provides excellent challenges for glider pilots. The constantly changing air drafts allow them to ride the wind, or dance down the valley walls as their whims dictate. Pilots can pull up a visual simulation of the entire wind field including thermal direction. Frame rates perform well and the program will provide a warning if the FPS goes below 24.
Ease of Use and Versatility
Aerofly FS recognizes any standard joystick by simply connecting it to the program via USB port. Functions are easily set with easy-to-use menus. Users who currently own a GameCommander or an IKARUS RC flight simulator USB interface cable can use them without any problem. Of course, flying can be handled with the mouse and keyboard immediately, perfect for a quick flying session on a laptop computer.
A single click changes the camera view on each aircraft. Users can select the pilot seat, copilot seat, or in some cases, like the Cessna, sit in the rear of the plane. From the cockpit, pilots can scan the area with a panoramic view, pan to the side, or look up and down. Pilots might also choose to view the flight using the Follow mode.
Aircraft
Aerofly FS aircraft's have exacting detail. Just one glance at the fine rendering of the F-18, paint defects on the Pitts, the efficient glider cockpit, the marks on the Sopwith showing its adventures in foul weather, the quiet but effective retractable motor of the Discus bM, and many other details show the developers dedication to making the imagery as accurate as possible.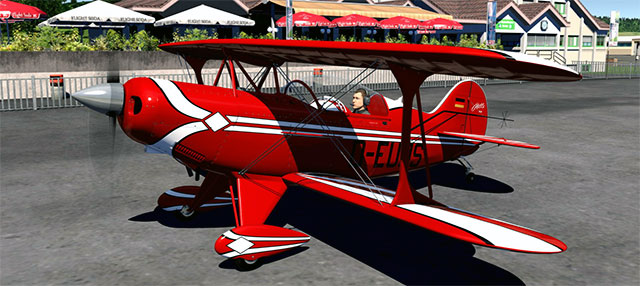 Aerofly FS ships with eight different airplanes:
Cessna 172- the classic pilot favorite. Over 43,000 Cessna 172s have been built, making it one of the world's most popular airplanes. It is very user-friendly, perfect for a training aircraft.
F/A-18 Hornet- famous for their work with the blue Angels. Designed to fly off aircraft carriers. A twin-engine combat jet, it has exceptional range and versatility.
Jodel Robin DR 400- perfect for slow, steady flights. Often used to tow gliders and for sightseeing operations.
Pitts S-2B- aerobatics workhorse. Distinctive looks, impressive aerobatic ability and unique sound have made the Pitts a favorite worldwide.
Extra 330 LX- for aerobatics pros. Extreme maneuverability and strength. Uses two pilots seated in tandem fashion.
Sopwith Camel- the classic World War I bi-plane fighter. Rotary engine made it tough to fly.
Swift S1-potentially dangerous. Unique aerobatic glider. Considered the benchmark in glider aerobatics and performance.
Discus bM- can fly without an engine, but includes one on board, which means it can take off on its own from ground. Includes retractable landing gear and spoilers.

Each of these planes is a barnburner! Each is incredibly fun to fly—like hot rods of the air. However, they are all somewhat crippled by the design of Aerofly FS. For example, the F/A-18 Hornet does not have any of the systems or functional displays that one would find in FSX.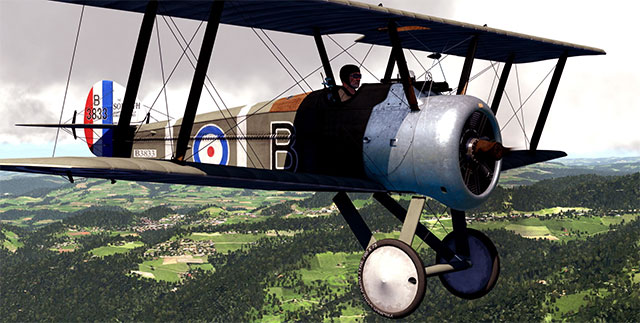 Airports have landing strips and some have high-resolution graphics that look like the real buildings. On the ground, buildings and factories are well designed. Some even have well-known company names emblazoned on the outside.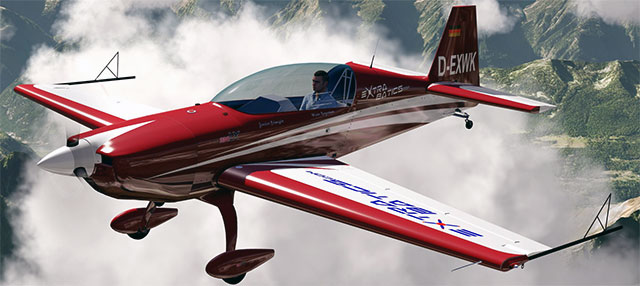 Automobiles and commercial trucks are also well crafted. While the single set of ground textures limits many adjustments in weather and seasons, the experience as it is presented is excellent, possibly one of the best graphic environments of any flight simulator on the market.
Community Reaction
Here is a snapshot of some of the reactions of flight simmers around the web.
Nightflyyer on Youtube:
I have Microsoft Flight Simulator X. It's been around a long time and it's fairly boring to fly actually. That's why you get all those switches you can flick while you are flying.

Aerofly FS is superior to flying FSX, the feel of the plane. I can tell you I have flown a real Cessna 172 and I can tell you this sim model flies exactly the same way. I'm blown away!
Tim Stone at PC Gamer:
You will adore Ikarus' breathtaking depiction of the Alps. I've been gazing down at polygonal peaks for a quarter of a century and have never seen crags half as craggy, snowcaps anywhere near as crisp or cold. The textures and mesh are of such high detail, there will be moments when you'll regret you can't bail out and ski or snowboard your way home.
Jorgen "Troll" Toll on SimHQ.com:
The aircraft look really good. No, scratch that! They are stunning! The 3D cockpits with reflective surfaces and dynamic shadows look so real!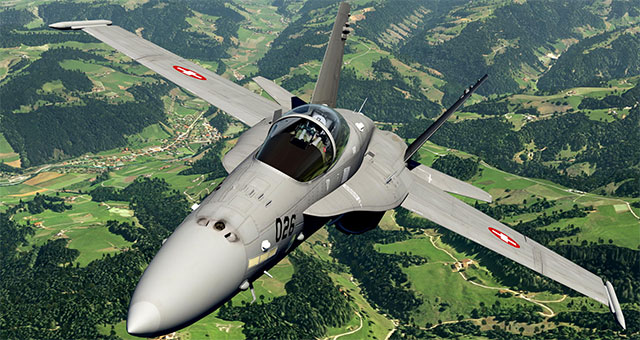 System Requirements
Microsoft Windows
Minimum
Windows XP / Windows Vista / Windows 7.
Intel Core 2 Duo or AMD Athlon64 X2.
2 GB of RAM.
24 GB of free hard-disc space.
Graphic card: ATI Radeon HD 4850 or NVIDIA GeForce 9600 GT or faster with at least 512 MB.
Recommended
Windows 7.
4 GB of RAM.
Graphic card: ATI Radeon HD 5770 or NVIDIA GeForce 450 or faster with 1 GB of dedicated RAM.
A USB Joystick for flying is recommended.
Apple Mac OS X
Minimum
Mac OS X Version 10.6, 10.7 or 10.8.
Intel based Mac.
2 GB of RAM.
24 GB of free hard-disc space.
Graphic card: ATI Radeon HD 4850 or NVIDIA GeForce 9600 or faster with at least 512 MB.
Recommended
Mac OS X Version 10.7 or 10.8.
4 GB of RAM.
Graphic card: AMD or NVIDIA with at least 1 GB of dedicated RAM.
A USB Joystick for flying is recommended.
You can grab your copy of Aerofly FS right now with worldwide shipping over at SimShack.net.
Demonstration Video
Summary
This is the perfect flight simulator for all levels of expertise. Beginners to experts will enjoy their flying experience because they can adjust the degree of realism. For example, Expert Mode provides pilots with complete control over the rudder. Beginner Mode stabilizes and reduces the effect of the rudder, while easing the degree of stall function. Every pilot will find the perfect setting for his or her skill level.
Aerofly FS provides pilots with very good performance, beautiful graphics and realistic sound. As the program matures, it will benefit from ATC and AI, additional time and weather transitions and other added features. Until then, it's a great alternative to mainstream flight simulators like FSX, mostly because it's a heck of a lot of fun to fly.
... Comments below!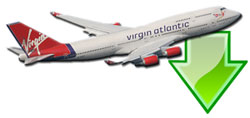 Don't forget... We have a huge selection (over 24,000 files) of free mods and add-ons for FSX, P3D & X-Plane in the file library. Files include aircraft, scenery, and utilities All are free-to-download and use - you don't even need to register. Browse on down to the file library here.