Announced by Microsoft at Electronic Entertainment Expo 2019 (E3 2019) is their new flight simulator package set for release in 2020 for both PC and Xbox.
The official name for Microsoft's latest simulator is simply "Microsoft Flight Simulator" or abbreviated as MSFS.
We weren't expecting this announcement - given the history of Microsoft's attempts to revise its historic Microsoft Flight Simulator package (aka Microsoft Flight).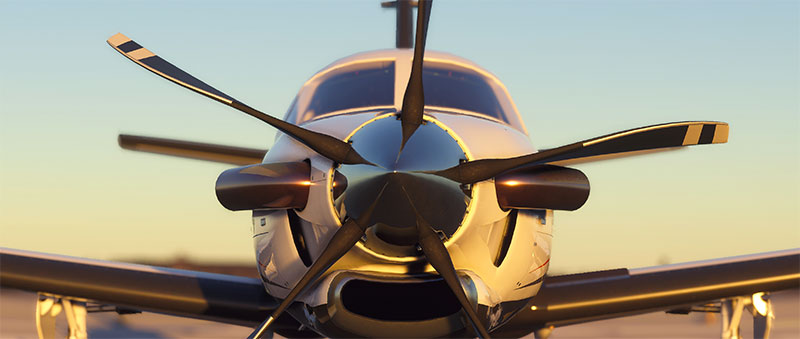 This is a developing story so be sure to bookmark this page - it will be updated regularly with more information as and when it becomes available.
The announcement was made via a YouTube video previewing the new sim. At first, we thought it was a hoax (like our 2014 April fools joke) however the video was verified and had been released on Microsoft's official Xbox YouTube channel.
You can jump to the individual sections of this article using the links below:
Release of Microsoft Flight Simulator
NEW Posted 14th July 2020
Finally, after all the waiting, Microsoft Flight Simulator is set to be released on the 18th August 2020 courtesy of Xbox Game Studios and Asobo Studio. The release will be available for PC as well as Xbox Game Pass for PC (Beta).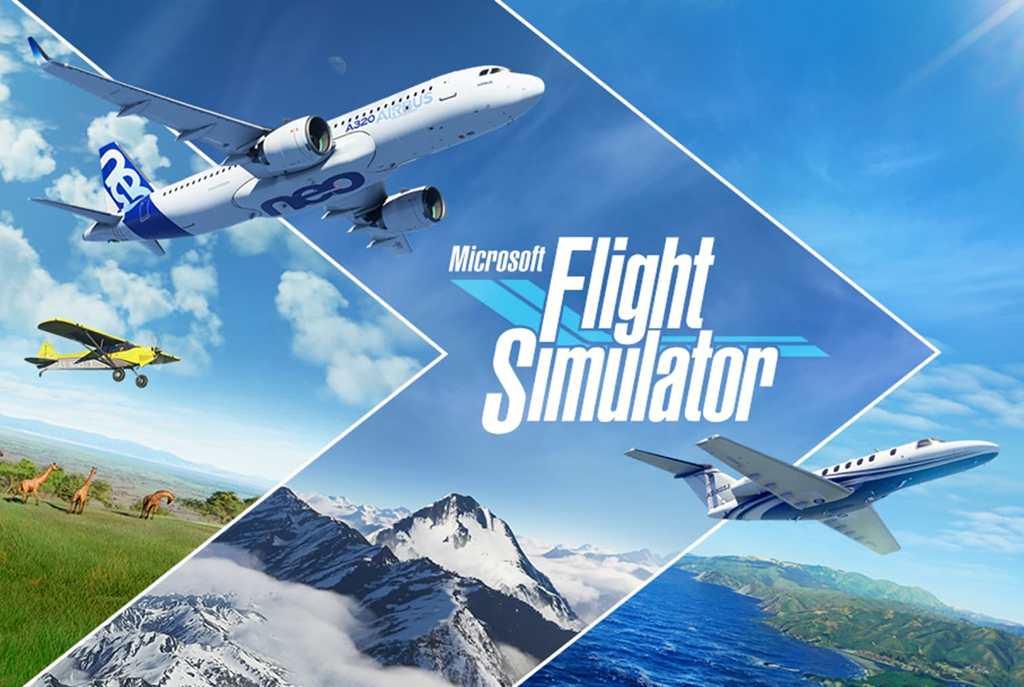 Release Set For August 18th, 2020
Indeed, it has been almost 40 years since the first Microsoft Flight Simulator was released back in 1982, so it is hard to disagree with the developers that it is "the right time to develop the next generation of Microsoft Flight Simulator". The world was an entirely different place in the early-1980s, as was the technology and hardware available. Now, with the technological advances in the decades since, everything is in place to roll out and finally release it.
So, what can we expect with the upcoming release? Well, it would appear, quite a lot.
Depending on the edition you wish to purchase (which we will move on to shortly) you will receive up to 40 further highly detailed aircraft – and these range from smaller light planes to huge commercial airliners, as well as up to 40 highly detailed airports, much more intricately designed and replicated than the 37,000 generic airports also available to land and take-off from, each of which is still amazingly reproduced and easily recognizable to anyone with an interest in aviation.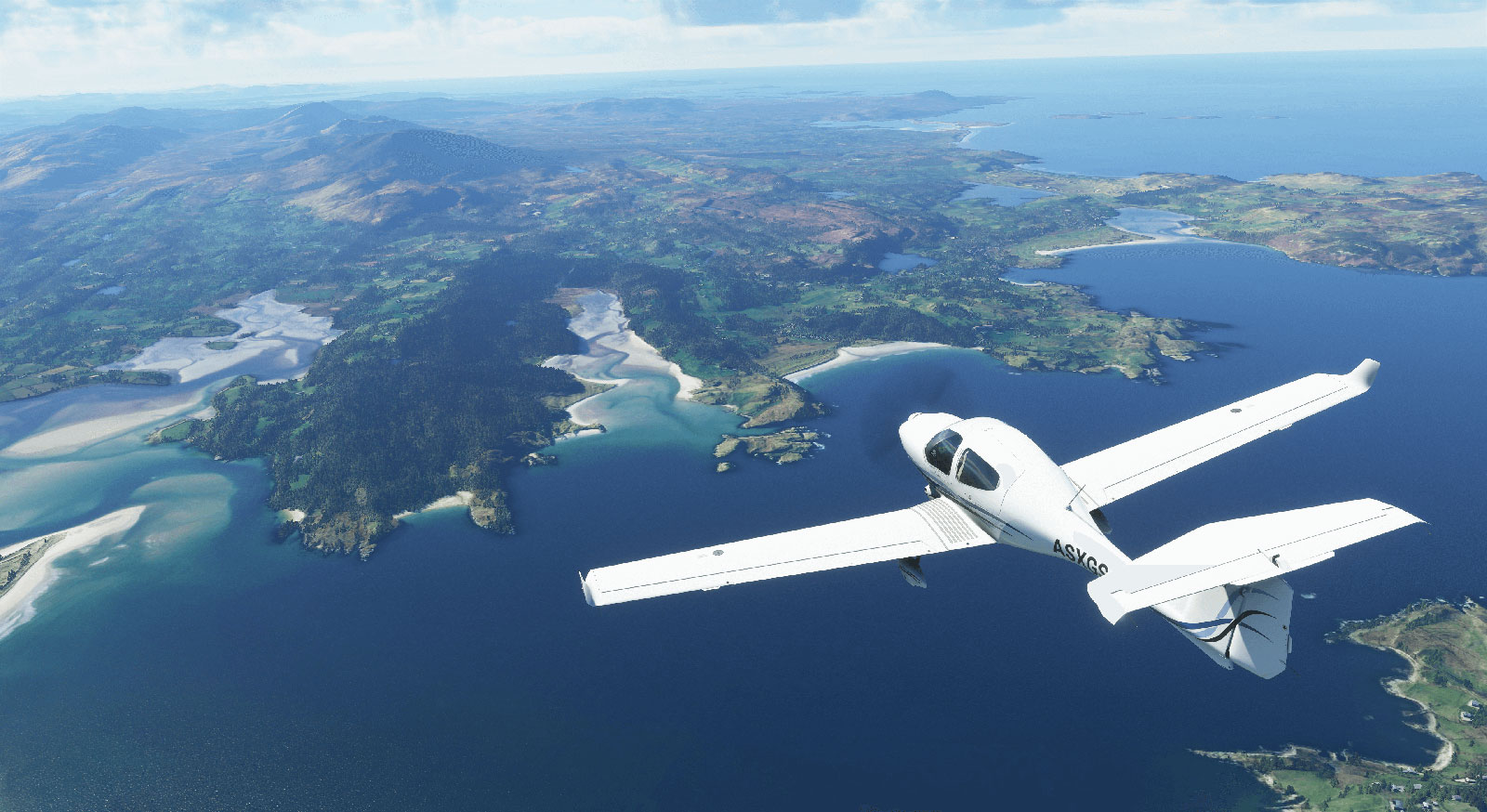 It isn't just the exterior of the planes that is highly authentic, this realism continues in abundance in the cockpit, which is "highly detailed and accurate". Essentially, whatever you would see if you sat in the cockpit of the real thing, you will see in the virtual equivalent.
There is also a highly detailed and comprehensive new checklist system. This interactive guide of the instruments allows the virtual pilot to test their abilities and indeed knowledge of virtual flight. It can be set to full manual right the way to full assist meaning that whether you a veteran of the virtual skies or about to embark on your first adventure, the new feature will be of great benefit.
Furthermore, each of the highly detailed aircraft features a "state-of-the-art physics engine". This aerodynamic modeling means that on the runway, during the takeoff, in the skies, and when landing, the experience and effects on the plane will be as realistic and lifelike as possible, with over 1,000 control surfaces on each plane.
Pre-Order Launch Trailer Video
Below is the official Microsoft Pre-Order Release/Launch trailer video.
Dynamic Weather In A Living World
Of course, as important as the details of the aircraft are, there is also the virtual world around them, something which has certainly been taken into account and improved by the developers. For example, even at the airports themselves, the background animation of cargo and luggage being loaded onto planes or carriers, or even the realistic way the windsocks blow in the wind all add that extra element of authenticity.
Microsoft Flight Simulator also makes use of real-time weather meaning the conditions will change as quickly, and as randomly, as they would in the real world. And what's more, they will change according to the current weather in any specific location – so if you heading to Los Angeles, for example, and it is raining there at the time, it will be raining during your flight as you approach the City of Angels.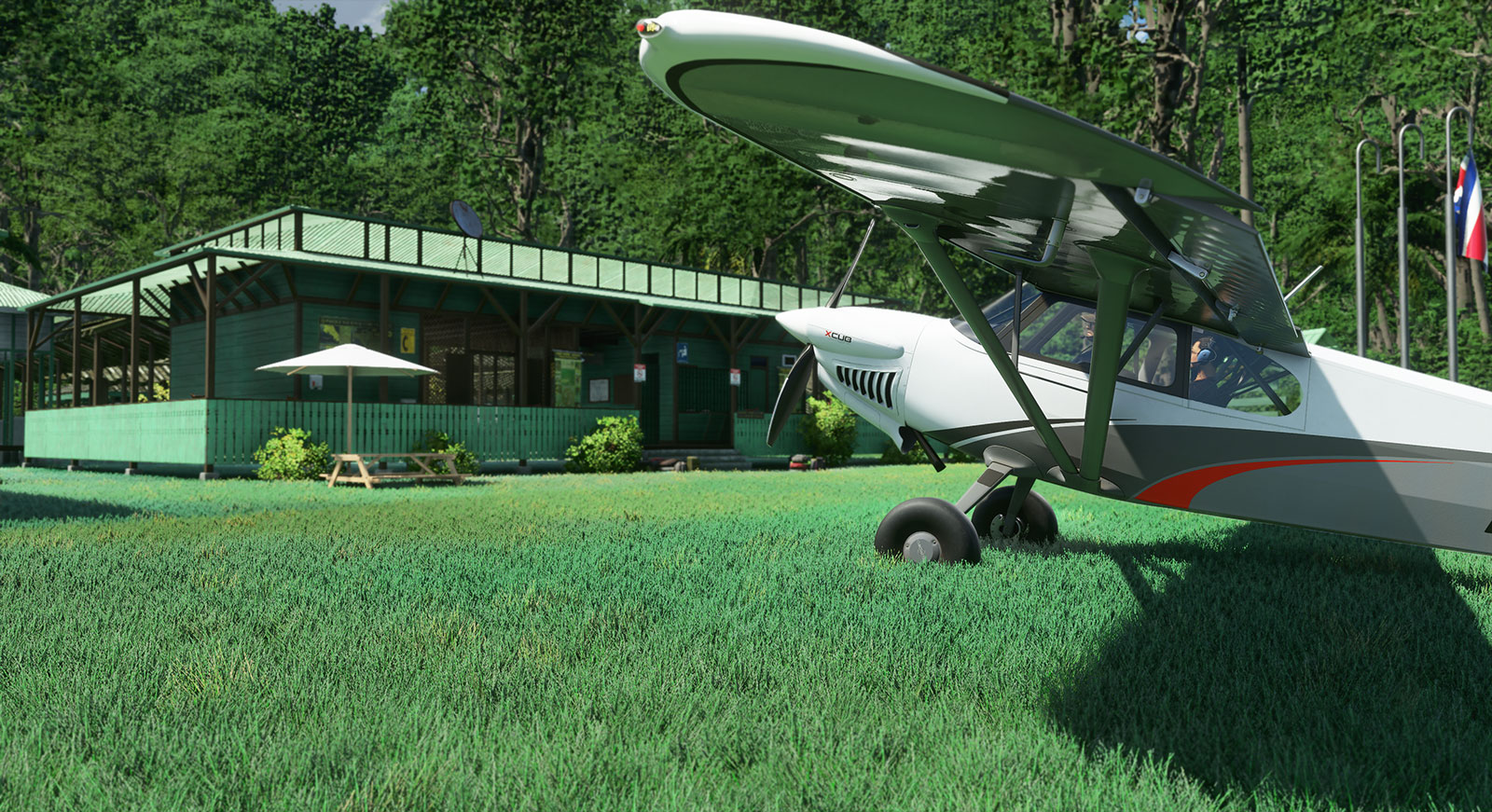 However, the features of the new dynamic weather engine mean the virtual pilots have the option to switch between live-weather or set it to their own liking. Whichever you choose, and whichever conditions you fly in, not only will they appear realistic, but they will have a realistic affect on your chosen plane.
A Landscape Realistic In The Extreme
Another newly improved feature is the night and day engine. This allows the pilot to not only set the time of day (or night) that they wish to fly but also the time of the year. If you are looking to improve your skills in specific conditions, then this particular improved feature will be of benefit to you.
Live traffic is another feature which adds to the realism, as is the use of animals. Essentially, "a living world" has been created for you to explore in your plane of choice.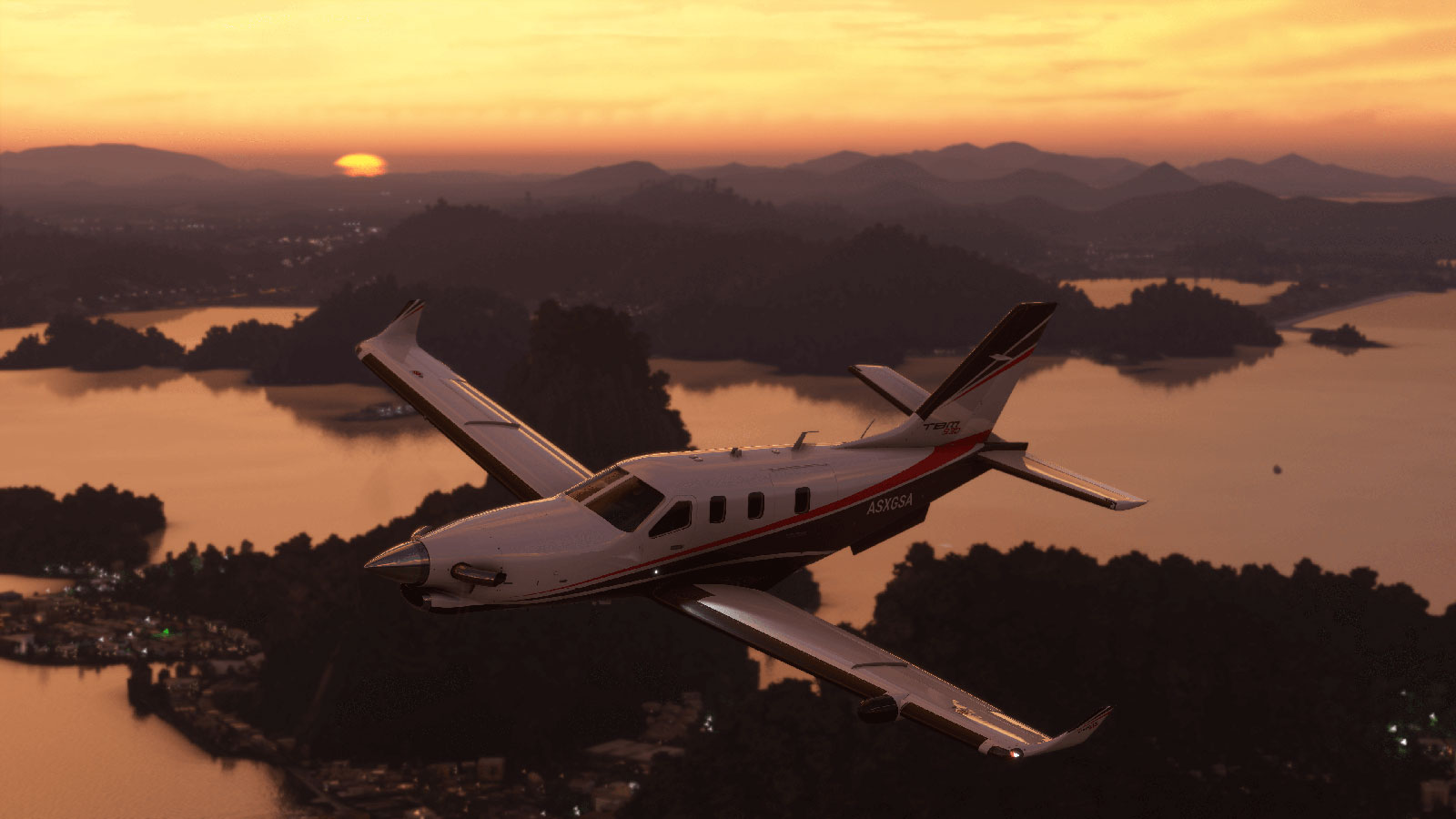 Furthermore, the landscapes and beauty of the planet have also truly been captured intricately and accurately. From roads, rivers, mountains, fields, and woodlands, whatever you might expect to see should you glance down from a real plane you will see from your virtual cockpit. Just to demonstrate the amount of detail that has been captured, as well as these natural features and purposely built roadways, the program features replicas of over 1.5 billion buildings.
The use of Bing Maps data and Azure AI (via Asobos's in-house engine) will make the scenery realistic in the extreme.
Editions, Pricing & Airports/Aircraft Included
There are three editions that will be available for release.
Standard Edition
First, the Standard edition which for the asking price of $59.99 you will receive 20 "highly-detailed planes", each with unique flight models, as well as 30 "hand-crafted airports".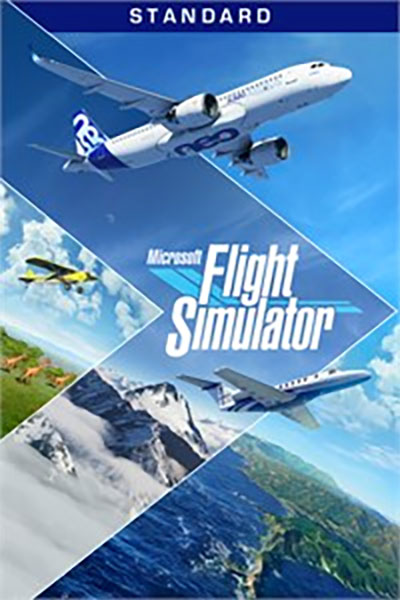 Aircraft
A320neo
Pitts Special S2S
747-8 Intercontinental
XCub
TBM 930
DA62
DA40 NG
EXTRA 330LT
Flight Design CTSL
ICON A5
VL-3
CAP 10
DR400-100 Cadet
Beechcraft Bonanza G36
Beechcraft King Air 350i
Cessna 152
Cessna 172 Skyhawk (G1000)
Cessna 208 B Grand Caravan EX
Cessna Citation CJ4
Savage Cub
Highly Detailed Airports
Aspen/Pitkin County Airport (USA)
Bugalaga Airstrip (CAMA) (Indonesia)
Chagual Airport (Peru)
Courchevel Altiport (France)
Donegal Airport (Ireland)
Entebbe International Airport (Uganda)
Cristiano Ronaldo Madeira International Airport (Portugal)
Gibraltar International Airport (Gibraltar/UK)
Innsbruck Airport (Austria)
Los Angeles International Airport (USA)
Tenzing-Hillary Airport (Nepal)
Nanwalek Airport (USA)
John F. Kennedy International Airport (USA)
Orlando International Airport (USA)
Paris Charles de Gaulle Airport (France)
Paro International Airport (Bhutan)
Queenstown Airport (New Zealand)
Mariscal Sucre International Airport (Ecuador)
Rio de Janerio-Antonio Carlos Jobim/Galeao International Airport (Brazil)
Juancho E. Yrausquin Airport (Dutch Saba)
Gustaff III Airport (France/Saint Barthelemy)
Seattle-Tacoma International Airport (USA)
Sedona Airport (USA)
Sirena Airport (Costa Rica)
Stewart Airport (Canada)
Sydney Airport (Australia)
Telluride Regional Airport (USA)
Haneda Airport (Japan)
Toncontin International Airport (Honduras)
Billy Bishop Toronto City Airport (Canada)
Deluxe Edition
If you can stump up an extra $30 for the Deluxe Edition, then for a cost of $89.99 you will receive five extra "highly accurate planes" and five additional international airports on top of those offered in the standard edition.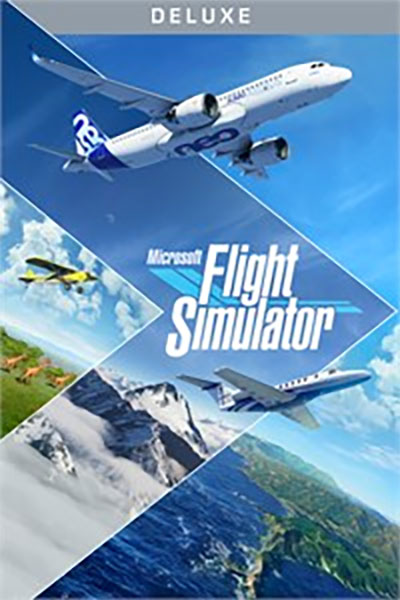 Additional Deluxe Edition Aircraft
DV40-TDI
DV20
Beechcraft Baron G58
Cessna 152 Aerobat
Cessna 172 Skyhawk
Additional Deluxe Edition Airports
Amsterdam Airport Schiphol (Netherlands)
Cairo International Airport (Egypt)
Cape Town International Airport (South Africa)
O'Hara International Airport (USA)
Adolfo Suarez Madrid-Barajas Airport (Spain)
Premium Deluxe Edition
For a few dollars more – specifically another $30 taking the price to $119.99 – you will receive the Premium Deluxe Edition which includes an extra five highly detailed aircraft and international airports than the deluxe edition (and ten more than the standard offering).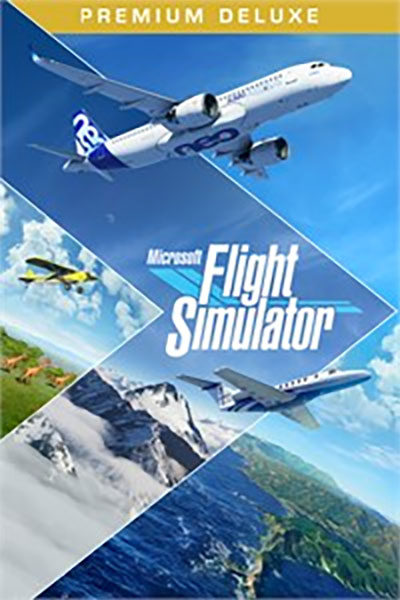 Additional Premium Deluxe Edition Aircraft
787-10 Dreamliner
SR22
Virus SW 121
Cessna Citation Longitude
Shock Ultra
Additional Premium Deluxe Edition Aircraft
Denver International Airport (USA)
Dubai International Airport (United Arab Emirates)
Frankfurt Airport (Germany)
Heathrow Airport (United Kingdom)
San Francisco International Airport (USA)
All of these will be available for digital download as you would expect, and what's more, each of the planes and airports promised will all be available immediately. There will also be a physical disc release by Aerosoft at stores throughout Europe.
Just to note, it is possible to upgrade from one edition to another after purchase, but you should expect to pay more (overall) to do so. Essentially, if you think you are interested in the Deluxe or Premium Deluxe editions, it is perhaps worth opting for that one at the outset as opposed to trying out the standard edition first. Potential users should also note that license sharing is not allowed.
An Eagerly Anticipated Release
If you're reading this, then chances are you are waiting for this release with anticipation. It would certainly appear that is the overall feeling in the simulated flight community, with many pleasantly surprised at the sooner-than-expected release date. Indeed, most of us who have been waiting for the release were seemingly expecting a date somewhere around October or November.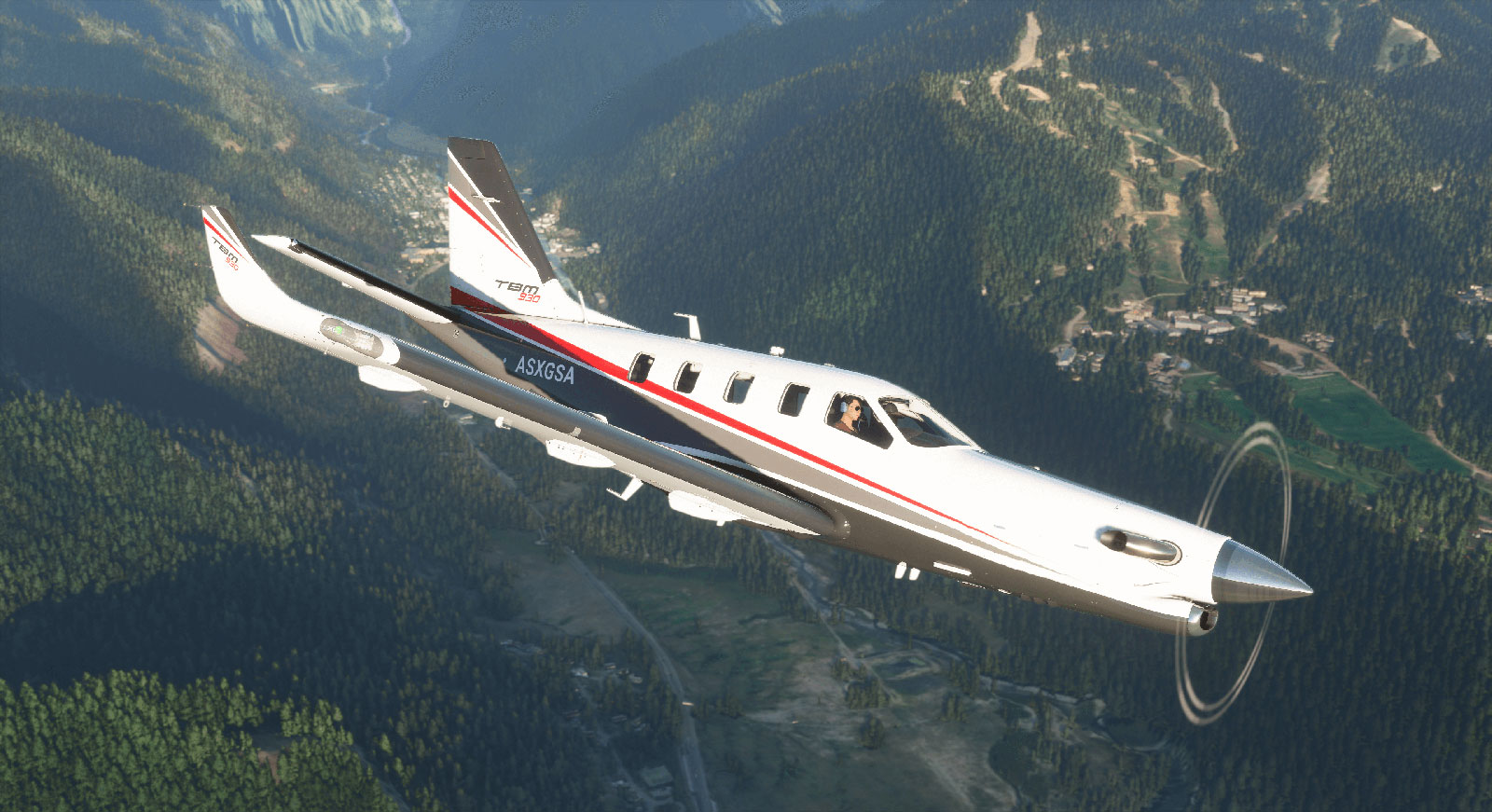 One question that appears to come up a lot from anticipating users, is whether the new release will be able to be played across multiple monitors, with the user able to view the cockpit on one, and the outside elements on the other. At this stage it is uncertain if this will be the case, at least initially. However, as soon as there is clarity on this issue, you will read about it here.
If the trailer is anything to go by, it is easy to understand this rampant anticipation. The difference between the virtual world and the real one, once you become immersed in the simulation, is a delightfully blurred one, with stunning graphics that appear as though they are from a movie as opposed to a simulation.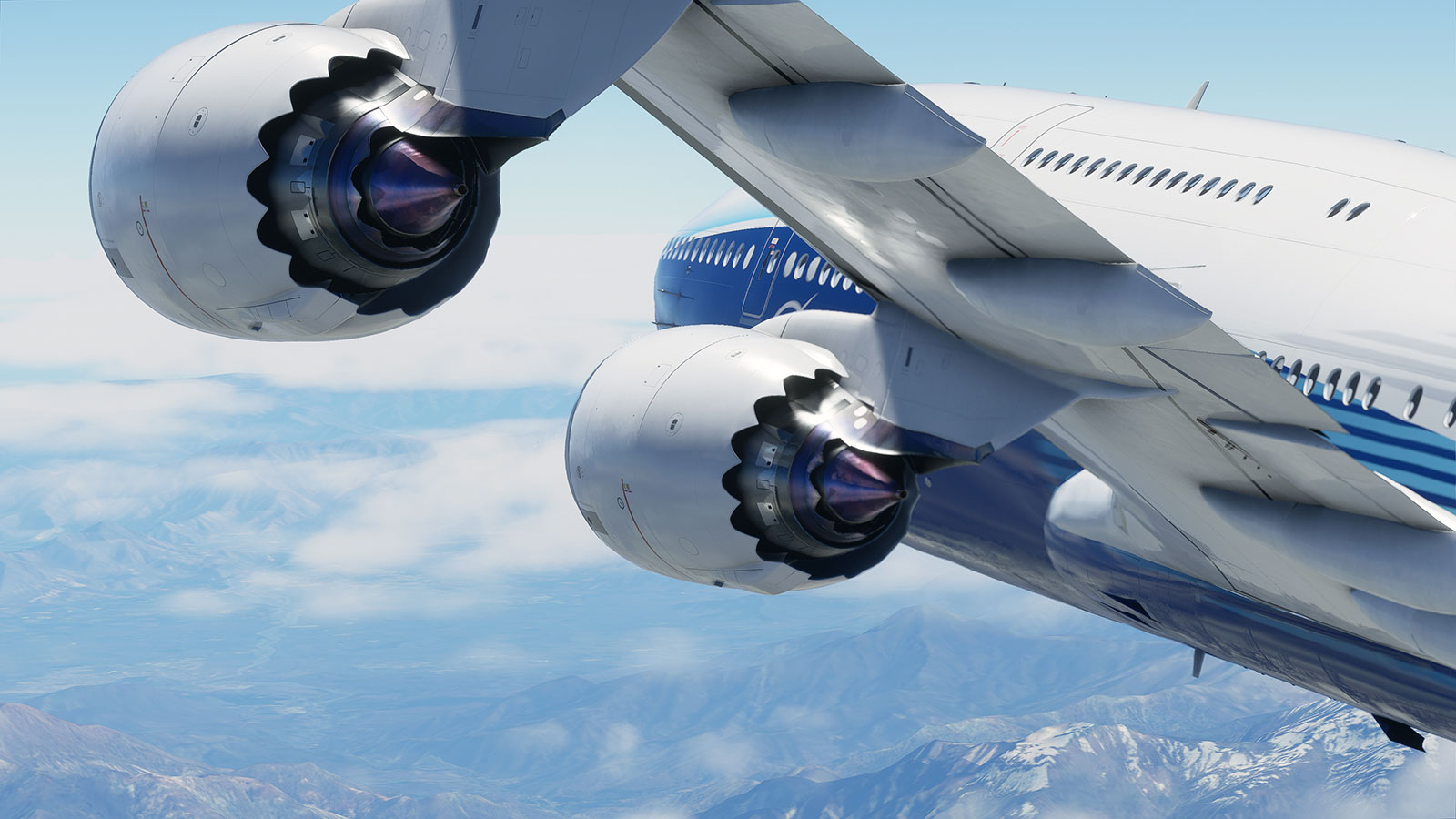 Perhaps the anticipation of this upcoming release has been best summed up by one online commentator when they offered:
"How to travel the world quickly and cheaply? Buy Microsoft Flight Simulator!"
You can place your pre-orders here.
Post-Release Updates
UPDATED 30th August 2020
Showcase & Unofficial Trailer Video
Here is our official release showcase video. It also doubles as an unofficial trailer video. We have produced this video to demonstrate the final released product by Microsoft. It features various locations around the globe and also many of the aircraft featured in the release version of the simulator.
Some of the areas included and demonstrated in the video are; Courchevel Altiport, Las Vegas, Los Angeles, San Francisco, New York, SEQM (Mariscal Sucre International Airport), Temples, Egypt, Hong Kong, Dubai, Seattle (near Boeing Field), Washington, Paris, Chichen Itza, Christ the Redeemer, Brazil, Saint Barthélemy, Mount Everest and Lukla, London, Mont-Saint-Michel and finally, Tokyo.
Aircraft displayed and demonstrated include the; Boeing 787, Piper J-3 Cub, Diamond DA62, Boeing 747-8, Beechcraft King Air 350i, ICON A5, Airbus A320neo, Cessna 172 Skyhawk.
Watch the video...
Keyboard Controls, Bindings and Commands
We now have the complete keyboard and control commands listing in our file library.
The file features a complete printable, single-page PDF document as well as a Microsoft Word document (.docx) along with a viewable web page with every single default keyboard command and binding present. Also included is a JPG version should you prefer an image to work with.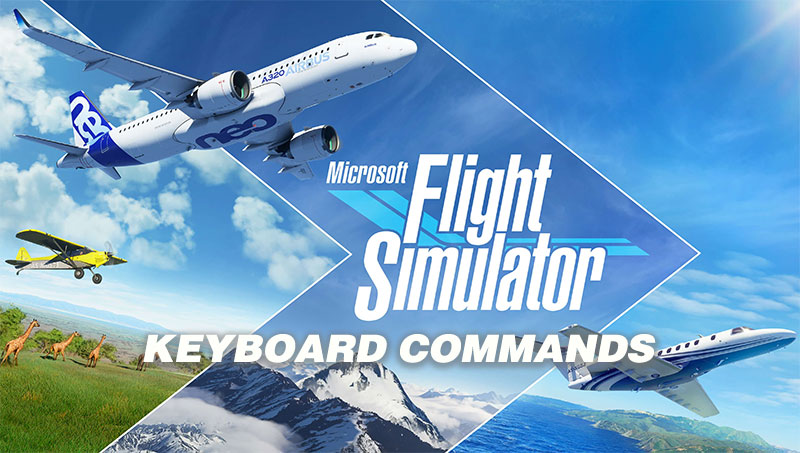 All of the commands featured are the stock out-of-the-box commands. You can change and customize the bindings yourself if you wish in the settings sections within the sim. Microsoft have kept the controls as close as they can to the legacy FS9/FSX setup - this was a request by many users of the older sims - it keeps everything familiar.
You can view/download the list here.
Freeware Mods & Add-ons
Update 28th December 2021
We have now launched our official "best of" freeware Microsoft Flight Simulator freeware mods and add-ons article - you can read it here.  This article is updated regularly with many new freeware releases so be sure to visit and bookmark that page.  Covering aircraft, scenery, and tools/utilities for the new sim it covers everything and is fine-tuned to really include the best - and only the best - freeware releases.
UPDATED 18th September 2020
Freeware add-ons/mods for the latest MSFS (2020) release are being released in abundance and we have our own in-house mods and creations being released soon including livery packs and custom scenery.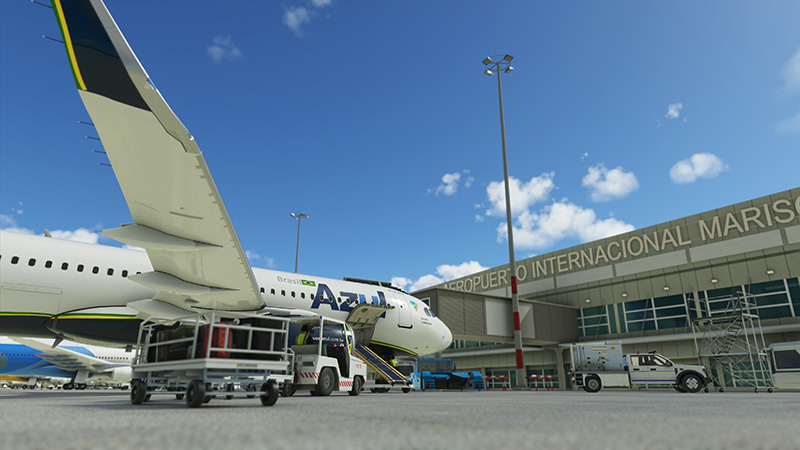 We have started our own file library featuring these new mods and add-ons. The library is in its early stages and is growing daily - but it's exciting - freeware developers are creating files in abundance for this brand-new sim. While the SDK is primitive and not fully developed, developers are being proactive and making the most of what's available.
Many files have been released already including livery/repaint packs for the default aircraft, revised and missing airports/airfields included in our scenery section along with utilities and tools to make your MSFS 2020 (FS2020) experience more rewarding.
We have several sections in our library at the moment, they are;
You can stay up to date with those by visiting our new Microsoft Flight Simulator (MSFS) 2020 release add-ons section here (it's worth bookmarking this page for the latest updates).
We expect to add to this section daily as freeware releases are announced and submitted.
Note: If you are a freeware developer or enthusiast who has created an addon/mod compatible with this simulator package then we'd love it if you would share it with our community. You can read about our file library, our community, and submit your creation on the submission page here.
Digital Guide: Walkthroughs, Tutorials & Instructions
We have featured on our SimShack site a complete 244-page digital guide created by the team at SoFly which includes countless tutorials, walkthroughs and instructions, and explanations for MSFS.
Touted as "the missing manual" or "the manual Microsoft didn't include" - this guide covers much of the sim in high detail and provides you with a manual that you can use to navigate your way through the brand-new simulator.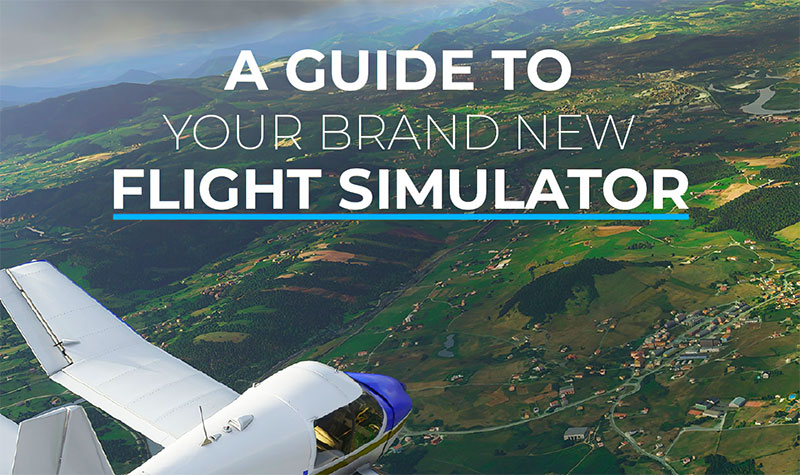 The official name of the digital guide is A Guide to Flight Simulator and the digital book is reasonably priced for the wealth of data it includes.
The book includes walkthroughs and tutorials for almost all of the features and screens of the latest flight sim release including; flying with ATC and configuring camera controls, to using the accessible user interface (UI), and completing your first training flight. Also included is highly detailed information for each of the hand-picked release airports (depending on what version you purchased).
This product is no longer available on SimShack.  It may be available on the Internet somewhere.
In the meantime, you may find our own "Flight School" page helpful - it contains guides, tutorials, and more for MSFS.
New Payware Releases (2020)
Here we will feature selected payware releases for the new sim. Only a small selection is featured below as we will (eventually) craft an entire article covering payware releases for MSFS 2020. But here is what we have so far.
Update: Many more payware releases have been announced and listed which you can view the entire range of MSFS (2020) payware add-ons over on SimShack here.
Weather Preset Pro: Advanced Weather Add-on for MSFS
Developed by the team at SoFly - the same team that developed the "missing manual" for MSFS 2020 is their latest product compatible with the new sim, Weather Preset Pro.
This add-on brings over 40 predefined weather presets or "scenarios" to your copy of MSFS.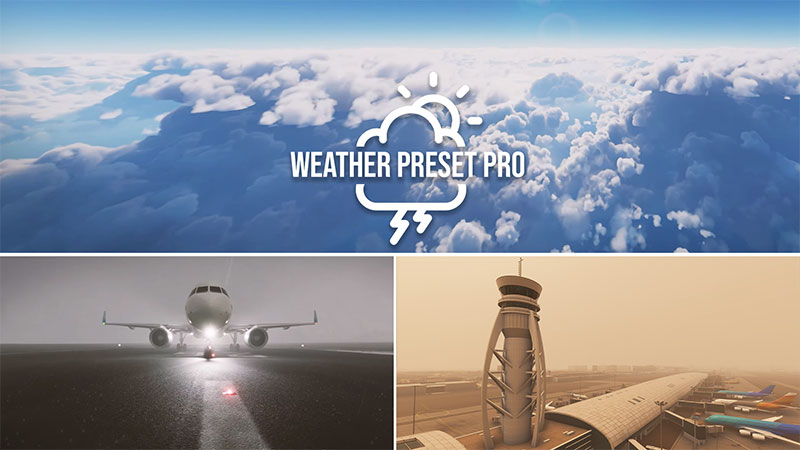 This addon brings an easy way to set specific weather setups in MSFS without customizing each and every field of the weather settings - each of the presets do that for you. All you have to do is select them.
Some of the weather presets included (but there are many more); Sandstorms, Zero Visibility, Hurricane conditions, Tropical storms, High-level clouds, Overcast, Big and Bold, Blazing Sunshine, Calm Winds, Humid Storms, Snow Flurry, Arctic Chill, and Blizzards.
Essentially what this add-on does is make it much, much easier to select specific weather scenarios without having to manually configure them in the simulator.
Pricing for this payware is very reasonable at £4.99/$6.24/€5,69 (at the time of publishing).
Grab your copy now (and view all videos, a full description, and purchase) order this MSFS weather add-on at SimShack here.
COVID-19 (Coronavirus) Delays
In light of the recent events, it is not only these most recent developments that have been delayed. For example, there is expected to be another Feedback Snapshot update in early April. And Episode 8 in the Microsoft Flight Simulator developments is expected to be available a week or so later in the middle of the same month. As is a Partnership Series update.
The Alpha build updates should be released and available in the next week at the start of April. Initially, as previously stated, access to this new database will by invitation only. The developers will be looking to ensure over the coming days that those users who have "received an acceptance" can also get access to the Alpha. They will also be looking to do the same for those who had registered for the "pre-release build testing".
For those currently not accepted or granted access to the Alpha testing, the company is looking at ways and timelines to get more people access. Although, at the moment that timeline stands at "as quickly as possible".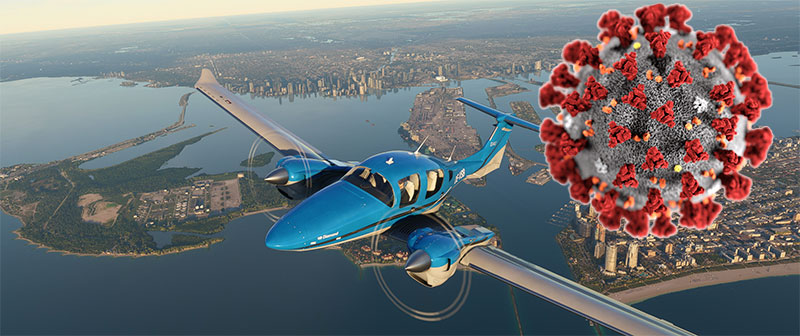 ?
If we turn our attention back to the Feedback Snapshot we can anticipate what that next update might look like or comprise of. For example, some of the top questions revolve around a list of aircraft and airports, as well as users looking for information on the Bing Improvement Plan/update frequency, or for information on the campaign modes and missions. It is most likely, at least in part, that these questions will be addressed in one of the upcoming updates.
Other top questions are such things as pricing, what the minimum spec to run the program will be, and the timeline to pre-order and, of course, the actual release date.
On the other side of the most asked questions are the contents that appear most on users' wish lists. Top of the list is for more 3rd party content, while the second would be for more AI Traffic.
Plenty of other users expressed a desire for more helicopters, while others wished for better peripherals, seasons, and even shared cockpit functionality. Whether the items on this wish list are addressed and/or actioned only time will see, but if they are, you will find out about them here, so make sure you bookmark this page.
Perhaps items of concern that will most likely be addressed are the Top Alpha Issues experienced by users. Top of the list were issues with Controls Mapping, but other issues such as Input Sensitivity and issues with Live Weather have also been highlighted by those who have had access to the developing database.
The scale of the grass and trees has also seemingly been an issue, as has handling, friction, and appearance of the various grounds.
We should expect most, if not all of these to be addressed over the following updates, although, perhaps we should note that at the best of times delays can happen, and these are certainly are not the best of times.
There will be further updates soon, however, and for the foreseeable future, the developments look set to be coming to us sooner rather than later.
X019 Update
NEW Posted 15th November 2019
Microsoft released a new video trailer at their X019 Xbox event in London. They also released an additional 16 screenshots demonstrating the aircraft available in the new simulator coming in 2020.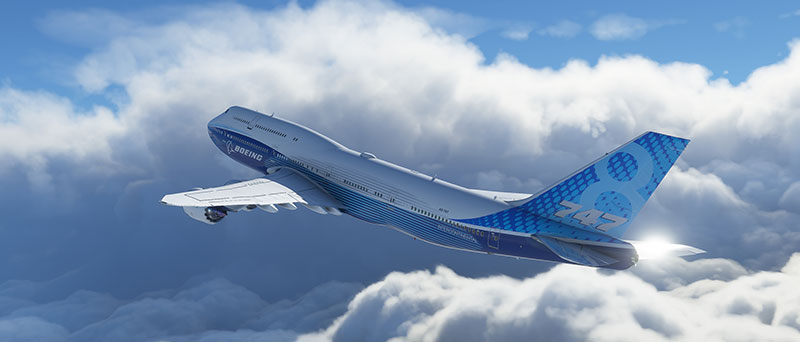 At the event and on their releases, they announced that they are working with several real-world aircraft manufacturers and also announced that the new simulator will cover, "a broad range of aircraft" which include light aircraft, business jets, commercial aircraft (large passenger jets) and general aviation aircraft. This will be good news to simmers as they were concerned that the "heavies" won't be included... they will be pleased to know it appears the 747-8 is going to be available out-of-the-box - you can't get any heavier than that!
Here is the official list of manufacturers they are working with (at time of writing - more could follow):
Airbus
The Boeing Company
CubCrafters
Daher
Diamond Aircraft Industries
ICON Aircraft
Robin Aircraft
Textron Aviation
From the screenshots released (and what's visible in the trailer video) - we can expect at least; Boeing 747-8, Diamond DA62, Airbus A320, Icon A5, Cessna Citation CJ4, Mudry CAP 10, CubCrafters XCub.
So far we have no news on helicopters or rotorcraft being included but with many more updates to follow (and development time) we are sure that Microsoft has thought of this, listened to the community and will be including some whirlybirds in the release.
View the NEW X019 Trailer Video here.
View the NEW screenshots demonstrating the aircraft here.
FSX Beta
Announced 15th November 2019
Microsoft, now they have taken the reins back for Flight Simulator X on Steam has released a new beta edition which will help them "gain valuable new telemetry data" for the upcoming release of Microsoft Flight Simulator (FS2020).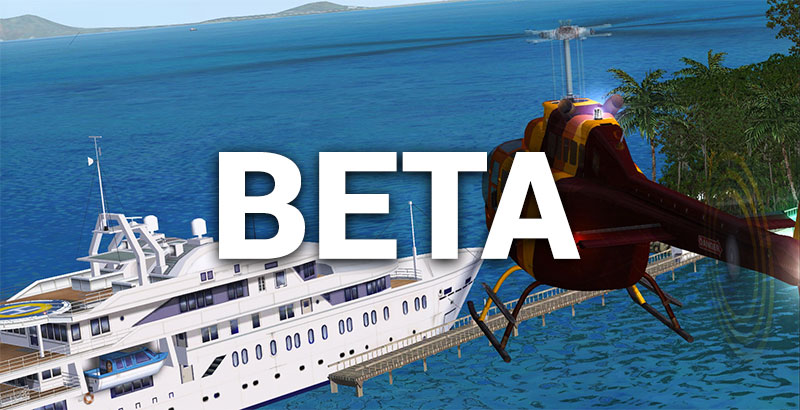 ?
Bugfixes in the beta
Bugfixes were included in this beta update.
Turbine
Resolved issue in N1 values where some settings were set to zero
Fixed issue where fuel flow not saved and set to 0 when started in the air
Agent radar
Resolved in-flight issue which resulted in intermittent crashes when using navigation way-points
Conversion
Impression fixes when converting knots to meters per second
Piston
Small fixes to oil pressure table
C172 oil pressure changed to start with a valid value
Live Weather
Reintegrated Live Weather
When a weather station METAR line reading is failing the data will now be extrapolated from the weighted mean of the closest available METAR sources, instead of resetting to default weather
Some chatter suggests they are gathering data to make the new simulator more backward compatible with FSX so users are able to use (most) of their FSX add-on with the 2020 release... wouldn't that be great!
We're unsure as to what "data" will be gathered but if you want to show your support, help the development team out!
Join the Beta
Follow the steps below to join in Microsoft's data gathering beta version.
Right-click on the FSX: Steam Edition in your Steam Library.
Select Properties.
Select BETA Tab.
Choose fsx-beta External Beta branch. You DO NOT NEED a code.
Restart your Steam Client.
To reverse the changes and go to live build once again, just select branch - NONE and restart your steam client.
So far, it seems only the Steam Edition is supported for this beta. Users of the boxed editions are out of luck.
Global Preview Event Analysis
NEW Posted 1st October 2019
The continuing saga of Microsoft's highly anticipated Flight Simulator program went up another notch in the past several days with the announcement that the team has "reached another critical milestone" in the program's development.
And this development was finally reached following a recent two-day preview event of Microsoft Flight Simulator at the Rainier Flight Service in Renton, Washington, which also demonstrated the team's commitment to developing a solid and two-way relationship with their audience, at least that is the hope of the MSFS team.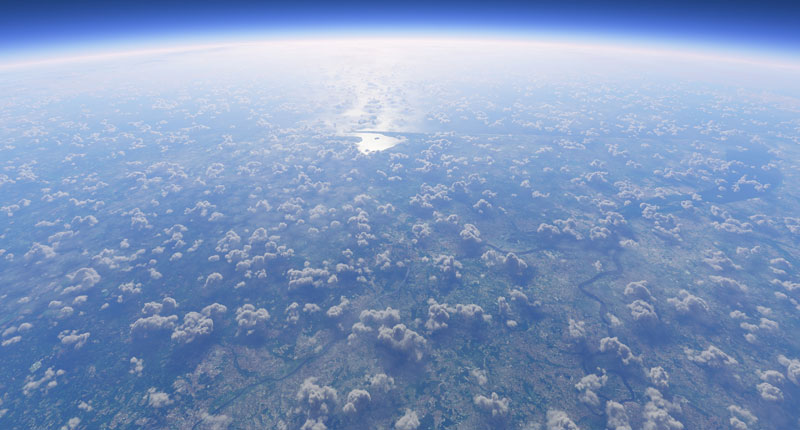 While Fly Away Simulation didn't attend the event, many other members of the flight simulator community did - below is our analysis of what they found.
More specifically, "four important topics" were covered during the recent demonstration – World, Sky, Aerodynamics, and Cockpits. With all that said, then, what do those privy to this demonstration have to say on the matter?
A View Of The Both Worlds From A Cessna 172 – Pulling Out All The Stops!
So, what exactly did those lucky enough to attend the event in question take away from it? Well according to one reviewer, due to the "hyper-realistic new version of (Microsoft) Flight Simulator (they) now know what it's like to fly a Cessna Skyhawk". And what's more, just for good effect, the reviewer got to do so over the virtual version of his very own neighborhood.
And just for good measure, and a testament to the fact that the Microsoft development team very much intend to pull out all the stops with their latest project, guests attending the event were able to view the real world while "taking actual flights" in the real version of the same plane.
Indeed, while we will get into it in more detail as we go and there will undoubtedly be some caveats to the following statement, but if the two days in Renton are an indicator of the quality of the final product it would appear to be a safe bet that virtual pilots everywhere will be in for a real treat.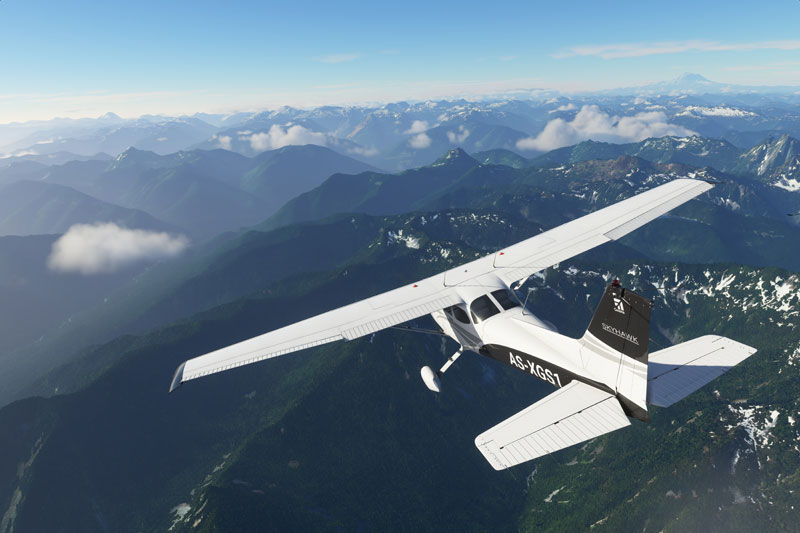 And furthermore, the overall approach by Microsoft appears to be working better than most in that they are catching both new inexperienced members of the flight simulation world as well as the grizzled veterans of the virtual skies. After all, this is the "first full refresh" for the company's flight simulation program for well over a decade.
Jorg Neumann, the head of the franchise would claim from the podium during the event that as much as anything "this was just the right time" in terms of updating, refreshing, and relaunching the flight simulation program. And what's more, they are
"trying to bring something new to the table… and some new innovations that really drive flight simulation forward!"
Indeed, if there are a three Rs in education terms where only one of them actually begins with an R, then the equivalent of the flight simulation world, at least according to Neumann are
"realism, accuracy, and authenticity!"
Flight Simulator "Older Than Windows!"
Neumann would further note for good measure that "Flight Simulator is actually older than windows" and shows no signs of going anywhere any time soon. Furthermore, the "right tech" has now provided programmers with the "right tools" to bring the long-established program back to the forefront of flight simulation. And ultimately, begin to erase the mistakes of Microsoft Flight from 2012.
It would appear that "Hollywood-level graphics" are soon to be enjoyed by virtual pilots, be they newbie or experienced pilots to the simulated skies. Satellite and cloud computing technology combined with constantly evolving Earth-mapping technology are all set to play a significant role in his major overall of Microsoft's flight simulation experience.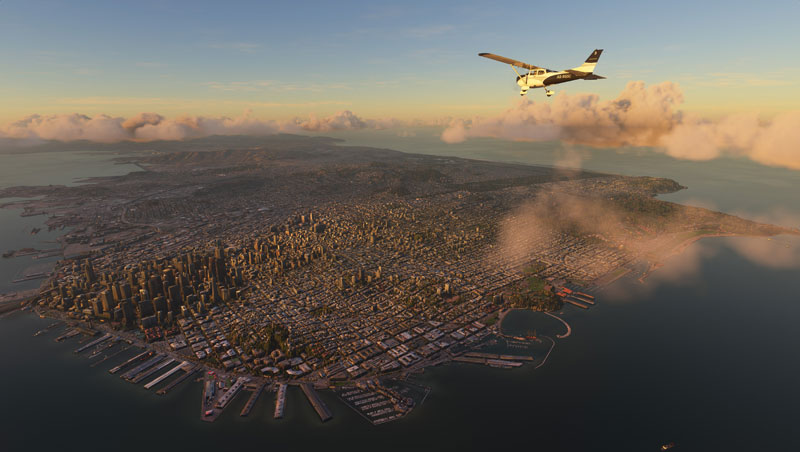 We should recall that since the early 1980s the flight simulation software "has been a perennial top-seller". And furthermore, its real strength, which revolves around the technical "non-gamelike" feel of the program, is very much retained in the new revamped and reworked version.
If there were mistakes made in the aforementioned 2012 program, then as cliché as it is to put it into words, the programmers have most certainly learned from them. And barring some unforeseen circumstances, glitch, or other variables unknown to the wider flight simulation community, they now look set to grow from them. In fact, as overly dramatic as it might sound, there is a distinct and growing impression that the programmers and their ultimate end product could "sneak up" on the competition.
A "Gutsy" Move That Just Might Pay Off!
Another reviewer who also took to the skies in a real Cessna after "flying" the virtual version for "barely an hour" just a short time before. OK, as the reviewer in question states, "to clarify" a fully trained and experienced instructor was with him at all times. And he did, in fact, not actually manage to take off or land the plane. But once in the air, he did indeed "pilot the Cessna 172 for about half an hour".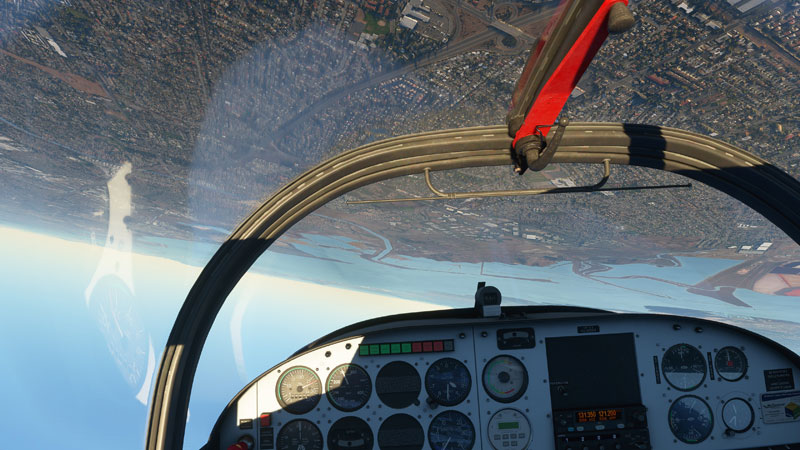 Furthermore, this same reviewer would claim that they were "astonished" by how similar the actual flight he took was to the simulated one several hours earlier. Particularly when he went through turbulence in the real plane and noted how realistic the simulated version had actually been.
Indeed, as extreme a way of testing the authenticity of the flight simulation as it might be, the words are a ringing endorsement of the realism that awaits virtual pilots who opt to purchase Microsoft Flight Simulator when it is finally unleashed into the public arena.
This "gutsy" move by Microsoft appears to be achieving its aim of putting the package on a different pedestal to other flight simulation programs. So much so that the mistakes and seemingly costly (at the time) errors of 2012's Microsoft Flight are surely being pushed further and further into the back of the collective memories of those virtual pilots who experienced what the company are eager to point to as a blip in their long-standing and proud history in the industry.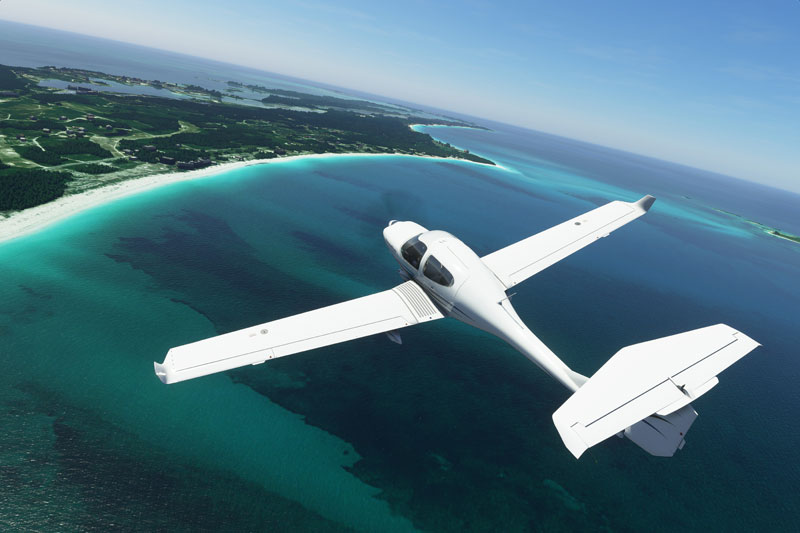 Back To Those Three Rs Of Flight Simulation – Realism, Accuracy, And Authenticity!
OK, enough of how great a job of marketing the Microsoft team may or may not be doing, what about the ins and outs of the program itself. What is the general consensus from those who have managed to get up close with the software?
Well, to begin with, it appears to be widely agreed that the appearance and finer details of the aircraft on offer are realistic and authentic. And very much so. FSElite claimed the "modeling and texture quality is of an incredibly high standard". Going further this same reviewer claimed that
"every rivet, air vent, and latch was represented".
And what's more, this attention to detail is carried on and maintained throughout every visual aspect of the respective aircraft.
Furthermore, the aircraft responds to the "forces of nature", which themselves affect the surfaces of the planet (of which there are 1,000) which, in turn, affect the plane should you need to land. Basically, realism appears to be at the center of every aspect of the software. This same adaptable realism continues once you take to the air, with the "shaking" of the plane when it hits turbulence or air pockets adding an extra layer of authenticity.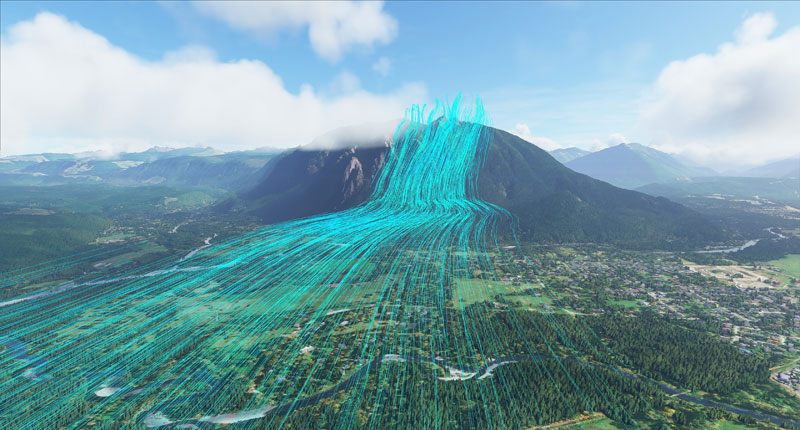 As you also might expect, the interior of the plane is just as authentic as the exterior, with perhaps the automatic lighting up of the dashboard in dark/night flying conditions being the icing on the digital cake.
The World – Quantity And Quality In Equal Measure
What's more, due to the partnership and utilization of Bing Maps every part of the planet will be immediately available as the base package upon release. And while there will undoubtedly be improvements and add-ons made available as time passes, this is an impressive pedestal to begin from.
Even more so, perhaps, when we learn that over 400 cities from around the world will be represented and waiting for you to explore them in the virtual world. And some of these cities with iconic skylines or very specific features – think New York, London, Rome, Berlin, we could go on – are captured and represented with breathtaking accuracy and detail. Potential users can then add to that somewhere in the region of 40,000 airports with which to begin your flights from or indeed use as your final destination.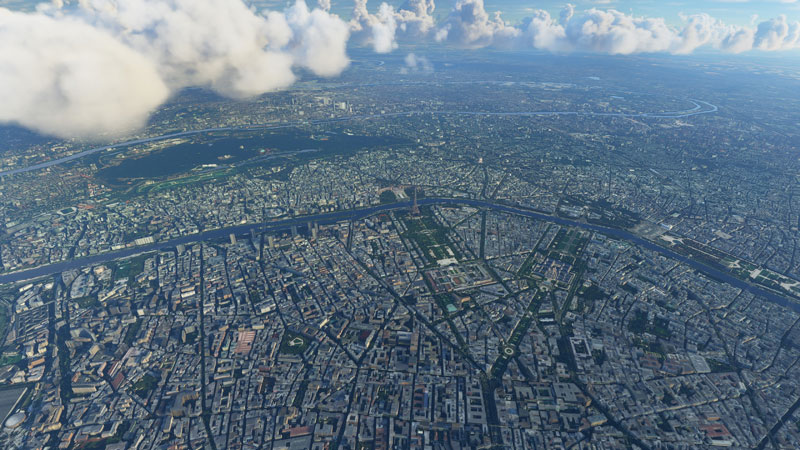 On top of this, the use of real-world data through the previous mentioned Bing Maps, every last detail of these cities, right down to the where trees are, is represented. Even such smaller details as 3D grass blades and the texture of the world's waters determined by the speed and direction of the wind all contribute to the overall sense of realism, as well as the two remain three Rs of Flight Simulation, accuracy and authenticity.
In short, The World aspect of Microsoft Flight Simulator appears to not only provide value for money in terms of quantity, but the quality also appears to be on an equal footing.
Even More Authenticity With The Weather
Similarly, as the plane responds in real-time and with stunning accuracy, should you alter the weather conditions, the need for alertness and response to the changing environment is yet again another example of the overall genuine feel that the virtual pilots will enjoy (or have to overcome depending on your experience) should they choose to take the plunge and opt to install and explore the MSFS package upon its eventual release.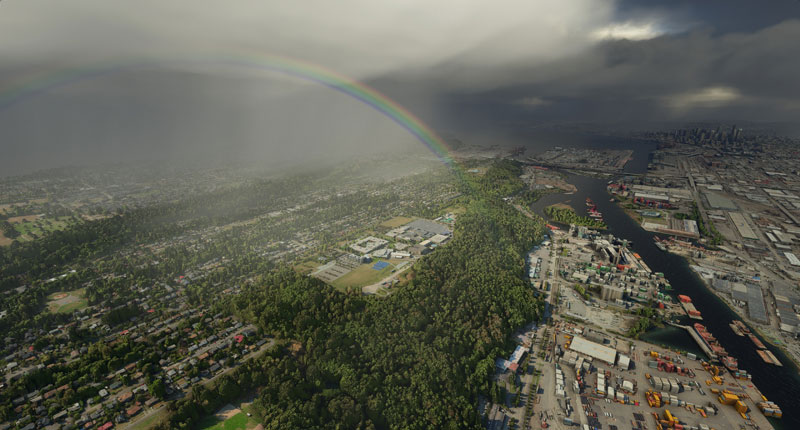 Just as you would have to do in a real cockpit should you find yourself flying through a sudden change in weather conditions an alertness in the changing logistics of the flight and the capabilities of the plane itself is yet another example of the overall genuine feel of the software. We will come back to these aspects shortly.
Streaming Options
For those who might have concerns that all of this data will essentially freeze or fill up their systems and storage, rest assured, this won't be the case. And while Microsoft were a little apprehensive to go into the technical specifics of the operation, it would appear that ensuring the average PC doesn't become overloaded is something they have addressed in the short term (immediately upon the release) with increased, more long-term plans clearly in the pipeline, and most likely significantly further along in the development stage than even that.
This is a good sign for those looking to purchase the new FS. Especially if you were one of those who "got burned" with the 2012 Flight edition. There appears to be a real commitment to not only provide one of the best experiences in terms of Flight Simulation software but to continue to do so for some time to come.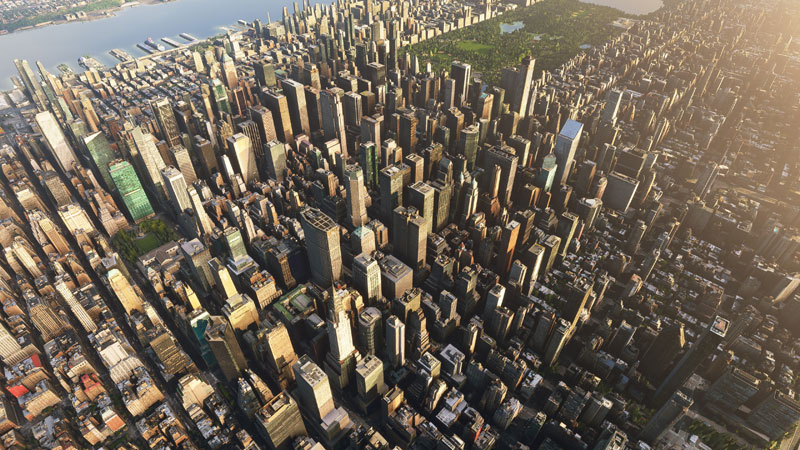 A little bit of initial information regarding the accessibility of the program, though, shows us that three different streaming options are available.
Firstly, and undoubtedly the option offering "the most detailed experience possible" would be to use the Adaptive Streaming option. Once more, the actual specifics on this remain the knowledge of developers only and were not discussed at the recent public exhibitions of the software. While having a "slow Internet connection" will perhaps affect the textures available to the virtual pilot, the frame rate should remain unaffected. Of course, ultimately, "the better the bandwidth, the better the experience!"
There is also a Fully-Offline Mode available for the user. This means that if you do have any issues whatsoever with your broadband connection you can still enjoy offline with access to all the data. The overall logistics as to how this works has not yet been divulged but descriptions from those who have sampled the offline mode are that it is "reasonably accurate".
However, there is a happy halfway point between the two in the form of a Pre-Cache Mode, which allows the user to download in their entirety specific regions or destinations. These can then be accessed offline but with all of the details and data that would be available for online users.
Whichever one is best for you it is perhaps another demonstration that the Microsoft team are attempting to cater for each and every virtual pilot's needs.
The Sky
Perhaps one of the most underrated aspects of flight simulation, in general, is the details and authenticity of the actual skies themselves. And with the launch of Microsoft Flight Simulator, it appears this aspect of virtual flying has not been lost on the developers.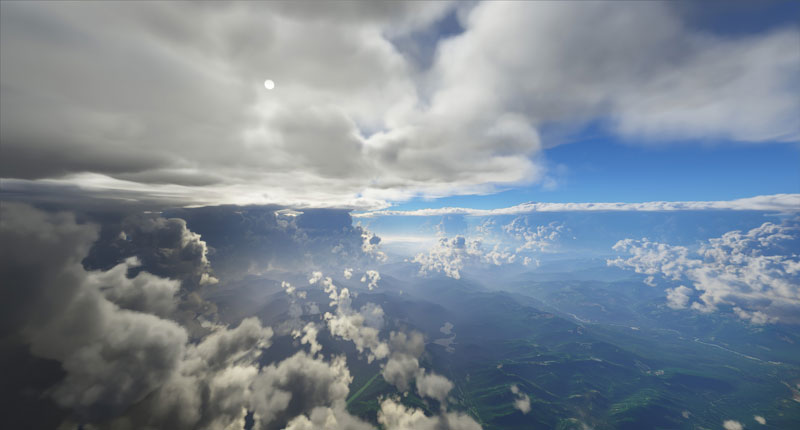 Judging from the recent public demonstration, five main aspects of this layer of flight simulation have been looked at. For example, the simulation of the atmosphere, in general, is of great importance to the developers. Thing such as light, real-time weather changes, and even air pollution all contribute to making the virtual skies as authentic as the real ones.
The time of day or night will determine how this atmosphere is affected – for example, if there is a full moon then the lighting in the skies and on the ground will reflect this, or intense cloud will do likewise. Incidentally, the night-lighting, in general, is a vast improvement on previous versions and authentic to the max.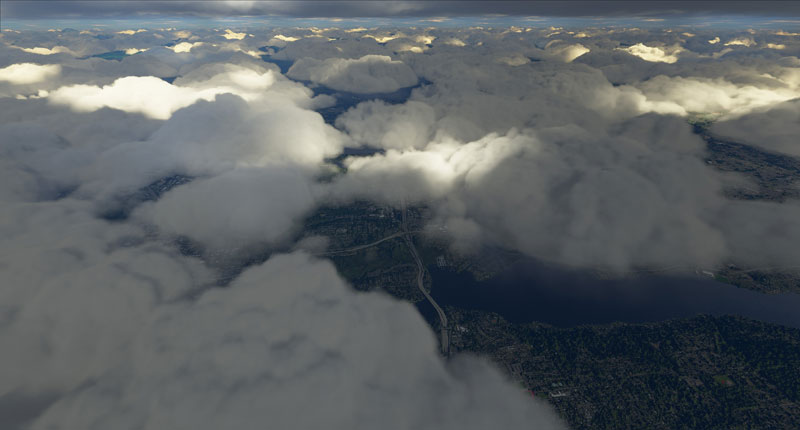 Even the rain and fog is now in 3D, which sounds trivial, but makes a huge difference to the realistic look it provides. And, if you happen to fly in sunny, rainy weather, expect to see a rainbow form exactly as you would in the real world.
Aerodynamics
If there is one single area that may swing those who remain in two minds as to whether to purchase or not, the vast improvements and at times mere tweaks, to the aerodynamics of the program – essentially the overall realism of flight – just might swing them to give the upcoming program a go. The developers' desire to create a more "fluid sensation" when flying as opposed to the "on rails" and restrictive feelings of past programs.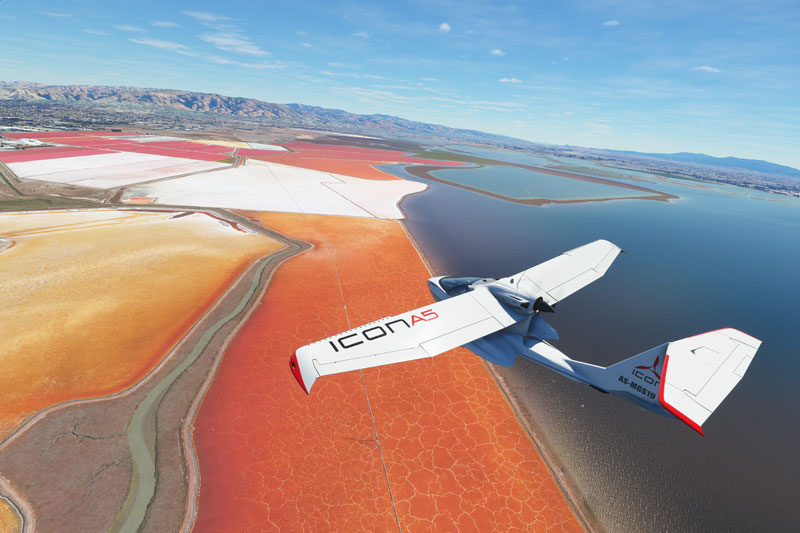 Everything from taking off and landing has been thought of, with the friction mode making such actions much more realistic. And what's more, because of the real-time nature of the data in the program, the virtual pilot will find themselves making constant adjustments throughout their missions – just like one would in the actual skies.
Even the airflow around your plane has been taken into consideration here. So much so that even such things as tall buildings and changes in the weather will all affect how your aircraft moves through the air.
Every aspect of real flight and the things that would have an effect on it have been taken into account. The amount of fuel you have onboard, for example, will impact the handling of your plane, and this will change constantly as it is consumed during your respective journeys.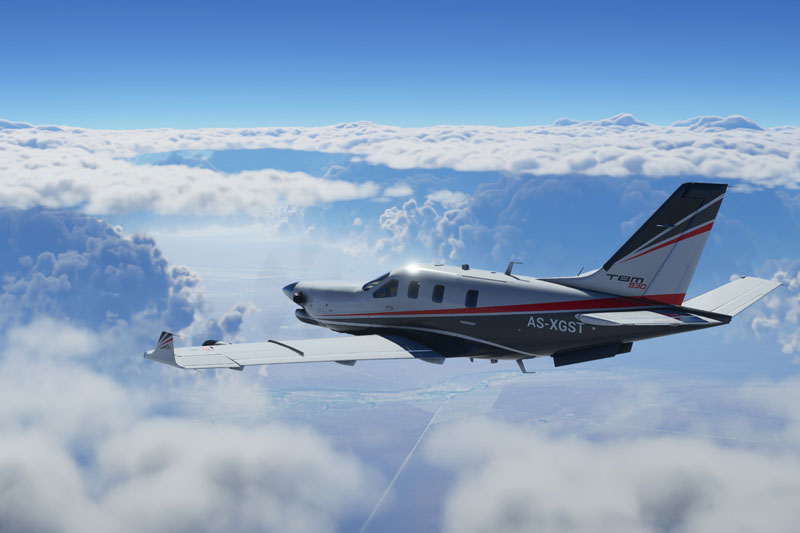 ?
Even the problem of ice building up on the plane when flying in particularly cold conditions has been taken into account.
And perhaps importantly for those of us waiting for the final and full release of, it appears these improvements to the overall aerodynamics of virtual flight are set to separate the program from most others.
Cockpits
Of course, if there is one other element other than the skies that the virtual pilot will spend time looking at it is the cockpit of their chosen aircraft. And according to the recent demonstration in Renton, developers of the Microsoft Flight Simulator program have come up with an "all-new cockpits" which will "immerse" the virtual pilot in realism. And, if the demonstration is anything to go by, these improvements will be appreciated by many.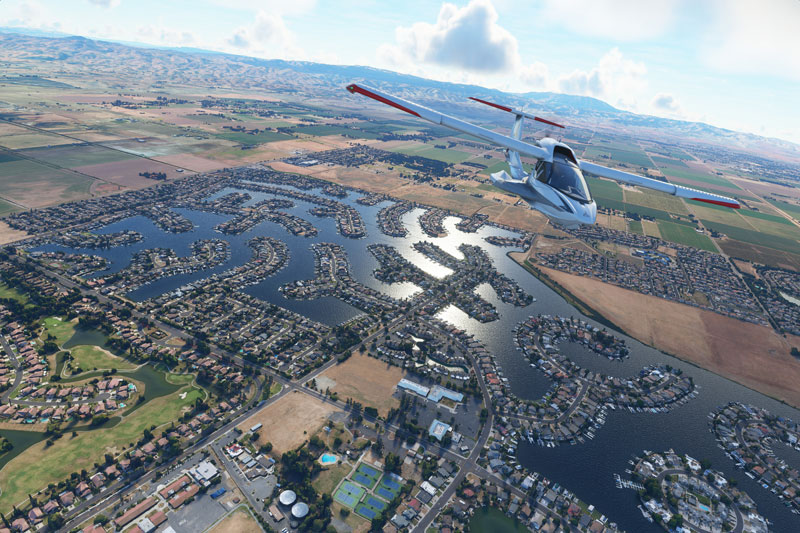 Everything from the shadowing of the dashboard due to weather conditions and lighting to the reflection from the cockpit windows has been addressed. And, like most other aspects of the program, the full 3D nature of the graphics makes respective cockpits almost come to life in front of your eyes. Indeed, at times one might have to shake their head a little to remind themselves they are not looking at a photograph but computer graphics.
If the aerodynamic abilities of the planes are most important to virtual pilots (generally speaking) then the detail and authenticity of the cockpit is surely a close second.
Everything about it screams realism. Even the audio and general sounds that fill the pilot's ears are authentic and based on real-time adjustments by the program itself - for example, if you suddenly hit turbulence or heavy wind, expect to hear a "rattle" or stress on the exterior of the plane, just as you would should during a genuine flight.
And while more information is yet to come, it appears the development team has also taken into account those who might have built their own home cockpits. More information on this will be released in good time.
Freeware And Payware –Yes It's Still Available! Yes, You Can Still Sell It On Your Site
What's more, and perhaps one of the most important aspects of flight sim in terms of the end-user is the role of third-parties who may develop addons payware and freeware, and more specifically, whether that will be available to run on the new platform. The developers went out of their way to inform potential users that they are not building a "closed ecosystem" and that such developers will be (and in some cases already have been) given all the tools to continue to develop such content and to sell them on their websites as they have done for some time.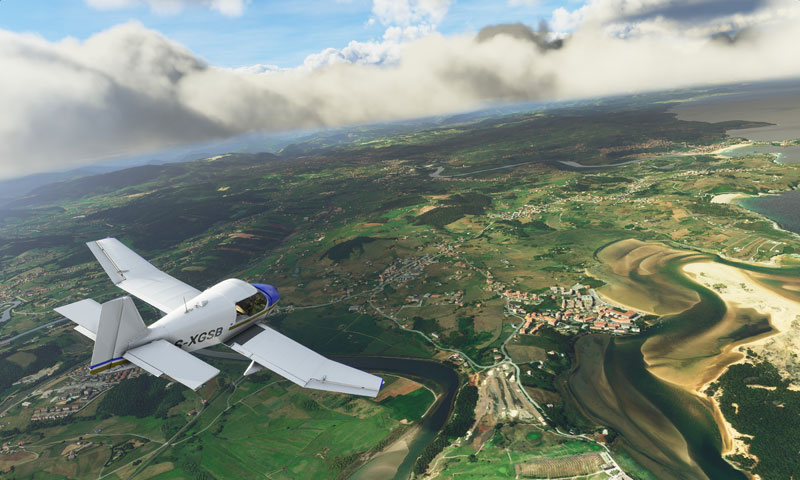 And what's more, it appears this arrangement is one that all sides are happy with. After all, as the Microsoft developers have stated, as much as these third parties are glad that Microsoft are back in the flight simulation market, Microsoft themselves are more than appreciative of these third parties that enrich the overall experience for the end-user.
There are even plans to introduce an in-game store which, according to the Microsoft developers, is of great appeal to the aforementioned third parties involved.
In short, Microsoft claimed that
"third parties are critically important"
...to the development of Flight Simulator. So much so, that they "want them all" on board. Furthermore, and of importance to the Microsoft development team, is the awareness that virtual pilots – who they described as some of the most dedicated fans in the world – have a great love of freeware, and this is something that the developers will go out of their way to ensure they still have access to.
Ready To Take A "Massive Step For Flight Simulation!"
So, what is the overall general feeling of the upcoming Microsoft Flight Simulator package? In short, it looks very good. Very good indeed. And in the words of Jorg Neumann, the package looks set to "take a massive step ahead for flight simulation".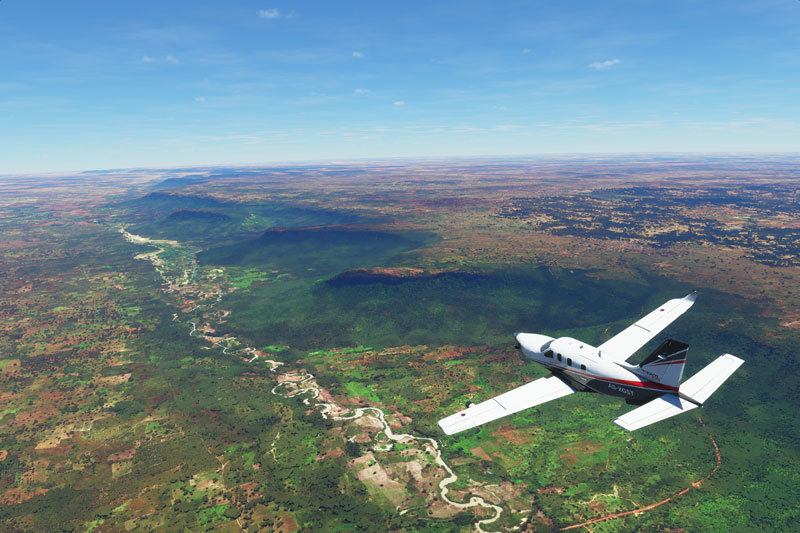 And with this recent demonstration looking to improve before being made available to the public, the package is one that truly could set the standard for such programs for the next decade and beyond.
There will be more updates to come before the final release sometime in 2020. However, it seems that the waiting for this increasingly anticipated product will very much be worth it.
We'd love to hear your feedback re. this update - let us know by posting a comment here!
Preview Event Video Coverage
Below is a video by AIRBOYD that covers the Global Preview Event in detail and includes some great 4K video footage from the pre-alpha version of the new simulator.
FAQ
Updated January 17th, 2020
The community has many questions regarding this new simulator being released by Microsoft and you can find the answers to most of those questions below in our frequently asked questions sections. These are updated regularly so keep an eye on them - perhaps even bookmark this page.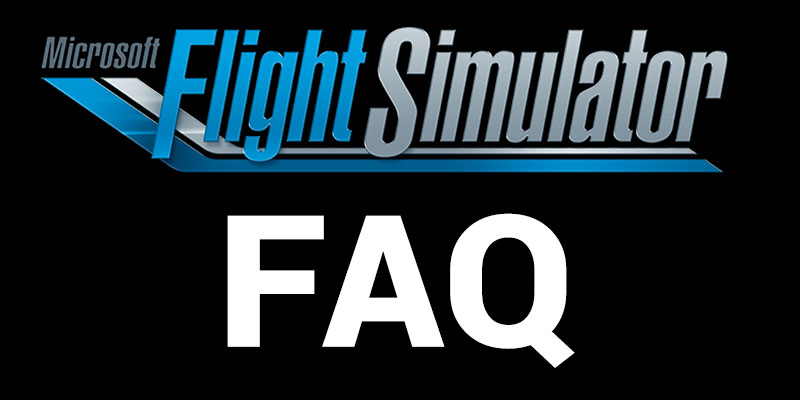 What is Microsoft Flight Simulator?

Microsoft Flight Simulator is a flight simulation software package released by Microsoft that enables users to use their personal computers for virtual flight. It was first released in 1982 and the latest version is set to be released in 2020 called simply, "Microsoft Flight Simulator".

What is the latest Microsoft Flight Simulator?

"Microsoft Flight Simulator" being released in 2020 is the latest iteration of the MSFS package for Windows PC.

What is the official name of Microsoft's new flight simulator being released in 2020?

The official name is simply, "Microsoft Flight Simulator". They have dropped any dates and years from the simulator title to make it an "evergreen" product.

When will Microsoft Flight Simulator be released?

The new Microsoft Flight Simulator will be released on August 18th, 2020.

Who makes and develops Microsoft Flight Simulator?

The new Microsoft Flight Simulator release is developed by Microsoft and Asobo Studio.

Will I be able to use FSX aircraft and add-ons on the new simulator?

It's unlikely you will be able to use old add-ons developed for FSX in the new Microsoft Flight Simulator. However, never say never and while not confirmed this could be possible however they are likely to look awful.

Will third-party content be supported?

Yes, third-party content will be supported - both freeware and payware. Microsoft is already in discussion with third-party payware developers regarding this.

Will it be a closed ecosystem?

No, it will not be a closed ecosystem. Microsoft is ensuring users that everything you did with FSX such as third-party add-ons, freeware and purchasing from third-party websites will continue to take place. Users will have full access to the files, file structure, and most things will not be encrypted and fully editable as with previous releases such as FSX, FS2004, FS2002, etc. They have announced that they are making it even easier than before to edit config files and settings in a text-based format.

Will an SDK be released and when?

Yes, an SDK is on the schedule. Microsoft have said it's likely to be released at the same time as the tech-alpha. We have posted an update here.

What aircraft will be in the 2020 release?

This is unknown but so far we have seen the Cessna Grand Caravan, Socata TBM 930, Cessna 172 Skyhawk, Icon A5, Robin DR-400, Diamond DA-40 and Airbus models in preview screenshots and videos.

How much will it cost?

This is yet unreleased however there is chatter suggesting we can expect a subscription-based model - but who knows; maybe a one-off payment.

Can I play offline?

Yes, you will be able to play offline with the option of pre-downloading content before you go offline.
SDK
Updated January 17th, 2020
There has also been an exciting update regarding the Software Development Kit (SDK), specifically that "an alpha version of the SDK will be available in the upcoming ALPHA release".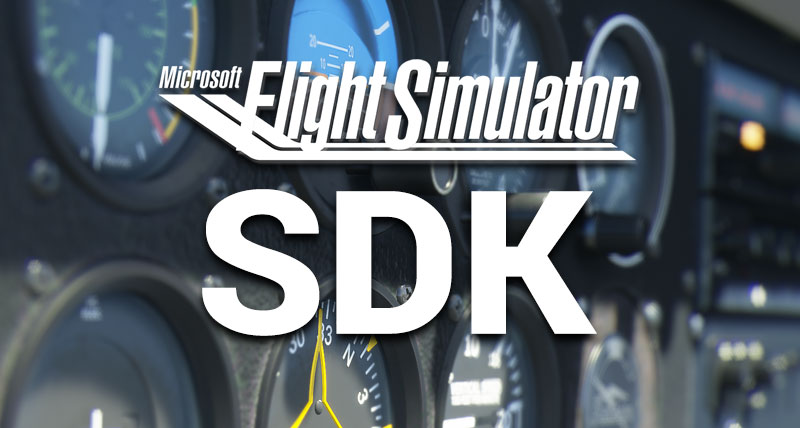 This means, providing you are a "3rd party development partner" you will have the capability to edit existing airports and scenery, and even create your own. And this extends also to creating add-on planes and the missions that will be undertaken.
This latest development means 3rd party developers will have access to the same/similar tools and programs as the development team themselves, allowing them to "create based on the samples" provided already. This is something that the Microsoft Flight Simulation team states they simply "can't wait to see".
And it is easy to see why, if the updates and samples already released are anything to go by then this influx of creative minds will further enrich the overall content.
Once MSFS-2020 is released as a final version some time this year, all users of the software should have access to the SDK which should kick the freeware add-on developers and enthusiasts into gear to start producing wonderful add-ons such as obscure airports and exotic aircraft. Of course, scenery add-ons are a possibility too but the developers of photoreal terrain may be out of luck - the package is already based on satellite imagery from Bing. The community is excited (and appreciative) of what the freeware development community is going to create.
Of course, this is all still very much a work in progress, and there will be more updates over the coming weeks and months, as well as further updates and developments based on the feedback that is received over the coming weeks.
The Microsoft Team will contact developers over the coming days but should you be a 3rd party developer and you wish to express an interest in being involved, you can contact the development team at msfsim@microsoft.com in the first instance.
The Announcement
Not much information as of yet (at least official information) but it appears from the YouTube description that we can expect the new simulator to be released some time in 2020. While the video and artwork scream Xbox, we should also be able to see it released on Windows using the Xbox Game Pass. Xbox Game Pass games are cross-platform compatible so it can be used on both Windows and Xbox with a subscription to the service (which we believe is monthly).
Microsoft announces the new version to be, "the next generation of one of the most beloved simulation franchises". They also mention you can fly, "light planes to wide-body jets". Out of the box they also mention that it will be an open world and you can "fly anywhere on the planet".
Our Analysis
Firstly, it appears Microsoft have dropped all dates, names and years from this new sim. It seems to be officially called, "Microsoft Flight Simulator" - perhaps indicating an evergreen platform that will continue to be developed over the years (version-less). I suppose the community will lovingly call it MSFS or FS11, FS20, FS2020 or something similar.
From what we can see the entire engine is brand new. Microsoft sold the rights to their older platform to various companies over the years (Dovetail Games, Lockheed Martin, etc.) The detailing and 3D modeling, lighting effects and textures on display in the video below is something we have never seen in a simulation platform as of yet - it gives X-Plane a run for its money (and more).

Despite some initial confusion regarding exactly which platforms the new software will be available on, it would appear that the content is indeed likely to be available on both PC and Xbox. As we will examine below in a moment, however, PC users will need to sign up to the Xbox Insider Program if they wish to enjoy previews and even take part in testing the software.
It would also appear that the platform will work with other developers to provide third-party add-ons, just like we do today with FSX and X-Plane. The initial noises Microsoft are making suggest they are keen to work with the community to get this one right time, as we will also discuss below.
The screenshots and the video below show next-generation graphics - for the first time bringing a new simulator up to the same level as most new games. We can see highly detailed clouds, terrain, and photorealistic water and ground textures. It makes me wonder though - how can we improve on this with third-party add-ons? If it's this good out of the box, where do we go next?
Freeware & Payware Add-Ons?
NEW Updated 23rd August 2020
Since the release, we can confirm that add-ons and mods will continue in their normal fashion as they have been doing so for years with previous MSFS releases.
Freeware repaints are already being developed by hobbyists and enthusiasts (and will make their way into our file library very soon) and the payware stores are already seeing their first products go live on the storefronts.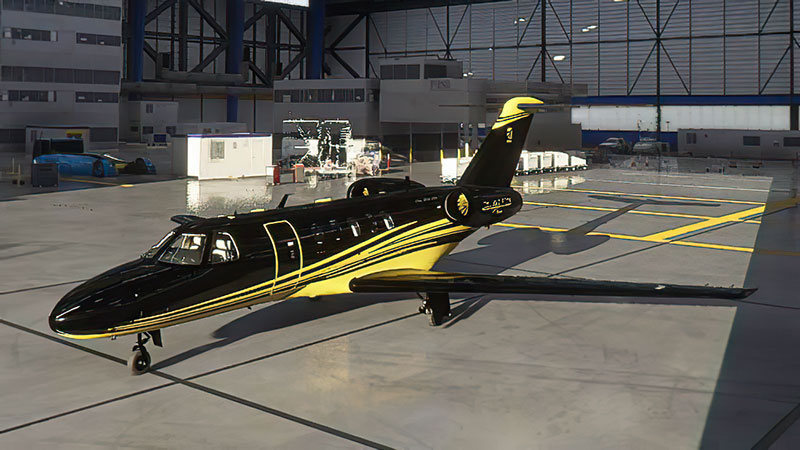 Microsoft is offering an active in-game store "Marketplace" for payware releases which is, of course, the easiest option. However, they have also enabled developers to release files easily using their own storefronts, platforms, and third-party outlets and retailers.
You will start seeing freeware releases becoming available on our dedicated MSFS add-on page here.
As for payware, you can expect to see the first releases coming out on the SimShack MSFS pages over the next month.
Share your add-on/mod
Are you a freeware developer or enthusiast that has created something compatible with MSFS? Be it a scenery expansion, a repaint, or even a full aircraft model. If so, we'd love it if you'd share it with our community by posting it on our file library. You can submit your mod creation here (and also read up about our file library and how we operate).
Old Information
Well, this is a tough subject and nobody has much information regarding add-ons at the moment. Given the history of Microsoft Flight, we can only anticipate it to be a closed platform system i.e. Microsoft sell the add-ons directly from within the app or online store. Having said that, it's possible they learned a hard lesson from the Flight flop and have considered third-party add-ons including both freeware and payware.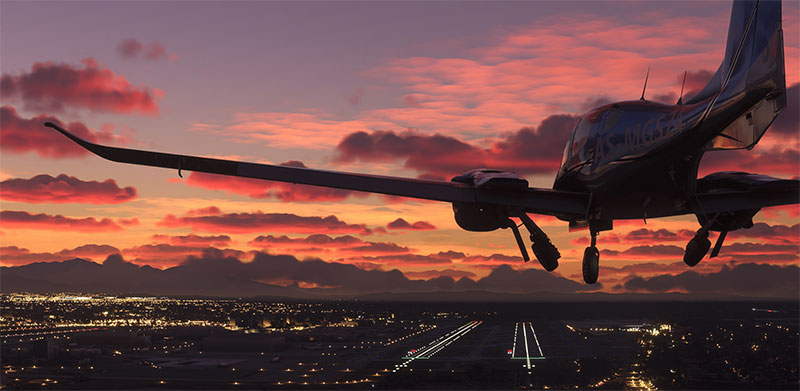 What about the thousands of add-ons already available for FSX? Will they be compatible with the new version? This is highly unlikely as it appears this release is running an entirely new engine. We know this because Microsoft relinquished the rights to their older platform which FSX was written on. Anyway, could you imagine an old FSX add-on running in this new platform - the models and textures would look out of place in such a modern system.
With all fingers crossed, Microsoft will hopefully release an SDK and allow users to play around with files/structure just as they have with all versions of their previous simulators. This would enable both freeware and payware developers to continue their work (and when it comes to payware their living).
Stay tuned re. add-ons - we will have more information published shortly.
The Next Generation Of Flight Simulation, "For You, With You!"
Posted June 20th, 2019
A ninety-second video trailer by the Microsoft Flight Simulator team at a recent Microsoft Keynote presentation has seemingly lit the blue touch paper for what promises to be an explosive reception of the greatly anticipated, cross-platform simulator package for both Xbox and PC.
That is certainly what the MSFS team are hoping as they addressed their fan base and customers in a recent statement release, which among other things thanked them for their past loyalty, not least in the face of their "previous missteps" in recent years. In short, there could be serious consequences for the developers should this new release prove to be another misstep.

If the trailer and information already in the public arena is anything to go by, though, that doesn't seem to be likely. Indeed, it would appear many of the features incorporated into this upcoming release come from feedback directly from their customer base. In their words:
"We hear you, we value you, we want to make the next generation of Microsoft Flight Simulator for you, with you!"
Tall words, no doubt, but ones that are likely to be genuine, as well as laying the groundwork and foundations for what appears to be a genuinely masterful release.
Support Of Third Party Content
Not only is this new and highly anticipated release going to be available for the PC and Xbox, but the software will also support third-party content, which was one of the main "concerns of the current eco-system". This last detail appears to be one that is a process very much in motion and with additional add-ons in time.
It's still unknown whether third-party content will have to be delivered/installed within the actual software itself (internal marketplace) or whether users will still be able to download from sites like ours, FlightSim.com, Avsim.com etc using their file libraries. Of course, the entire flight sim community resides on these sites so cutting third-party content provided by an external source would be essentially blocking the community from doing what it has done for years with FSX - diversity.
And that does not mention Payware content - sites like SimMarket, FSPilotShop, SimShack, and FlightSimStore, for example, all provide payware third-party content externally.

Furthermore, the input and feedback from the simulation community is likely to be an ongoing process, with an apparent regular "back-and-forth" between developers and the end users – you guys. The first of these updates is set for early-August.
According to their recent press release, this is just "the first step in an adventure" that will involve both the developer and the consumer.
These plans and changes in programming are to be released regularly throughout the year to those who part of the Microsoft Flight Simulator Insider Program, which is where we will be stopping next.
The Insider Program – Keeping The User At The Heart Of The Development
So, why should you make sure you are part of the Insider Program? In short, aside from the regular updates you will receive there is also the potential, as previously mentioned, to continue to put across your opinion regarding the upcoming software, as well as any other issues, concerns, and recommendations you might have regarding the wider flight simulation community. In short, it is your opportunity to stay informed and have your say.
As their guide states:
"As an insider you will have the opportunity to provide feedback and insights that help shape and inform current franchise initiatives and the future of Microsoft Flight Simulator!"
In more detail, then, what can you enjoy by signing up for the program. Among other things, access to private, members-only forums where you can discuss the weekly newsletter you will receive with other members.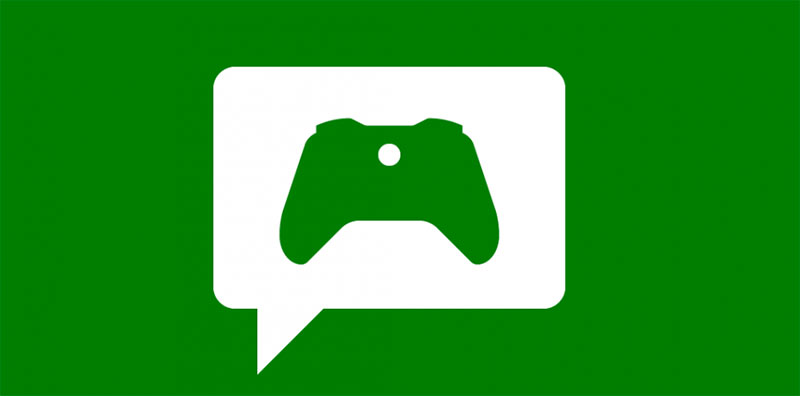 ?
Members will also receive regular short surveys, which will perhaps not only serve as an opportunity to get your thoughts and opinions directly to the developers but will also, on occasion, provide you with the thought process of the developers, and even hints of upcoming features. You will certainly be provided with a peek into the upcoming programs with the opportunity to take part in "Technical Alpha and Beta tests of in-progress Microsoft Flight Simulator releases".
Most of these Alpha/Beta tests will revolve around features and facilities already mentioned by the Flight Simulator community as important, and so will develop with as much input as possible from the end user. And while not everyone will be able to take part in each one – for example, should you be chosen on one time, chances are, other users will be chosen the next time.
Feedback That Will Be Taken And Actioned Seriously
This is seen as a "critical step" by the developers and is very likely to continue well into the development and even the release of the program. And the genuine goal of the developer team is to ensure that "everyone participates" at some level or stage of the program.
What's more, upon signing up, based on the data and details you provide, the developers will be better able to match you to a specific part of the program that best suits you. And make no mistake, the experience and feedback you give will not only be taken extremely seriously as the final developments are made, but it will also most likely be acted upon one way or another. This is just another example, and genuine attempt, to keep the product users at the heart of the upcoming release.
For those who have an interest in this upcoming release – which is most likely, the vast majority of those reading this – it is well worth five minutes of your time signing up for the Insider Program. Especially if you know you are going to purchase the product upon release.
There are, however, some specifics to keep in mind and small print to double-check.
A Few Things To Consider
First of all, you will need to have a Microsoft account, which while most of you will almost certainly already have. Doing so is easy, free, and quick.
You will also need to be a member of the Xbox Insider Program, as it through this where information and content will be delivered. Members are instructed to install the insider app on their PC.
One more thing to mention, all users of the Insider Program must be 18 years or over to participate due to the legal requirements surrounding permissions on the use of personal data.
Providing you meet the above requirements, and assuming you wish to be a part of what might be one of the most exciting and anticipated releases for the flight simulation community for some time, you might wish to hurry over and sign up as soon as you have finished reading this article.
August 8th Update: Development & Control of Flight Simulator X
Posted August 8th, 2019
For the Microsoft Flight Simulator team, the summer has been a long but productive one. And what's more, their "impatience to share this information" with the flight simulator community is reaching new levels.
At this stage, the new programs are just undergoing having the "finishing touches" on them before they are finally ready for release at the end of the summer. And what's more, many aspects of flight simulation are up for discussion – everything from new simulation features to VR support.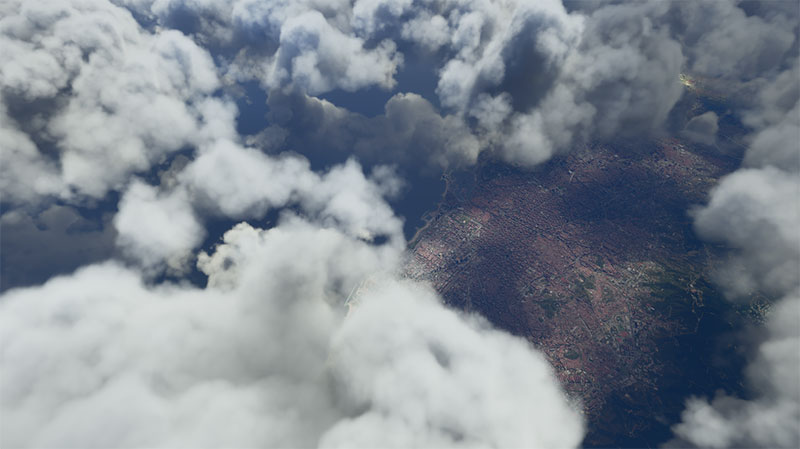 Clouds over Barcelona - a sneak peek from MSFS or "FS2020".
Those in the developing rooms are also keeping a keen eye on the forums and chat rooms dedicated to flight simulation in order to see exactly what their pilots are looking for when they take to the virtual skies. We will come back to this in a little more detail later.
So, what exactly should we expect and is all this build-up likely to be worth it? The answer to those questions would seem to be an emphatic yes to both.
The End Of An Era And The (Re)Start Of Another!
The end of July saw the end of a five-year arrangement between Flight Simulator X and Dovetail Games in bringing FSX to Steam that has been in place since 2014. Taking over from Dovetail Games in this capacity will be Microsoft.
However, as CEO of Dovetail Games, Paul Jackson stated, the company was "incredibly proud" of their five years with FSX and will
"continue publishing existing and new add-ons for FSX: Steam Edition on Steam!"
For their part, Flight Simulator X would state the deal with Microsoft was "an important step in embracing our accountability and responsibility to those that have come before us". In short, there is a long history with Microsoft prior to the 2014 arrangement with Dovetail Games, and FSX is confident this new chapter will take the software
"into the next generation!"

?
Perhaps crucially, for both the developers and you, the end-user, there will be no impact on the game experience during this transition. Nor will any add-ons, existing or any of the future, be affected in any adverse way. In short, as far as virtual pilots are concerned, it will be business as usual.
Underlying all of this, certainly in the Flight Simulator community, is a desire to correct issues with FSX and Microsoft in previous. As one forum user put it, "there is unfinished business".
August – More Information On The Development Roadmap
As we move into August more news is available regarding the Development Roadmap, whose official release date will be available in the next few weeks. However, a timeline of sorts has been put in place.
The first content to expect should arrive in early-to-mid August with the Insider Program Kickoff. This will offer an advanced look at the Development Roadmap which will lay out what to expect and when. Furthermore, this will include sneak previews of "In-Sim" content taken directly from the new build, of which more detailed and inside information will be available at this time also.

In mid-to-late August will be the official release of the Development Roadmap, during which time there will be updates on SDK, Third Party Content, and UGC content. By late August the Build Program Kickoff will take place. This will offer detailed information on the first upcoming build as well as information on the Public Participation sign-up program.
Then, as we move into September there will be further announcements and releases.
September – Two Important Developments
Two particularly important plans and announcements will come in September. The first of which will be an in-depth look at the upcoming product, including how it will be provided. Furthermore, the information will be made available on how the flight simulator community will be integrated into this procedure to "facilitate a collaborative partnership to bring this product to launch".
With this last point in mind, developers would state that although they are not interacting directly with their audience in online forums, they do monitor regularly what is said in them, and more importantly, in their words, "we hear you" and such comments are "valued by the team".
So while August will provide a full and rounded idea of what to expect with the new and rekindled partnership, September will concentrate on how to get everything working as it should, "together!"
This last point is important and one that is quite obviously of importance to Microsoft Flight Simulator. There is a genuine feeling that they want to put the end-user, you, at the center of their new venture. And what's more, it appears to be more than just empty words.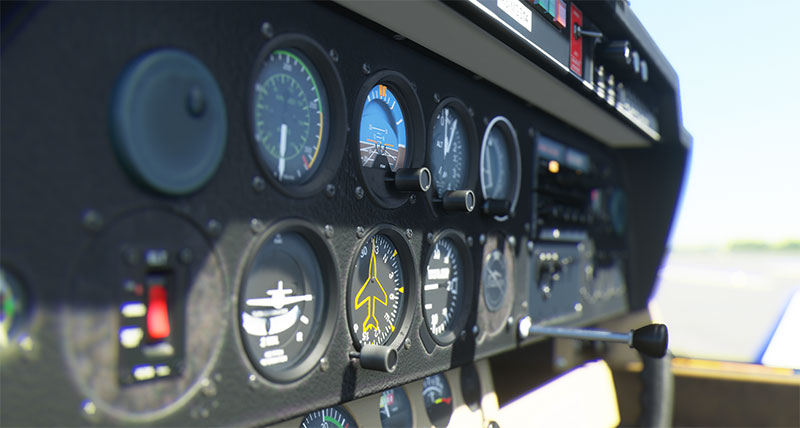 An example of what we can expect from 3D VC panels in the new MSFS?
Speculation, Expectation, And Impatience
We still have several weeks to go before we can begin to appreciate these changes in full. And even then, it will be some time after before we can judge if the build-up does indeed equal the end product.
It would appear, at this stage, there are equal amounts of speculation, expectation, impatience, and even, for some, suspicion among virtual pilots awaiting these changes. Only time will tell if they are indeed the correct path to venture down.
All indication at this stage, though, is that any lessons that had to be learned, have been. And, for the most part, there is an eagerness in the flight simulation community for FSX to unravel its long-awaited and much-hyped plans. When they do, it will either propel them as leaders of flight simulation into the next generation, as they wish, or it will be an update that faces tough questions from its audience.
Of course, one of the first places you will hear about any developments, breaking news, or anything else concerning this upcoming Microsoft Flight Simulator release is right here. So, make sure you keep checking back to this page for further updates as they come in.
One thing is certain, it is going to be a busy, active, and intriguing summer and late autumn as far as both FSX and FS2020 are concerned.
Insider Launch
Posted August 15th, 2019
The Insider program has officially launched and Microsoft has gone ahead and released several new short videos and screenshots demonstrating the sim. You can find the details below.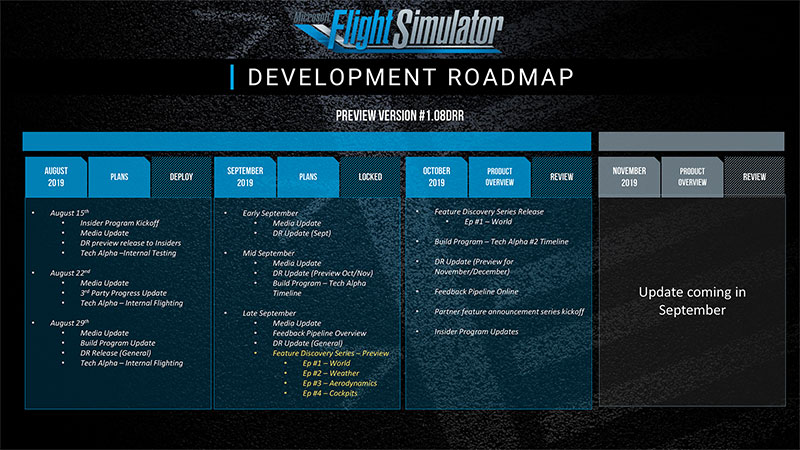 They have released a development roadmap outlining what's to come - click for larger version.
Videos
Around The World Tour
Updated January 5th, 2022
A series of videos were released by Microsoft demonstrating the simulator covering various regions/continents of the globe.  It's worth noting, all of the videos featured here are developed/captured using the 100% base simulator package - no add-ons or third-party releases were used when creating these videos.
North America
The official video released by Microsoft featuring many areas of the continental USA as demonstrated within the sim.  The video is titled "North America" within the series.
The video captures stunning displays over Canada, the USA, and Mexico, and over 40 areas/landmarks are included.
Africa
A stunning representation of various locations on the continent of Africa is available to fly with within the sim.  Areas covered are The Congo, Zambia, Zimbabwe, Chad, Eritrea, Egypt, Tanzania, Madagascar, and many more locations in and around Africa in stunning detail within MSFS.
This video demonstrates Africa at its finest within MSFS and all of this scenery you can see if based on a default base install (with no add-ons).
Europe
A glimpse of all of the locations in Europe is shot in this official Microsoft video trailer release.  Countries included are; Poland, France, Ireland, England, Wales, Germany, Estonia, Greece, Ukraine, Russia, and many more.
You can view the chapters in the video for full details on the location displayed in the footage.  This entire video has been created using only the base install package of MSFS - no add-ons were used.
Feature Discovery Series
Updated January 17th, 2020
Microsoft has created a series of videos demonstrating features users can expect in the new sim called, "Feature Discovery Series". You can find all of the videos released below.
Episode 1: World
Without a doubt, one of the biggest and most crucial features of the next generation of flight simulation is the virtual world through which we all venture into.
This feature looks at what it takes to present that finished, yet constantly evolving product to virtual pilots everywhere, the use of various real-world data sources that ultimately results in an authentic presentation of our planet, with lifelike replications of some of the most well-known natural features of the world such as the Himalayan Mountains, as well as some of the most iconic buildings such as the Eifel Tower or the Statue of Liberty.?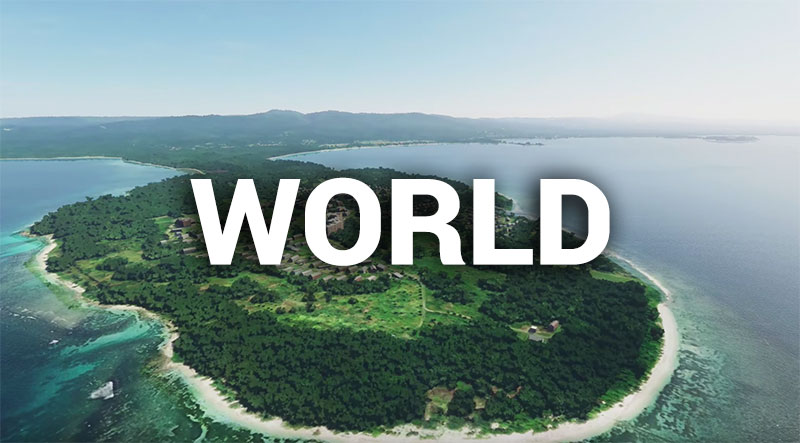 This was no small task, literally, with the sheer size of the planet as well as the abundance of data to work with forcing the Microsoft Flight Simulator team to embrace new technology and methods to achieve their goals.
Just to give an idea of the absolute scale of data to be then turned into realistic representations of our world, consider the fact that over 2 million of the world's cities are represented, as are all of the 45,000-plus airports, and the countless roads and mountain ranges. And just to demonstrate how intricate and detail-filled this virtual world is, the makers encourage you to take to the virtual skies upon installing the program and "fly over your house!"
What's more, the use of the Azure Cloud program by developers is constantly generating new date which, in turn, allows for upgrades and alterations to truly reflect the real world as it is in real-time.
Perhaps to sum up the excitement of this new approach to realism one virtual pilot commented recently that they had "never been so hyped about something in a long time!"
Watch the video...
Episode 2: Weather
Of course, once you are up in the virtual skies you will be at the mercy of the elements – the weather. And as this episode examines, this is another aspect of the program that developers have left no stone unturned in their attempts to make such weather conditions as realistic as possible, including the use of Live Real-World Weather.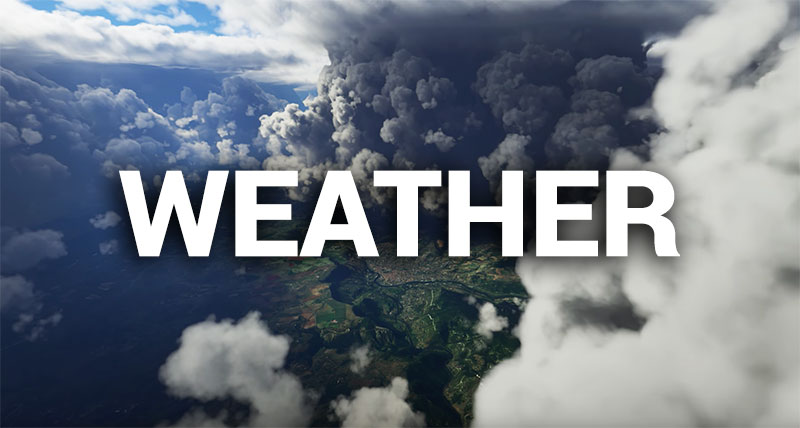 Indeed, one user quipped that, at least in theory, you could take off into the virtual skies and check the real-world weather in any city in the world such was the authenticity of such updates.
This episode also delves into just what kinds of intricacies go into creating such a realistic weather backdrop, including everything from how the sun, moon, and stars alter the light, to how humidity and pollution affect general visibility and flying conditions.
Even such intricate details and effects as the shadows on the ground from the cloud cover are taken into account, and indeed, add that little bit extra to the flight simulation experience.
For example, even the rain and the effect it will have the windshields and consequently, general visibility have been taken into account, or the real-time "icing", and the accurate position of the sun in sympathy with the time of year. Even the cloud formations are dictated to by the weather conditions required for them to form.
In short, the overall approach to these finer details truly does bring the world from the virtual skies very much to life. Once more, it appears the attention to detail given by the Microsoft Flight Simulator team is second to none, with one virtual pilot calling them "the gold standard of flight simulation".
Watch the video...
Episode 3: Aerodynamics
While the world and the elements around and in it have to look as accurate and realistic as possible, the aerodynamics – how the plane "feels" to pilot – is also of importance. This episode from the Microsoft Flight Simulator team looks at just that.
It looks at how they examined five key areas that the team targeted for improvement, including the general core of the physics engine – such as how the make-up of the runway, whether it be concrete or tarmac, affects the wheels of the plane upon landing and taking off, for example - but also the specific reactions and aerodynamics of the individual aircraft and their operating systems.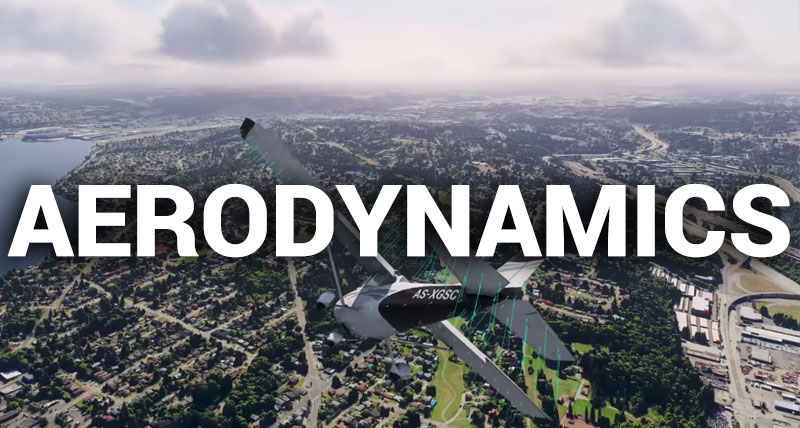 Furthermore, as demonstrated in Episode 2, the real-world weather systems and atmospheric conditions also have an effect on the aerodynamics of each aircraft and how "the air makes the aircraft fly" meaning such real-world conditions act likewise in the virtual world. And it isn't just the aircraft this "air mass" effects, the 3D environment all around the virtual pilot will also act in sympathy with these real-world conditions. As a result, the overall aerodynamic system has been "rebuilt from scratch" to give an overall authentic, credible, and realistic feel.
Part of this improvement, and is explained in intricate detail, is how the virtual aircraft are simulated as 1000s of individual parts so creating a realistic flexibility and fluidity of movement and reaction.
One user would comment that "never in the history of PC gaming was a software more deserving of a pre-order!" Fine praise indeed.
Watch the video...
Episode 4: Cockpits
Whatever your preference of plane, flight route, take-off location, or destination, you will spend most of your time in the virtual skies in the cockpit of your chosen vehicle. So it goes without saying, then, that this part of the video series, is one of the most important to the overall experience.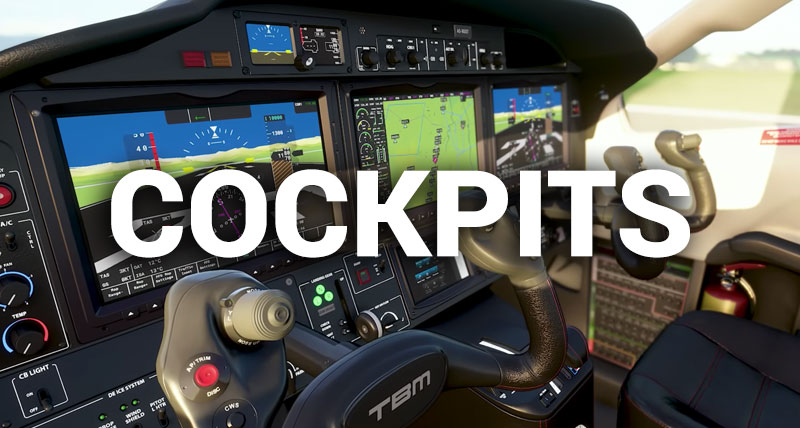 This episode examines how every aspect of the individual cockpits for the vast array of aerial vehicles available. Not only the significant improvements that have been made to them, both generally and individually, but also the use of new responsive technology that adds so much to the overall flight simulation experience.
Even the pre-flight checklist is seemingly dripping in authenticity with assist mode being available for beginners, to fully manual for more experienced virtual pilots.
Furthermore, the program is set to respond to the rapidly popular VR simulations, with such aspects as touchscreen responsive systems, such as flight plans, already being active. Further still, the team explains how the system and software are user-friendly to those who have committed as far as to building their own home cockpits.
Like every aspect of virtual flight covered by the MSFS team, the cockpit is as realistic as one might get without actually sitting in the real version in the real skies. Every minute detail, even down to how the sun will cast a shadow over your instruments and navigation boards have been taken into account.
As one anticipating virtual pilot claimed recently on social media, "I can not wait until 2020 to get my hands on this!"
Watch the video...
Episode 5: Soundscape
While it might not be the first thing that comes to mind when thinking about what makes flight simulation that little bit more authentic, there is no doubt that audio stimulation – the sounds you hear – contributes massively to making the virtual flight as close to the real thing as possible.
The new sound effects that will be incorporated into the upcoming release is based on Audiokinetic Wwise technology, which means they can incorporate "real-time audio effects or dynamic mixing". What's more, this technology is connected to the "simulation variables" which, in turn, creates what is essentially an audio-smart program that is a "breathing soundscape" capable of simulating not only the sounds you would hear in real flight but at the correct time you would hear them.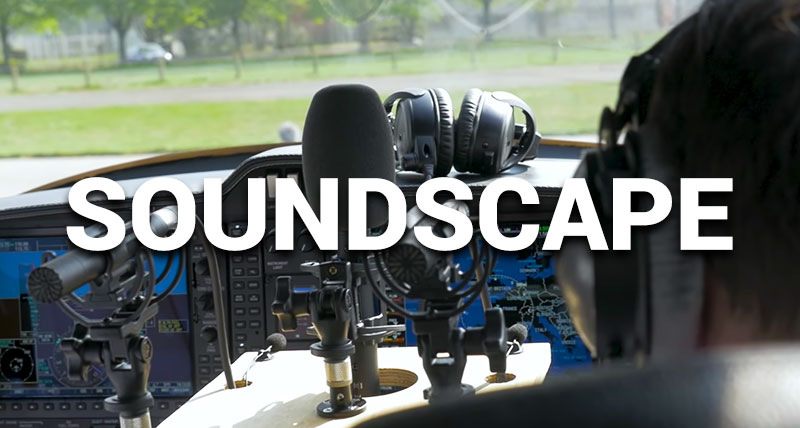 Whether it be outside noise or the internal acoustics of the cockpit itself, the new soundscape technology will "add depth" to the overall experience of simulated flight. Furthermore, this development software will be customizable, meaning you can create your own flight experience sounds and adjust the variables connected to them.
Perhaps even more impressive is the fact that each of the planes available has their own unique "sonic signatures", something achieved by the development team visiting the plane manufacturers directly and recording the sounds of the planes at the site itself. And these recordings themselves are of the highest quality, using digital hi-fidelity equipment and 16-channel recording and mixing equipment which each record specific sounds of the plane, and from varying perspectives (internal and external).
And again, the smart-capabilities of the program mean that what you hear depends on where you – the virtual you – are listening to it from. For example, if you were to walk nearer to the engine, it will grow louder and then diminish as you step away from it.
Even how accurately you land your plane will be reflected in the audio you hear, as will the strength of the wind and how it affects your plane in flight.
Without a doubt, one of the most impressive features of the new development is the World Soundscape. This means that wherever you are in the world during your virtual flight, the sounds you hear will be unique to that location. Whether it be the plains of Africa which are serene and full of the sounds of nature, or if you are flying at night, the sounds will reflect that, as will the weather (if it is raining, for example) and so on.
And once more, these are all customizable to the user.
Watch the video...
Episode 6: Airports
OK, so while a large part of flight simulation is spent in the skies, a considerable amount of time is spent at the airports themselves. Whether approaching to land or taking off from, the realism of these airports from all around the world only adds to the general authenticity of the virtual pilot's experience.
Up from 24,000 airports previously, the improvements are so significant that they now include "all airports on Earth". And these literally range from the huge international airports and travel hubs even those of us not readily familiar with air travel has heard of, to the "small countryside" airstrips (essentially a runway in the middle of a field). And the team really has captured each and every airport all over the planet.
You will find the ones you might expect attached to the world's major cities, to more makeshift-like landing strips on tiny islands or even nestled within some of the planet's most famous and captivating mountain ranges.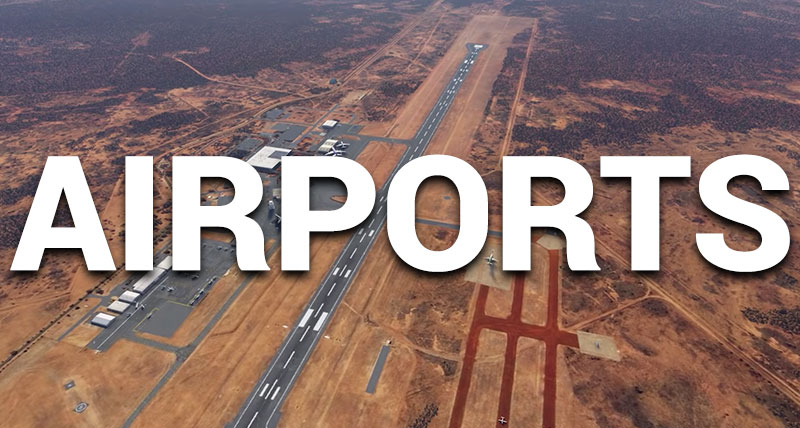 The airport database is based and built from the previous FSX version. In total 37,000 airports have been edited – and these have been based on the genuine, authentic pictures of satellites orbiting the planet. Because of this thorough manual editing, the airports themselves are as realistic as they could possibly be, with attention paid to the small intricacies that each respective location boasts.
In fact, so unique and groundbreaking in the virtual flight industry was this approach, that an entirely new creation tool was created for developers to use.
Every detail has been thought of, from the exact measurements and size of the runways to the taxiways and parking spots, and the actual surfaces of the runways themselves. Even such details as how the sun might reflect off the runways surface or how the wind will make windsocks blow has been accounted for, so adding to the overall authentic feel.
Perhaps taking that realism to yet another level is the attention paid to "Airport Life". For example, the general activity of vehicles around the airport transporting cargo and passengers is particularly realistic. As is the fact that such a simple detail as their headlights being switched on in nighttime simulations.
This is much the same with the general workers you might expect to find walking around the park-spots in a real airport setting, particularly the bigger international ones. In short, any type of activity you would expect to see at any airport, from baggage handlers to refueling vehicles have all been taken into account and catered for. And what's more, the option to edit and tweak this activity to suit your own needs is available also.
Watch the video...
Episode 7: Multiplayer
Of course, while many are happy to travel through the virtual skies alone and with their own thoughts, many also like to connect with other virtual pilots of the same mindset. And the multiplayer options will be right up their street.
Perhaps the key aspect to the multiplayer option according to Sebastian Wloch, was to "provide users with a new experience that would bring all the pilots on the planet together in one shared online world!" So, this means that whether you are flying with the virtual world in the simulator version, or choose to fly with real-world traffic, the latest developments allow all pilots to access the same "shared world". And what's more, this "transition is seamless", meaning there is no need to configure settings or launch another program in order to do so.
There are, of course, options and "filters" available to each virtual pilot should they wish to make use of the multiplayer option.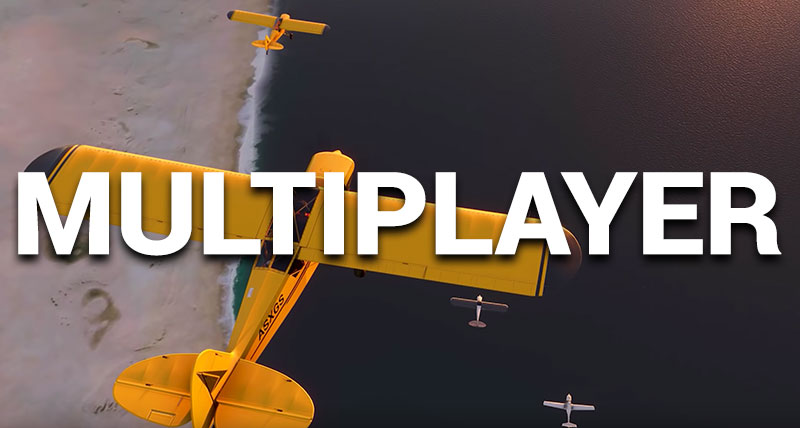 ?
For example, the "Live Players Only" option is perhaps better suited for those who wish to take to the virtual skies with a much more realistic, or strict, rule-based environment. In this option, all virtual pilots must use real-time weather, and the real-time traffic is also an option.
If you wish to have more control over the shared online world you can opt for the "All Players" selection. This will not only allow you to select various different environments, but you can also edit those conditions to your liking.
As there are "no rules" to adhere to, this selection is perhaps ideal for newcomers to the virtual flight world as it allows them to simply move around the skies however they see fit, trying out certain planes, and basically to become familiar with flight simulation in general.
If you wish to appreciate a combination of both of those virtual scenarios, then there is the option to create groups exists. The creator of the group can select and edit the conditions as they see fit, and perhaps more importantly, can be selective as to the very specific people they allow access into the group.
To achieve this latest stage of the evolution of flight simulation, Microsoft Flight Simulator has created "clusters" of servers in data centers in various locations across the planet. So that means, that no matter where you are in the real world when you launch the flight simulator, the program will automatically connect and utilize the server network closest to you. However, you should note, that should you wish to opt to connect to a specific server then that option is also available to you.
Furthermore, the technology in place means that should you opt to utilize multiplayer, you won't be suddenly confronted with a sea of planes as you attempt to traverse the virtual skies.
The program will essentially maintain a "normal" level of traffic you might expect to see. Also taken into account is that the graphics and air traffic that multiplayers will see will still be of the highest quality and "smooth" in their appearance.
Watch the video...
Official Trailer for X019 (November 14th, 2019)
Also, view the new screenshots released at the same time here.
August 22nd, 2019
August 29th, 2019
September 12th, 2019
September 26th, 2019
Release Trailer
Screenshots
Below are some of the official preview screenshots. Click/touch on the image to see a larger version.
X019 Update
Screenshots released at the same time as the X019 video trailer on November 14th, 2019.
Global Preview Event
Screenshots from the Global Preview Event, September 2019
Insider Opening August 15th, 2019
August 22nd, 2019 Update
August 29th, 2019 Update
September 19th, 2019 Update
Announcement Screenshots
Further Reading
We have now published the official Fly Away Simulation review of Microsoft Flight Simulator (2020). We waited a while in order to accurately review the new sim and also to allow community and user feedback to come in.
Ian Stephens has done a great job in capturing every single angle that users are talking about and the review is fully understandable for both veteran flight simmers and new users alike.
We have now also published our Best Microsoft Flight Simulator (2020) Payware Add-ons article and is readable here should you opt for payware.
As mentioned above, we have now launched our official article covering the best-of freeware mods and add-ons for this new sim.  Be sure to give it a thorough read and be sure to comment and let us know what we're missing or your thoughts on what's published.
Update May 2021
Are you lost?  Do you need some guidance with the new simulator?  We have launched our official guides, tutorials, and manuals section on our payware store, SimShack.
What do you think?
As you are well aware, this is a massive announcement for the flight sim community. What will the future hold? What features would you like to see included? What could be improved from their last release? What are your opinions in general? Please post in the comments section below.
Finally, worth noting - Microsoft is taking feedback from users already in the form of their "Insider" program.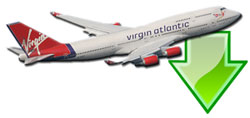 Don't forget... We have a huge selection (over 24,000 files) of free mods and add-ons for MSFS, FSX, P3D & X-Plane in the file library. Files include aircraft, scenery, and utilities All are free-to-download and use - you don't even need to register. Browse on down to the file library here.