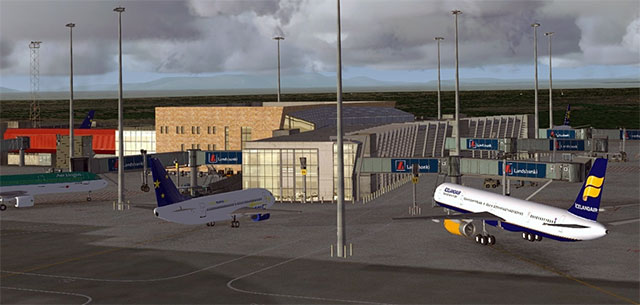 Keflavík International Airport, also known as Reykjavík-Keflavík Airport is Iceland's largest airport. Located 50 km (31 mi) south-west of the capital city of Reykjavík, the airport is the main hub for Iceland's international transportation. The airport is served by several airlines, including Icelandair, Iceland Express, and WOW Air.
Keflavík has modern architecture, two runways and covers an area of 25 km2 (9.7 sq mi). The airport was built by the U.S. military during the Second World War, and was known as Patterson Field. At the time, the US Army Air wanted an airfield at Keflavík with capacity to operate heavy bombers, as well as a fighter strip. After the war, the airport was handed over to Iceland and renamed Keflavík Airport, but was operated by both the U.S. and Iceland until 2006 when the Iceland government was given total control of the airport.
Iceland attracts thousands of tourists every year who are drown by the country's stunning landscape which is characterized by mountains, glaciers, as well as lava and sand fields. Aerosoft makes it possible for you to fly into Iceland, one of the most beautiful places on earth.
Keflavik X portrays the airport in detail – it captures all the airport's buildings as well as the surrounding area. Keflavik X is an accurate representation of this great airport.
Features
A highly detailed portrayal of the airport and surrounding area – all prominent buildings are shown
Excellent modelling of all buildings at the airport - Photorealistic ground textures on buildings and vehicles
All taxi and runway signs are shown
Outstanding quality night textures
Customizable for all seasons – and can show a wide range of weather effects
AI compatible
Compatible with Airport Enhancement Services
Top quality frame rates
High resolution map
Manual in English and German plus charts
Keflavik X is easy to install – all you need is to add your registration information. The product comes with a detailed manual, which includes charts, in English and German. Keflavik X is compatible to Iceland X (FSX version).
Using the season tool, you can configure the suitable seasonal textures for the vegetation and ground.
System requirements for FSX:
Microsoft Flight Simulator X
Windows XP/Vista/7
Processor (CPU): 2,6 GHz Dual Core processor
2 GB RAM
512 MB min.
System requirements for FS2004:
Microsoft Flight Simulator 2004
Windows XP / Vista / Windows 7
3 GHz Processor
2 GB RAM
DX9 Graphic Card with 256 MB
Demonstration Video