As a wider part of some of the bigger Aerosoft releases in recent times, the new Aerosoft release covering the Canadair Regional Jet (CRJ) 700 and 900 aircraft is a special one. Developed by the Bombardier firm, this aircraft group has been among the most popular of its kind. However, they've never been properly translated into a simulation environment in as much detail as this.
Aerosoft tried to rectify this mistake on the market. This short-distance and regional commercial aircraft have been in development since 1992 by the Bombardier group. With over 1,800 of them produced in real-life, this is a popular aircraft in the Canadian aerospace industry. Alongside Digital Aviation, then, Aerosoft worked to help develop a new creation for the CRJ group for Microsoft Flight Simulator X and Lockheed Martin's Prepar3D.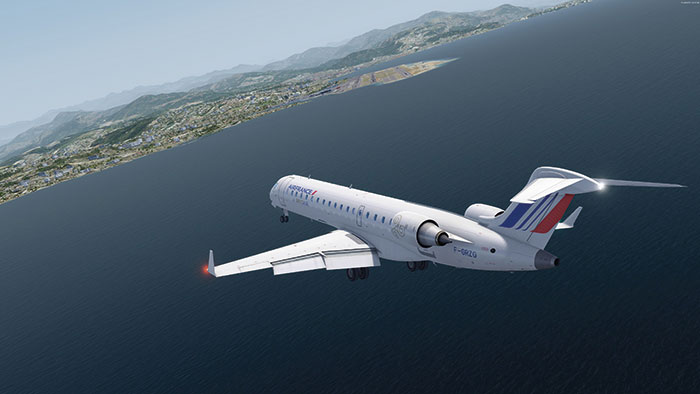 Air France CRJ flying over water on approach for landing.
With both the 700 and 900 variants included, this is more than seven years of work, effort and refinement poured into the one project. The delays have caused plenty of frustration within the community, but it looks like after all the waiting it was worth the time. How, then, has this particular released lived up to the expectation? Was it worth all of that waiting around, or was this all much ado about nothing?
So, if you have ever intended on trying out the CRJ line-up, this is a good place to start. We'll take a closer look at the aircraft below, but first, let's have a look at a quick profile of each aircraft.
Before we head into the deep review below, take a minute to watch the official Aerosoft trailer video:
About the Aircraft
First introduced in 1999 and then fully by 2001, the Canadian Regional Jet line has become a major success over the years. Bombardier found that their first run of CRJ jets, the 100/200 series, were huge successes. So, they decided to try and create a larger run of aircraft to bolster their options and to compete with larger names in the industry such as the Fokker aircraft.
Today, these aircraft have become a major part of the Bombardier group' offering. According to Bombardier themselves, a CRJ takes off every 10 seconds. The first aircraft covered in here is the CRJ700. Known for its impressive edge-slatted wings and widened fuselage, this offered a bulkier and more powerful model than the previous iterations within the series.
From 63-78 seats, too, this has plenty of space inside for passengers. Many of the CRJ700 lines were created with a General Electric CF34-8C1 engine. Eventually, these were upgraded to the more impressive -8C5, a significant upgrade. With a top speed of 903km/h, the CRJ700 certainly impressed on the scene.
The CRJ900, then, builds on the improvements made with the 700. With a 76-90 seat capacity, it has more space than the CRJ700 and also generally more powerful in terms of its hardware. Using a pair of -8C5 engines, this has a much greater level of power than the CRJ700 and also is capable of producing speeds of an impressive 500 knots, making it even more impressive in terms of both presentation, performance and overall power.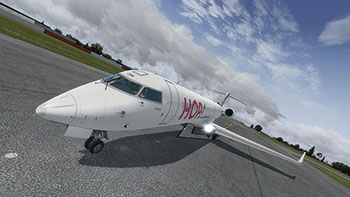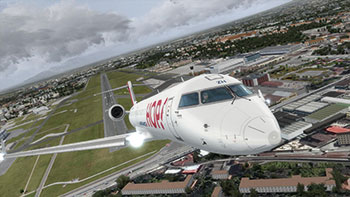 Click images above for a larger version.
Key Features
As ever, a lot of work has gone into creating this package. With over seven years of hard work and practice put in, the CRJ X package delivers:
Wonderful modeling detail that helps to bring both aircraft and their numerous liveries to life with high-quality textures.
Outstanding and authentic performance levels to help keep both CRJ models as close to the real thing as they possibly could.
Improved flight control with a complete MCDU and flight management system included for better operational capacity than previously possible.
Authentic details in the interior allow for a more immersive and genuine flight experience than one might be used to.
Fully functional RAAS included by FS2Crew for added immersion.
Control and customize the whole experience with a whopping array of different options to help make the aircraft fully feel your own.
A whole host of impressive liveries based on major names such as Lufthansa Regional, Brit Air, American Eagle and Alaska Airlines to name but a few.
A fine collection of manuals and guides to help you fully understand even the most complex and advanced parts of this add-on.
Authentic settings and flight dynamics deliver the most impressive and immersive experience.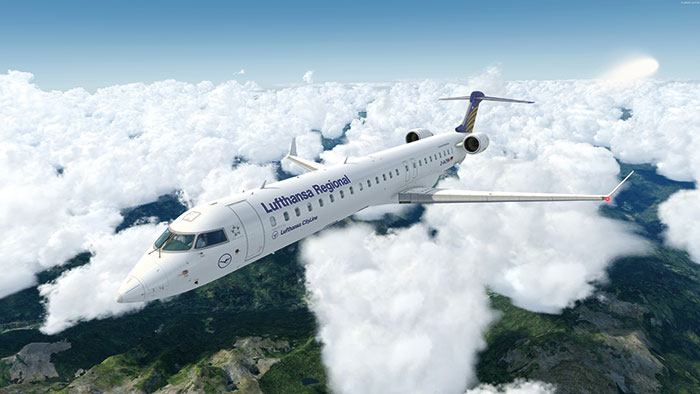 Lufthansa CRJ flying over mountains and clouds.
Installation
As one might expect, the installation of this software is about as easy as it should be. Aerosoft usually delivers their downloads in the form of a single executable file that runs you through an installation wizard. Just over 1GB in size, you should make sure you have ample disk space for installation.
If you have ever installed any other Aerosoft product before, this will feel just as normal. You essentially need your e-mail address and the serial number provided when you made your purchase. This is very easy to find in your e-mails and means you can get the installation going ASAP.
Simply fill in those details and sit back while the installer does its magic. It shouldn't take long, and then your PC will be rebooted. If it does not, restart it yourself and make sure you allow your computer the chance to finalize the new installation.
Once installed, you should load up the Aerosoft CRJ Manager. This allows you to change everything from the arrangement of the aircraft to the aircraft you will be using. It delivers you all the information that you need, from overall flight weight to center of gravity factors.
You can load up various different forms of NavData, read various documents to help fly the aircraft and generally find all the information that you could possibly need. Easy and fast to set up, this is one of the simplest installations you will likely run through.
Exterior & General Appearance
Despite having never had the pleasure of setting foot on the real CRJ models, I spent extensive amounts of time comparing the shape, scale, and size of the model. I must say that looking at the overall imagery, and then trying out both CRJ models, I was hugely impressed. That swift, sporty, modern look shines through on every single piece of the equipment.
It's curvaceous and very detailed. The team clearly have done their homework when it comes to researching the shape and style of the aircraft. It feels more or less as accurate as you are likely to get in a simulator without expecting too much. The scale seems to be accurate, too; looking at various flight stats, both aircraft seem to be within the right size.
The textures are hugely impressive, too. They shine and glisten in the light and offer a very impressive visual spectacle that you should easy to love. My only real complaint would be that some of the liveries were clearly given less attention to detail than others. On higher resolutions and high-end machines, this shows up quite drastically. However, that being said, it's a small gripe; the majority of the liveries are fine, and the main detail on the model itself is sublime.
The aircraft themselves aren't aircraft that tend to win the best looks awards, yet they pull off a very impressive job of standing out. Even smaller parts of the aircraft have undergone an impressive level of intricate detail. The one thing I would say was that the passenger cabin view is 2D and this does kind of kill some of the atmosphere.
It does a good job of trying to look 3D, but it's not. Therefore, the overall visual appeal of the download can be somewhat diminished and this does take away a bit of from the overall quality of the downloads. Overall, though, the quality of the exterior model – and the model itself – matches up to Aerosoft standards.
A touch more TLC with some of the liveries and a 3D passenger cabin and we would have been left with a very impressive finish indeed. What about the interior, though?
Interior Appearance
The cockpit of both models is very impressive, and something that immediately stood out. From the moment I stepped into the cockpits, I felt at 'home' within the intensive detail. Instantly, I spotted how nothing inside was pristine – and I love that effect. It looks brilliant and does a fine job of making the whole experience that touch more comfortable for you. I hate playing around in an aircraft that feels like it's just been unwrapped; Aerosoft clearly feels the same, as both cockpits carry that pre-requisite style and character that's so important.
In terms of getting around, the inner cockpit of both models is easy. Everything is clearly and crisply detailed, and the quality of the overhead panel above makes detailing key features and commands very easy. The display settings can be found on the side panels, too, with most of the equipment and hardware within the cockpit placed as accurately and as faithfully as it could be in relation to each real cockpit.
Everything is 3D, too (it includes a stunning 3D virtual cockpit), which is a nice and very easy to enjoy touch. From the FMC to the EICAS platform, this helps to make sure you are left with a very impressive level of detail generally. Digital Aviation were the ones who handled the interior, from what I could gather, and I must say it's hugely impressive.
The attention to detail is great. The new Virtual Cockpit comes with no 2D view, which might mean you have to use the 3D view. On lesser quality machines, this might mean struggling a tiny touch with performance, so look out for that. If you only like to use a 2D option, then this might be a little bit off-putting for you. Overall, though, the interior is very impressive.
Audio
The audio is very good, too. I was very impressed with the quality they'd managed to fit into the whole aircraft generally. New sounds have been recorded directly from the CRJ-700, so it does sound like the real thing. The standards are great, and the loops make sure you are left without any of those weird and amateur volume cuts that used to take place on older models.
The sounds are great, creating a real ambiance within the cockpit that helps to add even more to the overall realism of the experience. From shutting down to powering up the engine through to the flicking and clicking of switches, this helps to perfectly portray what it must feel like at the helm of an aircraft.
Hugely impressed by this, and would be happy to recommend the package based on the sound quality alone. From pilots coughing to announcements via a speaker, this is very immersive.
Performance
Overall, flight performance is very good. The CRJ-700 hits authentic speeds of around 544mph, while the -900 is hitting around 515mph. It feels very fun to fly, especially when you know that it matches up with the real thing. As far as I could find looking at the documentation, these flight stats are about as accurate as you are likely to get when using an add-on like this.
With a service ceiling of 41,000ft, though, both aircraft perform to standards that many might not be used to. With a range of 2,553km/2,876km, too, both models tend to live up to expectation in terms of flight performance. Overall, I was personally very satisfied with how it handled itself.
It felt great, handled as easily as I would expect (though not without its challenges) and generally performed to the standard I had come to believe the CRJ brand is recognized for.
Flight Dynamics
As ever, Aerosoft has really gone the extra mile with creating two aircraft that fly as good as they look. The dynamics are very impressive and tend to match up with the performance metrics provided in the documentation. I was very impressed with the overall performance levels of both aircraft. With the impressive power of being able to climb so quickly, too, these were aircraft models that felt pretty easy to get to grips with.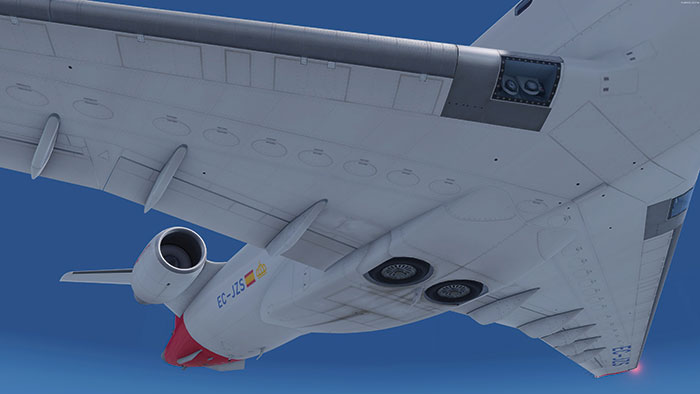 Underbody showing fuselage and retracted wheels.
One thing that did throw me, though, was the nature of how the aircraft climbs. Capable of climbing quickly, as soon as I went over 10,000ft in both models I soon found it required a lot more adjustment as I flew. If I never managed it correctly, I soon found myself falling into errors and even stalling. You will need to lower your rate of climb and try to pay attention to the speed for most of your flights, which can be hard if you've grown used to auto-throttle.
I also found that more than 500fpm was more or less impossible after you get over the 30-35,000ft mark. It just ground to a halt in terms of performance, and this usually meant that the engines simply could not produce the power. I am led to believe this is a real experience, though, so the developers have even included the weaknesses of the aircraft as much as their strengths.
It does come with a nice little feature in the stick pusher, though, so that if the nose becomes too highly angled it can be automatically pushed down. This helped me get out of more than a few tight scrapes where I thought I was in trouble!
Both models handle very well. I'd be more than happy to say that, from what I experienced and what professionals have said, this flies pretty close to reality.
Extras
Alongside a whole host of different extras for reading up on the aircraft such as Recommended Settings and Emergency Procedures, this delivers many model liveries for both aircraft. In total, I had 26 liveries to choose from, all wonderfully detailed and put together with the intention of really capturing that visual appeal.
While I did mention some of the liveries aren't as good as others, the general quality is pretty decent. So long as you don't expect 10/10 quality from all 26, you should be quite happy with the liveries provided.
I got five manuals in total, with each providing you with an easy way to get the aircraft models in totally flyable condition and to help you get to grips with the respective cockpits. As ever, there has been a lot of work put into educating you as the pilot. I recommend reading over the manuals; each one proved to be very useful for me!
Conclusion
Overall? The CRJ package is one of the best I've had the pleasure of using in a little while. The mixture of not being aircraft I have used much alongside the fact both models are so immensely functional makes this is a package I'm more than happy to recommend.
The quality of the modeling, aircraft performance, the unique audio input and the overall ease of control is awesome. It's overall a package that has some faults, such as livery quality and some of the 2D gimmicks standing out a mile away, but it does a very fair job across the board.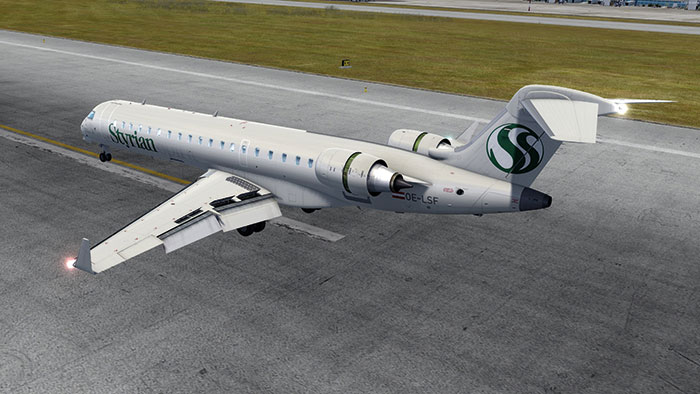 Styrian CRJ on the runway after landing.
You have more or less total control over how you fly thanks to the management console, too. For those who like the CRJ brand, or want to try out something new, this comes highly recommended by me. The performance was impressive, the attention to detail superb and the overall package runs very cohesively indeed. Well worth your time if you are looking for something that breaks away from traditional aircraft you might have grown a touch weary of flying.
Compatible with both FSX (boxed and Steam Edition) and P3D (v3 and v4.1 only).
You can pick up your copy right now over for the latest MSFS at SimShack. We also have a freeware model of the CRJ-200 you may be interested in over in the file library here.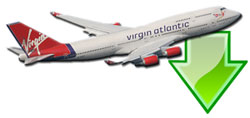 Don't forget... We have a huge selection (over 24,000 files) of free mods and add-ons for MSFS, FSX, P3D & X-Plane in the file library. Files include aircraft, scenery, and utilities All are free-to-download and use - you don't even need to register. Browse on down to the file library here.