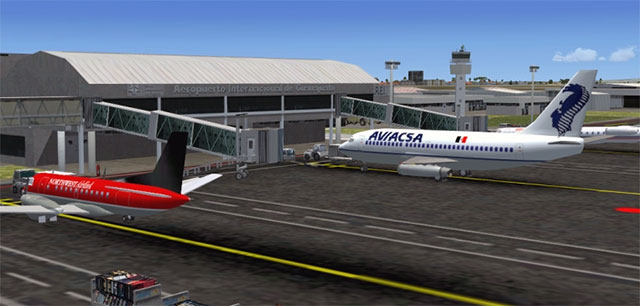 At the center of Mexico, the dominant geographical feature is the Trans-Mexican Volcanic Belt, which is commonly known as the Sierra Nevada. Due to these main geographical features, most of central and northern Mexico is located at high altitudes. This allows for stunning aerial views, which makes flying around Mexico breathtaking.
Flight simulation enthusiasts can now explore this wonderful region with a new add-on from Aerosoft and FlyMex - Airports of Mexico-Center Edition for Flight Simulator 2004 and Flight Simulator X.
This package gives you the opportunity to fly to a wide range of fascinating destinations in central Mexico.
Features:
Mesh terrain with mountains, rivers, lakes in high resolution
Highly detailed, accurate and up-to-date representation of the airports and surrounding areas
All buildings at and around the airports are accurately represented
The add-on features all main airports in the central part of Mexico:
Mexico City Airport
Guadalajara
Guanajuato / Leon
Toluca
Tampico
Manzanillo
Puerto Vallarta
Cuernavaca
Colima
Ixtapa-Zihuatanejo
Atizapan
Morelia
Veracruz
Acapulco
Uruapan
Querataro
Puebla
Explore Mexico
The add-on was designed using ImageMax technology, which creates high quality resolution images. The airports feature detailed and accurate representation of the airports and all surrounding areas.
Mexico is a popular holiday destination with many famous resorts, namely Puerto Vallarta, Acapulco, Manzanillo and Ixtapa-Zihuatanejo. You can fly over these resorts and see stunning white sand beaches. There are many popular cities that you can explore, namely Veracruz, Tampico, Tabasco, Guerrero, and others.
What I like about this add-on is that it is a comprehensive, all-in-one package that makes exploration of one region easy. If you want to explore Mexico – this product is a must-have!
System requirements:
Microsoft Flight Simulator X
Windows XP, Windows Vista
2,8 GHz Processor
1 GB RAM (2 GB recommended)
3D graphic card with 256 MB RAM (512 MB recommended)
Installation-Size: 760 MB