Perhaps before we attempt to answer the above question, we should point out that whatever Flight Simulation program you opt for – and many simulation pilots have both – each are sound platforms from which to tour the virtual skies. And each has its pros and cons.
Furthermore, both come with a range of available add-ons – both free and paid for extras that enhance and improve your experience in your flight sim missions.
So, with that in mind, then, it is perhaps best to explore the respective programs, for the most part, at their basic level – as you would get it "out of the box" before any extras are added - although we will look at the quality of extras and add-ons available for both packages a little later as part of this comparison.
In the article, we may use the abbreviated forms of each sim' so for clarity, FSX means Microsoft Flight Simulator X, P3D means Prepar3D and XP11 means X-Plane 11.
What is perhaps most interesting, to both experienced users and beginners alike, is just how different these two flight sim packages actually are.
Because this article is quite lengthy, we have provided jump links which you can use below;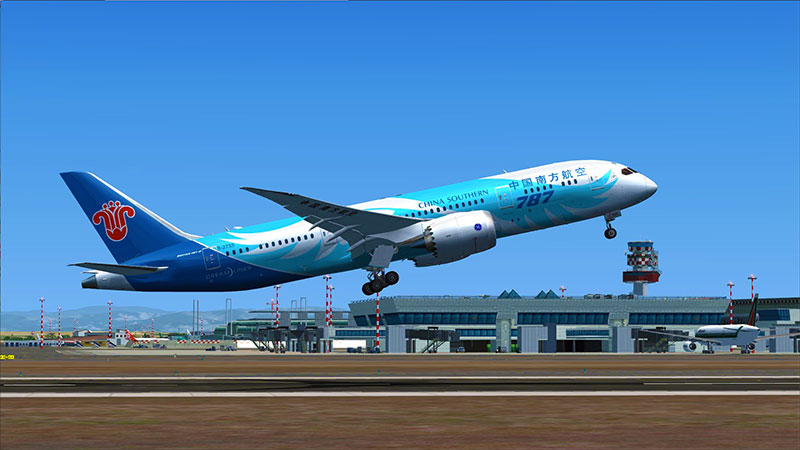 China Southern 787 in Microsoft Flight Simulator X.
Aircraft: Just What Do You Get To Take To The Skies In?
OK, so what exactly do you get when you purchase one or the other of the above titles. Well, first of all, there is the aircraft themselves.
FSX comes with 30 available aircraft ranging from the standard commercial airliners to single-engine airplanes and helicopters. By comparison, X-Plane 11 has eight less, boasting a still respectable 22 different aviation vehicles, but still around a quarter less than its competitor.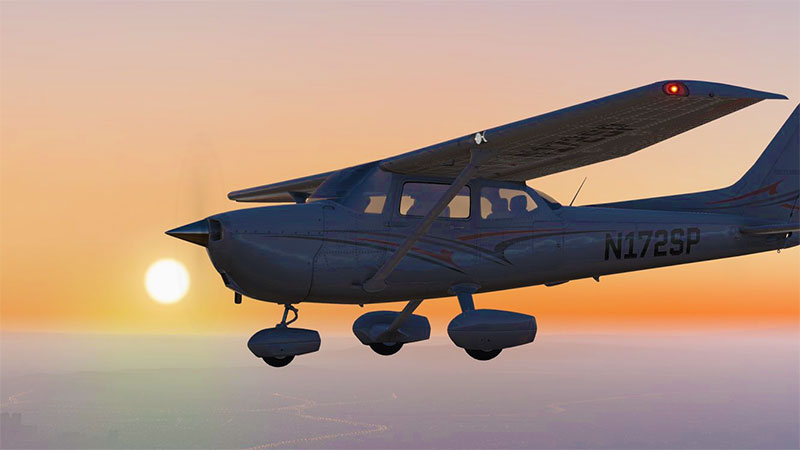 Cessna 172 in flight.
While Flight Sim X might have more to choose from at the basic level, the quality of the aircraft available – in terms of graphics, the authenticity of use, and even the aircraft's respective sounds – would appear to fall behind the newer XP11. And when we consider that the graphics on Flight Simulator X are not exactly terrible, that perhaps shows how detailed and improved such graphics actually are on the XP11 program.
It is probably accurate to say that many FSX users have since replaced their original 30 aircraft with add-ons, which as we will see, particularly for this package, opens a door to an abundance of extra aircraft and scenarios.
Indeed, while the platform is over a decade old, which in itself is a further testament as to just how strong the program is to still be a major player in the virtual flight world, some of the sounds and feel of the aircraft appear slightly dated to the more up to date, slicker, and overall slightly more realistic options on offer courtesy of XP11.
It would appear, at least at the moment, that opinion is quite split regarding the aircraft available for P3D. While some users very much state their belief that the quality and quantity of planes is better on P3D, at least an equal amount, if not more, appear to favor XP11 or FSX. And a large part of the reason is the amount of money required to be spent in order to achieve a realistic feel, with P3D seeming to come down on the expensive side of the line more often than not.
Essentially, if money isn't an issue, then P3D might be the simulation program for you. If it is, and for many of us this is very much the case, X-Plane or FSX might be a better choice.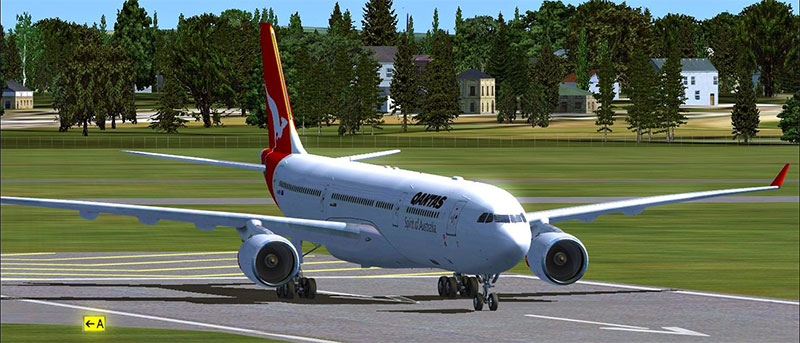 Qantas A330-300 on runway in Microsoft Flight Simulator X.
And in terms of functionality and the overall dynamics of the basic aircraft on offer, XP would appear to triumph with quality over quantity.
The Scenery: An Underrated Aspect Of Virtual Flight!
We have written and explored many of the scenery add-ons available for FSX previously. So, with that in mind, it is not particularly a knock on FSX to state that the basic scenery available for the XP program, while in itself not mind-blowing, is of a higher standard.
Their use of high-tech street mapping and 3D graphics appear to make the city streets and roads burst into life more than the Microsoft package. Indeed, at the time Microsoft's Flight Simulator X burst onto the scene a decade or so ago, such graphics appeared top notch. Now, however, especially with such a platform as the latest version of X-Plane showcasing more up to date and overall stronger graphics and scenery textures, the older Microsoft platform is beginning to appear a little dated.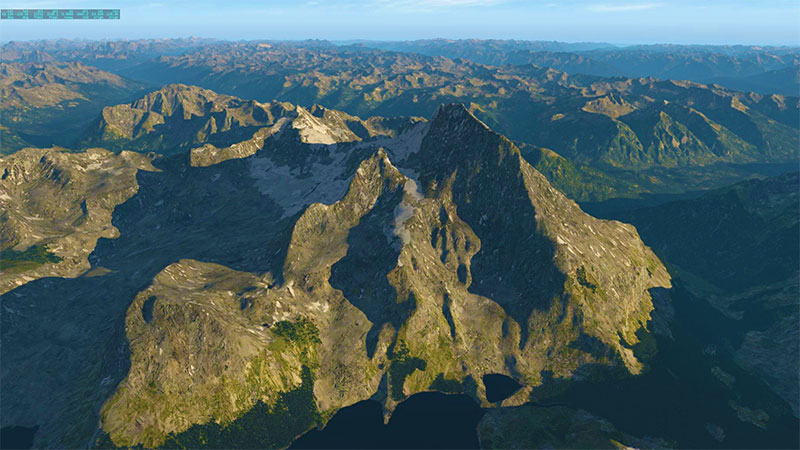 Mesh scenery add-on example in X-Plane 11.
The same might be said for the basic night scenery, which while ultimately will come down to a matter of personal taste, would appear that XP11 – which has almost "specialized" in such scenery – offers the most realistic effects and reproduction of the terrain under the night skies. Their use of 3-D graphics and realistic mapping would appear to continue to set it apart.
By contrast, FSX, which certainly doesn't look bad in nighttime conditions, appears a little dated to some flyers. As the hour approaches evening on your virtual flight missions, the ground below will begin to glow an orange color to reflect the lights of the cities below.
It appears the scenery of Prepar3D, while certainly authentic, still lags behind XP11 for intricate detail, particularly, as one user complained, around the airport scenery. Furthermore, it would appear that cost is a big issue with users when deciding whether to make the switch. A great many of the scenery add-ons come at an extra price, meaning that to set up an authentic flight plan with airports and scenery could become a very expensive business.
One more, if money isn't the deciding factor for you taking a shot of P3D might very well provide the authentic flight simulation experience you are looking for. However, it just might be the case that the best version of Prepar3D is a little out of many people's price range.
In terms of night lighting and night flying, however, P3D, boast some of the best night-time lights and graphics available. In fact, this might be one area where P3D has the edge on the other two flight simulation programs. And while that might not be enough to swing the deal for prospective buyers, for more veteran virtual pilots who are at a stage where they are looking for such finer details, it might be something worth bearing in mind.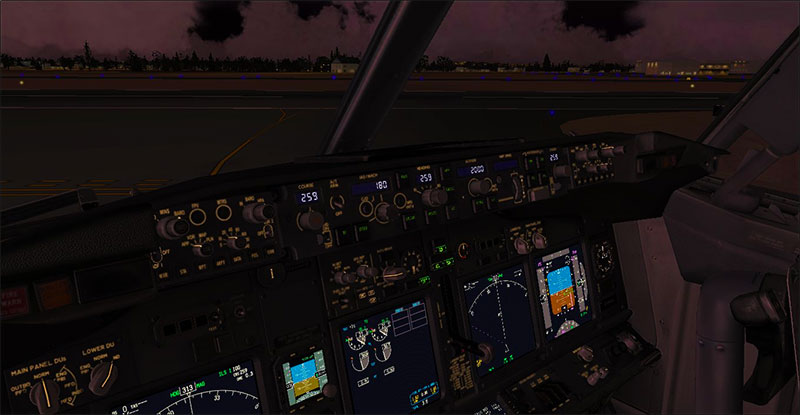 Example of a Boeing 737 cockpit at night.
In Terms Of "Graphics" And "Realism", It Still Comes Down To Personal Preference
While these types of aspects of virtual flight perhaps appear trivial to some, especially newcomers to the world of flight simulation, it is such small details that separate a good flight platform from a great one. And while there is not that much between the two programs here, it would appear that overall most virtual pilots lean towards the strength of X-Plane 11's graphics and textures in terms of scenery – day and night time versions of it.
As one simmer user stated in response to the graphics between the two programs;
It would appear to be much easier to move from FSX to X-Plane 11 and appreciate the improvement in such details than to use X-Plane 11 and then revert back to FSX, which would suddenly make the overall experience far less realistic.
However, another user fell on the other side of the argument. They would claim that if you are "into graphics" and are looking for details inside the cockpit, then X-Plane might indeed be the program to purchase and use to explore the virtual skies.
But if you are looking for overall aviation detail – such things as the difference in weather, the difference in terrain, even difference in seasons and when such seasons occur when at various points around the planet, then FSX, albeit achieved through add-ons, is by far a better option. Those who are seeking the aforementioned details, essentially details outside the cockpit, while the graphics per se may not be as good as XP, the older more "developed" Microsoft platform overall presents a more realistic feel as opposed to the "sterile world" offered by its competitor.
Prepar3D very much contains some of the best graphics available, of that there is little doubt. However, many of them remain locked behind additional purchases. This means that you might end up spending a considerable amount of money to achieve the realism you want, whereas that realism could have been reached for a lot less with our other two programs featured here, in particular, FSX.
As stated at the beginning of this section, though, this really does come down to personal preference, and to no lesser degree, personal budget.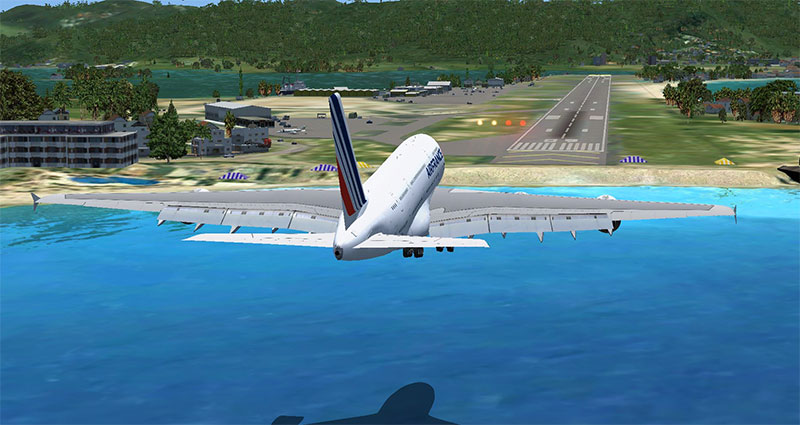 A380 approaching Princess Juliana International Airport (St. Martin) - a less sterile world?
It may be wise, if you think you will spend considerable time on such programs as opposed to "taking the jet out for a spin" every now and again, to consider Flight Sim X as a better option in the long run.
OK, How Well Do They Run?
Of course, how the program works and runs on our respective systems is also of paramount importance. And it is here once again where X-Plane 11 would appear to pip FSX, with the latter seeming to have a reputation among users (if the forum comments and complaints are to be believed) of crashing on more than one occasion.
This would appear to be due to the program loading all of the memory onto the CPU, bypassing the GPU and, on occasion, simply overloading the processor and so crashing the program. We should stress, these crashes are certainly not so regular as to ruin one's overall experience, but they do occur on at least a semi-regular basis. Indeed, it is an issue that FSX will need to address in the immediate future and possibly address with a fix or a free add-on.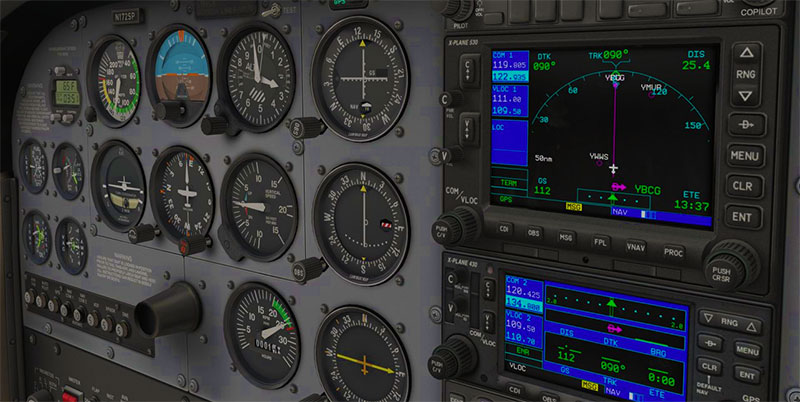 Cessna 3D virtual cockpit.
On the other hand, X-Plane 11 distributes this memory usage between CPU and GPU, which in turn allows for a much smoother flight and running of the program. While there are still instances of this newer program crashing, it would seem it is much more fluid and easier to run across most platforms than the FSX version.
Although there might be a need to repurchase some addons again, in terms of how well Prepar3D runs this should not be a concern to anyone looking to purchase the software as a new pilot or make the switch from their current one. Perhaps the only thing to keep in mind is that those on slightly older PCs with older graphics cards may experience a slight increase in loading times, and while this shouldn't inhibit their experience too much, it will be noticeable to the user.
In fact, unless there is something particular that appeals to the user, this would appear to be a major tick in XP 11's favor. You may be interested in reading our article about boosting FSX performance here.
The Add-ons And Extras – The Great Equalizer For The Older Package!
As we mentioned at the beginning, for the most part, it is only fair, and sensible, to compare the programs on their basic, out of the box, settings. And, the fact that the user gets more aircraft to fly courtesy of FSX than they would with the other platform aside, it would seem that X-Plane 11 is the better purchase.
However, another area where this older platform dominates over X-Plane 11 is the number of add-ons that are available for it. And while some of these of paid-for extras, many are completely free and truly do go towards making the experience of flying with the Microsoft developed platform both genuine and authentic, as well as offering an absolute plethora of options in everything from aircraft, airports, scenery, and textures.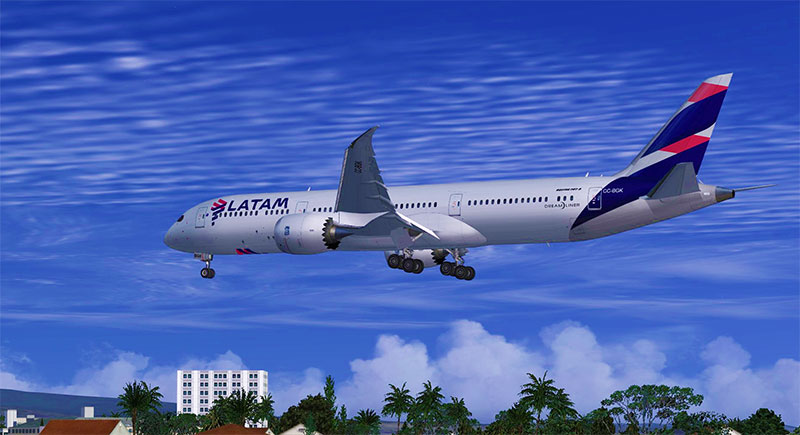 LATAM 787-9 add-on - one of the mods you can download for free.
Indeed, perhaps as big a plus as the running of the program was for X-Plane, the same can be said for the number of add-ons for Flight Simulator X. As we will look at shortly, many virtual flying veterans prefer FSX over the newer flight sim packages. Essentially, if you have a lot of time and a considerable money pot, it is indeed possible to transform the older platform to be a much better model than XP11, or indeed any other flight simulators.
The fact that there is such an array of extras available does perhaps give the dated FSX more flexibility and longevity (in terms of regular use). Aside from the obvious extra aircraft, the extra scenery, airports, and even missions, at least as things stand in 2019, dwarf what is available for X-Plane, as improved as it is.
As we have mentioned throughout our article, the add-ons for P3D, while being great in terms of detail and realism, are some of the priciest on the virtual market. In short, if you are likely to require lots of add-ons to achieve the overall feel you desire – and most virtual pilots do - then a sizeable wallet – digital or otherwise – will be a necessity.
It would appear that for FSX, their vast depth in terms of extra features, some of which are remarkably detail orientated, is the great equalizer against the seemingly stronger newer platforms such as XP11. We have over 24,000 files in our library - you can view our FSX mod library here and our X-Plane 11 mod library here.
Authenticity From The Cockpit
Perhaps the most important aspect of flight sim is just how realistic the flights are, particularly from the cockpit. On a basic level, many of the cockpit graphics are much more detail orientated in X-Plane 11. However, when add-ons are taken into account, it is relatively easy to increase this detail.
Some flyers, though, actually find the cockpit dynamics in FSX to be, at times, "too easy" and not realistic to the conditions around it (if it was raining or windy, for example). This is an important factor, especially for experienced or regular flyers, who as opposed to searching for pleasing to the eye graphics, will perhaps put more emphasis on the realism of the controls and the plane's reactions to the elements, its crew and passengers, and even how much fuel it is carrying. Essentially, the actual "mechanics" and logistics of controlling an aircraft.
The P3D cockpits also boast some of the most realistic on offer. Everything from the feel of the cockpits, to the flight navigations equipment and the overall authenticity, is realistic to the max. And this replication is the same during night and day and in all weather conditions.
However, some users find they experience "blurry cockpit" – usually meaning the user has to customize their and graphics details slightly textures slightly, of which there is a large online community to ask for advice (which we will look at in a moment).
However, in terms of overall authenticity and realism of flight, the P3D cockpit software is some of the most authentic available and certainly holds its own against XP11 and FSX.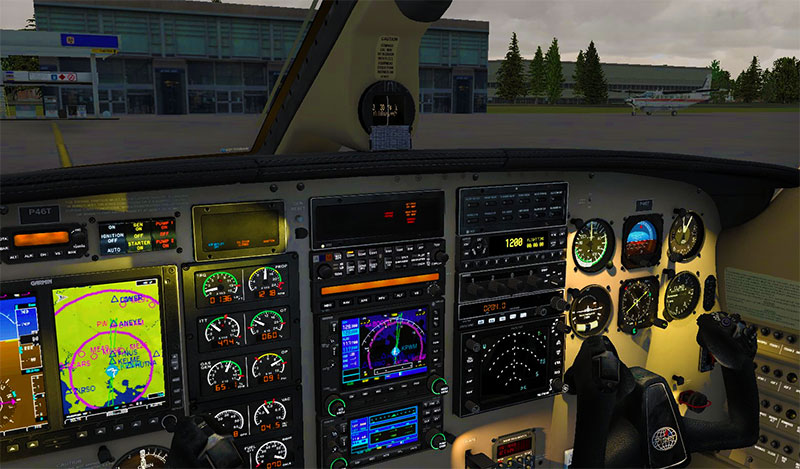 Piper Malibu cockpit.
In this area, although many experienced virtual pilots insist any difference in detail is largely marginal, it would appear that XP lends towards a more realist "in the cockpit" experience, with such things as the elements and the condition of the ground taken into account and then reflected in the difficulty in controlling the plane during take-off and landing, as well as when in the air.
Where Things Stand In The Market
OK, so before we summarize the two programs, we should perhaps look at where the two flight simulation software companies are right now.
While X-Plane, and certainly version 11, are newer to the market, Flight Simulator X has been around for some time, and consequently, already have a steady audience of veteran virtual pilots as well as more amateur flyers and those with a passing interest.


Microsoft Flight Simulator X logo.
However, given the lack of active development, it would appear that X-Plane 11 certainly has a bright future ahead of it. And while it would perhaps be a little early to say that it is ready to push FSX aside and take over as the premier simmin' software, it would certainly appear destined to force other platforms to share the market more evenly.
Perhaps what is often overlooked when considering such programs is not only how popular, how much technical support, and what add-ons may or may not be available, is the respective communities that develop around such software.
For example, whether it is in chat rooms, closed social media groups, or specialized Internet forums for FSX or X-Plane users, when you purchase and begin developing and exploring your software, you are also, should you choose, opening a door to world full of other like-minded individuals, looking, in this case, to take to the skies from the comfort of their own PC chairs.
The community for FSX and, to a lesser extent X-Plane, are already substantial. And while Prepar3D most certainly has its own loyal fan base, it would appear from those same Internet forums that it lacks that of the other two, at least in terms of numbers.
While the community is indeed just as loyal for P3D, it is decisively smaller. And it might be one better suited to experienced pilots who have made the conscious decision to try a different software as opposed to newcomers to the world of flight simulation (although there is certainly no reason for such rookies to opt for P3D).


Laminar Research's X-Plane 11 logo.
We should note, that both products have strong communities, meaning whichever package you opt for, whether it is official assistance or advice from other users, there will be an abundance of people to offer support, hints, and tips on how to get the most out of virtual flying software.
So, What's the Verdict?
With all that in mind, then, you might think that the obvious choice would be to snap up the latest and greatest platform like XP11. If you a newcomer to the world of the virtual flying, then that very well might be the best option for you. And, in time, it would appear that many other virtual pilots will be joining you.
While FSX has more add-ons and choice, it would appear to be only a matter of time before that choice of extras is equaled by X-Plane and other programs. And what's more, more and more people are indeed opting for Laminar Research's platform.
With all that being said, though, FSX still have a huge audience and share of the virtual flying market, many of whom are loyal customers on the one hand, and also flyers who have spent, in some cases, thousands of dollars or pounds in extras in order to create a unique virtual flying experience tailored just for them.
Prepar3D is perhaps in an even more difficult position. And while it is likely that the audience it has is a very loyal one, those virtual pilots who have earned their stripes on the other simulators will likely be hard-pressed to convert to P3D.
We should note, though, those that do (and they are, not exclusively, but often veteran virtual pilots) almost universally state they "haven't looked back" since making the switch.
So, the decision is ultimately yours, and each program has its own pros and cons. There are, though, some other factors to keep in mind for both rookie and experienced virtual pilots. Particularly when we consider the future of flight simulation.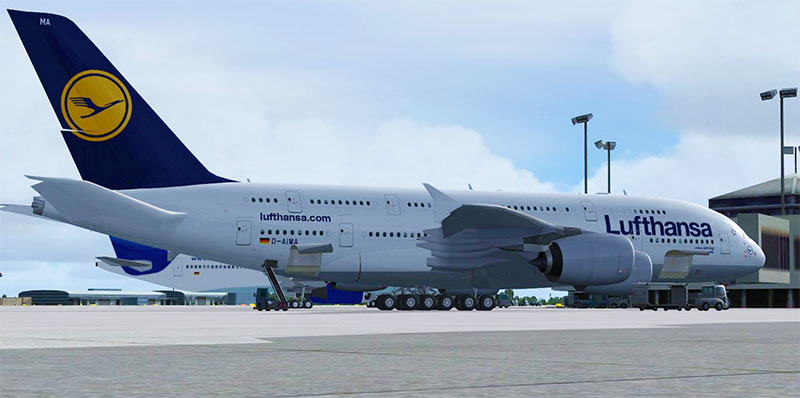 Lufthansa A380 add-on.
The idea of starting again from scratch, to many, is simply unthinkable.
There is certainly plenty on offer for loyal users of the older Microsoft platform. And, as we mentioned above, in terms of a well-rounded overall authentic flight, FSX certainly delivers. Indeed, many who have used both programs state their preference for the older model. And if it is quantity you are looking for then this more-established program is for you.
Some More Thoughts To Ponder
However, if you are looking for the finer details of virtual flight, whether it is authentic conditions from the cockpit as you struggle against the elements and other factors designed to make for a more realistic flight, X-Plane 11 might be something you wish to opt for. Especially when we consider in another decade or so, in all likeliness, X-Plane 11 will have overtaken FSX in terms of market share, available and actively developed add-ons, and accessibility. With that in mind, particularly for newer virtual flyers, it might be best to get on board now.
Before you continue reading, perhaps you'd like to compare the official trailer videos of each sim.
Trailer Videos
X-Plane 11
Microsoft Flight Simulator X
Prepar3D v5
Perhaps one word of warning, however, while this will likely change in time with new developments and add-ons, one discreet drawback with the X-Plane 11 simulation is that most of the detail is loaded into the United States, unlike FSX where airports and locations all over the planet are available. And thanks to the numerous add-ons, which we have already mentioned, these various locations are often highly detailed.
Similarly, if P3D prices were to come down over the next few years, then it might, in turn, attract much larger numbers to it than it currently does (and it is already one of the most popular flight sim software available).
Each of the programs has its drawbacks and strengths, and in an ideal world, an amalgamation of the two software packages would fill in their respective gaps in each program. Unfortunately, and again this is a testament to the overall strength of each package, as well as the quality of the flight simulation market in general, it is not a case of picking a clearly better program over another.
Like anything else in life, it depends on what you, the pilot, are looking to get out of your virtual flying missions, as to what program is ultimately the better option. However, in time, X-Plane looks set to challenge to be just that.
Indeed, like many of us, many pilots of the virtual skies use multiple virtual software programs. In doing so the entire scope of what's available and what the possibilities are can be decided upon by personal experience. And there is certainly nothing to stop any of you doing the same. Except perhaps budget, that is.
Of course, we have reviewed all three flight sim platforms in detail; you can read our review of FSX: Steam Edition here, Prepar3D review here, and of course our X-Plane 11 review here.
Let us hear your thoughts!
Please, please post your comments in the comments section below. We need to hear your thoughts. What simulator platform do you prefer? What did you start with? Have you switched simulators - if so, why?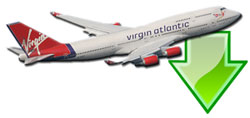 Don't forget... We have a huge selection (over 24,000 files) of free mods and add-ons for MSFS, FSX, P3D & X-Plane in the file library. Files include aircraft, scenery, and utilities All are free-to-download and use - you don't even need to register. Browse on down to the file library here.