FSX USAF Boeing B-52. US Air Force B-52H models 60-042 and 60-047 (two aircraft) based out of Barksdale AFB for FSX. Most of the dynamics meet real world specifications. Includes realistic sound, smoke, weight, fuel, range and kneeboard. Read Instruct.txt for details. Original aircraft design by Mike Stone; 60-047 textures by Bill Baldwin; flight dynamics corrections and data by Douglas E. Trapp, FS Flight Dynamics Engineer.
This aircraft is designed to fly like the real thing, as close as I could get it. Some real World data is missing, so close approximations were used based on basic flight dynamics engineering, so it should be one of the best B-52 models available at this time. The models presented here will also work in FS2004, but the panel will work only in FSX. You can simply copy and paste all data within the FS2004 747/panel folder to the panel folder for this aircraft if using FS2004, and it will work fine.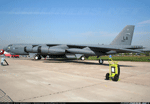 There are two aircraft in this work, designed by two separate authors, but they incorporate the same dynamics and fly identically. I have test-flown these aircraft around the globe twice to reassure myself that all is well. You may have a bouncing effect occur when using 16x speed acceleration, but this will not effect the range at all. You can use autopilot for take-off and ILS approach (not touchdown). The main problem with this aircraft is that it must slow to 180 Knots or less in order to capture the ILS, and should be a direct runway approach for this. Full flaps are used at speeds less than 240 Knots on approach. Takeoff V2 speed is about 185 Knots, so you need a long runway with 10 degree flaps (3 notches).
Autopilot climb hold will pull her up fine if the runway is more than 9,500 feet long. I suggest you take a few test runs from any AFB, with 20% fuel or zero bomb weight to gain experience with takeoff and ILS approach. Although the engines are powerful, and there are eight of them, the aircraft full weight restricts the cruise altitude. At full weight and fuel she can cruise at FL410E or FL420W at mach .88, but if bombs are disguarded she can do the same at FL490E or FL500W. Note that the bomb weight is the last entry in the payload list, while the others represent the flight crew weights. Also, flying without bombs (known as a ferry flight) will increase your range by about 1,000 nm. Taxi speed is about 42% N1, and ground speed should not be more than 10 Knots in any turn.
You will discover all these aspects as you experiment with her, and I advise that you experiment a bit before taking a long distance run. If you want realism, fly out of Barksdale AFB (KBAD), and only to Air Force Bases around the globe that contain ILS. This aircraft is difficult to land without ILS hold as your assistant. If you are not an experienced simmer, you will probably crash a lot. Please do not write me for further instructions on how to fly this bird ... I simply do not have time for that. Check the kneeboard area for reference and checklists as necessary. If you have problems with ATC recognizing the aircraft, download, install, and update the latest version of "Edit Voicepack".