Los Angeles International Airport (LAX), California (CA), USA. This airport update is for KLAX and made only for the FSX default airport. The new Tom Bradley International Terminal added, assigned parking now updated as per their website, with ten A380 gates including gate 38 at T3 for Virgin Australia's 777, American Eagle flights now operating from the East Satellite Terminal, central fire station moved to its new location, taxiways and taxi signs updated to the latest charts, extra fuel trucks, support vehicle roads rebuilt, lighted helipad beside the Theme Restaurant and many other improvements. Airport views are from inside the control tower (when in tower view). By Ray Smith.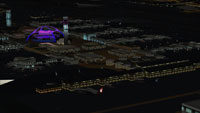 Screenshot of Los Angeles International Airport at night.
There are 2 BGL files: KLAX_RS.BGL file and a KLAX_OBJ.BGL file.
To Install:
If you are using my earlier version please remove/delete these files first, if you would rather keep them remove them to another folder not associated with FSX.
1. Take the KLAX_RS.BGL and place this file into: Flight Simulator X/Addon Scenery/scenery folder.
2. Take the KLAX_OBJ.BGL and place this file into: Flight Simulator X/Scenery/Global/scenery folder.
3. There are some jetway extensions added, and to see these you need to add the textures for them, please follow these steps:
NOTE: If you have already done this with any of my other airports then this step is not necessary.
Browse to the FSX\Scenery\NAME\Texture folder. Go down the list until you see jfk_jetway.dds (day texture) and jfk_jetway_LM.dds (night texture). "COPY" them from that folder and "PASTE" them into the Scenery\Global\Texture folder.
4. Start up the Flight Sim and the changes will be present.