A repaint of the default Airbus A321 in JetStar livery. Textures include diffuse and specular set which supports light bloom and global reflections. By Australian Simulation.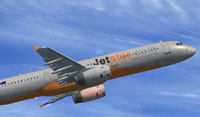 Screenshot of Jetstar Airbus A321 in flight.
This file contains two repaints of the default Flight Simulator X Airbus A321 in Jetstar livery. We've chosen the Jetstar registered VH-VQI and VH-CBD Airbus A320 paint schemes, Jetstar only use A320's, but the default A321 is a suitable replacement. Only the main fuselage texture was required to be edited in order to achieve these paint schemes, and the remaining texture files have been aliased to the default A321\Texture folder. These textures were a bit of a rush job just to get the FS-X library rolling, please feel free to either improve on this texture, or create a better one, as we'd love to have it!
The only difference between VH-VQI and VH-CBD is the "Jetstar" text along the fuselage. CBD has this text written in large font along the fuselage with the words "A QantasGroup Airline" underneath, while VQI has the Jetstar text much smaller with the text "All day every day, low fares".
NOTE: The reason the "Jetstar" text is missing from the underbelly of the aircraft is due to the fact that the texture mapping on the main gear doors are shared by the same area of the texture map. It is for similar reasons why the registration is not painted on the underside of the port wing.
Also, these textures have been compiled with NO mipmaps, so you'll always get full resolution skins without the dreaded blurriness.