FSX Rougham Airfield Scenery

Rougham Airfield for FSX and Horizon GenX VFR scenery Volume 2 only. Rougham is a small airfield in the county of Suffolk in the UK. It was built in WW2 as a base for the USAAF, some buldings still remain as a museum and memorial to those who flew from the base. Additional freeware object library...
Download hits

234

Compatibility

Microsoft Flight Simulator X (FSX) including Steam Edition & Prepar3D (P3D)

Filename

roughamfsx.zip

File size

1.13 MB

Virus Scan

Scanned 24 days ago (clean)

Access to file

Free (Freeware)

Content Rating

Everyone
Rougham Airfield for FSX and Horizon GenX VFR scenery Volume 2 only. Rougham is a small airfield in the county of Suffolk in the UK. It was built in WW2 as a base for the USAAF, some buldings still remain as a museum and memorial to those who flew from the base. Additional freeware object library files are required, please see the instructions for full details. Owners of FSX Acceleration Pack can also enjoy an optional representation of the airfield's annual airshow, included with this scenery. By Trevor Clark.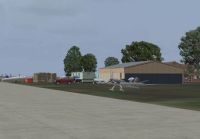 Rougham Airfield Scenery.
Important Note
For this scenery to function correctly it is necessary to download additional free objects and textures via the internet, please see the installation instructions in this document as to where to find and install them.

Rougham, (near the town of Bury St.Edmunds in Suffolk in the UK) was originally built for the USAAF during WW2. Today, part of the old airfield has been adapted for private light aircraft operations, however it is somewhat basic! The old military control tower and some old buildings have been preserved and operate as a museum, dedicated to those who lost their lives flying from the base. It is well known for hosting a popular air show, every summer.
This scenery (my third project) was made using AIRPORT DESIGN EDITOR 9 X and INSTANT SCENERY, plus encouragement and help by scenery guru Tony Meredith at arm-computers be sure to visit his site for loads of great freeware scenery for FSX and Horizon VFR GenX.
It is freeware and must not be used or copied for reward or uploaded to file sharing/hosting sites anywhere without my written approval.
Installing this scenery…….
It is essential that you download and install a range of 'Third Party' scenery libraries.
These downloads need to installed AND activated within FSX (via the settings/Scenery Library/Add Scenery method) before they will appear.
Step one….
No Royal Air Force or USAAF (in the UK) airfield in MSFS is complete without the wonderful collection of buildings by Ted Andrews. As they make up 90% of my scenery projects and a great majority of my future releases please download and install.
rafbldV2.zip
rafdombl.zip
rafwrli.zip
rafopbld.zip
rafhanli.zip
rafsmbld.zip
to be unzipped and the contents put into a new folder called 'scenery'...
And also this one texture file....
tedsraft.zip
to be unzipped and the contents put into a new folder called 'texture'...
Put both your new 'scenery' and 'texture' files into another new folder (I suggest you call it something like 'Ted Andrews Scenery) that you will now create and place this into the 'Add-On Scenery' file within FSX. Activate as any new scenery, before use, via the add Scenery method.
I have also used items from the great collection of British scenery by the UK VFR group. Install and activate as with Ted's files above, but (unlike Ted's) all the files required are in a single download.
Name: ukvfr.zip Size: 44,781,123 Date: 02-28-2008 Downloads: 1,669
FSX UK VFR Add-ons. A scenery set required by many add-on sceneries, made easy to download and set up for FSX. Some of the libraries don't work with FSX but the majority are okay. Uploaded with permission from Alan Fidler. By Neil Birch.
Please note…. users of my Linley Hill or Deanland sceneries will already have the above UK VFR scenery installed and need do nothing on this occasion.
Step Two…..
Installing Rougham Airfield add-on scenery itself……
Once you have installed the above files, copy the file included in this zip called 'Rougham Airfield' into your FSX add-on scenery file; it will be something like this ….
C\Program Files\Microsoft Games\Microsoft Games\Microsoft Flight Simulator X\Addonscenery\Rougham Airfield, depending on what letter drive you have your FSX installed. C drive is the most common.
You must then activate the scenery by selecting (within the menu of FSX) settings-scenery Library- Add Scenery. A box will be displayed showing your FSX folder. Click on add-on scenery to open this file and then highlight (with your mouse) the folder called 'Rougham Airfield'. Whilst high-lighted, click OK. The simulator will take a few minutes to build a new data base and will the return to the menu page.
Once installed the airfield can be found in the 'Go to' menu under Rougham Airfield or the city of Bury St. Edmunds.
Step Three….
Extra Autogen Trees Option….
I have made a set of autogen tress that add a bit of interest and help navigate around the airfield circuit at low level, to improve the performance on more modest PCs, I have made many (but not all) of the airfield trees autogen as well.
To install these trees, place the entire contents of the file called 'Rougham Trees' into the drive where you keep your Horizon VFR Gen X folder, following the path below…
*F:\VFR-Gen-X-2.0\Volume3\Area3\2.4m Photo\texture
*My scenery is on F drive (it is better if you have the option to install all the Horizon VFR X scenery on a DIFFERENT drive to FSX and your Windows operating system, but not essential.), yours may well be on C:\
Please Note…
If FSX is running, you may need to re-start it to see the trees.
Because of the way autogen is created, the trees in the above file should have little impact on frame rates.
Step 3
Airshow Option……
If you have FSX Acceleration Pack installed and want to re-create the airfield during its famous annual airshow, just add the small file inside the folder called 'Airshow' into your scenery folder in 'Rougham Airfield. If you have already installed Rougham on your simulator, you will need to visit the scenery library screen from your FSX menu to refresh your library. Without Acceleration pack, you will probably have one or two objects only! This add-on is not too resource hungry, but it is not advised unless you have a PC that runs FSX easily.
Take-off and landings should be made on runway 09/27 and the displays performed along the shorter 03/21 runway. The scenery does not replicate fully the airshow, but (within the restrictions of FSX) give you an idea of the difference that the airshow makes to the normally sleepy airfield.
Performance Issues?

The entire scenery I have made represents about 70% of all the buildings around the airfield in 2009, I doubt if all users will have the hardware to run the full scenery at an acceptable speed.

If you are having problems, I suggest removing the files called 'moretrees' and/or 'roughamvehicles'. These add the eye candy around the airfield and should not affect the look of the airfield unduly.
Each time you add or subtract any of these files, just visit the scenery library via the FSX menu and click 'OK'; that will allow the library to re-build its database and add or subtract the additional scenery.
It is better not to do any changes whilst actually having the scenery on screen!

The scenery has not been tested using default scenery, and will not work in any other simulator other than FSX and Horizon VFR GenX Volume 2.
Not tested in DX10
Known problems with this release.
The outlines of the old base at Rougham can be seen from the air, but please be aware that the current runways do NOT stretch the entire visible length. Always leave the last 100 metres alone, they are not suitable for landing or taking off. Also of note is the concrete showing through at the intersection of the runways. Although not a problem in FSX, real world pilots try and avoid it, if at all possible!
I have placed some small 'No Entry' signs at the end point of the actual runways and some small bushes too, to aid your landings!
What look like taxiways are really only the remains of the WW2 originals, it seems they are used as roads, but taxiing aircraft seem to use the runways to taxi, turning around 180 degrees before departure. The only 'useable' taxiway is the one in 'modern' concrete.
From my research, Rougham appears to have no set radio frequency for ATC purposes, so I have allocated it a multicom frequency of 133.60 for FSX.
The camera flashes at the airshow are on the MS scenery and cannot be eliminated, sorry.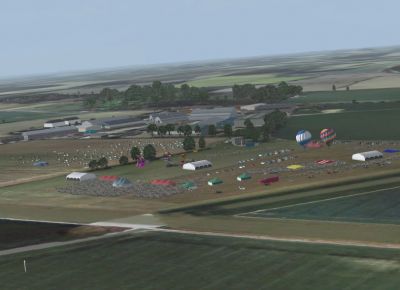 Rougham Airfield Scenery.
The archive roughamfsx.zip has 56 files and directories contained within it.
File Contents
This list displays the first 500 files in the package. If the package has more, you will need to download it to view them.
| Filename/Directory | File Date | File Size |
| --- | --- | --- |
| Rougham scenery for FSX | 12.01.09 | 0 B |
| Airshow | 11.30.09 | 0 B |
| Airshowfiles.bgl | 12.01.09 | 4.36 kB |
| File ID.txt | 12.01.09 | 526 B |
| Rougham Airfield | 11.30.09 | 0 B |
| Rougham Airfield for FSX Instructions.doc | 12.01.09 | 525.50 kB |
| scenery | 11.30.09 | 0 B |
| cvxFLATTENA.BGL | 11.28.09 | 234 B |
| cvxFLATTENB.BGL | 11.28.09 | 243 B |
| cvxROUGHAM FLATTEN.BGL | 11.27.09 | 612 B |
| EGTJ_ADEX_TJ.BGL | 11.30.09 | 1.71 kB |
| Landrovers.bgl | 10.25.09 | 48.18 kB |
| moretrees.bgl | 11.30.09 | 3.75 kB |
| roughambuildings.bgl | 11.30.09 | 6.61 kB |
| roughamvehicles.bgl | 11.28.09 | 1.64 kB |
| texture | 11.30.09 | 0 B |
| landrover86blue.dds | 10.26.09 | 341.48 kB |
| landrover86green.dds | 10.26.09 | 341.48 kB |
| Rougham Airshow.jpg | 12.01.09 | 266.32 kB |
| Rougham for FSX text file.txt | 11.30.09 | 9.32 kB |
| rougham thumbnail.jpg | 11.30.09 | 19.76 kB |
| Rougham Trees | 11.30.09 | 0 B |
| 011220202312013an.agn | 11.28.09 | 256 B |
| 011220202312030an.agn | 11.28.09 | 288 B |
| 011220202312031an.agn | 11.28.09 | 712 B |
| 011220202312032an.agn | 11.28.09 | 304 B |
| 011220202312033an.agn | 11.28.09 | 664 B |
| 011220202312102an.agn | 11.28.09 | 264 B |
| 011220202312103an.agn | 11.28.09 | 132 B |
| 011220202312120an.agn | 11.28.09 | 816 B |
| 011220202312121an.agn | 11.28.09 | 156 B |
| 011220202312122an.agn | 11.28.09 | 356 B |
| 011220202312123an.agn | 11.28.09 | 316 B |
| 011220202312201an.agn | 11.28.09 | 132 B |
| 011220202312203an.agn | 11.28.09 | 192 B |
| 011220202312210an.agn | 11.28.09 | 772 B |
| 011220202312211an.agn | 11.28.09 | 660 B |
| 011220202312212an.agn | 11.28.09 | 332 B |
| 011220202312213an.agn | 11.28.09 | 484 B |
| 011220202312220an.agn | 11.28.09 | 124 B |
| 011220202312221an.agn | 11.28.09 | 280 B |
| 011220202312230an.agn | 11.28.09 | 420 B |
| 011220202312231an.agn | 11.28.09 | 296 B |
| 011220202312300an.agn | 11.28.09 | 580 B |
| 011220202312301an.agn | 11.28.09 | 1.75 kB |
| 011220202312302an.agn | 11.28.09 | 820 B |
| 011220202312303an.agn | 11.28.09 | 992 B |
| 011220202312310an.agn | 11.28.09 | 396 B |
| 011220202312311an.agn | 11.28.09 | 260 B |
| 011220202312312an.agn | 11.28.09 | 244 B |
| 011220202312320an.agn | 11.28.09 | 176 B |
| 011220202312321an.agn | 11.28.09 | 140 B |
| Thumbs.db | 12.01.09 | 12.00 kB |
| title rougham.jpg | 11.30.09 | 200.03 kB |
| flyawaysimulation.txt | 10.29.13 | 959 B |
| Go to Fly Away Simulation.url | 01.22.16 | 52 B |
Complementing Files & Dependencies
This add-on mentions the following files below in its description. It may be dependent on these files in order to function properly. It's possible that this is a repaint and the dependency below is the base package.
You may also need to download the following files:
Installation of Add-on Aircraft/Scenery
Most of the freeware add-on aircraft and scenery packages in our file library come with easy installation instructions which you can read above in the file description. For further installation help, please see our Flight School for our full range of tutorials or view the README file contained within the download.