FS2004 Boeing F/A-18E Super Hornet
Type

Complete with Base Model

Download hits

28,080

Compatibility

FS2004

Filename

fa18esh3_138105.zip

File size

30.48 MB

Virus Scan

Scanned 18 days ago (clean)

Access to file

Free (Freeware)

Content Rating

Everyone
Boeing F/A-18E Super Hornet. The Super Hornet has a square intake duct which distinguishes it from the original Hornet, as well as a jagged edge on the door and air intake to enhance the stealth effect. Created using FSDS2. Features animations and virtual cockpit. Model and panel by Daisuke Yamamoto. Paint and flight dynamics by Hiroaki Kubota. XML(Effects)Toshikazu Shimizu. (Team FS KBT).
About the Aircraft
This is the Super Hornet that has flown to the Atsugi Airbase and it is my first F/A-18 "E" aircraft design.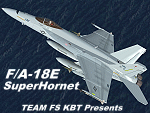 The distinguished appearance from the original Super Hornet and the "E" type is the air intake duct, which is square shaped. The door and the air intake have a "jagged edge" to enhance the STEALTH effect.
About the Model
This model was made using the FSDS2 and it is compatible with FS2004 (FS9). The design is pretty much straight in line so it should work in FS2002 but I have not confirmed this yet.
The jet engine is round while the air intake duct is square in the front.
The most difficult part of this model was to join the aerial press line of the wings with the cylindrical fuselage which gradually narrows to the engine.
About the Animation
I have not seen the real Super Hornet so I had to guess some of the animation to my best. The following animations can be activated;
Launch Bar: Parking Brake "ON" with Throttle Power "ON"(Military Power) and the launch bar will activate.
Air Refuel Probe: SHIFT + E + 2 to extend and retract
Tail Hook: Operate from the VC (Left Hook Lever). For anyone using the "Carrier Operation" Package, it is the same switch when the "Meatball" appears.
About the VC
I tried to come close to the real cockpit as possible but since I was never inside a real Super Hornet cockpit, some are imaginary. Some of the lever and switches are clickable from the VC. Such as,
Landing Gear Lever,
Folding Wings Lever,
Tail Hook Lever,
Navigation Light Switch,
Strobe light Switch,
Beacon Light Switch,
Panel Light Switch,
About the Paint Job
I have made the repaints for squadrons that already have implemented the F/A-18E, based on documentation that I was able to get my hands on. Type "E" is the latest of the Super Hornet family and I have included a paint kit for everyone to enjoy!
About the Air Dynamics
From what I have seen from the numerous videos of the FA-18, I have tried to duplicate the STOL feature, maneuverability, agility and stability.
I have emphasized the "stalling" aspects also but since the Super Hornet is quite stable I think you can "safe land" this bird.
About the Effect Gauge
Augmenter: Activated if the E1 and E2 gauges are above 60% with throttle power above 80% (There is an option data file for "FULL Throttle" activation also). Above FL300 and below 190K it shut downs automatically.
Wing tip vortices
This is activated when the following conditions are met; NO FLAPS, OAT (Outside Air Temperature) is below 12-degree Celsius and airspeed is above 230K with over 3G force detected.
Vapor
This is activated when the following conditions are met; OAT is below 12 degree Celsius and airspeed is above 230K with over 5G force detected
Engine Flame
This is activated when the engine fuel flow is above 350PPH.
Engine Smoke
This is activated when the E1 and E2 gauges are above 80% (There is an option date file for this also).
About the Panel and Gauges
I have tried to make the panels as close as possible so as to achieve the feeling of the REAL cockpit. Regarding the gauges, there are many unknown factors and we are still under R&D. I would like to thank Mr. mOm from Sakichi System for extending his support to the alpha mask regarding the gauges.
If you happen to own the "Carrier Operation" Package, try installing the "rcbco-11.zip" so you can expand the simulation reality!
Installation
After unzipping the file, place all the files inside the FS9 "Aircraft" Folder.
Sound provided by B. Magann. I do not have the E-mail address but we would like to thank him for the great sound that he has made!
The archive fa18esh3_138105.zip has 22 files and directories contained within it.
File Contents
This list displays the first 500 files in the package. If the package has more, you will need to download it to view them.
| Filename/Directory | File Date | File Size |
| --- | --- | --- |
| 18181818.jpg | 04.02.04 | 11.51 kB |
| 18vc2.jpg | 03.25.04 | 55.38 kB |
| fx_augmentor2.fx | 03.29.04 | 18.85 kB |
| fx_contrail_s_short.fx | 03.28.04 | 1.31 kB |
| fx_flame2_mid.fx | 03.27.04 | 2.37 kB |
| fx_smoke_eng_fa18.fx | 03.28.04 | 2.45 kB |
| fx_vapor_fa18.fx | 03.30.04 | 27.43 kB |
| effects.jpg | 03.29.04 | 8.11 kB |
| f185tank.jpg | 03.27.04 | 12.34 kB |
| fa-18e.gif | 03.19.04 | 13.71 kB |
| FA-18E_SuperHornet.zip | 04.02.04 | 29.99 MB |
| fa-18e_vc.gif | 03.22.04 | 13.16 kB |
| fa18e_wepon.jpg | 03.28.04 | 71.65 kB |
| KBT F18 Readme English.doc | 03.30.04 | 25.00 kB |
| NKco18E.jpg | 03.27.04 | 11.40 kB |
| ReadMeJ.txt | 03.30.04 | 4.31 kB |
| The splash screen of a release memorial day.bmp | 03.20.04 | 1.37 MB |
| Wish to Flight sim_com.txt | 03.30.04 | 611 B |
| xml_w-toshi.jpg | 03.29.04 | 22.30 kB |
| avsim.diz | 03.24.03 | 360 B |
| flyawaysimulation.txt | 10.29.13 | 959 B |
| Go to Fly Away Simulation.url | 01.22.16 | 52 B |
Editorial
Having never had the pleasure of flying a Super Hornet in a flight simulator prior to using this package at the time, this was one of my all-time favorite FS2004 additions. With an incredible array of detail and a system that really pushed the simulator to its very limits, it was incredibly easy to get into the mood to sue this amazing aircraft! It really ticked all the boxes that I was looking for in terms of;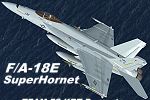 Performance
Accuracy
Realism
Fluency in design
Features
Value
Everything that you could possibly be looking for in a good flight simulation mod is going to be found in here; it really is that simple! This package really helps you get into the mindset of how a military grade aircraft works. With the distinctive square duct that separates the Hornet from the Super Hornet, the jagged door edges also help to make the aircraft look even more unique.
One of the first things that struck me about the overall design and shape was the incredible levels of detail that has gone into the newly created animations. You'll get to see the aircraft come to life all around you as you carry out tasks and actions. This will really be noticeable to pilots who are new to this kind of aircraft; the many little things that are going on around you in the cockpit is truly staggering at times.
As you might be hoping, as well, the flight dynamics are absolutely spot on. They fly just as you would have hoped for and intended, and are more than capable of delivering the kind of service that you need so if you, like me, were hoping to see something truly representative of the power of the Super Hornet you aren't going to be left disappointed with this package.
It takes on all of the little things like how fast it climbs or how quickly it can hit top speed extremely seriously, delivering an incredibly accurate process. Now you'll be able to take off with relative knowledge about the aircraft if you just do some reading into the dynamics of the aircraft prior to hopping in; you'll be able to get a rough feel of what you can expect.
To be honest, I was blown away when I first started using this aircraft in FS2004. Having been using FSX for many years it felt really weird to be going back to an older simulator that actually felt as impressive as releases for FSX. It gives you as much detail and quality as it can possibly hold without taking away from the overall performance, which can be really useful in making a nice and tranquil aviation experience.
Whether it's for educational reasons that you want to try this aircraft out, or you just want to rip through the skies like nobody's business at absolutely incredible speeds, then you'll have a great time getting used to this absolutely classic download for FS2004 as it's just so much like the real thing!
Installation of Add-on Aircraft/Scenery
Most of the freeware add-on aircraft and scenery packages in our file library come with easy installation instructions which you can read above in the file description. For further installation help, please see our Knowledge Center for our full range of tutorials or view the README file contained within the download.