FSX Bagram Air Force Base Scenery
Download hits

3,139

Compatibility

Microsoft Flight Simulator X (FSX) including Steam Edition & Prepar3D (P3D)

Filename

bagram_ver_3.zip

File size

6.28 MB

Virus Scan

Scanned 17 days ago (clean)

Access to file

Free (Freeware)

Content Rating

Everyone
Bagram Air Force Base v3. Bagram, Afghanistan (AF). Bagram AFB (OAIX) is for FSX with Acceleration running in DX10 or DX11. Version 3 is a complete reworking of the airport based upon satellite imagery. Parking spaces include two cargo, 11 military cargo, 21 military combat (eight coded for A10s), 65 Heli Traffic 2009 compliant helicopter landing spots, and a fuel space large enough to accommodate Air Force One. By Dan Mesmer.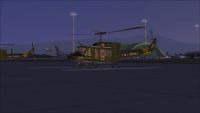 Medvac ramp at sunset.
IMPORTANT SPECIAL NOTE:
Although Bagram AFB can be used by itself, Kandahar Airfield (kandahar_ver_1.zip) is being released concurrently with Bagram Ver 3. It makes sense to download and install both airports so that AI flights can be set up between the two airports. This is particularly true for Heli Traffic 2009 users, since Bagram has 65 helicopter landing spots, and Kandahar has 79 helicopter landing spots. The helicopter landing spots at both airports are intended for use with Heli Traffic 2009.
HELI TRAFFIC 2009 USERS:
To avoid seeing civilian helicopters at Bagram, Heli Traffic 2009 users should go to Heli Traffic 2009's "Options," and move the "Random traffic density" slider to "0%." Then set up some AI helicopter flights to and from Bagram using only military helicopters.
I N S T A L L A T I O N
1. Copy the "Bagram Ver 3" folder (including the folder, itself) to the FSX "Addon Scenery" folder.
2. In FSX, go to "Settings," and under "Other settings," click the "Scenery Library" button.
3. On the "Settings - Scenery Library" window, click the "Add Area" button.
4. Navigate to the "Addon Scenery" folder, and then double-click on the folder to open it.
5. Click once on "Bagram Ver 3," and click the "OK" button. (After clicking the "OK" button, Windows 7 users will also need to click once in an empty space below the folder names in the "Select Scenery Directory" window).
6. Under "Available scenery areas," "Bagram Ver 3" will now appear at the top of the list. Be sure "Enabled" is checked. Then click the "OK" button.
S E T T I N G S
I suggest turning off ground scenery shadows to reduce texture flickering.
A scenery complexity setting of "Normal" or higher shows everything. Settings of "Sparse" and "Very Sparse" show correspondingly less.
H E L I P A D R E F E R E N C E
Open the "Helipad Reference" folder, and double-click on "Helipad Reference.htm." This is a visual reference to be used in setting up both user helicopter and AI helicopter flights. All helipads at Bagram are shown, and both the FSX and the Heli Traffic 2009 helipad numbers are shown for each helipad. The location and heading of each helipad is based upon satellite imagery.
S L I N G L O A D F L I G H T
The "Slingload Flight" folder contains files to implement a slingload flight. Copy the files (but not the folder itself) to the "Flight Simulator X Files" folder within your "Documents" or "My Documents" folder. A flight called "Bagram Sling" will now be listed on the FSX Free Flight's "Load Flight" menu. The flight uses an AgustaWestland that takes off from one of the helipads on the Medevac ramp. The slingload is a generator located near the deicer truck. Do whatever you wish with the generator.
A 1 0 E N H A N C E M E N T S
Bagram Ver 3 contains 8 parking spaces coded for A10 "Warthogs." There is a freeware file called "hoga10.zip" that is available at FlightSim.com and elsewhere. The file contains a freeware A10 that can be used both as a user aircraft and as an aircraft for AI flights.
The files in the "A10 Enhancements" folder contain texture conversions that I have done to add DirectX 10 and DirectX 11 compatibility and, therefore, enable the A10 to render properly in FSX's "Preview DirectX 10" mode. I have made no changes whatsoever to the original model nor to the livery. I have simply converted the textures for use with DX-10 and DX-11, and I have saved the textures using DDS compression to make rendering faster.
To use the textures, download and install the files contained within the hoga10.zip file. Then copy all of the files with a .dds extension from my "A10 Enhancements" folder to the "texture" folder within the installed A10's "358th FS A-10 ThunderboltII" folder. Delete all files with a .bmp extension from the same A10 "texture" folder.
To enable AI A10s to find and use the A10-coded parking spaces at Bagram, copy the "Aircraft.cfg" file from my "A10 Enhancements" folder to the "358th FS A-10 ThunderboltII" folder, overwriting the original file. The only difference in the files is that I have added the line "atc_parking_codes=A10" (without the quotes) to the "[fltsim.0]" section of the Aircraft.cfg file. The same technique could be used in the aircraft.cfg file of any A10 to enable the A10 to use the parking spaces that are coded for A10s at Bagram. Just be sure to use "A10" with no dash between the "A" and the "10" if you use the technique with an A10 that you already have in your FSX hangar. Remember, too, to add the same line to each texture referenced within your aircraft.cfg file if your A10's aircraft.cfg references more than one texture.
A F T E R M A T H O F A N I E D
An IED has hit a vehicle high (9809 feet) up in the mountains and quite some distance from the air base. The aftermath can be seen at N 34° 49.37' E 69° 52.38'. If a helicopter is placed at that location, putting the helicopter at a heading of 179 degrees will enable the pilot to gain full situational awareness.
Heli Traffic 2009 users who download and install my version of Kandahar, will find I have already created a landing spot at the Bagram IED site (and at other remote Afghanistan sites) for use by AI helicopters.
A C K N O W L E D G E M E N T S
SPECIAL THANKS TO:
Jon Masterson and team for developing Airport Design Editor FSX Edition (ADE9X v.1.47.07). Copyright 2007-2011 ScruffyDuck Software.
Jim Dhaenens for allowing freeware airport developers to use his lights.
David Grindele for his accumulation of freeware scenery.
Digital Globe for providing satellite imagery.
Google for providing access to Digital Globe imagery via Google Earth.
Islamic Republic of Afghanistan Ministry of Transport and Civil Aviation for publishing detailed information about the airport.
This software is freeware and may be distributed only with permission of the author. No commercial use is allowed without the author's permission.
This software is distributed without warranty of any kind either express or implied. The author is not responsible for any damage caused by this software.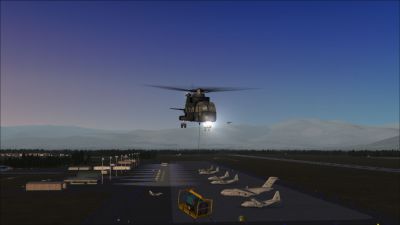 Screenshot of singleload flight.
The archive bagram_ver_3.zip has 44 files and directories contained within it.
File Contents
This list displays the first 500 files in the package. If the package has more, you will need to download it to view them.
| Filename/Directory | File Date | File Size |
| --- | --- | --- |
| A10 Enhancements | 03.08.11 | 0 B |
| Aircraft.cfg | 01.16.11 | 7.77 kB |
| Engine_L.dds | 01.08.11 | 85.45 kB |
| Engine_R.dds | 01.08.11 | 85.45 kB |
| Fuselage01.dds | 01.08.11 | 1.33 MB |
| Fuselage02.dds | 01.08.11 | 1.33 MB |
| Pilot1.dds | 01.07.11 | 341.45 kB |
| Pilot2.dds | 01.07.11 | 341.45 kB |
| Wing.dds | 01.08.11 | 1.33 MB |
| Bagram Ver 3 | 03.08.11 | 0 B |
| Scenery | 03.08.11 | 0 B |
| add_hw_shipping_containers.BGL | 06.27.05 | 7.75 kB |
| Airport_Buildings_01_AP.bgl | 05.25.10 | 207.20 kB |
| lightobj.bgl | 11.06.08 | 643.63 kB |
| OAIX_ADEX_DM.BGL | 03.07.11 | 37.30 kB |
| OAIX_ADEX_DM_CVX.bgl | 02.25.11 | 532 B |
| OAIX_IED.BGL | 01.29.11 | 342 B |
| Texture | 03.08.11 | 0 B |
| hw_shipping_containters.bmp | 06.27.05 | 170.75 kB |
| lights1.dds | 11.06.08 | 32.12 kB |
| Bagram.gif | 02.27.11 | 6.99 kB |
| Bagram.png | 02.27.11 | 989.28 kB |
| file_id.diz | 03.09.11 | 448 B |
| Helipad Reference | 03.07.11 | 0 B |
| Helipad Reference.htm | 03.07.11 | 2.25 kB |
| Images | 03.07.11 | 0 B |
| bgimage.bmp | 02.13.11 | 1.04 MB |
| Helipads1.jpg | 03.01.11 | 481.16 kB |
| Helipads2.jpg | 03.01.11 | 580.27 kB |
| Helipads3.jpg | 03.01.11 | 604.07 kB |
| Helipads4.jpg | 03.01.11 | 611.14 kB |
| Helipads5.jpg | 03.01.11 | 622.07 kB |
| style.css | 02.14.11 | 331 B |
| Medevac Ramp at Sunset.png | 03.05.11 | 668.90 kB |
| ReadMe.txt | 03.10.11 | 6.62 kB |
| Slingload Flight.png | 03.08.11 | 713.28 kB |
| Slingload Flight | 03.10.11 | 0 B |
| Bagram Sling.FLT | 03.02.11 | 12.57 kB |
| Bagram Sling.FSSAVE | 03.02.11 | 99.12 kB |
| Bagram Sling.SPB | 03.02.11 | 414 B |
| Bagram Sling.WX | 03.02.11 | 127.27 kB |
| IFR EH-101 Bagram to Kandahar.PLN | 03.02.11 | 1.45 kB |
| flyawaysimulation.txt | 10.29.13 | 959 B |
| Go to Fly Away Simulation.url | 01.22.16 | 52 B |
Complementing Files & Dependencies
This add-on mentions the following files below in its description. It may be dependent on these files in order to function properly. It's possible that this is a repaint and the dependency below is the base package.
You may also need to download the following files:
Installation of Add-on Aircraft/Scenery
Most of the freeware add-on aircraft and scenery packages in our file library come with easy installation instructions which you can read above in the file description. For further installation help, please see our Knowledge Center for our full range of tutorials or view the README file contained within the download.