Hello my Name is William. I am currently a student pilot starting my climb to a career in the Aerospace industry. Ever since I was a toddler I was fascinated with aviation. I one day plan to go into space at least once. I would also like to fly very large aircraft. I was asked to review the Airbus A400 created by Wilco publishing so without further waiting I give you the A400 REVIEW! The most unique thing about the A400 is the Virtual cockpit. It is absolutely HUGE! With the Cockpit the crew rest area behind the cockpit door the main stairway and behind that is the HUGE cargo/pax hold. Here are a few pictures of the various compartments of the A400 VC.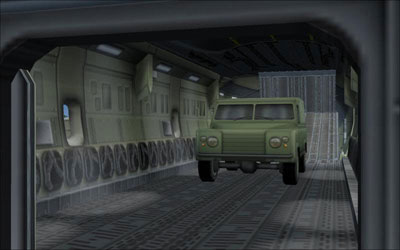 Cargo bay with military truck loaded
Now that you know how spacious this plane is let's talk about the technical parts of the cockpit. First off this plane does not have a standard GPS but rather a simplified FMS. Nonetheless this is a pretty cool FMS. This is no ordinary FMS it is touch screen. Here you can see the FMS main menu you proceed by clicking one of your choice's encased in the green box.
You have the option of making a flight plan. Getting the progress of the flight and more. The cockpit consists of 8 large screens. It contains the standard Airbus control stick rather then the control column as you see in all of Boeing's commercial planes. You can adjust the A400's radios either in the Radio column on the middle panel or you can go into the FMS and change everything from your Comm 1 to you ADF. In this plane on your NAV display you can get the time of arrival in ZULU time and the distance. You also have a display showing where you are in relevance to the ground anywhere from 10,000Ft down to the ground great for those stormy dark approaches. The cockpit has many clickable areas including the pilots shades the two crew seats behind the pilots the cockpit door and all clickable buttons knobs dials etc. The cockpit has beautiful night lighting which can be seen here flying over Salzburg.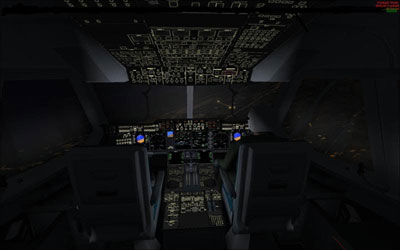 Cockpit of A400 at night flying over Salzburg
Now lets talk about performance. This airplane is the C-17 without the winglets and turboprop engines. Now Turboprop engines are more fuel efficient then jets but this planes seems to be a bit weak on power. You can expect a long takeoff run with full fuel tanks. You can expect a much lower cruising speed at altitude such as 240 knots. This plane seems to have slow landing capability's. You can land this plane at high loads around 110 knots. The plane handles very well after you've gained speed. This plane is also very rugged and can handle anything from concrete to dirt. A very good idea applied to this aircraft is it's lack of Gyro drift. Gyro Drift is the ascending and descending action of the propeller causing the airplane to turn while operating at a high power setting. The great thing about this plane's engines is that the number one and number two engine rotate in opposite directions and small with number three and four. This causes a straight and even takeoff. Here is the specification directly out of the manual.
Dimensions
Overall Length 43.8 m
Wing Span 42.4 m
Overall Height 14.6 m
Cargo Box Dimensions
Length (excluding ramp) 17.71 m
Ramp Length 5.40 m
Width 4.00 m
Height 3.85 m
Height (aft of wing) 4.00 m
Weights (2.25g)
Operating Weight Empty * 70 tonnes
Max. Take-off Weight 130 tonnes
Max. Landing Weight 114 tonnes
Max. Payload 37 tonnes
Total Internal Fuel 46.7 tonnes
Performance
Cruise Speed Range Mach 0.68 - 0.72
Max. Operating Speed 300 kt CAS
Initial Cruise Altitude at MTOW 29 000 ft
Max. Operating Altitude 37 000 ft
Max. Operating Alt - Special ops 40 000 ft
Range at Max. Payload ** 1800 nm
Range at 30-tonne Payload ** 2600 nm
Range at 20-tonne Payload ** 3750 nm
Ferry Range ** 5000 nm
Tactical Takeoff Distance *** 940 m
Tactical Landing Distance *** 625 m
Now let's talk about the exterior detail of this heavy. First things first this airplane has the absolute BEST tire textures available. You can read the A400 logo on. The airplane has three doors that open two of which are linked together and those are the aft side doors. The Cargo door however does not open in FSX.
As for extras this plane does come with a load master you can select your type of cargo and load it onto the plane. This however is an external FS program.
Now we move onto the tings that need improvement. First off there is a HUD in the 2D cockpit but that does not Display in the 3D cockpit.
Second The automatic stall recovery system that the plane claims to have does not seem to work with the autopilot on or off.
Third The Cargo door does not open in fsx although a cosmetic problem this is still very annoying.
Number four is important for those realism junkies. Most buttons knobs and dials are unclickable in the overhead panel in fact it's hard to find a button that you can click making for a rather basic cockpit.
Five The plane was modeled small or the FSX camera by default looks at the external aircraft at a distance making the aircraft appear small.
Conclusion
This is a good plane for those that prefer eye candy in the VC and for those that like to fly those large cargo transports. This was not Wilco's best work but modeling a Cargo military plane I will give them credit for their first try. The Wilco A400 does come with a manual in the CD Case (for those who purchased the CD) And it is a good plane to introduce people who fly small planes into the world of the heavy's so I rate this add-on at 3 stars simply due to the lack of realism in the cockpit.
Test Machine
Windows Vista Home Premium SP1
Processor AMD Athlon 64 X2 Dual core processor 5200+ 2.60GHz
Memory (RAM) 2.00 GB
System Type 32 bit operating system
Information
AUTHOR: Wilco Publishing
PRICE: $26.00
Purchase here: https://www.simshack.net/categories/aircraft-21

As always I would like to thank Flyaway of Fly Away Simulation, Radarman a major member of Fly Away and the manufacturer of these paints and the software.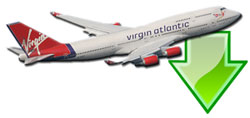 Don't forget... We have a huge selection (over 24,000 files) of free mods and add-ons for MSFS, FSX, P3D & X-Plane in the file library. Files include aircraft, scenery, and utilities All are free-to-download and use - you don't even need to register. Browse on down to the file library here.