Having been designed to carry an authentic take on the Dassault Falcon 7X, this latest Wilco release is a must-have for Dassault fans. This is the second title by Hifi Simulations, and comes as the perfect representation of the Falcon 7X. The aircraft itself in this model comes with a unique all-glass integrated flight deck, making it a unique and rather different flight experience for many different reasons. With a detailed and intricate model that follows on with all typical convention, it's easy to see why the Falcon 7X is such a fan with simulation fans.
With every little rivet and screw put in the right place, you can feel comfortable that this rendition of the 7X is about as close as you are going to get. It's a major aircraft, known for its extensive range of extras and features, making it a rather fun and diverse flight experience. It comes equipped with everything from fresh and engaging flight dynamics and authentic audio that matches the real thing.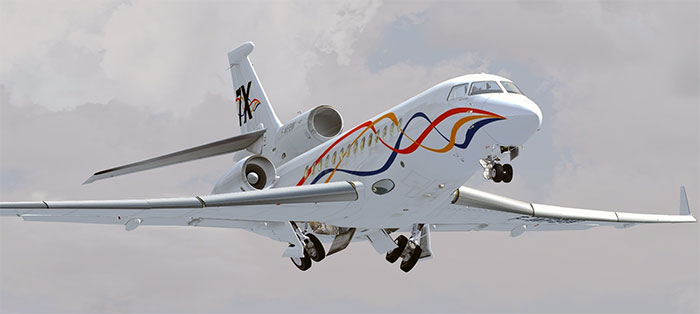 Wilco's Falcon 7x in default livery.​​
If you are looking for an easy way to make sure that your trips through the sky can be carried out in the right piece of kit, make sure you try out the 7X!
What's Included?
Anyone who downloads this mod is going to be access to an aircraft that has all of the typical features that you would be looking for. For one, you get the model itself. Complete with all config and extra needed features, this is about as close to the real thing as you are going to find.
Fully compatible with FSX, FSX: Steam Edition and P3D, too, you are getting an aircraft file that can be used cross-simulation. Fully DX10 compatible, too, you can make sure that you can fly this with the best looking quality of flight simulation being portrayed. Also, it comes with a fine guide that can be followed to help you learn what every switch, lever and button is going to do when you press it.
A checklist set is provided, too, making it easy to do everything from handle an emergency problem to taking off like a pro. This guide can be an essential part of the learning process for any pilots who are not used to aircraft as dramatic as the 7X.
A new blank livery solution is included, too, which can be a pretty nice feature to get access to. If you are artistic in any way, then you can easily make up your fictional or inspired liveries to make sure flights feel specific to you!
VIDEO: Official Wilco Preview Video
Model Features
The model itself has been improved countlessly, created using the genuine plans that built the original.
Using high definition textures, this carries a sharpness and a precision including stains and dirt.
With chrome textures, too, this provides an excellent sense of reflective detail that adds to the esthetic appeal.
Pick a male or female pilot to sit in the cockpit, adding a bit of extra life to the simulation experience.
Comes with a Ram Air Turbine system in full operation which deploys if any of your engines fail.
New fully animated flying surfaces are included, too, from landing gears and flaps to spoilers and wings.
All of the doors and hatches can be opened up to reveal everything from equipment to engine bays.
Wheel chocks, pre-flight flagging, cockpit covers and more are delivered alongside a new GPU.
Extensive new liveries are included to help you pick the version of the model that you feel happiest with.
Using all of the new features that are part of the model, then, you can make sure that your time in the skies is going to be as enjoyable as possible. The model has been carefully re-designed and optimized for improved performance. For the finest combination of dealing with both the high-end performance you deserve as well as presentation, this works perfectly.
By working with this model package, you also get an interior model which has been lovingly recreated. Using the best modeling equipment possible, every knob and lever is going to come to life. With those classy leather finishes, too, you can feel like you are sitting at the seat of the real thing, with every feature adding to flight comfort.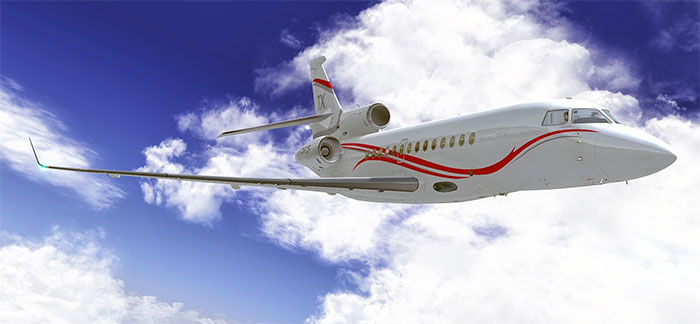 Falcon 7X in flight with clouds in background.​​
Sounds & Presentation
You should never doubt the power of presentation, either. There is more to an aircraft than just the way it looks. The sounds matter, too, and with this you get access to a range of new changes. Immersive audio has been included in the most extensive manner possible, creating a much more immersive cockpit experience. With sounds taken directly from the real thing, this can make a pretty big difference to just how immersed you can feel during the flight!
System Features
One of the major changes introduced by this take on the 7X is the importance of the system features. Now with the access to the I-Flight deck in all-glass, you can enjoy a much more authentic flying experience.
New 2D pop-up windows are included, too, making it easy to control instrument panels and controls. A new HUD is used to help make sure you can fly around the skies without ever getting too lost, either. The HUD can be customized in any way that you wish, too.
Another major change that has been introduced with the system has been the creation of the new Multi-function display. With this, you can manage everything from your GPS to dealing with emergency checklists. Take better control of your flight experience by using the easy and effective solutions the MFD can offer you.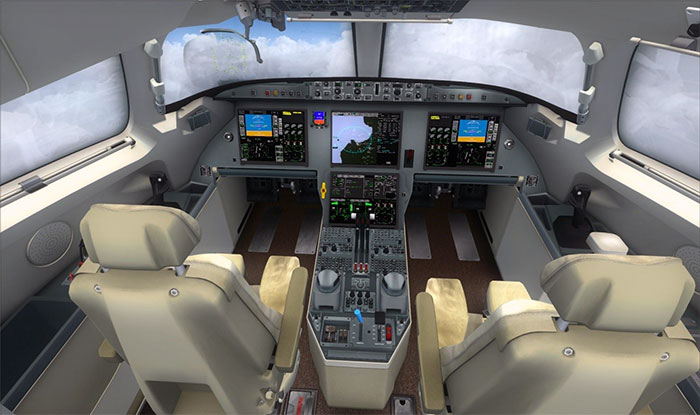 The stunning, highly detailed 3D virtual cockpit.
Make use of the new Navigraph database, too, which is another nice feature for organizing flights. Make the most of this, flying around using navigraphs to guide the way. The addition of new TCAS and EICAS systems also makes sure that analytics of everything from distance to engine info can be easily understood.
A new FMC program is included that allows you to easily make use of everything from GPS systems to flight planners. Use imported flight plans, too, making it easy for you to fly the perfect flight using all the guides at your disposal. Plan out flights yourself too if you would rather!
Autopilot features are included that allows you to use major modes such as heading, speed, ALT holds with V/S, instrument flying, LOC and NAV. These little extras make it much easier to control every aspect of the flight.
Advanced autopilot that uses VNAV is included, too, alongside improved simulation for enjoying hydraulic, pneumatic and electrical systems.
Panel Features
The panels are improved greatly, too, including major additions and changes such as fly-by-wire control systems. This is a nice touch to get access to, giving you access to FMC and autopilot panels as and when you need them. Navigation displays are very easy to work with, from ROSE and PLAN features which are fully based on the FMC.
Another nice touch has been the introduction of a new PFD that allows you to make use of both seats, working independently. Manage everything from artificial horizons to speed, altitude and heading.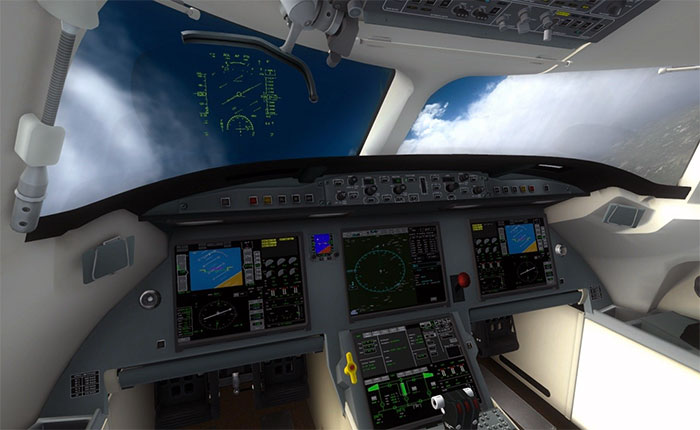 The cockpit panel and heads-up-display (HUD)​​
A new radio page can be used to tune into any and all NAV frequencies. Thanks to this, you can make sure that you have all the help that you need to engage with the 7X and its complex design.
SIDs and STARs systems are included, easily accessed to be viewed across specific panels. With this you can better manage the way that your flight is going to go.
Manage flight plans on panels that gives you major information such as cruise altitude, distance and even headings. With this kind of extra, modern aviation analysis, you can make sure that you well on the right track to delivering success.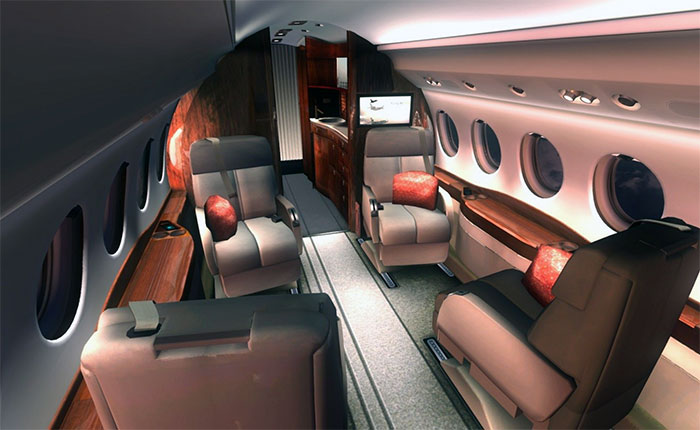 ​
Fully 3D passenger cabin area.
Changes & Improvements
Version 1.5 introduced a glut of new and important changes, including new beacon lighting and also enabling doors which were previously disabled. Also, fuel selectors have been changed to allow you to select from fuel tanks per engine. A small improvement but one that can make a big difference to flight comfort, this allows for easy selection of the right fuel tank at start-up. Also, added CTRL+E access to make sure that all engines only pull from the left-hand tank.
Version 1.6 adds a fine solution for making use of stock-based landing lights, using automated landing light pulsing, and PDU sizing issues being addressed. Also, the Navigraph database went through a major update taking it to AIRAC Cycles 1661, v1.
Version 2.0 was a major change, introducing improved glideslope capturing performance. With new APPR ARM modes included, this makes it easy for you to control the interface with greater ease than before. Also, the flight model was improved when related to vertical speed settings and also autopilot systems. New software versions were included, too, allowing for a modern and up-to-date cockpit display for easier reference. Also, the Navigraph database was again updated to be the February 2017 edition.
Want to make the most of a brilliant piece of kit? Then this is well worth trying out. It's a fine take on the 7X, offering all of the typical features that we would hope and expect to see when in the sky.
For more information, visit the official Wilco web page here. We also have a fairly detailed and popular freeware version in the file library here.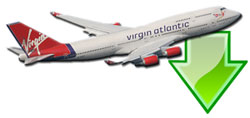 Don't forget... We have a huge selection (over 24,000 files) of free mods and add-ons for MSFS, FSX, P3D & X-Plane in the file library. Files include aircraft, scenery, and utilities All are free-to-download and use - you don't even need to register. Browse on down to the file library here.