As a part of the simulation world who is seeing increasing and continued prominence amongst users, Wilco released something new. Their second title takes on the role of the Falcon 7X. As the "benchmark for 21st Century business jets" the Falcon 7X sets the standard. The question is, then, are you ready to handle that standard?
In this fantastic new release, Wilco looks to bring their experience and passion to create something extremely different. With a depth of experience and a technological expertise alongside extensive military knowledge, the Falcon 7X arrives in its truest form. This is a genuine vision of what the future is likely to hold; high-class aviation handled in the most comfortable manner that it can.
The unbelievable quality of the all-glass integrated flight deck adds something that genuinely feels futuristic to your flight sim stable. The aircraft model itself makes use of massive development and care for design. The end result is a model that looks and feels realistic, following realistic patterns of movement and design. Indeed, every rivet and screw is seen in full 3D, adding another layer of detail to what is already a pretty spectacular piece of hardware.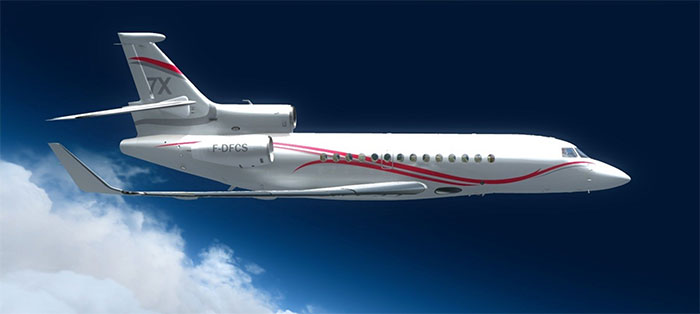 It's the little touches that go the extra mile with this mod, however. It adds a depth and a detail that is hard to find in most mods. The attention to precision and to the authenticity of what a real aircraft should carry itself like is sublime. The end result is an aircraft that looks and feels just right.
However, it also carries an authentic representation of how the aircraft should feel when you are flying. It comes with authentic flight dynamics and a genuinely awesome audio experience. The development team have made sure to follow typical wisdom and logic to create something deeply satisfying to fly.
Preview Video
Typical Features
As part of this newly worked on device, you'll see a wide range of impressive features coming to the fore. For example, one factor you should notice almost immediately is the compatibility with DX10. Where other add-ons might lack DX10 compatibility this works from the "box". It's a nice touch and one that goes a fairly significant way to showing you just how detailed and intricate the design here is.

Furthermore, the extra compatibility means that it works well in both P3D and FSX. You can therefore make use of a rather awesome piece of aviation history from the comfort of your simulator, free of the usual irritants that can hold you back. Whilst some mods might struggle to offer 100% compatibility across both simulators, this does a great job of doing just that. The end result is an aviation experience that's easy to use.

Easy to use in flight, meaning that you can manage the aircraft guides and manuals as you fly. The ease of reading makes it simple to find out specific details even when you are trying to control the flight. It's a nice and very useful touch and will go an extremely long way to helping you manage the aircraft even in rather precarious situations consistently.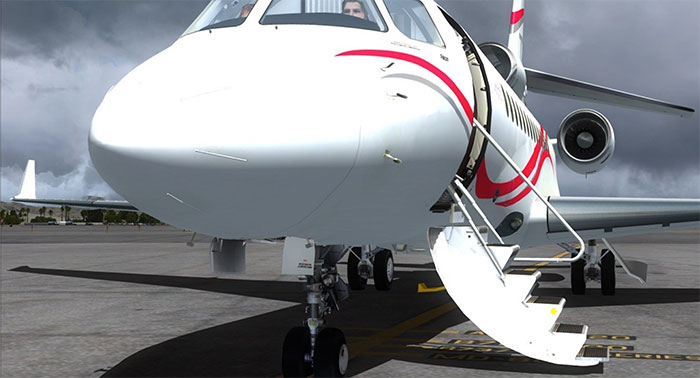 Checklists and performance tables are offered, too, showcasing just how much depth and detail there is when it comes to flying this aircraft. Use these guides to help you make sure that you can fly the aircraft to the standards that it demands. By doing so you make sure that your time up in the skies will be even better. It helps to create the right "feel" when flying. The added definition with realistic performance tables helps you feel even more like a genuine pilot.

Interactive, electronic checklists are provided to you as well. These are useful for making sure that you are flying the aircraft as a professional, genuine pilot would. If simulation is something that you take seriously then these step-by-step checklists will make sure that you take off and land like a professional. It's a very useful learning tool as much as anything else, providing excellent flying tips and even a full manual on operating the avionics features.

Got an artistic side to yourself? Then give the aircraft a fresh and fair lick of paint. The developers have included an empty paint scheme for you to paint on top of. Adobe Photoshop is needed if you wish to do so. You can pick up a free trial from the official Adobe website.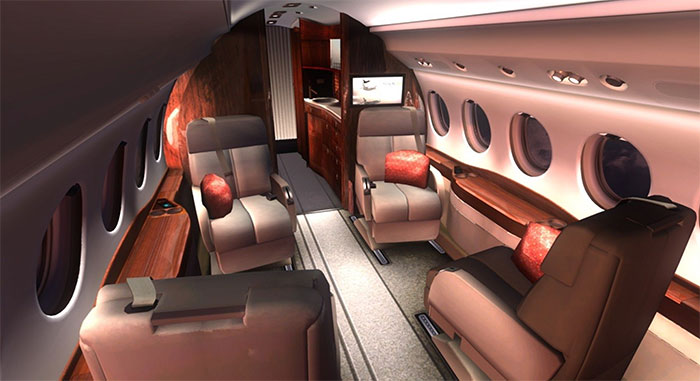 The Model Itself
One of the main parts of this new add-on is the detail that has been put into the depth and detail of the model itself moving forward. The model carries a huge amount of detail, which is showcased in the excellent work carried out by the team.
The first thing that you should notice is the overall accuracy. This is because the developers built this over the best plans available, and with genuine access to the real aircraft itself. This offers an insight not into just the aircraft, but it's real-life dimensions and size all portrayed accurately.

High definition, detailed textures are used to make sure that the aircraft comes to life. Rather than looking flat and empty, this model carries a very impressive level of realism. From the stains and the dirt which muddy the otherwise pristine job excellently to the new reflective and chrome texture style, these look outstanding. If you want to make sure that your aircraft looks like "the real deal" these textures will do just that.

Flying surfaces have been animated and brought to life, also, adding another level of realism to the aircraft. It flies much easier when using this as it adds the flexible wings under load, landing gears including oleo compression, flaps, spoilers and trim tabs. All of these little extra go some way to helping paint the perfect recreation of this aircraft.

All doors and hatches are open-able. Now, you can look around the aircraft as if it was your own home. Every door that can be opened will reveal the interior that it should. From basic rooms to the engine bay you can find everything you need.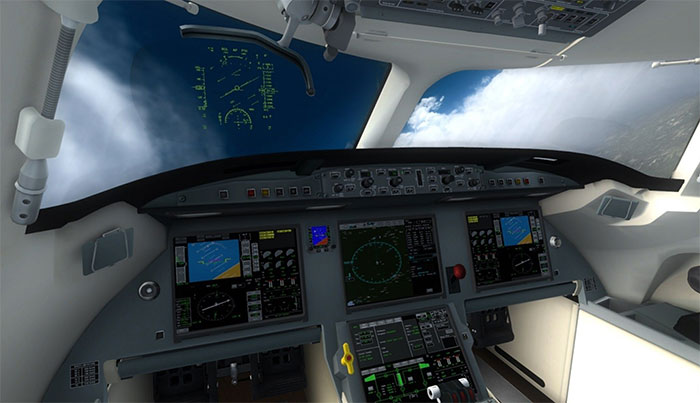 Additional items which are included will be the likes of perimeter cones, wheel chocks, pre-flight flagging, engine and cockpit covers and also a new Ground Power Unit. All of these extras go some way to making the interior of the aircraft as impressive as the exterior.

Best of all, you get access to ten spectacular liveries. Each has been designed using a professional design tool that can live up to the highest extensions. Markings on each of the liveries is done in a way that certainly shows the aircraft up in the best light possible. If you are interested to see how many countries currently use the Falcon aircraft, then you should almost certainly look into each new livery.

Realistic and genuine pilot movements. Created using the help of a real pilot to ensure that it carried off the right kind of skeletal movements. All made to look as natural as it possibly can within the confines and limitations of the simulators this works with.

Choose a female or male left seat pilot. If you want to properly represent yourself then you can choose your own gender. Whilst many others leave you with just a male pilot to pick from, this extra level of realism allows you to really be yourself in the cockpit!

Fully operational Ram Air Turbine solutions are included. These can be deployed when engine failure kicks in, adding yet another level of accessibility that's rarely there.
We also have a freeware version of this aircraft in the library here.
For further information on this addon, visit the Wilco website here.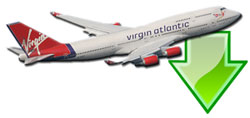 Don't forget... We have a huge selection (over 24,000 files) of free mods and add-ons for MSFS, FSX, P3D & X-Plane in the file library. Files include aircraft, scenery, and utilities All are free-to-download and use - you don't even need to register. Browse on down to the file library here.