With Christmas approaching us fast and everyone already thinking of gift ideas and budgets, we thought we'd share some fun flight simulator products that could bring the gift of flight to somebody you know this Christmas.
All of the products on this page are physical items (except the Fly Away Simulation PRO Membership gift certificate), i.e. they are not download only; so you can wrap them up as presents. Downloadable items can't be wrapped of course and they don't seem as thoughtful (in my opinion).
If you aren't that savvy with flight simulators, you may wish to find out what base package your gift recipient is running before purchasing to ensure compatibly. If they are not running any flight simulator at all, we have two packages (X-Plane and Microsoft Flight Simulator X) listed below that can get them started in the world of flight sim.
Microsoft Flight Simulator X
Microsoft Flight Simulator X, originally released in 2006 is Microsoft's latest flight simulation package for Windows PCs. Still to this day, it's the most popular flight simulator in use with thousands of people having it as their sim of choice. It runs on all of the latest (and distant) Windows versions including XP, Vista, 7 and 8. When it was first released, most users had trouble with their hardware keeping up with the demanding software - however most stock computers manufactured in the past 2 years can run it without any problems at all.
Flight Simulator X or FSX as it's known in the community is a great starter package for the desktop aviator. It's brilliant for people who have never flown on their computer before with many tutorials, fun missions and easy flight options available. As the user advances and improves their flying skills, flight realism can be increased by using the built-in ATC, flight planning and onboard computers in the virtual aircraft.
The community that has been built up over the years for Flight Simulator X is massive. There are tens of thousands of expansion packages and add-ons available. Most are free and are available to download online and of course right here on our website. There are also some really stunning paid-for expansion packages that add aircraft, scenery, additional functionality and much more.
If you're going to buy a first time aviator a simulation package, this is the one to be with. The retail version comes in a few different flavors, however the one to be with is the "Gold" edition - which includes the Acceleration expansion package. This expansion adds some extra functionality to the sim including some extra aircraft and missions to fly. It also includes service pack 2 (SP2) which is required for some of the add-ons available. You can pick up a copy over at SimShack.net with worldwide delivery.
X-Plane 10
X-Plane v10 from Laminar Research is one of the best flight simulators available at the moment for PC, Mac and Linux. That's the great thing about this simulator; it runs on many platforms. X-Plane is slightly more realistic than the Microsoft packages, which is what Laminar Research are focusing on. Having said that, it can still be used by first time aviators without any problems at all. X-Plane v10 has recently been developed and it's constantly updated by the production team. It's compatible with all modern graphics systems and new features that they bring.

X-Plane comes in a 6 disk box set and can take a while to install - but the installation time is worth it once you load up the sim for the first time.
X-Plane has built a reputation in the flight sim industry as the "professionals choice", with many commercial flight simulator builders using it as their base platform to work with.
This package would make a great gift for anyone interested in aviation and aircraft - and due to the fact that it's cross platform compatible, you can be sure that it'll work on their computer too. There are many downloads and add-ons available for it too (although not as many as FSX). You can grab the downloads directly from our website here or visit many of the other X-Plane dedicated websites online. You can order X-Plane add-ons from SimShack.net here. SimShack.net are now stocking the 64 bit edition too - so you can be sure you've got the latest version.
aerofly FS
A new flight simulator, aerofly FS is building very fast and has the whole industry talking about it. aerofly FS is a little different from the packages listed above, mainly due to the fact that it's not a "whole world" package. aerofly FS includes a flying area over the mountainous Switzerland with some beautiful scenery and stunning visuals.

The simulator is built with a focus on the "get in and go" approach - you don't have to worry about complicated ATC, flight plans or anything like that. The package comes with eight aircraft as standard which include the Swift S1, Jodel Robin DR 400, Extra 330 LX, Cessna 172, Discus bM, F/A 18 Hornet, Pitts S-2B and the Sopwith Camel.
The scenery included with this package is really something else - you have to see it to believe it. Ikarus (the developers of aerofly) have put their focus on visual realism in this simulator - you can get lost in the stunning Swiss countryside. All of the aircraft models are highly detailed, and quite possibly nothing that you'd ever find in any of the major simulators.
This simulator is also multi-platform compatible and can run on all versions of Windows and Mac. However, the boxed edition comes in two variants to cater for this - so be sure you select the correct version when purchasing (it's not all in one box set like X-Plane).
There isn't really a huge community surrounding this package, so grabbing expansion packages such as aircraft and scenery is quite hard at the moment. As the simulator is developed further, you can be sure to expand the flying area with additional products you can purchase from Ikarus.
You can grab both Windows and Mac versions here. You can also get aerofly FS in an iPad version.
PMDG 747-400 X "Queen of the Skies" for FSX
If you know somebody who already owns a copy of Microsoft Flight Simulator X, there is every reason to get them the stunning PMDG 747-400 X package. The PMDG 747 expansion is know in the industry as the "best" 747 add-on for Microsoft Flight Simulator - by far. The realism that this expansion brings is incredible. Having said that, you can also just step in and fly with it like you would any other aircraft.

​
PMDG are known for their attention to detail and realism with the products they produce - the 747 is no exception. The product comes with several variants and paint schemes of the legendary Boeing 747 and includes a full FMC (Flight Management Computer) that is 100% workable in FSX. The aircraft also features advanced sounds, countless animated parts and a full virtual cockpit. You can read our full review of this product here.
Installation is fairly easy and the boxed edition comes with a complete installer. Also included is a full operating manual with a length of over 300 pages - so even if you're a first time 747 captain, you can be sure to find the guidance you need to learn how to fly this beautiful aircraft.
You can order the boxed edition here, however you can also get a digital version of this products... however you won't be able to wrap that up for Christmas!
Playseat Flight Seat
Why not create a truly immersive flight simulation experience with the Playseat Flight Seat. This is a slightly more expensive Christmas gift for your receiver, perhaps a gift for a close family member for which you have a bigger budget.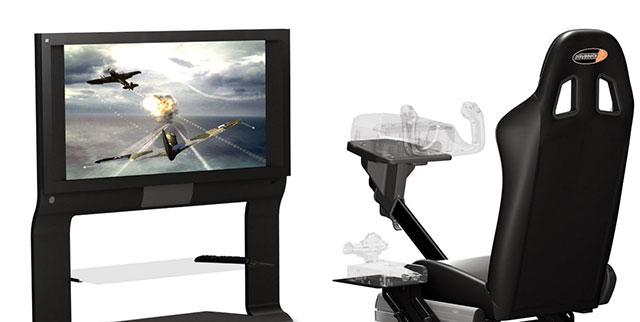 As you can see from the picture, it's a full seat for flight simulation that includes an arm for a control module such as a joystick or flight yoke and also a throttle. The reviews of this product have been great, with many users setting this seat up in a dedicated room just for flight simulation. While there is no motion functionality included with the seat - it just adds that extra bit of realism to flying.
It's best to use a flight yoke with this seat, however joysticks are also supported by the mounts.
The metal frame is powder coated and the seat is foldable, so you may store this somewhere easily when not in use.
While we don't stock this product on SimShack.net, you can grab it from Amazon (which I think offer free shipping too).
PMDG McDonnell Douglas MD-11 X for FSX
Another product from PMDG is their stunning MD-11 package for Microsoft Flight Simulator X. Like the 747, this add-on is of the same detail - with all the stops pulled out.

Developed with real-world MD-11 captains, this has had the full "attention to detail" treatment. The MD-11 is an iconic aircraft and PMDG have captured it perfectly in their virtual version.
With many animations, a fully animated and interactive virtual cockpit and custom sounds - it's one of the most realistic MD-11 expansions available. This product is for Microsoft Flight Simulator X, so be sure that the gift recipient already has a copy... or of course, you may buy both for them!
You won't find a simulated version of the MD-11 any better than this one. You can order a copy over at SimShack.net.
Just Flight's 727 Captain
The 727 Captain product from Just Flight is a fully immersive Boeing 727 add-on expansion for Microsoft Flight Simulator X. Just Flight have created this product with much attention to detail in order to recreate the iconic Boeing 727 in a virtual model.

The Boeing 727 is one of the most iconic jet liners still in limited service. I remember flying on them regularly in the '80s and the engine noise was unique because of the type of engines and where they were situated on the aircraft. You could get a sense of being pushed along, rather than pulled along like most modern engine configurations.
Just Flight have included some great features in this product, including countless 3D animations, a full set of 7 different liveries (paint jobs), a full virtual cockpit and several 2D versions too (I prefer those). This model was also specifically developed for FSX - meaning you can expect flawless compatibility without worrying about the aircraft being originally created for FS2004. It's also DX10 compatible - so if you use the underdeveloped DX10 feature of FSX, it'll work with that too (as some users complain about blank textures in DX10 mode).
This product would make a great gift for any virtual aviator or anyone interested in passenger jet aircraft. However, please ensure they already own a copy of Flight Simulator X (which you can also purchase above as it's first in the list). You can order 727 Captain over at SimShack.net.
FScene X
If you've been in the flight simulator world even for just a short while, I'm sure you may have heard of FScene. FScene replaces a lot of the main default texture files (scenery, mainly ground) in Flight Simulator 2004 and X. This gives a more realistic simulation and lots more eye candy for the virtual aviator. Grounds are improved, grass is improved, snow covered ground is improved and a lot more.

This particular product, published by Just Flight is a complete edition of FScene (global) that replaces the default textures worldwide. Including Spring, Summer, Winter and Fall textures - this is truly a "full package". While also available in digital version, this boxed edition can be wrapped up as a present and given at Christmas.
FScene has received hundreds of review online, and users of this product are usually very satisfied by it's subtle yet dramatic change to the default textures. It's also claimed to be compatible with various other scenery expansions and add-ons too - so you can be sure it will work with those. You can pick up the range here.
Aviation Video DVDs
Another gift idea is something that isn't simulated at all. What about feature length in-cockpit and airport DVDs? If your gift recipient is into aviation but not flight simulation, these could be the perfect gift.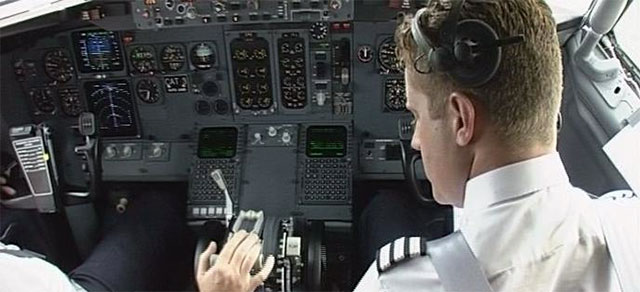 These videos created by Just Planes and ITVV document real world aviation flights and routes in video format. They come boxed and are playable on most DVD players worldwide. There is a huge selection, with different airlines from all over the world including SAS, Cathay Pacific, Virgin Atlantic, British Airways and more. Most of the DVDs run for over one hour and are very detailed and explanatory in their approach.
ITVV and Just Planes are well renowned for documenting real life flights and airport operations and have the reviews to prove it.
Fly Away Simulation PRO Membership Gift
You can now purchase a Fly Away Simulation PRO membership as a gift for somebody! Just launched this month, it's an easy way to pay for somebody to have a full PRO membership of this site for either a one year term or five year term. A year membership term costs just $55 and five years, $250.

The Fly Away Simulation PRO membership gives full unlimited access to the file library and allows the user to download any of the files in the file library at full speed. The file library has over 22,000 downloads at the time of writing this and features downloads for Microsoft Flight Simulator X, Microsoft Flight Simulator 2004, X-Plane 9 and 10 and of course other versions too.
Also included with a membership are many great perks including discounts for payware products from SimShack.net, ability to download videos direct from the media library, full access with their own user account and profile on the forums and comments section. A PRO membership also removes all advertising anywhere on the site and includes full customer support for the account should there be any problems.
You'll receive a printable gift certificate that you may either wrap up or include in a gift card.
Buy somebody a membership now by clicking here.
Wrapping It Up
Excuse the pun on that heading! Most of the products above are available from our own store, SimShack.net using the links provided - but of course are available from any good retailer too.
When purchasing add-ons, I recommend to find out what platform of simulator your gift recipient is currently running - that way ensuring compatibility. You may of course buy the base simulator and the add-on package together to ensure that they are able to run the software on Christmas day.
Happy shopping and if you have any questions related to this article or the products listed, feel free to post them in the comments section below and I'll reply as best as I can.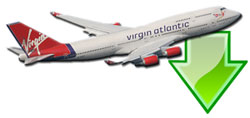 Don't forget... We have a huge selection (over 24,000 files) of free mods and add-ons for MSFS, FSX, P3D & X-Plane in the file library. Files include aircraft, scenery, and utilities All are free-to-download and use - you don't even need to register. Browse on down to the file library here.