Vero-FS offers a photo-realistic texture scenery for central California, U.S.A, including the San Francisco Bay area and California's Central Valley. The entire scenery covers 22,700 square miles (58,793 square kilometers), including all of San Francisco Peninsula and Bay area, the mountains surrounding the bay area, and the Central Valley east of the bay area. It also includes Napa Valley and the City of Napa that were damaged by a 6.0 earthquake on 24 August 2014.

This scenery is made from thousands of aerial photographs blended geometrically to provide seamless geography throughout, the developer explains, describing it as "a brand new lens for you to look through."
Vero-FS offers a photo-realistic texture scenery for central California, U.S.A, including the San Francisco Bay area and California's Central Valley. The entire scenery covers 22,700 square miles (58,793 square kilometers), including all of San Francisco Peninsula and Bay area, the mountains surrounding the bay area, and the Central Valley east of the bay area. This scenery is made from thousands of aerial photographs blended geometrically to provide seamless geography throughout, the developer explains, describing it as "a brand new lens for you to look through."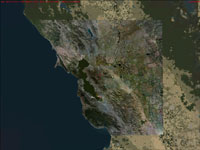 Coverage Area
Vero-FS's Heart of California offers striking clarity in urban and rural areas alike. An accurate terrain mesh puts ground elevations where they belong, most noticeably in California's mountainous areas. Less obvious but important nonetheless are corrections and improvements to several airports.
Most of the realistic visible features are two-dimensional, however, because they're based on aerial photographs. Vero-FS says it used full autogen covering the entire scenery area, and that buildings and vegetation have been "annotated." I assume "annotated" in this usage means the developer added or revised these autogenerated objects.
Greater San Francisco
"Everything from the legendary Alcatraz Prison site, to Golden Gate Park, Fisherman's Wharf, the Golden Gate Bridge, and the Pacific Coast are now even closer to the real thing," Vero-FS says.
The developer's descriptions are not exaggerated. Identifying landmarks while flying over greater San Francisco from downtown to the suburbs is exciting. Specific districts, neighborhoods, parks, cemeteries, and waterfronts are depicted with roads, structures, and flora precisely laid atop the corrected terrain mesh. Major landmarks such as shopping malls, office parks, factories, subdivisions, and the road network that links them are clearly visible from low and high altitude.
Cities around the Bay Area are rendered as accurately as San Francisco proper, such as Daly City, Brisbane, San Bruno, and Redwood City on the peninsula and Oakland, Berkeley, Richmond, and Hayward across the bay. Structures of the world-famous San Quentin prison on the north bay are seen in the photo-real terrain. The photo-real textures provided a true three-dimensional sensation when I flew over densely populated suburbs that climb up mountains and cascade into gorges on both sides of the bay.
| | | |
| --- | --- | --- |
| Downtown | Brisbane | Golden Gate Park |
| Oakland | Daly City | Pacifica |
Other Urban Areas
Flying over congested and developed urban areas is indisputably more realistic with this scenery. From aloft, we clearly see freeways, main arteries, local streets, major buildings, residential subdivisions, and individual houses in central California's cities and towns. Large structures such as hospitals, shopping centers, and factories are easily recognizable as visual-navigation landmarks.
These areas are populated with the usual auto-generated three-dimensional objects such as generic houses and office buildings, to which Vero-FS has added more objects than visible in the default FSX scenery.
| | | |
| --- | --- | --- |
| Stockton | Watsonville | Sacramento |
Rural Areas
From rugged mountains around San Francisco Bay to sprawling farmlands in the Central Valley, this photo-realistic scenery shows what rural California actually looks like from aloft. High peaks, steep slopes, and deep gorges covered with appropriately colored surfaces and are laced with thousands of trees. Flat Central Valley farmlands squared off by straight roads extend for miles in all directions with a various small and medium cities and towns scattered about.
| | | | |
| --- | --- | --- | --- |
| Mt Diablo | Central Valley | Sacramento River | Napa Valley and City |
Waters
Vero-FS says it added watermasks to "bring some life" to the photo-realistic water. Its watermasks add characteristics to the photo-real water textures on the ocean, main lakes, and rivers that help make everything seem more realistic, the developer explains, including as splashes, rolling waves, and similar impressions of movement. Although not specifically mentioned, San Francisco Bay is presumably included.
The water features described by Vero-FS appeared the same to me as those depicted by FSX, even after I advanced my simulator settings for more maximum realism.
| | | |
| --- | --- | --- |
| Fort Point | Foster City | Santa Cruz |
Airports
Vero-FS says approximately 40 airports are within its Heart of California scenery and that numerous fixes have been applied to correct issues with runways, taxiways, and buildings. It applied special treatment to San Francisco (KSFO), San Jose (KSJC), Oakland (KAOK), Napa (KAPC), and San Carlos (KSQL). The first three are busy commercial airports serving the San Francisco Bay area, and the last two are busy municipal airports. The developer says these five were given 30 centimeter-per-pixel resolution to increase their detail levels.
These five airports appear more detailed than other airports as far as the aerial-photo textures are concerned, but the airport runways, taxiways, and aprons that are laid on top of the photo terrain look the same as those displayed by FSX. The developer concedes that its airport improvements are not noticeable at first glance but "go a long way to improving your overall experience."
| | | |
| --- | --- | --- |
| Oakland | San Jose | San Carlos |
| San Francisco | San Francisco | San Francisco |
Day and Night Variations
Vero-FS says it used two texture sets, one for day and one for night. Its product description in SimShack says "1mt/pixel Daylight and Night variation." Given that the scenery is advertised as up to 30 centimeters per pixel, I assume this means the texture is one meter per pixel only at night. Distinguishing high detail under low light conditions of dusk and night is difficult because there is so little contrast, so there is no need for high-resolution rendering of darkness.
Comparison to FSX
Vero-FS's photo-realistic textures do not compare with the default FSX textures for these areas. Vero-FS's rendering is superbly realistic when compared to real-world satellite photos available on the Internet, whether in urban or rural areas. My comparative screen shots below show how much Vero-FS has improved this scenery.
To make my comparative screen shots, I captured four views representing the scenery's significant areas: urban, rugged, farmland, and coastline. Then I deactivated the Vero-FS Heart of California scenery and captured the same views from the same viewpoints with the FSX default scenery.
Scenery Comparisons

Vero-FS

FSX

San Jose

San Raphael

Mount Diablo

Central Valley

Vero-FS

FSX
Documents
A two-page manual in PDF provides information about the product such as installation instructions, configuration modifications, and future updates.
Future Updates
Vero-FS promises product updates available weekly on its website and through Google and Facebook. Details are provided in the manual accompanying this product.
Technical Topics
Heart of California by Vero-FS is for FSX and P3D, and I reviewed the FSX version.
System requirements are not specified in the product description or the accompanying manual. Based on my evaluation of this product and my experience with reviewing similar products, it requires an up-to-date operating system that handles high-demand addon products and has ample available hard-drive space. Heart of California ran all right on my Windows 7 with FSX Gold Edition. I cannot speak for earlier operating systems, but I will guess that the outdated Windows XP probably will not suffice.
The downloadable archive file is 8.31 gigabytes, which is large for most downloadable sceneries. Downloading took about 20 minutes at cable-internet speed, which is up to 105 megabytes per second according to my internet provider. Cable-internet speed varies with location, provider, and even time of day. For any location and provider, it is faster during off-peak hours such as early morning, and it is slower during peak hours such as evenings when a lot of people are using their internet at home.
Installation is done manually because no installation program is included. Users must extract the files from the downloaded archive file to the appropriate FSX folders. Instructions are laid out step-by-step in Vero-FS's manual. This process takes about 10 minutes because there are 18,557 files to extract.
I used a slightly different procedure than recommended, however: First I created a new subfolder within the FSX Addon Scenery folder and named it "Heart of California by Vero-FS." Then I extracted from the ZIP archive the three folders and all the files they contain into my newly created scenery folder. Finally I added the new scenery to my Scenery Library and activated it by checking its box in the scenery library list. This procedure gave me a named scenery in the Scenery Library and kept the Vero-FS scenery files separate from other scenery files.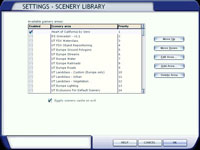 My Scenery Library
The extracted files occupy 9.03 gigabytes of hard-drive space according to my Windows Explorer. Adding 8.31 gigabytes for the downloaded archive file, and the total amount of required hard-disk space is 17.34 gigabytes. For this reason, I recommend that users check their available hard-drive space before acquiring this software.
Vero-FS's manual recommends increasing the value of one item in the FSX primary configuration file to extend the range of details seen from a user's aircraft. It is not difficult to do, and instructions are clear on the procedure. The differences are remarkable, indeed. Under the FSX default setting, areas close to the viewpoint are crisp but areas a short distance away are fuzzy. Under the setting recommended by Vero-FS, everything in view is crisp. Extending this range can diminish frame rates, however, especially on marginal computers.
Customer support is provided through a submission form on Vero-FS's website. For answers to questions not answered in this review, readers should contact Vero-FS because they are best able to explain their product.
My Overall Observations
Vero-FS's Heart of California is an excellent scenery replacement that goes beyond the basic photo-realistic textures to add more autogen object and to correct airport errors with extra attention to five of the coverage area's busier airports. The three-dimensional appearance of developed urban areas, rugged mountains, and sprawling farmlands seems as close to real-world flying as currently possible. Having actually been to many of the areas depicted in this scenery, I am well familiar with them. It truly looks like the central California that I know, and I enjoyed spotting familiar features as I flew around. The manual installation procedure is time consuming because of the huge number of files, but it is not difficult. System requirements should be specified in the product description so that interested flight simmers can know up front whether their systems can handle this scenery. Flight simmers interested in this scenery enhancement should check their hard-drive to be sure they have enough available space.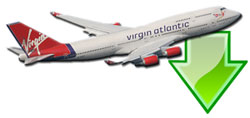 Don't forget... We have a huge selection (over 24,000 files) of free mods and add-ons for FSX, P3D & X-Plane in the file library. Files include aircraft, scenery, and utilities All are free-to-download and use - you don't even need to register. Browse on down to the file library here.