Then this take on the excellent Grumman G-44A Widgeon is just what you need. This offers a fresh way for you to enjoy an aircraft that has a lot of history and respect within aviation. Originally designed for use on the civil market, this compares kindly to the Grumman G-21 Goose. Its 15-year lifespan (1941-1955) gives you an aircraft that was hugely respected for the entirety of its lifespan.
Used during the Second World War as a patrol and utility aircraft by the US and UK, it was well-loved for its authenticity and ease of utilization. The first prototype of this aircraft was first flown in the 1940s, before production as an anti-sub aircraft began. It served the likes of the US Navy, the Cost Guard, the Civil Air Patrol and the Army Air Force with distinction. It was named by the British Royal Navy as "The Gosling".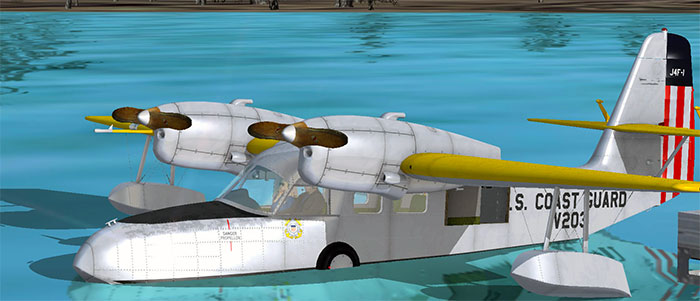 In this recreation, you get just about everything that you would have hoped for. With just about every part of this modification gloriously animated, it looks alive and well. The mod also makes use of some very intelligent custom coding to provide even the most miniscule of details with accuracy.
The mod makes use of the GNS 530 mod from Flysimware, too, giving you even more features to mater. From pop-up windows to service hangers and start-up procedures, flight has never been so comfortable.
As the first model designed by Flysimware to use the 3DS Max development kit, this gives awesome designs. The AO effects on all 3D parts looks exceptional, keeping the quality high for all.
If you want to get an aircraft that is a fair reflection of the model that it is based on, try out this Grumman G-44A Widgeon modification.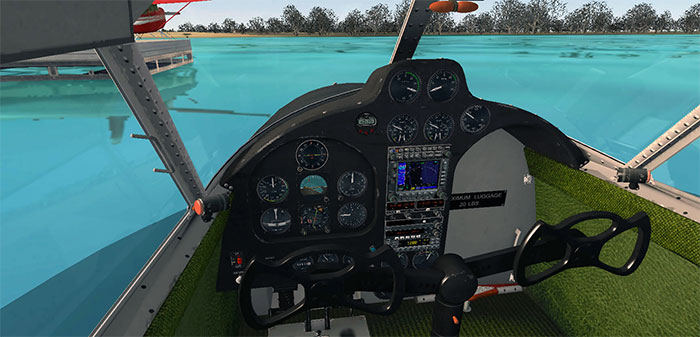 Major Features
As a comprehensive take on the real aircraft, this Grumman G-44A Widgeon mod goes above and beyond. You'll get access to a wide range of impressive new features, all of which greatly enhance realism. Indeed, you should feel about as close to the real thing as you're likely to, with features including;
A real world level of operational capacity. The package here carries full command in the skies, making it easy to fly the aircraft with high quality realism. The specifications here manage to capture the realism of the aircraft and ensure you can feel every feature, good and bad.

The cockpit in the G-44A is 100% shareable. This goes a long way in making sure you can get a far more comprehensive level of detail than before. Cockpits are meant to be shared on modules like this, so make the most of that addition and fly with your co-pilot!

Brand new exterior textures are included for this mod, using a stunning 4096 x 4096 mod display. This creates a wonderfully balanced level of design that ensures you get realism but also great quality. No longer will flying around in the sky feel bland, with these textures taking things further.

New HD textures are being used to help make sure the G-44A carries itself with pride. However, the HD textures are backed up further by world reflections, specular effects and AO effects. These new graphical improvements help to upgrade the whole spectacle, making the aircraft fit into the simulation perfectly.

The use of new self-shadowing effects for the interior model goes a long way to making sure it carries itself with purpose. Indeed, these new shadows help to add even more genuine realism to the cockpit. Now, you'll see all the shadows you would in the real cockpit! (DX10 only).

Customized coding, slaved over for hours, to ensure that authentic gages come into play. This also ensures that animations come to life as you fly, giving the aircraft a much stronger feel. The aircraft animations mixed in with the smart coding ensures that the aircraft looks sharp, and operates sharper.

Makes use of the GTX330 transponder. The transponder is a useful addition to have, giving you even more features to fly with. Also improved by the use of the Flysimware GNS 530 mod. If you are using this with other flight modifications you'll find that it happens to work here, too.

High quality animated pilots are included, giving you a wide range of options to pick from along the way. Each of these options goes an extra mile, giving you a far more animated cockpit than ever before. Manages to really make the interior of the cockpit come to life.

New aircraft option panels give you an easy way to change your aircraft modes and pilots. These extra options go a long way to making sure you can fly with comfort and stability. The skies can become far more alive when you have such a fine choice of graphical options!

Make use of various features such as a service hanger. When you park up in the hanger you can repair instruments like engines or deal with potential failures. This helps you stay up in the sky for longer, but also teaches you the importance of treating your aircraft with care.

A new live payload manager that goes way beyond what you would normally have expected. Creates a wide range of selections that fit with the historical precedent of the aircraft. This means you can fly the G-44A without any hitches, also ensuring you can be using a genuine aircraft payload.

Shockwave lights for a bit of extra jazz. This helps to sell another very useful feature that makes the interior of the aircraft sparkle & shine.

Fresh new windshield effects. These new looks and designs go an extra mile, giving you customized windshield rain effects that really bring it together.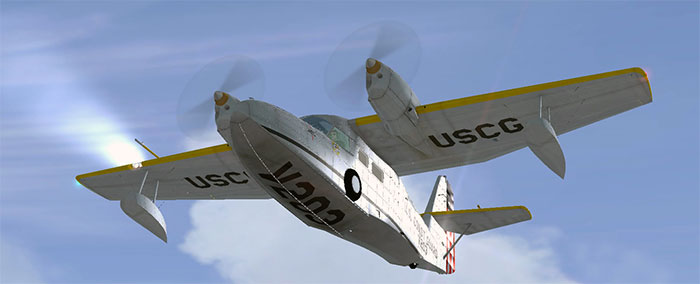 New Sounds
Although this does use the default sound set, it still goes some way to ensuring you get something a little more included, too. This comes in the form of a customized new sound module which is used for environmental effects. This also portrays into the interior sounds, creating wonderful realism.
Model Variations
In this package you get just one model; the Grumman G-44A Widgeon. However, this particular model has been refined to ensure it carries all its genuine hallmarks.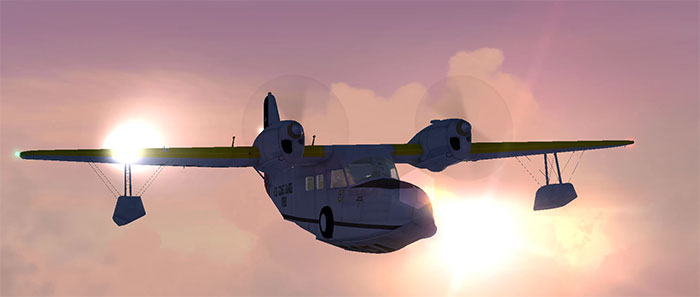 New Paint Themes
In this mod, you get a wide range of new paint themes. Each theme that is used here carries the real-life variety that should be included, from US Navy to the Coast Guard. Each of these themes carries authentic, historical details.
U.S. Navy V202 - Military
U.S. Coast Guard V203 - Military
U.S. Rescue - Military
Italian Navy N141R - Military
N24475 - Civilian
You can view more screenshots and purchase this add-on over at SimShack.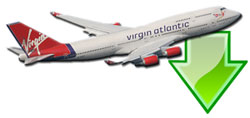 Don't forget... We have a huge selection (over 24,000 files) of free mods and add-ons for MSFS, FSX, P3D & X-Plane in the file library. Files include aircraft, scenery, and utilities All are free-to-download and use - you don't even need to register. Browse on down to the file library here.