Okba Ibn Nafa Airbase (HL77), Libya. The military airbase known as Okba Ibn Nafa in Libya (HL77) displays two parallel runways (10L-28R and 10R-28L) and little else other than the odd scattered desert shrub, single road or camel track over a sandy wasteland. Okba Ibn Nafa was renditioned in order that the airfield would display at least some sort of reality to the satellite imagery of the actual airbase. Because of the military nature of HL77, only a limited amount of information about the airfield was available to the general public. Fictitious names were given to the Air Base's four camp areas, which apparently house some 10-12 hardened aircraft shelters, a number of military personnel barracks and a pentagon shape munitions storage area outside the airfield perimeter. Fictitious navigational and ATC aids were created for the Air Base. The scenery is intended for FSX (with FSX Acceleration Expansion Pack). By FlightSem Software: Barrie Semmens.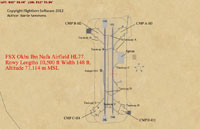 HL77 new airbase map.
Unzip the compressed file 'HL77.zip' into a temporary folder. Execute the 'HL77.exe' program which will activate an installing Wizard. The Wizard will inform you that it will install the scenery in the default path:
[ C:\Program Files\Microsoft Games\Microsoft Flight Simulator X\Addon Scenery ]
However, the installing Wizard will allow you select a different pathway if it is different from the default above.
For example, if FSX has been installed on say the E drive created specifically for the simulator on a Windows 7 (64-bit) O/S, you would change the default pathway to:

[ E:\FSX\Program Files(x86)\Microsoft Flight Simulator X\Addon Scenery ]
The Wizard will then inform you that "This destination directory doesn't exist. Do you want to create it?' Click on 'Yes' button. A 'confirmation screen' will appear informing you that 'You are now ready to install Okba Ibn Nafa'. Click on 'Start' and continue following the Wizard's instructions.