This is the full Project Fokker 100/70 package for Microsoft Flight Simulator 2004. This package comes with a complete stunning aircraft model and many repaints. It also includes a realistic sound pack and panel for both aircraft.
Thank you for choosing the new PF10070 v2 release as an addition to your flightsim entertainment. This v2 software pushes the Fokker-100 and -70 models further up to the next level of software development for aircraft modeling and panel design, used within FS2004 (FS9).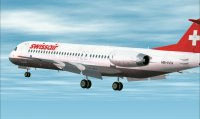 The v2 features bring another addition to the previous v1 release and include:
Models
Remodeled fuselage and remapped wing root.
Remodeled vertical stabilizer.
Dynamic shine with 32-bit textures.
Engines maintenance mode feature. Opens the engine hoods.
New landing gear design, showing more details.
Rotating red beacon-light effect under fuselage and on top of vertical stabilizer.
All existing liveries have been repainted.
New thin correct airfoil engine mounts.
Corrected landing/taxi lights seen from cockpit view.
Improved night-light effects.
Wing-view from cockpit.
Engine puff-smoke at startup whine.
New liveries added.
Panel
New and more realistic 3D-look front panel bitmap.
Improved gauges also fix the autopilot problems.
Partial functional overhead panel.
Functional wide-panel-view (jumpseat), including animated yokes.
New rear-view cabin image. No VC and FMC for this release.
Flight dynamics (FDE)
Semi-auto land feature.
Ground handling for taxiing at idle thrust.
New balanced and more realistic N1/N2 coupling.
New thrust model for a more realistic climb rate at take-off.
Added functionalities for pax and fuel weight settings.
Overall improvements for all three models flight dynamics.
Installation
The installation process installs all PF10070 software release v2 (PF10070v2) automatically into your Microsoft Flight Simulator-9 (FS2004). As apposed to v1 where the software was made available in separate modules for download, this v2 software is now a complete bundled package and includes:
Two models, simulating the Fokker-100 and Fokker-70 aircraft in various engine types.
Operational panels: Main, Overhead, Pedestal, Wide-view and Side-views.
A total of 39 different livery textures from real airliners.
Complete sound package.
A sample flight to help you understand the basic functions of operation.
This PF10070v2_readme document in pdf format.
The installation of v2 does not overwrite existing v1 files. However, when running un-installs for either v1 or v2 may delete shared files between both versions. We therefore advice to un-install all previous PF10070 v1 modules before v2 is installed.
This will also help to avoid possible confusion between selecting v1 and v2 Fokker aircraft.
Un-install
If by any means you wish to remove the PF10070v2 software, simply run the file PF10070v2_installer.exe again which will then ask you to un-install.
Livery textures for v2
Due to the remodeling of the aircraft in order to comply with real specifications, we had to repaint all our livery textures to match the fuselage of the new models. Livery textures that were painted by 3rd parties for the v1 models may not show correct on the v2 models. When using v1 livery textures on v2 models you will see discrepancy of the textures under the fuselage between the wings and at the nose of the aircraft. We expect that authors of those repaints will redo their work for v2.