Transcendental Technologies is pleased to announce PRE-Flight Version 4 - the first and only RC flight simulator using advanced 3D viewing technology without the need for expensive and cumbersome 3D glasses or exotic hardware.
Using only inexpensive (or free) colored glasses that you can get from the video shop, or from those popular 3D movies, or even Build-It-Yourself, PRE-Flight's 3D Video technology adds a whole new dimension to RC Flight Simulation with minimal cost. Combined with full 3D sound, PRE-Flight provides the fully-immersive experience producing total realism in Simulator flying.
If you don't have any 3D glasses handy or don't feel like making your own, PRE-Flight also supports the use of "cross-eye" 3D viewing - or even plain, vanilla-flavored, 20th century 2D viewing.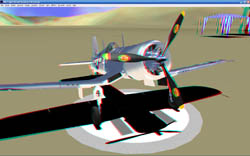 Screenshot of PRE-Flight's 3D features