What would you do if a friend told you he had spent years building an airplane that physically would never leave the ground and yet it would travel all over the world? You might look closely to see if they looked well.
Unless you are flight simulation enthusiast—then you understand. If you have ever wanted to build your own flight simulation home cockpit, you'll be interested in these interviews. Patrick Kneissl, Fabio Ippoliti and Christof Sautter are all home cockpit enthusiasts. Each is building a custom Boeing 737 flight deck. We met up with them recently to find out more about their home cockpit obsession and what lessons they can teach anyone considering building their own.
Patrick Kneissl
Patrick Kneissl has been interested in aviation since he was a youngster. Although he never made it a profession, he has built it into a serious hobby. He explains why he chose the Boeing 737 to build his home cockpit. "The simple answer is that it is a beautifully crafted airplane. Boeing created a beautiful interior which extends all the way into the cockpit."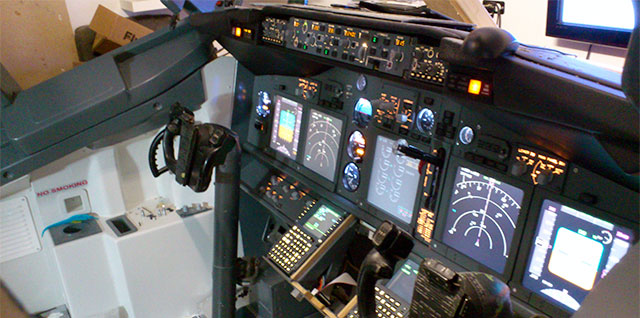 Patricks's home cockpit with glass display lights illuminated
He has been working on the cockpit since December 2010. "My goal is perfection," he said directly. "Every detail must have distinct functionality." Perfection takes time, however. "It's ready when it is ready. In any case, the way is the goal!" he said. This is a theme we heard repeatedly from these home cockpit kings: the journey is the reward.
What skills do you need to complete a home cockpit? Kneissl said, "Only one—you must really want it and to see it grow. It does help to know a little bit about building materials and materials. And good PC knowledge is essential. Buy you can learn most of what you need once you get the project started."
Kneissl has a tough time finding source parts in Italy because there is no scrap industry for aircraft. He gets most of his parts from abroad- Indonesia and the United States.
The 737 is one of his three favorite planes. The others are Lear jet and the Cessna, "simply because it is a nice plane and a lot of fun to fly—although I don't own one!"
At this point, he spends most of his time building and not flying. As soon as the 737 is functioning, he plans to spend more time in the captain's seat. Currently he runs the simulator on FS 9. In the future, he plans to have FSX and X-Plane available as options as well.
Fabio Ippoliti
Fabio Ippoliti's interest in aviation took root in 2005 during his last university exam. The test was on Secondary Radar and its application to Air Traffic Control. "During the exam preparation I was researching ATC information on the web. That's when I discovered Fight Simulator 2004 and its ATC features. Right then I started to fly sims regularly and made plans to build my flight deck."
Ippoliti is a Satellite System Engineer in the "Radar and Earth Observation" Business Unit at Thales Alenia Space – Italy. There he improved his knowledge in the RF and Antenna field by working in national and international programmes in cooperation with high-profile aerospace agencies and industries. He explained, "Even if my job is not directly correlated to the aviation, my university degree in Telecommunication and Aerospace Engineering permitted to me to have a good knowledge of the aviation world."
Why did he choose the Boeing 737 for his home cockpit building adventure? He said, "I chose to build a 737NG cockpit for a few reasons. First, Boeing is an American jetliner and I love American aircraft. Also, the 737 is equipped with a couple of yokes while the AIRBUS, for example, uses a sidestick. My concept of airplanes is to fly using a yoke."
Like Kneissl, he gets his parts from multiple sources. He said with the Internet, it is possible to get parts from all over the world. The downside is that the shipping, VAT, and custom taxes are high. As far as any special skills needed to build a home cockpit, he said no particular skills are required although it helps to have an understanding of computer science and Technical English, as well as a penchant for DIY.
How much has he spent on the project so far? "It's a secret!" he laughed, "but since my wife will not read this interview I can provide you the real cost! Cockpit construction is a very expensive hobby. For example, I paid about 35.000€ for my simulator including new hardware, software, cockpit parts (both homemade and used), equipment—and that doesn't even include man-working hours! Another 1.500€ are required for its completion." He said that if you can accept a cheaper cockpit, 10.000€ could be enough to get it all done.
We asked him his choices for three favorite aircraft. "737NG-800, 737NG-800 and 737NG-800!"
Okay, fair enough. But why? He answered, "Because I love the 737NG-800!" It doesn't get much clearer than that.
Fabio's home cockpit website can be found here.
Christoff Sautter
Christoff Sautter began his love affair with flying as a child. Everything about flying interested him, especially airplanes. Although he doesn't work in aviation, he started with Microsoft Flight Simulator early on—first the FS98 edition, then FS 2000, FS 2004, and now he runs FSX.
Three years ago, he got the idea to build a home cockpit—a Boeing 737. "It's perfect for a simulator because there are many parts to buy and building it is a challenge! But mostly, it is a great aircraft," Sautter said.
He's worked on it for about 2 years and expects that 6 more years will pass before it is completed. He makes many parts himself to keep costs within limits. Still, he has put around 5-6000€ into it and figures it will total around € 15-20000 by the time he is done. He buys lots of wood, plastic, metal and vast amounts of pre-built panels (pedestal, overhead, MIP, etc.)
His collection includes toggle switches in all shapes and thousands of LEDs. Additional purchases over the years include flight controllers to control the action and USB cards to connect to the switches. Finally, he has invested a lot in software including FSX and many additional programs. Like the others, he gets parts from other countries- Holland, America, Spain and Belgium.
Sautter tries to fly his simulator twice a week. "If I do not fly, I'm building!" he said. "It always depends on the time. It's just a hobby." Here are some of his current computer configurations:
Computer 1: Microsoft Flight Simulator X, Prosim737, Prosim MCP, REX Overdrive, Ifly737, Aerosoft products, AI traffic, FSUIPC, various freeware addons, GoFlight MCP and Effi.
Computer 2: Prosim Display for PFD / ND for Cpt. and FO.
Computer 3: Prosim Display for Upper and Lower EICAS.
Computer 4: Passenger Network Map Info, ATC with Enviro.
Laptop: Air Display extends the desktop's Ipad for display and operation of FMC Prosim.
iPad 2: Airtracks and / or RadiostackX as prov Pedestal.
All his computers and Ipads Netzwek are linked.
What are his three favorite aircraft? "The Boeing 737 is simply 'the' aircraft. I cannot explain it but I love this airplane. I also like the Airbus A320 because it is closest in size to the 737. But I'm not on joystick control. I need a good old yoke. Nevertheless, the A320 is a beautiful airplane. Finally, I like the Cessna (all types). It is perfect to enjoy the countryside in a quiet VFR flight."
Same Aircraft, Different Views
Flight Simulation fans understand the connection to certain aircraft. They feel right at the very beginning and each flight deepens the connection. They get to know the nuances of its handling and touch—how it reacts in a wide variety of weather conditions, how it feels on takeoff and landing.
For Kneissl, Ippolitti and Sautter, that aircraft is the Boeing 737. As Sautter says, it is "the" aircraft. That's when you know a certain plane is the right choice to build a home cockpit. You love it so much you look forward to working in it a little each day—for years on end.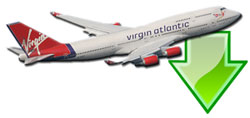 Don't forget... We have a huge selection (over 24,000 files) of free mods and add-ons for FSX, P3D & X-Plane in the file library. Files include aircraft, scenery, and utilities All are free-to-download and use - you don't even need to register. Browse on down to the file library here.