Flight Sim World or FSW as it became know as was the latest flight simulator package released by Dovetail Games. Flight Sim World's core was based on existing FSX code but it had been brought up to date with heavy modification and rewriting (and of course many new features and functions).
FSW was set to become the go-to flight simulator for PC - with full free flight mode and even more airports than in FSX, based on 2015 nav data. With full support for DirectX 11 and running in a 64-bit mode, technical limitations are a thing of the past and the version would take full advantage of the latest PC hardware.
Unfortunately, Dovetail Games pulled the plug on Flight Sim World after a short stint of selling the package on Steam. It's still unsure as to why they did this but it left thousands of flight simmers disappointed and lost.
This article is a complete guide, covering everything from start to finish.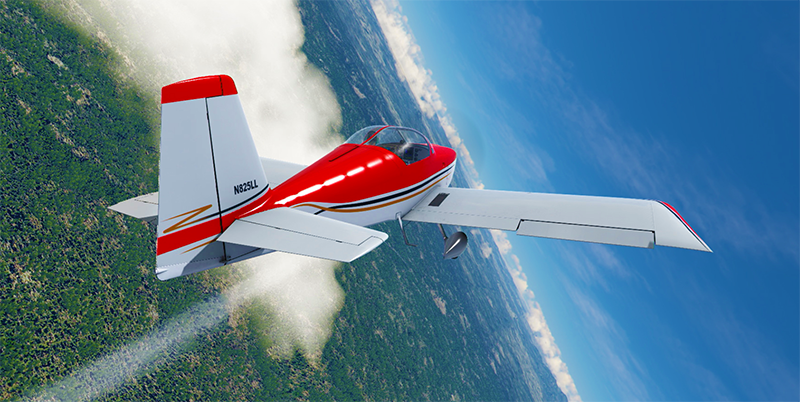 Flight Sim World is no longer available for purchase but if you were lucky enough to grab a copy when it was available you are still able to use this package.
Many users are still asking questions regarding this somewhat elusive release so we have covered everything in detail in the article below.
The article has been laid out chronologically so you can see the entire show of events from start to finish.
As the article is quite lengthy, you can jump to relevant sections using the links below;
Official Release Announcement/Trailer Video
Below is the official release/announcement trailer video released by Dovetail Games. It discusses the features, technological advancement and even shows in-game captures.
New Dovetail Games Flight Simulator Coming In 2016
Originally posted Aug 2015
Given that it has been several years since we have seen the release of a new flight simulator, many fans are beginning to get a bit anxious to try something new! The problem is that, with so many new releases in terms of fan-made modifications, there are lots of people who are still more than happy to use current simulators and this naturally halts development.
Also, given the end to the Microsoft Flight! project, it has been a long time since anything new was introduced to the markets (aside from X-Plane) – until Dovetail Games made a special announcement.
​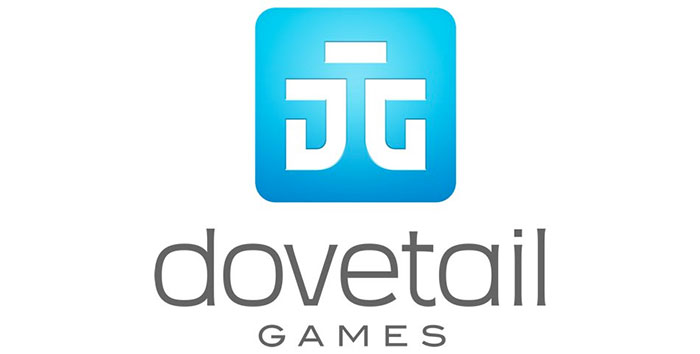 They announced that alongside Fishing Simulator and Train Simulator they would also be releasing a new PC flight simulator on Steam and the Windows 10 gaming platform
This new simulator will be built using the strong foundations left behind by the award-winning Microsoft flight simulation technology to create something new and exciting.
At the moment, details are a little thin on the ground with regards to what will be included but more details will be released as the project keeps advancing.
The aim is to create a deeply immersive project that will allow both simmers and gamers to enjoy an in-depth flight simulation experience that feels realistic, looks fantastic and really challenges the user.
What Can We Hope For
The simulator, as mentioned above, is still relatively light in terms of details. However, we are hoping that we will be able to see features included such as;
Detailed and intricate changes to the graphical engine – we expect that fresh additions will be made to the simulators graphics to maximize realism, detail and intricacy throughout

Greater scale – As the development grows and advances, it's likely that we will see the scale of the simulation world become even larger and more realistic than it is today. This is only expected to improve and Dovetail Flight Simulator 2016 might be just the tool needed to do that

Improved realism – Things are getting more realistic with each and every release, and with the latest Dovetail Games release we can expect to see aircraft growing far more akin to the real-life counterpart with this new simulator, as pilots will have even more control in the cockpit than ever before

More, more more – The world can be somewhat barren when using some flight simulators, and the hope is that things can change as time goes on with the help of this simulator in populating the world and making it look more authentic

Fluidity – Additionally, we can expect to see this new take on flight simulation come to life in terms of the fluidity and the quality of the experience. It's likely that this will improve overall performance, making flight across the globe feel much more fluid than it did in the past
Community Changes
Without a doubt, the power and the depth of the flight simulation community is one of its main strengths. The large range of people who come and go in the community, providing unique challenges and changes to the industry, is something that keeps the entire community growing and getting stronger all the time. One thing that we expect to see with the release of a new simulator, though, is the community to grow even further.
It's our hope that this new simulator will allow for things to change even more, as more users and more media interest could finally shine a mainstream spotlight on the community. Given the size and depth of the online community and the range of conventions and events that we see every year, it's hard to deny the incredible size of the community any longer – it's time that it was recognized.
Given that Dovetail Games are taking a fresh approach to the simulation itself, we're hoping it will attract everyone – from the flight simulation gurus to the casual flight fans who could never really get a hang of previous sims. We also hope that it will open up a new part of the community in the form of flight simulation stores and add-on developers.
One thing is for sure, though, this is a really exciting time for sim fans! If you've been awaiting a new release since FSX you only have a matter of months to wait now thanks to the upcoming release.
Will Modifications Work?
One thing that we don't know yet, however, is if add-ons for Microsoft Flight Simulator X will work here. It all depends on how the simulator is built – again, information is rather limited at the time of writing – and if it uses the same kind of textures and the same form of reading files as FSX. Given that it will be built upon the foundations of FSX, though, we are hopeful that these features will be included.
If FSX mods do indeed with Flight Sim World then you can find them in the official Fly Away Simulation FSX add-ons library here.
About Dovetail Games
Dovetail Games are a hugely well-received simulation company, who first formed in 2009. Based in the UK, they have been responsible for some very popular simulation experiences such as Train Simulator and Dovetail Games Fishing. They were also the pioneers behind the massively well-received re-release of Microsoft Flight Simulator X, FSX: Steam Edition.
Dovetail Games Flight Simulator and Flight School Announced
Originally posted Feb 2016
Simulation fans, rejoice! 2016 will finally see the introduction of a new and exciting range of flight simulation games. Fresh from taking on the license in 2014, Dovetail Games has just announced the introduction of their own investment into the series – Flight School.
Aiming to create the most authentic flight simulation possible, this training sim is going to be the perfect step forward for a massively popular series. The idea of Flight School is to create a simple and easy learning environment for those unaware of how to best handle flying an aircraft.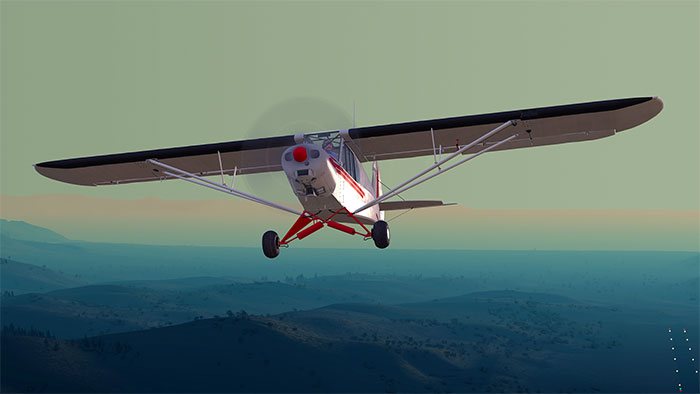 However, that's not all – for those who want something a bit more advanced, Dovetail Games have also announced a new Flight Simulator of their own.
The introduction of two fresh new simulators onto the circuit is only bound to make the entire market a far more exciting place to be in 2016. This new step into fresh territory for Dovetail, though, comes from a long-term aim of taking on the rights to develop and publish new titles utilizing the flight simulation technology developed by Microsoft.
After taking the reins of the popular series over for themselves, Dovetail Games have got to work on creating two fresh new simulation experiences which are due to freshen up and revitalize one of the most popular simulation series' on the market.
Always aiming to make a splash within the world of flight simulation, this first step into creating their own products bodes well for Dovetail Games.
Introducing Flight School
For those unsure of how to best fly an aircraft in the world of flight simulation, Flight School will be the perfect learning tool and starting place. It's a carefully crafted flight simulation experience which will take its time in showing newbies the ropes in how to best fly with maximum safety.
By showcasing how to manage light aircraft as well as helping newcomers to the simulation get to grips with the essential matters that make up a successful flight in a simulator, this could be a vital learning tool for new pilots.
It will provide an engaging and exciting way to learn how to fly properly in a simulator, removing many of the typical obstacles that stop people from getting involved in the experience themselves. However, this does not mean that authenticity is being shunned in favor of ease of use – Flight School will aim to make sure that all pilots will have to learn the real way.
There will be no corner cutting and no making the flights easy – everything that you learn in Flight School will be utilized and made the most of in other flight simulation environments later on down the line.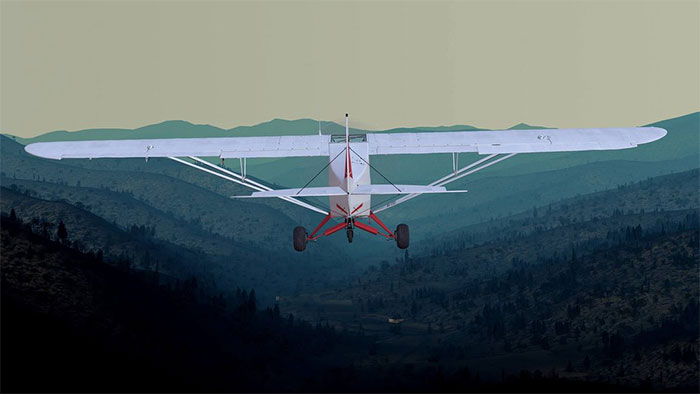 For new learners and those without any experience of commercial flight, this can be a fine place to get started. Flight School will introduce a series of helpful hints and tips to help hone your skills and reduce the level and seriousness of errors made in the skies.
However, the main aim of Flight School will be to help pilots learn how to fly iconic aircraft and utilize their own unique skills and abilities over time. It will provide the easiest possible introduction to the genre without making it out of touch with other simulators – what is learned in Flight School will stand you good stead for your time spent in other flight simulators.
Why Now?
Put simply, the introduction of Flight School was for one simple reason – to help improve the overall learning experience. One major complaint of previous flight simulators has been that the learning curve was too steep for newbies, and the helpful in-game instructions and directions provided in Flight School is the perfect place to start correcting bad habits and learning new tricks.
By giving you hands-on experience from the viewpoint of a proper student, you will be learning the right habits and getting the correct skills taught throughout so that you can feel as if you have undertaken a proper, professional pilot training course.
The idea, though, is to combine learning authentically and taking on the most professional of flight habits by making it fun and easy to learn. Dovetail Games aim to stay true to the elements of flight simulation that make it so fun, whilst assuring it's an attainable goal for newcomers to the series.
In a fully 3D world, it can be a huge challenge to learn the ropes of flying an aircraft effectively and managing the flight from start to finish. With Flight School, pilots can learn tricks they have either forgotten or never heard of en route to becoming far more refined virtual pilots.
From learning how to climb and descend through to mastering your ability to pitch up, Flight School can act as your sole representative for proper learning and self-improvement as a virtual pilot.
This training regime can help pilots turn a rough landing into a smooth one and a tough take-off into a simplistic adventure. Everything has been refined and changed to make sure that virtual pilots can actively learn and improve everything about their flight procedure and planning along the way.
This makes a massive difference to your overall flight control, ensuring you stay on the right track as you fly and also making sure that you get access to the kind of help that you need by having a simple tutorial system to learn from.
Flight School is here to help.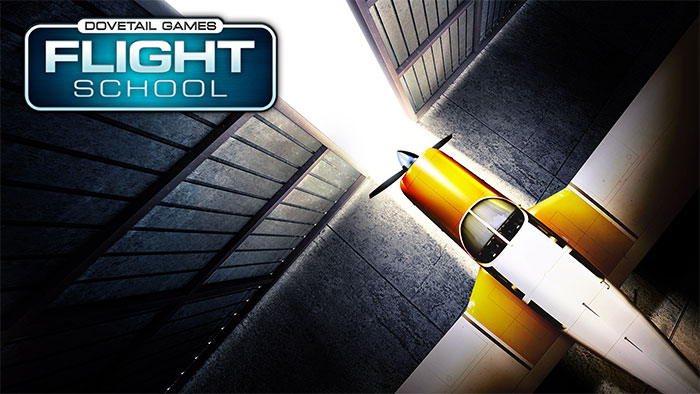 Full Flight Simulator
The other big release of 2016 is due to come from the Dovetail Games Flight Simulator release. Seen by many as the next step in improving and changing an outdated module, the newest edition of Flight Simulator will hopefully modernize and improve upon the most solid of foundations.
As flight simulation has lessened in scope and become a more specific and unique brand of "gaming", it's become harder for new people to get involved. Whilst Flight School will look to try and deal with this problem and give everyone a gentle access node to the world of flight simulation, Flight School will also look to broaden the scope of appeal.
However, this does not mean that features will be stripped or the authenticity of flights will be diminished – flight simulation will still aim to be as authentic as ever before.
Hardcore fans will still have all the access to the challenges they need and the level of realism they desire; the main difference is that now, with Flight Simulator, everyone can eventually break down the barriers and the challenges and become proper pilots themselves.
The idea of Flight Simulator is to dial back the credentials needed to actually enjoy the simulation – it's not about becoming a real pilot through the simulations teachings. It's about getting the best possible level of understanding so that you can translate this into getting the maximum enjoyment possible from being involved in a flight.
Instead of leaving newbies with a sense of dread when they see everything they have to learn and get to grips with, Flight Simulator wants to make them feel awestruck and elated when they see just how effectively they can manipulate the aircraft of their choice up in the air.
The days of flight simulation being a closed shop for experts only should, hopefully, be changing.
This will also come with a Free Flight mode, designed for those who want to push the training they have received to the highest level and showcase what they have picked up from the learning process itself.
Translating the Feeling
The main idea of the new Flight Simulator and Flight School process, though, is to help people understand the actual appeal. In a statement to Xbox.com, Creative Director at Dovetail Games Steve Hood discussed that his previous experiences as a lead on creating Formula One racing video games helped him understand the various challenges associated with helping people "get" something more attuned and specific like flight simulation or racing.
This is what Dovetail Games aim to improve upon with the latest release – making people realize and appreciate the sheer gravity of what is involved with flight. Hood immersed himself in the culture of F1 and what makes it so great for the pros involved as much as the fans, and now hopes to bring this same infectious enthusiasm and courage to the world of flight simulation.
Instead of making you become an authentic pilot through hours of challenging learning and stress, Flight Simulator can now open the doors to help you feel like a pilot much quicker. By taking a fresher approach to flight simulation, Flight School and Flight Simulator might just open the market up to a whole new audience once again.
Speaking to dovetailgames.com, Hood stated that,
"By empowering players to handle the controls of the aircraft, we will help them to immerse themselves in the very best and most thrilling aspects of flying in an up-to-date and technically cutting edge environment."
This positive move towards making flight simulation more accessible tallies well with the aims of the series, with Paul Jack noting that the simulation experience hasn't significantly moved on and changed too much since the release of Microsoft Flight Simulator X. A decade on, the idea is to take the best of the last decade and transform it into an appealing simulation product that grabs the attention and the emotions of fans of the series for decades as well as people who felt locked out of the loop in the past.
The simulation aspect, according to critics, has overtaken the enjoyment of the process in previous releases and this latest addition looks set to transform this. Speaking about the latest releases, CEO Paul Jackson noted that,
"Consumers today expect a much slicker experience across all genres. They want simulations that are realistic but also accessible. They want to be led to a place where the focus can be on reaching great levels of accomplishment, rather than struggling to get to grips with the operational aspects. And that's precisely what Flight School will deliver."
Keeping in with the Old
This product release comes as an exciting new announcement for the flight simulation community, but there were early fears that this could spark the end of what has been close to a decade of modifications, releases and changes for the Flight Simulator X package. However, it's already been noted that there is a strong possibility that Flight Simulator will be fully compatible with all FSX mods out there at this moment in time.
Since the base software package is essentially (hopefully) the same or very similar, it's going to be much easier to include compatibility for old mods and features like this. With new technologies improving the features and giving greater scope to what is possible in the world, it's more likely that these changes will complement and enhance old mods instead of making them obsolete.
The main idea, then, is to produce the best of the old FSX atmosphere and style whilst modernizing it using innovations from the last decade. What this latest release will not do, though, is abandon the essence that made FSX one of the most popular simulators within the community.
Instead, it looks to build on these strong and smart foundations whilst introduced various new features that would not have been possible in the past. Dovetail Games also noted that they will be in this "for the long-term" and will expand and change the release for years to come.
For fans who have grown tired of FSX and felt like a new release was needed to finally take its crown and move simulation on into a new era, this next step in the series by Dovetail may be just what you are looking for!
Flight Sim World: New Flight Simulator Announced by DTG
Originally posted May 2017
So far, it looks like 2017 might be the year that flight simulation was revolutionized. Having already seen the latest release of X-Plane 11 hit the market, we now have the latest simulator from Dovetail Games. Given they have taken on the Microsoft Flight Simulator license already, we're pretty confident that this is going to absolutely rock!
This program is, at the moment, en route to being released on the gaming platform Steam. While still in development, Dovetail Games are taking the same approach as many developers: they are releasing it on Early Access. This means that you can be an active part of the development and improvement of the software package as time passes.
This latest release is going to allow fans to use it as it changes and improves, using their feedback to implement the best and most important additions to how the simulator handles itself.
What is Flight Sim World?
This latest simulator, then, introduces a new and rather unique insight into the world of flight simulation. Based upon 'benchmark flight simulation technology' this latest release is going to be all about mimicking realism as best they can.
While realism is always something simulators strive for, Dovetail has made it clear that this is aiming to be the modern pinnacle of realistic aviation simulation. After all, they have X-Plane 11 to compete with.
One of the most impressive parts of this new release stems from the GA aircraft. Officially licensed and made to follow the exact look and specs of the real aircraft, this will make learning and manipulation of real-life aircraft easier than ever before.
The aim is to try and get that elite level of implementation available in every aircraft that is created. By basing it exactly on their genuine counterparts, this includes every gauge, every knob and each feature that can realistically be installed.
Greater Accuracy Than Ever Before
As the latest in a long line of simulation programs, this is bringing a whole new look and feel to the table. Not only does the aircraft included carry off the look and style of their authentic counterpart, but it's also accentuated by the impressive detail going on under the hood.
These may look and style themselves on the real aircraft with accuracy and craft, but they also fly like their real versions. With painstaking volumes of detail being put into aircraft that you can fly around with, you'll get to see all of those features and formats come to life in the most dramatic way.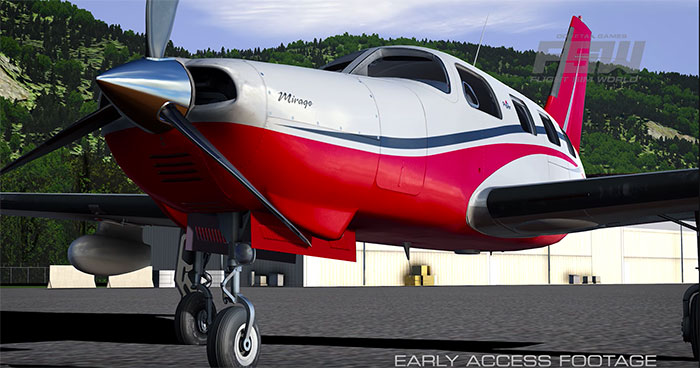 Screenshot from the Early Access Footage that shows a Mirage in FSW.
A delightful combination of effects from various different disciplines, this provides greater accuracy than it ever has in the past. From behind-the-scenes aviation mechanics to atmospheric mechanic management, these aircraft are going to feel far more challenging – and rewarding – to master. Not only will this help to create a deep and engrossing simulation experience, but it helps to improve the level of detail and learning that you can ascertain from every usage.
From watching the rain hit the windscreen and bounce off as it does in reality to witnesses amazing storms rage in front of you, this makes the world you inhabit feel more authentic.
One of the major adjustments and improvements made here, though, stems from the physics engine. Now, aircraft behaves as it should in accordance with our own world rules and views.
From stalling to spins, it sounds like this new simulator is going to go above and beyond the norm to create that unique and engaging atmosphere both in and outside the cockpit.
A New Kind of Aviation Experience
One of the first things that stand out when looking at Flight Sim World' release, though, is the level of variety it provides. While some will be more than happy to fire up FSW and enjoy a basic flight without much nuance or challenge, the opportunity to add parameters exists in abundance.
Whether you just want to enjoy a simple, easy flight across a pristine and tranquil sky, or you want to put yourself in life-or-death situations, the opportunities exist in abundance.
You can set the weather to be as challenging as you like, as well as the condition of the aircraft and the skies above you. From flying into storms with a blown engine to trying to stop a rapid descent with very little wiggle room, this allows you to really push the realms of experimentation and excitement.
You also get access to a new Flight Planner system that allows you to have total control over the whole experience.
From managing the weather that you are about to fly headlong into, to changing the location and the time of day, you have all the controls you need to make the experience your own. You can even add in randomized events that will take place during the flight to make your flight more unpredictable and even more challenging.
Set Your Own Rules
For those who would rather put their time and effort into mastering the world of creativity entirely, too, there is the option to do just that.
The flight simulation community is known for being artistic and creative when it comes to making new content for other users to enjoy. Flight Sim World looks like it is going to be providing the same artistic license and creative flair to all users, through its extensive and exciting new Pro Mission Editor.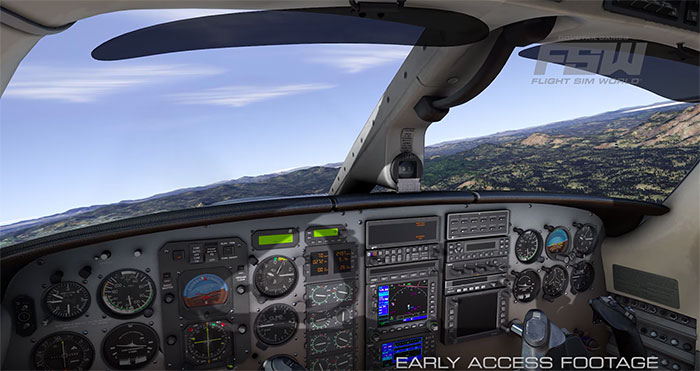 A highly detailed 3D virtual cockpit.
This allows you to set up customized scenarios that fit any kind of rules or demands that you would like to take on. This is a professional level of tool that can help you make flights that are of a minimal challenge, or to help you put together aviation experiences that are all about avoiding the most complex and minimal of challenges.
Whatever you feel is missing from your own mission logs, you can find all the help that you need to bring that to life and make it stand out once and for all. Set your own rules and make the chance of your success depends on the choices and scenarios you implement!
A Modern Environment
For those who are involved in other strands of the simulation and gaming industry, FSW will be a godsend. Now, we have a software platform that allows us to really push our hardware to the very limits of performance!
This new 64-bit, modernized environment runs with a smoothness and a depth of performance that never existed.
Now, this platform could be the basis of a new release that allows for greater levels of graphical implementation and for more risks to be taken with features and inclusions. Thanks to this, then, a new and modernized environment is in the process of being created – in a manner that everyone can enjoy being a part of.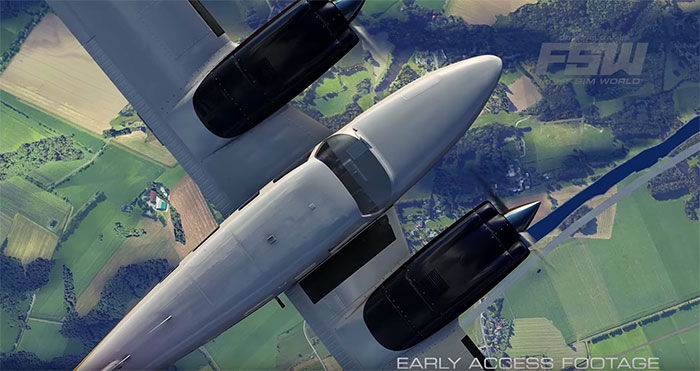 An example of the ground textures we can expect to find within the sim.
If you despair at the graphical gap between simulation and mainstream gaming, then this might be just what you were waiting for.
As the brainchild of the work of some of the finest simulation developers in the industry, FSW promises something totally different from what many of us are used to at present. Partnerships are expected in the future to help bring add-on DLC and premium content to help further expand the official hanger-list that we can pick from.
What about Freeware Add-ons and Downloads?
It has been confirmed that users will be able to generate their own content - that's definite. What is still slightly unknown is whether enthusiasts and hobbyists will be able to create third-party freeware add-on packages such as aircraft, scenery, and missions like we have been doing for FSX for decades. And if they are able to create them, will they have to be released via Dovetail's channels such as an in-app UGC browser or will they be allowed to be distributed over the Internet freely such as on this site, FlightSim, Avsim, Simviation... etc? We are all hopeful.
We still have no information yet as to an official SDK.
Staying Involved
So, we're not too far away from the release on Early Access. We'll be bringing regular content updates about the latest changes and improvements that we have found about this wonderful new piece of kit.
As time passes and we draw closer to the full release date, we'll be sure to keep you updated. Until then, be sure to download Steam and subscribe to the Flight Sim World page. Then, you can join the Early Access drive as soon as the opportunity comes to sign up and take to the skies in a wonderful, richly enhanced new world!
The Feedback From Users So Far
Originally posted May 2017
Well, it's been nearly a week now since Dovetail Games Flight Sim World hit Early Access. As the easiest way to let people fly before the full release, the Early Access edition has been, on the main, well-received.
While there are always critical comments – and some criticisms are very much worth keeping an eye on – the overall view is a positive one. What to remember as well is that, at this stage, it is still in early development.
Problems that exist just now will be removed, and features will be improved or taken out if they aren't up to the standard needed.
This is about as early in development as you should be able to take part in a flight simulation experience. There are lots of rough edges, yet it still handles extremely well. Let's try and round up what the overall consensus has been, looking around at the comments online and from our own take so far.
The Layout
The first thing that people appear to be approving of is the new UI and layout. We touched on that in our pre-release preview, that early users were very impressed. It would appear that the general public feels the same way. The interface is easy to navigate, simple to read on any resolution and scales very well. The added color and charm makes it even more enjoyable to work with, as well.
Given the detail of the layout, though, the main criticism has been it's more video game than a simulation. While that's a fair criticism, people coming from gaming looking for a more serious experience will feel right at home.
The Usability
The controls appear to be picking up most joysticks that people are using without too much problem. Saitek, in particular, seems to have its models more or less working perfectly so far with the new release. This means that, even at Early Access, Dovetail Games have gone the extra mile to ensure that usability is at a high level even from day one.
The interface, as mentioned above, also makes calibrating and configuring a piece of cake. The usability of the simulation, then, has been more or less widely acclaimed. It's easier to use than previous simulators, and that is all that you can ask for really!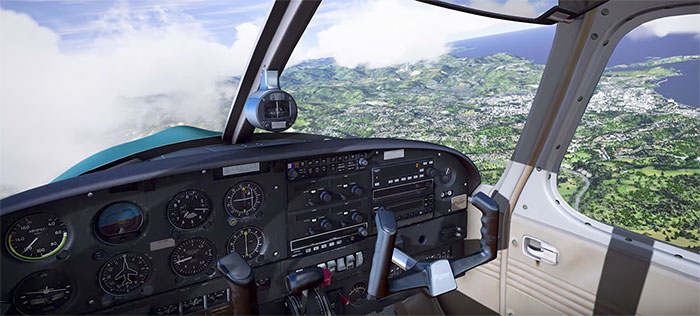 Screenshot showing 3D VC and ground terrain in FSW.
The Aircraft
The most important part – the aircraft – is the most commonly diverse range of opinion. From complaints about a lack of jets (this was made clear way before EA release) to the really poor take on the Vans, the opinion is very much mixed. The Diamond DA40 model, at least, has been getting a lot of positive acclaims – most seem to be quite happy with these new improvements.
The presentation is pretty good overall, although some parts are clearly still in development mode. From the way that the landscape correctly scales as you get closer/further to how the aircraft sounds when taking off, it's all very realistic.
The majority of the aircraft feedback, though, has been positive. While there's still a lot to be done to bring the aircraft up to the standard expected, the Early Access klaxon has to be sounded. For a very rough start and a development that is going to see user feedback as the key, we'd say that Flight Sim World has made a very impressive start.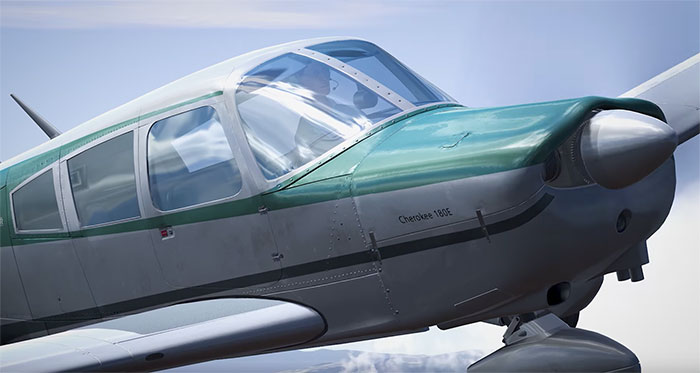 The default Piper Cherokee in flight.
The Scenery
The world is also a lot more impressive – as you would hope. Even at an early stage with much more to be done, though, there's a lot of new additions. Many airports look busier if still a little generic, and most of the overall autogen has been much improved. Things look less flat, and even stuff way off in the distance looks pretty crisp.
The primary worry comes down to hardware. Even on high-end rigs, many people are finding it hard to get near High/Ultra settings, seeing FPS (frames per second) plummet. This needs a lot of work, but, again, EA!
Lots of complaints are appearing about how fake the trees and some autogen looks on lower graphical levels, too. Given the hardware complaints about people struggling to get it running at the upper echelons, that does not make for a good starting point.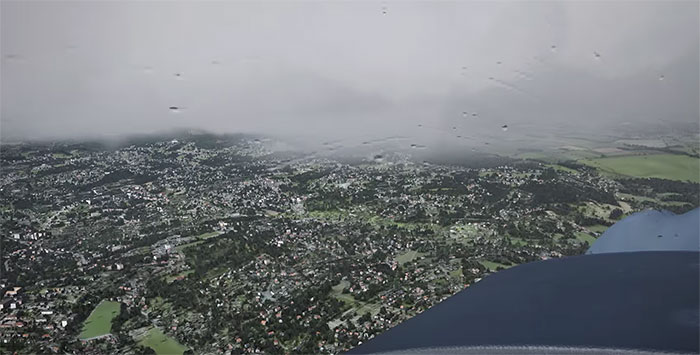 Image showing the new rain effects and ground terrain.
However, this is all subject to change as time goes on. Textures could still be improved and the overall quality of the autogen will likely need to be refined, also, but it's a decent start. There are lots of things that we expect to see change as far as the development of this simulator goes, but this is looking pretty promising.
We finally have a 64-bit flight simulator that follows the FSX model. While there's plenty of growing pains, the future looks pretty bright for Dovetail Games latest release.
Confirmed: (Some) Freeware FSX Add-ons Work in FSW
Originally posted May 2017
Dovetail Games' new flight simulator, Flight Sim World (FSW) was released on Steam Early Access last week and many of our users have been wondering if existing FSX add-ons will work with this new release. While Dovetail hasn't mentioned a lot on this topic, we thought we'd have a look ourselves and see what we could find. The results are interesting.
As mentioned, Flight Sim World was released on Steam's Early Access platform on the 18th May 2017 and much of the community have been wondering if existing add-ons and expansions (freeware and payware) will work with the new sim.
Dovetail haven't mentioned a lot with regards to expansions and add-ons but our early testing with our own selection of files seems promising.
The directory structure within FSW is very similar to FSX, which is what we expected because of course, they are developing this new simulator on the existing FSX platform.
We tested four of our existing files; three aircraft and one scenery package. Here is what we found...
Aircraft: Honda Jet
Type: Aircraft
Working: Yes (with some errors)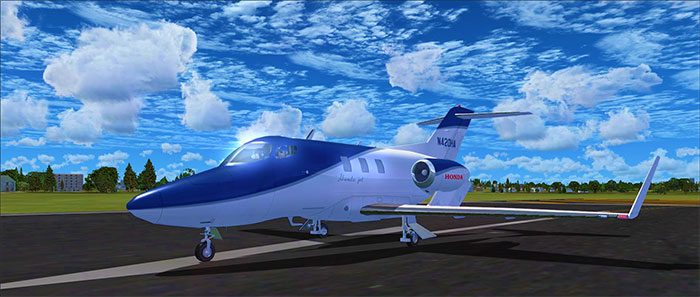 All aircraft for Flight Sim World need to have a few lines added into the configuration file of that aircraft. These are the following:
ui_thumbnailfile="texturethumbnail.jpg"
ui_hangarfile="texturethumbnail.jpg"
ui_selectionfile="texturethumbnail.jpg"
ui_tilefile="texturethumbnail.jpg"
​ui_info=333705325
These lines have to be added to the end of every aircraft variant within the configuration file. They must also have the correct location of the 'texture' folder changed (e.g. ui_thumbnailgile="texture.BAthumbnail.jpg).
After adding these lines into the file and launching FSW and clicking on the HondaJet, the following error message was shown: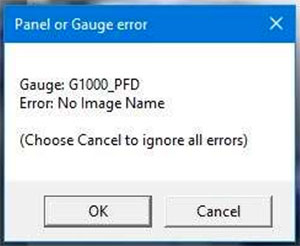 After clicking 'Cancel' the aircraft loaded in fine and seemed to fully work.
However, one thing noticed was the displays in the cockpit appeared difference than in FSX: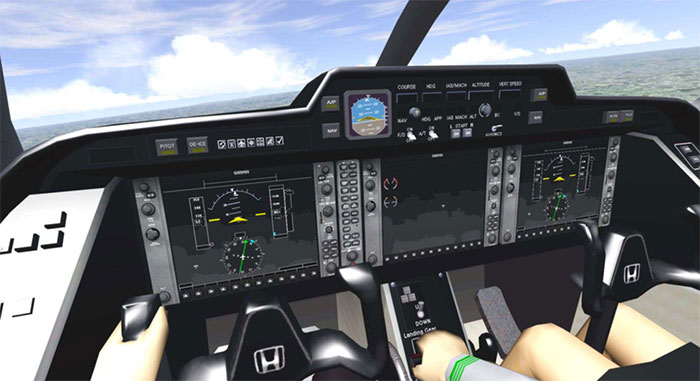 This displays appear black and grey without the same background as in FSX: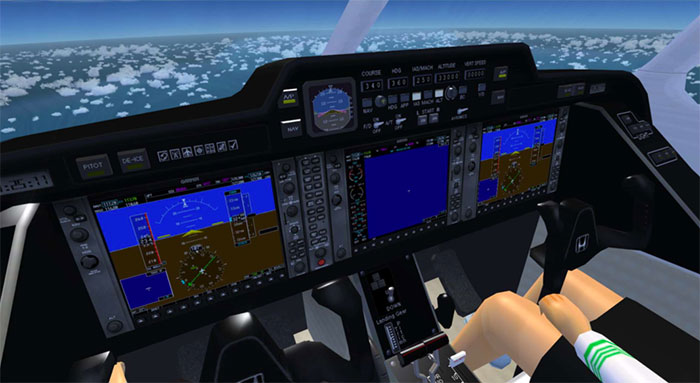 Scenery: Ibiza X Freeware
Type: Scenery
Working: Yes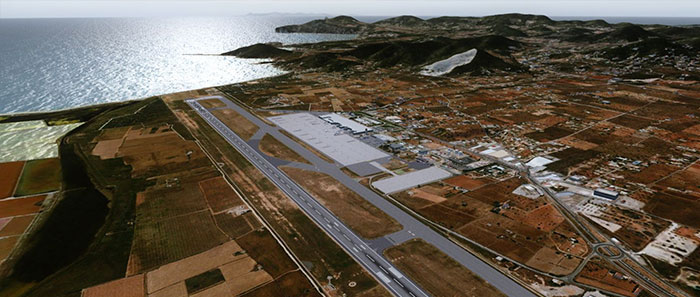 The scenery installs well and without any problems.
However, instead of adding the scenery to the Scenery Library within the game, like FSX, you need to add it in manually to the configuration file. The following lines must be added to the end:
[Area.127]
Title=@IDS_AREA122_ADDONSCENERY
Local=Addon ScenerySFD_LEIB_Ibiza_X
Layer=127
Active=TRUE
Required=FALSE
These lines have to be added to the end of the configuration file for every new piece of scenery installed. They must also have the correct edits including changing the Area number to the latest and changing to the location and layer number.
Once done, there are no further steps within FSW and the scenery works straight away without any problems.
Aircraft: iFly Freeware 747
Type: Aircraft
Working: No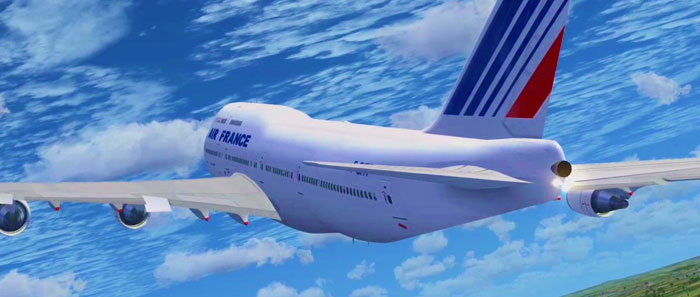 ​
The same three lines must be added into the configuration file of this aircraft as the first add-on. The aircraft appears in Flight Sim World and can be selected with all the details being shown.
However, once clicked on, the following messages appear: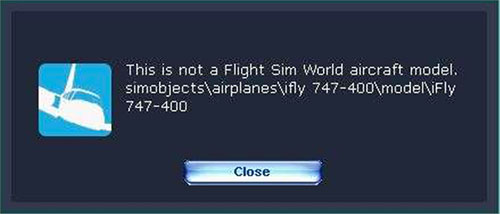 "This is not a Flight Sim World aircraft model" error message.
And then: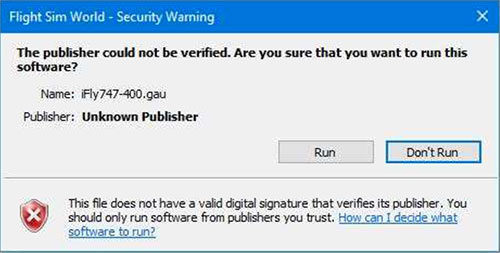 "The publisher could not be verified. Are you sure that you want to run this software? " Error message regarding the unsigned gauge files.
And then: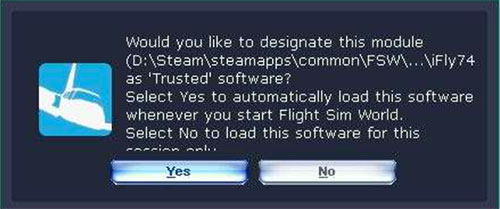 "Would you like to designate this module as trusted software? " confirmation box.
And then: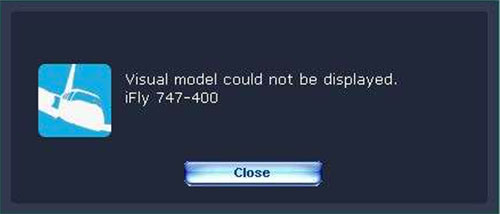 "Visual model could not be displayed" error box.
All four, except the second message, appear each time the aircraft is selected. The second message is first-time only.
Once then loading the flight, the following messages appear: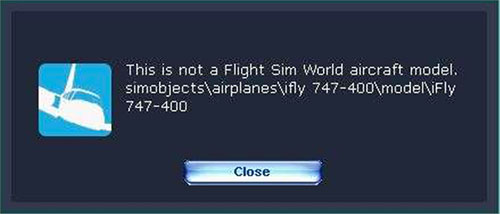 "This is not a Flight Sim World aircraft model" error message.
And then: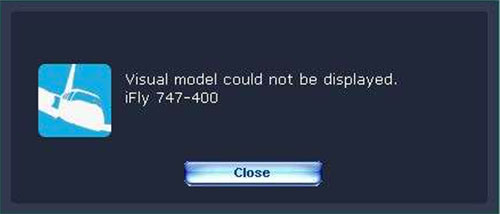 "Visual model could not be displayed" error box.
The entire program of Flight Sim World then crashes after several seconds of a gray screen.
Aircraft: Project Airbus A380
Type: Aircraft
Working: No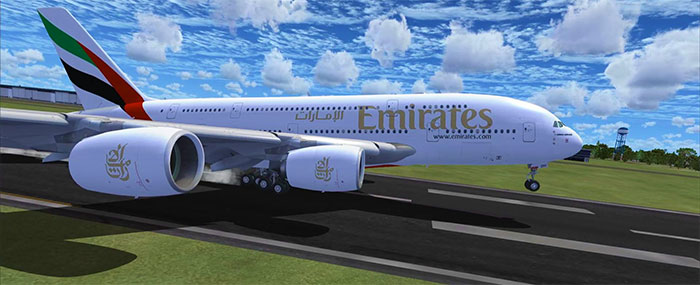 Despite adding in the same three lines to the configuration file from the first add-on, this aircraft does not appear in the Aircraft Menu at all. This includes attempting to edit the configuration file in several ways.
Aircraft: POSKY 747-200
Type: Aircraft
Working: No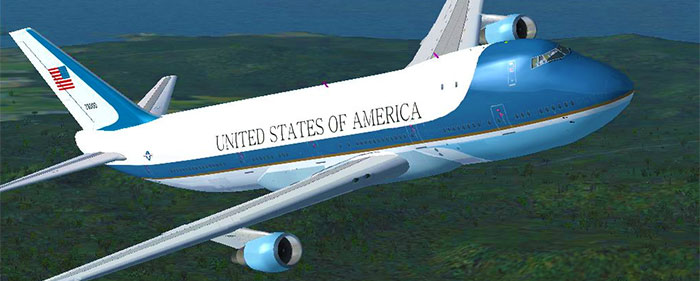 Despite adding in the same three lines to the configuration file from the first add-on, this aircraft does not appear in the Aircraft Menu at all. This includes attempting to edit the configuration file in several ways.
Final Thoughts
So there you have it, we tested four existing freeware FSX compatible add-ons in FSW and those are the results. It seems that it should be possible for developers to port these older files over to the new FSW without much hassle. However, with the current limitations and lack of SDK at the moment, we think that only "basic" type aircraft will work at present. If you're looking for full FMC, fully 3D virtual cockpit and stuff like that - it could be a while before we can get our hands on these.
As you can see, the Honda Jet worked without any problems, albeit a few error messages. But hey, we have been dealing with these gauge and panel error messages for years even with FSX. Also, we feel that pretty much any scenery expansion will also work with the code adjustments mentioned above.
SDK Released: Aircraft, Scenery & More
Originally posted Jan 2018
For years, the flight simulation community has worked together as one to create world-altering content. Simulators have been transformed with new content, new aircraft and entire alterations to the shape of the world as a whole. So far, though, alterations within Flight Sim World has been a fair bit more challenging than it once was.
Now, development just became a whole lot simpler. A new Software Development Kit (SDK) is due to be released. Now, it will be much easier for hobbyists, third-party developers and newcomers to modding to create add-ons for Flight Sim World. Having been developed for some time, this new SDK adds a wealth of new features to how we can mod and edit Flight Sim World.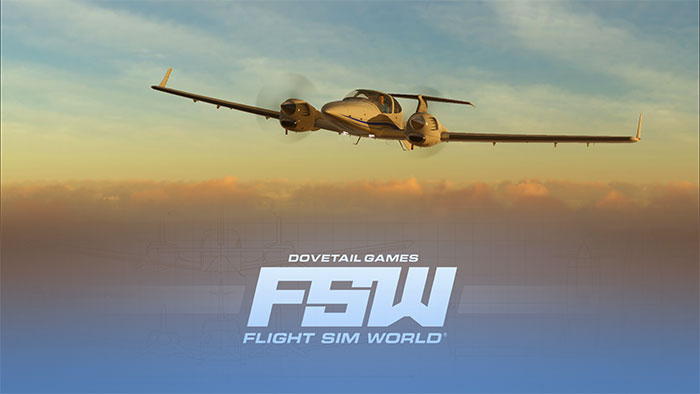 Now, freeware developers will be able to easily create high-quality content without anything like the same challenges as before. Using the SDK, implementing new aircraft, scenery and extra features and add-ons will be so much simpler.
Once seen as a monolithic challenge, the new SDK should make editing much easier for newbies and veterans alike. If you have ever been interested in learning how to make add-ons for Flight Sim World or any simulator, an SDK is the place to start.
Moving Forward
Ever since FSW was first released, mods and add-ons have been slowly but surely appearing online for it. However, the lack of an SDK meant that it was left to advanced developers and veterans. It also meant that modding was taking longer and that the challenges involved in fully implemented new add-ons were more than most would have expected.
Since add-on content has helped to turn good simulators into champions of the industry, it's vital that FSW is easy to modify. With the release of the new SDK, that just became much easier to visualize and see take place.
PC flight simulation additions and third-party add-ons have been a decade-plus experience. It has played a major role in making the simulation more popular. By helping to bridge graphical, technological and philosophical divides, these add-ons add so much to the simulator. It's why, without doubt, the release of the new SDK should do a lot for freeware developers.
In what was once weighty, challenging and unwieldy experience, everything could be made much simpler. This official update from Dovetail Games is sure to have a profound effect on how – and who – mods.
When Will The SDK Arrive?
It was announced in early November by Cryss of Dovetail Games over at Steam that it would be released 'before the end of this year'. We'll be sure to provide more details as and when we can about release times and dates. At the moment, though, the aim seems to cram as many features into the SDK as is possible pre-release.
While some in the community were concerned that add-on development was taking away from Dovetail Games upgrading the core simulation, that has been refuted. Cryss states that all add-ons are handled by the Third Party team, meaning the SDK should be feature-heavy and not rushed.
A mid-November announcement from Stephen Hood informed us that the SDK was the next major update planned. It is claimed that the initial release will provide the required tools for aircraft, scenery and mission content creation. That should be a big relief to the developer who was wondering when the 'big names' of the industry could get to work.
Broadly, for the best modifications to be created, an SDK is an essential requirement. It's needed to help make sure that mods can be put together in the right way. Since this SDK is supposed to contain all of the tools that third-party partners are using already, it should be more than powerful enough to start with.
We'll release more information as and when it is released from Dovetail Games. Alongside the new SDK, Hood announced that all libraries needed for the C++ application would be provided at the same time.
So, for those who have been wondering when development and add-ons would arrive in earnest, we are nearly there. As soon as the SDK hits the market, the key developers can get to work developing their usual creative add-ons for Flight Sim World.
Stay tuned!
Our Review
Originally posted Apr 2018
After a long, excruciating wait, Flight Sim World is finally out of Early Access release. While first 'released' in May 2017, the simulator has gone through some extensive changes since then. In this article, we'll take a look at just what the latest simulator from Dovetail Games is capable of. Given the hype and the turbulent Early Access process, there's certainly a lot to think about with regards to FSW.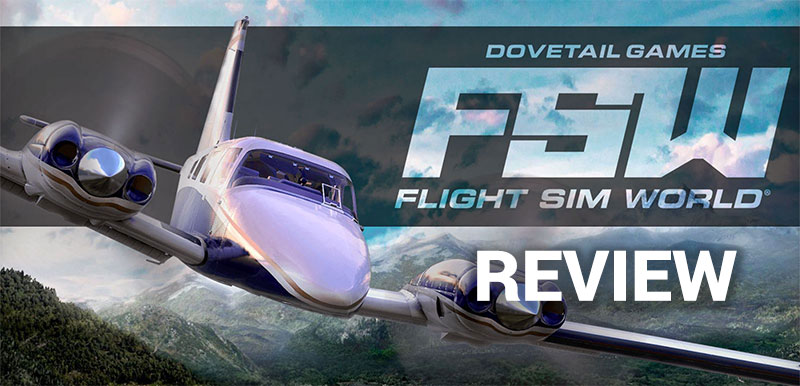 Now that it's here, though, we've had the pleasure of messing around with it for some time now. It's gone through some pretty major changes since it first landed on Steam, of course. That being said, we found that the 2017 release provided a large volume of what was to come. So, if you were never too impressed back in May 2017, you might not be too enamored with the April 2018 edition.
That being said, it's a very impressive simulator. How impressive, of course, depends on your own personal take. We personally are big fans of FSW, but with much to still work on and improve, it's hard to say what the ceiling is for this simulator.
It's a certain improvement over the likes of FSX, but does it beat other modern simulators like X-Plane 11?
In this article, we'll take a look at key areas. This will hopefully help you to better understand just where we see FSW in the modern pantheon. If you are swithering on whether or not you should pick it up, this will hopefully help you to "get" what you're investing in.
Given the lengthy development process and the rather argumentative nature of the release, is this worth the wait?
Should you invest your money into FSW?
Or would you be better off waiting for a while until some of its kinks are corrected?
What is Flight Sim World?
First off, a touch of background. Flight Sim World arrived via the Dovetail Games purchase of Flight Simulator X. Despite the fact that Dovetail Games are more known for their train sims, this might seem a bit of an odd marriage together.
That being said, though, it's a very impressive combination. First off, they helped to modernized FSX. Adding some improvements and killing off some long-lasting bugs, they re-released FSX to Steam under FSX: Steam Edition. It was a big hit, and many were hugely appreciative of the re-release. However, the hands of time were ticking and fans demanded something a bit more.
Then came the announcement – Flight Sim World was coming. With people so used to using FSX, the questions were already in the air. What about modding support? Would it really build upon the original to the extent that you would want to really see?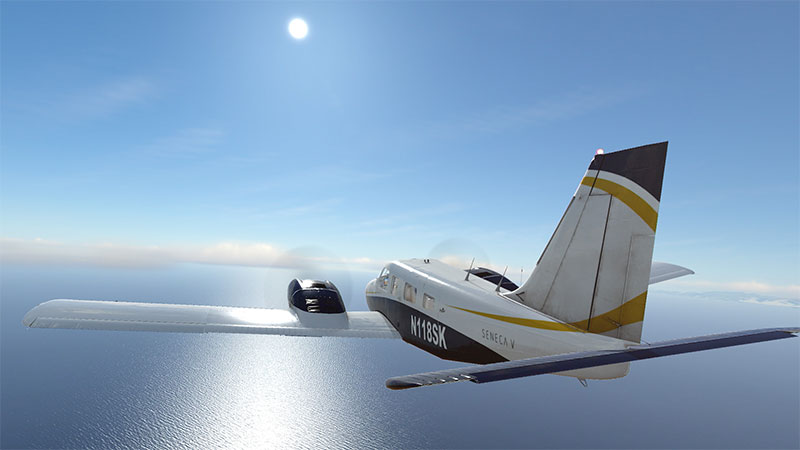 Using the old FSX game engine, they built up a whole new flight simulator from the floor up. Known as Flight Sim World, it promised:
Improved graphical performance and general realism.
Better aviation performance and greater realism.
A more naturally impressive and immersive world without the need for (so many) mods.
Vast new changes to aviation, allowing for new and improved flight tools and techniques.
This all sounded very impressive and promising, then. Fans were essentially being promised FSX 2 – a total revamp and rebuild of a much-loved simulator. When FSW hit Steam, though, it's fair to say that it's early May 2017 release was mixed.
Fans were unsure of some of the features, and others found it to be a departure from the FSX formula. With the release now more or less confirmed, then, what can you expect if you were to try it?
The Back End
Before we break down key features and the like, we wanted to take a quick look at something very important. Given this is built upon the old FSX engine, people were hoping that this simulator would be a major improvement without too much departure from the old-school FSX formula.
Well, given that this is able to extract much out of the simulator' engine, it's definitely an improvement on the back-end. However, most impressive is the fact that FSW takes far more control over the use of graphical processing capacity.
People tend to want to leave FSX behind due to the graphical divergence between that and most releases in 2018. Well, this makes it much easier to tap into the true visual qualities that the engine could provide us with.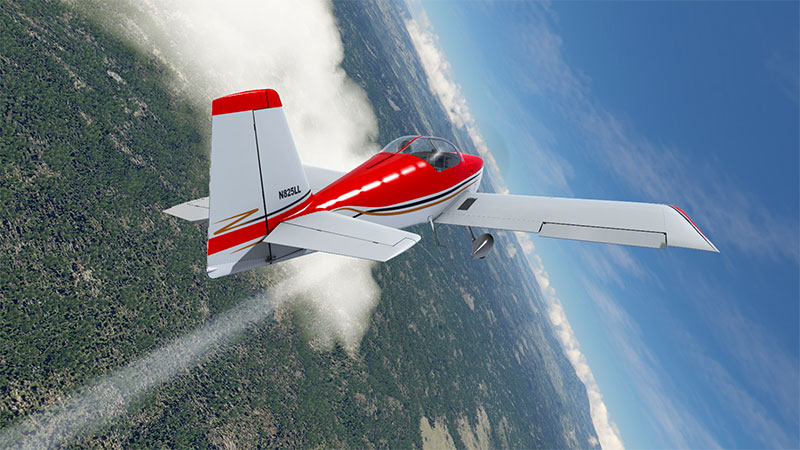 However, one of the major changes from FSX to FSW is the development of the back-end application. FSX was 32-bit, and this is 64-bit. In basic terms, this means that FSW can go far beyond the limitations of FSX. 32-bit software has far more limitations in terms of what it can be, mainly because they can only tap into a maximum of 4GB of RAM.
This is a major issue, as it would mean that even if you had 64GB of RAM, your PC could only use 4GB of it on 32-bit programs.
This is a 64-bit development, though. That's very impressive, as it allows for greater development of the graphics and the performance engine that is provided. This means more realistic and authentic flight, better visual performance and the ability to tap into everything that your PC has to throw at it.
That's very important, as it can now match up with the likes of X-Plane 11 and really live up to the standard set in 2018.
Features and Requirements
Users who wish to get a good kick out of Flight Sim World, according to Dovetail Games, will need a machine that can match the following:
At least Windows 7, recommended Windows 8/10 64-bit.
Intel Core i3 6100/AMD APU Kaveri A10-7850K.
8GB RAM.
Radeon R9 Fury or GeForce GTX 970 /w DirectX v11 at least.
At least 40GB of available HDD space.
Fully working internet connection.
The Key Features that are listed for Flight Sim World often include:
The use of Acu-Feel™ tech – a major flight simulation mode that's become an industry standard.
Highly detailed GA aircraft made to match their real-life counterparts as best as possible.
Authentic modeling for both the aircraft and major landmarks and locations across the world
Professional, detailed and intricate flight sim planning for easy use and full control.
New globalized textures to help revamp the look of the world and make it much more realistic.
Lessons and missions to learn from, with a full mission editor for professional development.
A pilot progress solution to help see flight stats and track time spent in the sky.
These detailed features make sure that you know you are using a flight simulator that's modern. How good though is FSW in reality?
Given the immense work that has gone into other simulators over the years, is this really a simulator that you can get the maximum out of if you decide to install it?
Can you really make more of FSW without much installed than, say, the modern and improved FSX complete with all manner of new add-ons?
It's important to note that FSW, though building on FSX, is naturally short of available add-ons. Given it's just out of Early Access, there's a natural shortage of FSW-compatible add-ons at this moment in time.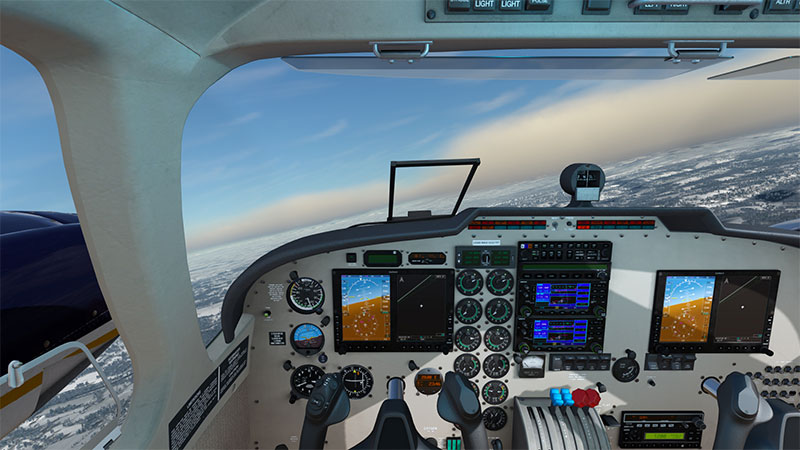 Changes from Early Access
It's important to note that Flight Sim World has changed a huge deal since it was first released into Early Access. If you haven't used it since it was first introduced in May '17 you will notice a huge level of changes within the simulator. The menus are fuller, there are more aircraft to pick from and generally bugs are far reduced.
However, it's also vital to say that this is NOT finished. When this came out of Early Access earlier on in the year, Dovetail Games were very quick to say this is merely Stage Two. This is not 100% ready yet. In an announcement they released themselves, Dovetail employee Steve Hood said that:
"We've got a lot planned for 2018, including IFR implementation, expanding the core fleet of aircraft, improving the look of the world, live weather and my own personal pet project, improvements to ATC, to name just a few.

I've said that I want to build a platform that will stand the test of time over the next 5 or 10 years. We're not there yet, but the goal hasn't changed and the journey we're on together is far from over. This next stage of development is a necessary change of gear."
So, keep that in mind when you first fire it up. Things like dynamic weather only came into action in February, while updates to the overall flight roster are still to come. There's much to come, which means that many new changes will come as time goes on to correct some of the complains we have in here.
That's very important, as FSW is still in need of some pretty significant work. Though fine at present, and a big change from even the late 2017 editions, there is much work still to be done here.
Interface
The first part of the simulator we want to look at from a performance POV, then, is the interface. The interface has not changed immeasurably since it first became available. More features are open to you, of course, but it's still that same sleek, clean solution. Logging in for the first time, you will be asked to make a Dovetail Games account. If you already have one, then just log in.
Then, you can start to set up things like your location and some degree of preferences and general adjustments. The settings for changing stuff around like the graphical quality and what's available is very in-depth. I do admit that even for a technically minded person the sheer number of options was a bit off-putting at first, but perfectionists will feel right at home in the detailed Settings open to you.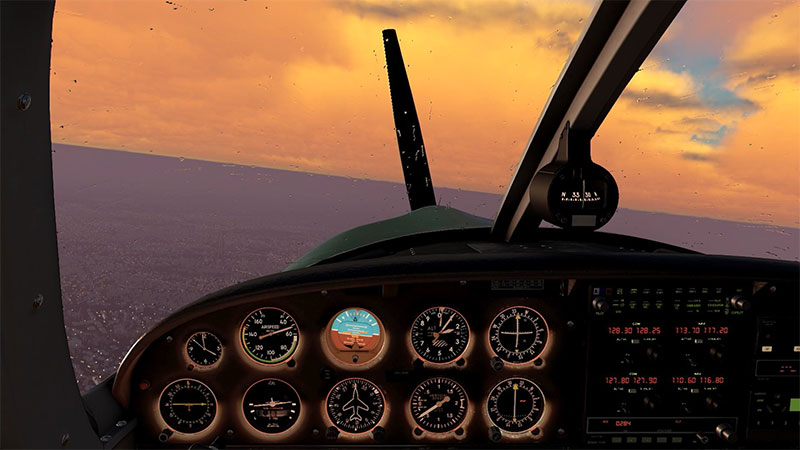 You can even set your own home airport, which is a nice touch. Once you get in and set up all the jargon above, you'll be taken to a very crisp and smooth menu. The text is crisp, everything is easy to see and the little icons are self-explanatory. In comparison to some simulators that give me a headache at the best of times, getting around the layout and the menus here was pretty easy.
The interface is very easy to use, especially when flying. While I'll try to avoid making too many generalizations as everyone has their own HUD preferences, I found it very clear. Easy to find the info I need in the menus and in the cockpit of an aircraft, but not too easy.
It's all very advanced, and it makes it very easy for me to enjoy a much more modern experience. Sick of FSX' outdated interface? You'll feel at home here.
Aircraft Selection
The aircraft selection, though, is when my eyebrows began to become stuck in a semi-permanent "huh" mode. The quality of the aircraft is great. The quantity, though, is a bit of a joke. In this era of DLC and paid-for add-on content, it's a shame to see that there's so little to start with. If you want to start getting more aircraft, you are going to need pay on top of what is a very poor selection.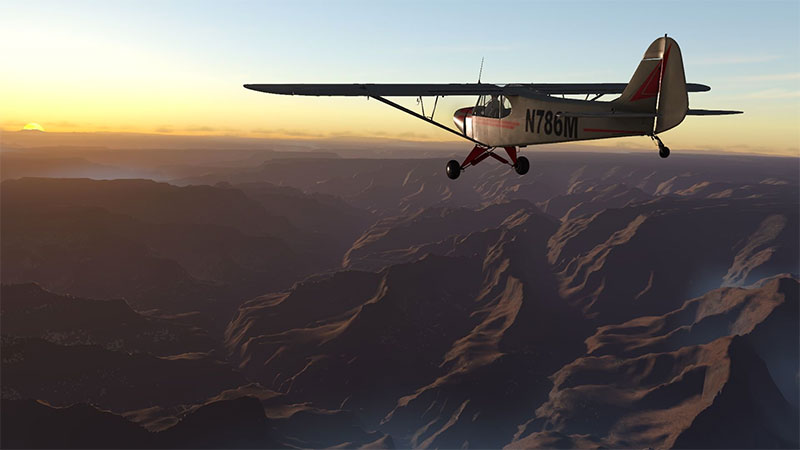 You get a few aircraft to pick from, with what is essentially about seven aircraft. The aircraft is a very poor selection, given it's a flight simulator. While I fully understand this is fresh out the box, so to speak, this is a very poor selection. You presently get just a few options, including the likes of the Cherokee, Super Cub, and Twinstar. I accepted a poor quantity of aircraft during early release, but it's not really acceptable now.
Even more worrying for this simulator is the lax uptake from third parties. With just a couple of third-party models on show, despite Dovetail saying they want to work with third parties, it would appear few are getting involved just yet.
Performance
Thankfully, the actual aviation performance is more or less spot on. I was much more impressed with flight performance than I was just about anything else. The quantity is so poor, though, that it just left me wishing I had more options to try out this great simulation on. I have mostly used Free Flight so far, though the mission selections are naturally very good.
I also enjoyed the training program, which is quite tough. You will certainly get yourself in a bit of a struggle with the training if you are not used to other simulators. My main complaint would be that Dovetail Games have not done enough to help newbies to simulation get an education from the training; even the simplest missions would be very frustrating for a newbie pilot.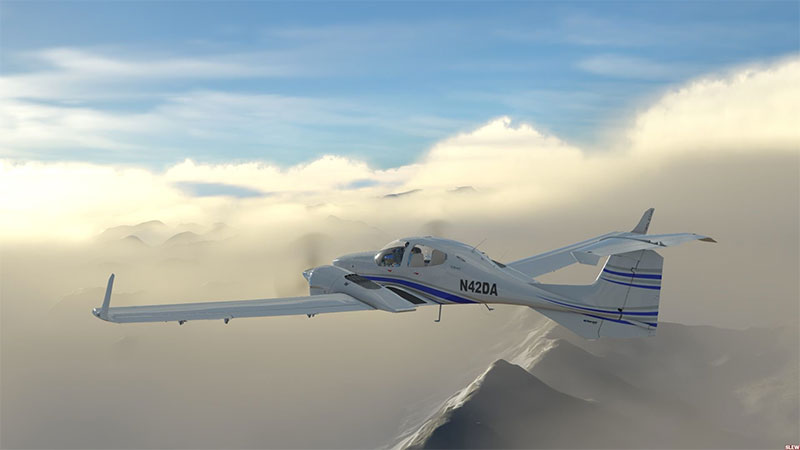 That being said, performance is very good. On a machine that wasn't a million miles away from the specs mentioned before, I frequently was getting 60fps performance and enjoying very good flight performance overall. the controls are very responsive, the planning features such as flight planning are very easy to use and the general selection and set-up of your aircraft are as interactive as I would have hoped for at this stage.
If I was to compare the often bug-ridden performance of FSW in May 2017, this is a big improvement. It felt very stodgy and off-putting at times, to begin with, but this is much cleaner. While I'm not happy with the lack of new aircraft, each aircraft performs well in the wider world.
The world itself feels much better than previously, too, with very little pop-in from objects and the general world moving much smoother around you. Overall, performance levels are very good – though they could still be improved with the future releases of features which will likely impact on performance, such as dynamic weather.
Graphics
As you might expect, the graphics are well on par with the likes of X-Plane 11. This well lives up to expectations with regards to graphical performance. Given the fact it's 64-bit, it looks tremendous and pushes far beyond the meager limitations of FSX in the first place. They are very smooth, with sharpness where needed on things like trees, cities and other major objects.
Everything from the way that the mud shoots up around the tires as you take off is very impressive, as are the mid-air effects. A nice touch is the addition of damage and wear and tear in the cockpit. It's rare to fly a pristine aircraft, and FSW helps to sell that image perfectly. From lens flares on the cockpit window to the accurate reflections, everything here works together as one to create a much more immersive and realistic aviation experience.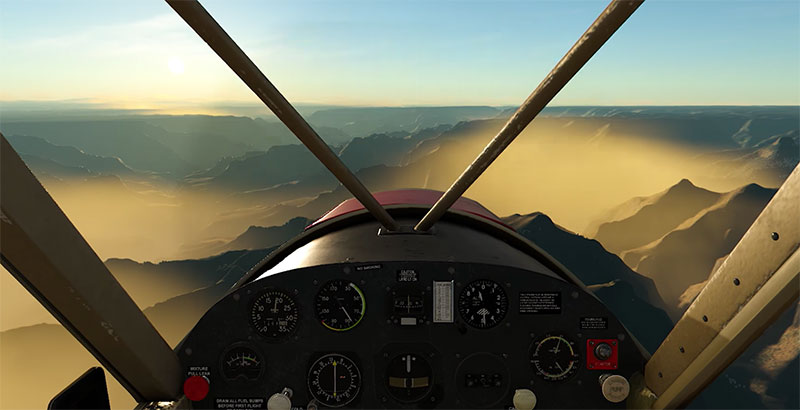 There are many views to pick from, too, which makes it easier for you to appreciate the visual impact that has gone on within this simulator. Graphics easily match up with performance, though as expected major cities and airports could definitely do with some improvement which will come with scenery add-ons.
Sound
The audio experience is great, too. The overall appearance of the audio in the sky is a nice touch, making sure that you get the ambient sounds that make flying an aircraft so enjoyable in general. Sounds are very important, and this gives you everything from environmental ambiance to the sound of your aircraft reacting to your actions.
If you are used to add-on aircraft in simulation looking great and sounding just as good, FSW makes that standard. Easy enough to get the right sound quality through the easy configuration menu, too, it's very easy to get the right kind of sound performance for your own machine.
Realism
And now for the main and final part of the simulator, we want to look at – realism. I personally felt like the basic settings are a touch too unforgiving for beginners, too easy for veterans. Thankfully, you can tune just about everything that you like to make the flight as easy/hard as you would want.
It can give you a totally authentic flight experience or it can give you a very arcade, simulated and streamlined style. Newbie pilots will find this easier to get into compared to other simulators due to this. Veterans, though, will be able to really ramp it up and make flights as easy/hard as they want.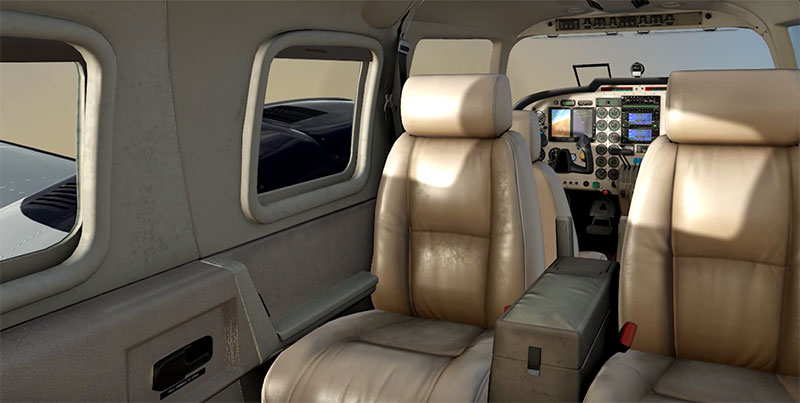 You can tune everything using the various realism settings, and this makes it easy for you to totally change things like how aircraft perform and react to what you have asked them to do. from simulating real-life G effects to turning off aids and help, you can tailor the experience to your own level.
This is very useful and should make it very easy for you to engage with this simulator regardless of experience level.
Verdict
Pros
Excellent balance between authenticity and performance.
Great visual experience that looks far better than the likes of FSX.
Great weather system which is sure to improve with time when Dynamic Weather arrives.
Easy to modify and change to suit your own skill level as you like.
The control scheme is excellent, easily adjusted and compatible with most inputs.
Cons
Aircraft selection is terrible for such a big release.
Reliance on third-party add-ons is already a concern.
Poor improvements in terms of new features (albeit with the promise of more to come).
Customization could be much better for aircraft.
Overall? FSW is a good start for a new simulator. If we think back to the likes of FSX when it first hit, there was plenty of stuff missing from then, too. This is a good start, but it does need to really move into the next stage of development ASAP.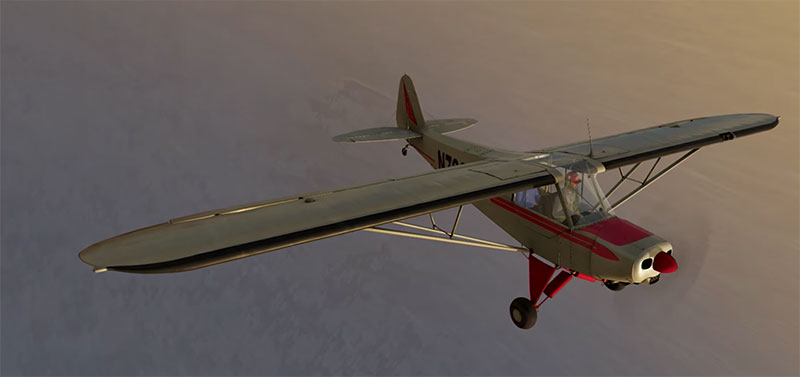 If you buy Flight Sim World, don't expect it to be 100% complete just because it is released. There is more to come on what is a very solid foundation. As it is, though? You might be disappointed by the lack of non-beta multiplayer usage.
There's more to come with FSW, which is a good thing given the lack of basic features. There's a lot here to love, some stuff to fall out over, but plenty of time for FSW to move to the next level in good time.
Project Cancelled (Closure Announcement)
Originally posted May 2018
The simulation world has been, for a long time, filled with shocks and surprises. We often get a lot of them as time goes on, but one of the biggest shocks was the late-April announcement that Dovetail Games' Flight Sim World was closing down. It's a major story in the industry and has obviously caused a hell of a lot of consternation.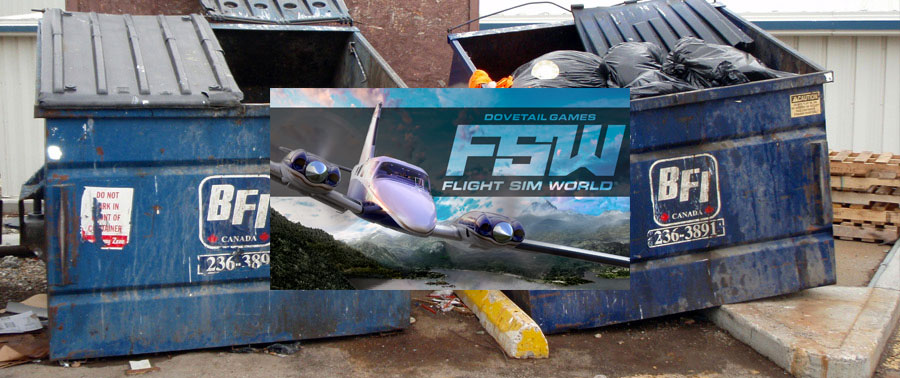 The simulator was seen by many to be the next step forward in a hugely impressive industry. With other new-gen flight simulators arriving on the scene in recent times, there was a natural optimism that FSW could live up to expectation and deliver a truly special aviation experience. Sadly, it's come to an end.
There's been a lot of questions from the community, too, and we'll try to cover some of them below. First, though, we just want to take a quick look at the reasons given by Dovetail Games for deciding to stop production. They announced that the reason they have stopped was that,
"Unfortunately, after many detailed discussions, we regrettably don't see a clear direction that will allow us to keep to the development time we'd want, alongside the player numbers we need."
That's obviously a bit of a worry, as there was massive hype about FSW. With it clearly needing more work than was anticipated, it's been decided that not long off a year since it went into Early Access, that FSW will be removed from sale as of May 24th, 2018.
It's a crushing blow for Dovetail Games and a major kick in the teeth for fans who had such high hopes. Following the great work done with Flight Simulator X and its reboot, this comes as a bit of a blow for the wider future of the simulation industry.
What's Next?
Well, at the moment, nothing. FSW is dead, more or less. There's nothing more that can be done to help keep it alive any longer, sadly. You can read a detailed post from DTG Cryss, one of the staff members over on their official forums. While there are always those little burning hopes that something like this could be resurrected, at the moment it sounds more or less dead in the water.
Part of the problem, at least when speaking to other community members, was the lack of third-party support. This has been a major part of the lifeblood of the industry, and the fact that there was so little support for third-party add-ons really did help to kill FSW before it off the ground. Sadly, that total lack of desire to use third-party content in the way that it had been so popular on other simulation models is a real shame.
It contributes at least in part to the end of the FSW project. It's a real shame, though optimists may wish to look at it as a chance for someone else to rise up and try to take the place which is now vacant on the market.
Dovetail Games, though, were one of the companies who seemed willing to invest and really put the effort in for a new simulator. The lack of third-party support though was a major surprise. Given their success in other simulation fields, it felt like it was only a matter of time before FSW got itself off the ground and into top speed.
Unfortunately, this crash landing means that we're a simulator down. With X-Plane 11 seemingly doing well and Prepar3D version 4 though, at least one of the more modern simulators appears to be on the right track. Flight Sim World, though, appears to be over.

What Went Wrong?
Amongst the rawness of the news and the fact it's still all being developed and processed, it would be hard to say with any definition. Of course, one of the main reasons that some have speculated for its downfall is the fact that FSW was more based on the Dovetail model for Train Simulator.
Some noted that with Train Simulator, there was no competition and thus they were the only show in town. This meant that they could get away with a bit more control over what kind of markets they moved in, and it feels like the lack of third-party support for FSW was built on the same foundations.
Again, though, it's hard to provide any kind of clear conclusion at this moment in time. The fact that we have so much choice in the flight sim industry means that it's easy for people to turn to other projects if they aren't getting 100% what they want. With the choices so relatively minimal with FSW to start with, it's easy to see why so many stuck with the large libraries they have instead of starting afresh with such a limited volume to choose from.
Still, it's all very sad. The death of FSW is a real blow for the industry, but at the very least it might provide some kind of lessons for other developers in the future.
Thankfully, those who own FSW will still be able to play it in its current state. If you already own it, you won't lose it nor any of the DLC that you have invested in. For that reason, you can enjoy a relatively easy last few flights on the simulator. Just know that, as of today, no new updates or changes will be coming in.
It's a shame to see it end like this, but we wish the Dovetail team all the best in the future. It's a brutal end to what was one a hugely exciting and popular part of the simulation community. Whatever comes next, we hope that it can get off the ground in a more positive and productive manner than FSW was able to.
Now, there's a new gap in the industry. With nothing on the way to replace it at present, those looking for a more modern take will need to settle for this version of FSW or turn to X-Plane 11 or Prepar3D v4 (which most people did anyway).
Microsoft's Revamp of Flight Simulator in 2020
Update November 2020
It's not hot off the press so to speak but Microsoft released their brand-new flight simulator package on August 18th, 2020. They also bought back the rights to Microsoft Flight Simulator X from Dovetail Games along with the "Steam Edition" rendering Dovetail Games "flightsimless".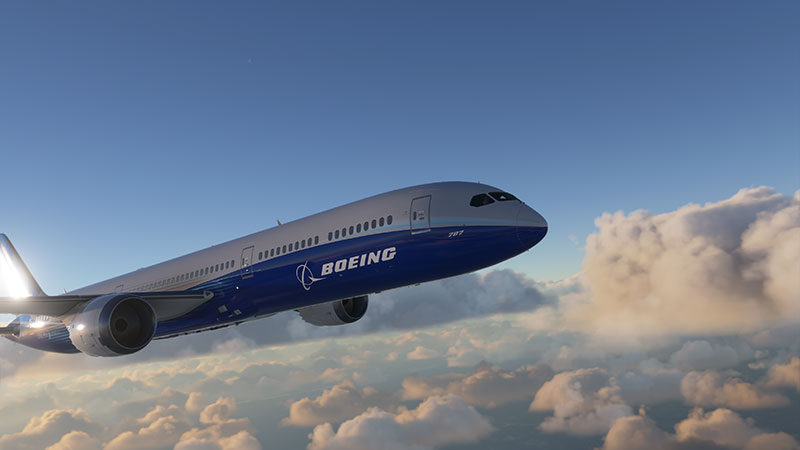 It's highly likely, reading this, that you have the new Microsoft Flight Simulator package already - or have at least played with it. True to style, we of course cover this new simulator in great detail.
We've written several pieces about this new sim worth your attention. You can find our ultimate guide to FS2020 here along with our full, in-depth review written by a flight sim expert here.
As with FSX and even Flight Sim World, we've continued our coverage in the add-ons library. You will find all of the latest Microsoft Flight Simulator (2020) add-ons over at this page here.
We want to know your thoughts. Please post them in the comments section below!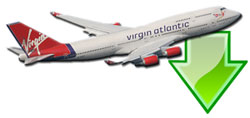 Don't forget... We have a huge selection (over 24,000 files) of free mods and add-ons for MSFS, FSX, P3D & X-Plane in the file library. Files include aircraft, scenery, and utilities All are free-to-download and use - you don't even need to register. Browse on down to the file library here.