Just a dream? Similar scenarios happen every day as hundreds of pilots tour the world working for virtual airlines. Any pilot can become a senior Captain on a global airline, all on their computer.
A virtual airline is similar to a real one except all activity takes place on computers around the world using flight simulation software. Experts estimate there are tens of thousands of hobbyist "virtual pilots" involved with hundreds of virtual airlines.
The airlines evolved as a natural extension of the popularity of flight simulation software like Microsoft Flight Simulator. After mastering their own solo flights, pilots were looking for more interaction and involvement.
Immersive Experience
As computer technology grew more powerful, virtual airlines expanded their operations and capabilities. Virtual airlines give users a more immersive experience. Pilots can experience flying for an airline they otherwise may not be able to qualify for in real life. Other users are limited by physical or financial constraints. The virtual environment removes those challenges.
Research studies have indicated that participants feel a strong bond to their airlines, much the same as those in real life. Several university projects have used virtual airlines to take a closer look at diverse subjects such as aviation, statistical theory and modeling.
Early History
Virtual airlines are a subset of the larger phenomenon of online gaming. The original airlines came on the scene in the early 1990s in the forums on CompuServe, Prodigy and other online services.
The airlines tended to be more organized and structured than other early forms of online simulation games. Some observers even believe that the first virtual airlines were developed when flight simulators came on the market, well before the internet rose to prominence in the mid to late 1990s.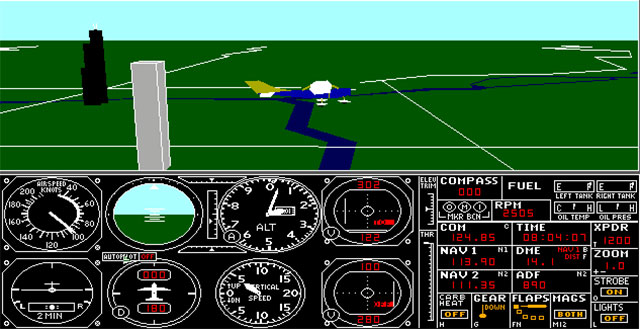 Around 2000, the airlines experienced a growth spurt. This rise in popularity paralleled the growth of online gaming in general. Multi-player online games in fantasy, combat and adventure simulations were growing rapidly. Faster computers, more capable broadband and DSL connections and better graphics all contributed to the rapid expansion.
Virtual airlines have often been early adopters of advanced Internet and computer technology. For example, the Virtual Air Traffic Simulation Network and the International Virtual Aviation Organization are two of the largest virtual airline multiplayer networks. As stand-alone flight simulation software titles developed, the multiplayer networks did as well.
Two Types
There are two types of virtual airlines. The first approach is to create an airline that has no ties to a real-world counterpart. The name, brand, and logo are all created from scratch. This style is the most common. It provides users with the most flexibility and variety in aircraft selection, route designation and operational structure.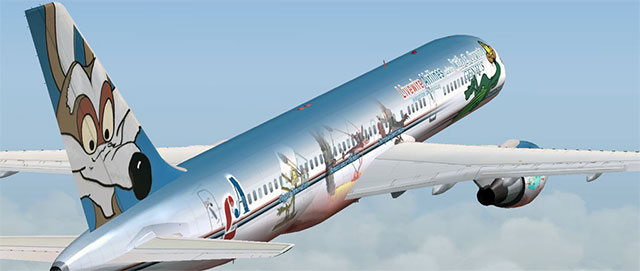 Livewire Airlines, a popular VA that is not based around a real-world counterpart.
The second option is to create a virtual airline that mimics a real-world airline. They try to replicate the types of aircraft used, hubs and routes offered, and branding of their namesake. While there have been copyright disputes in the past, most real airlines have allowed their virtual counterpart to flourish.
A less common variety of virtual airline is a military airline. Instead of commercial aircraft, they use military aircraft and organizational hierarchy. Some focus on one area such as naval aviation. Another, less formal style of virtual airline is a virtual flying club. Like a real-world flying club, there is as emphasis on social interaction as flying.
High-Speed Connection
While original virtual airlines were limited by the technology of bulletin board services (BBS) on which they originated, modern airlines enjoy incredible graphics and high-speed Internet connections. With the proliferation of virtual airlines, pilots can choose from among several networks such as Virtual Skies, VATSIM or IVAO. A network is the software and technology underneath the airline that makes it run.
The experience is truly immersive; pilots can see other planes, respond to air traffic control, and see weather conditions at a glance. Some airlines are so advanced they pay their pilots a virtual salary. They also determine operating costs, estimate profit and loss and use similar financial controls of a real airline.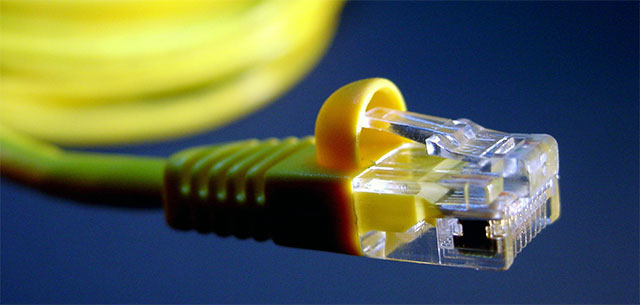 A major advantage of virtual airlines is they provide a social hub for pilots to interact. Solitary flying on standalone computer lacks interpersonal communication. Virtual airlines offer multiplayer flying, Internet forums, articles, blog posts and other ways each pilot can meet and establish relationships with other hobbyists.
Ranking and Awards
While virtual airline membership is generally free, some airlines are very selective about choosing their pilot staff. Applicants may need to pass knowledge tests before they are accepted.
Many virtual airlines have a complete ranking system that determines which pilot is approved to fly on which route. As pilots complete each flight, they file a report which indicates the number of hours flown. Their ranking increase as they gain experience and flight time.
Senior pilots can achieve higher status such as Captain. In addition to higher ranking, members can get awards and certificates. They may complete specified routes or accumulate hours in a specific type of airplane. All rankings and accomplishments are posted for others to observe.
Hub and Spoke
As virtual airlines grow, coordinating routes and operations can become cumbersome. Some airlines will choose to diversity into smaller units called hubs. Often hubs use a group of pilots that operate out of the same location, beginning and ending flights from that hub. Virtual hubs try to replicate actual airline hubs as much as possible.
Aircraft branding and imagery is important to providing a consistent experience for users. However, custom delivery paints are often provided to give pilots a sense of pride and excitement. These customized liveries are posted on the virtual airline site, or can be downloaded from popular flight simulation websites.
Virtual airline users can speak with other players using Voice Over Internet Protocol. They can also text each other using Skype, MSN messenger and similar services.
Modern virtual airlines use automatic processes to track flight statistics. In the past, all of the data had to be reported manually. Now automated systems like the ACARS systems track flights in real-time and report statistics automatically at the end of the operation.
Getting Involved
Every virtual airline is looking for enthusiastic members. Applicants will need flight simulation software in order to join the airline. Common flight simulation software titles include:
Microsoft Flight Simulator
X-Plane
FlightGear
Prepar3d
Fly!
GEFS Online
YSFlight

There are hundreds of virtual airlines to choose from. A quick Internet search will provide a quick overview. Here are a few:
The Virtual Airline List we have here keeps an updated list of "top" virtual airlines. However, the list changes rapidly. Industry veterans advise testing several airlines to see which one fits the best.
Airlines For Newbies
Big virtual airlines can intimidate new users. On the Airliners.net forum someone asked for virtual airlines where a newbie can get their feet wet. A user with the handle NC1844V commented, "…I'd suggest this airline, which is very modern, but easy to get along with:
https://www.atlanticsunairways.com/
"This Airline has a training program that you can start flying short hops in a Cessna and then work your way up to a small turbo prop, and so on. They have a route system and you're only able to fly routes in the system as well as aircraft that you are qualified on. They have a lot of cool tools you can download, to make the experience more realistic. They have a very active forum and are very welcoming to new pilots."
Evaluating an Airline
When evaluating an airline, there are two important things to determine:
Which airports are used?
What type of aircraft is in the fleet?
Users will want to make sure that a virtual airline uses airports they want to use on a regular basis. Similarly, check which aircraft the virtual airline uses. Since these are the aircraft regularly flown, it is important to make sure a prospective pilot wants to fly those planes. Each of these items can be found on the virtual airline's website. Look for links such as "Where We Fly" and "Fleet." Most sites have specific pages outlining the routes and aircraft utilized.
Since one of the benefits of virtual airlines is their social aspect, make sure to check out the forums on the airline website:
Is there plenty of activity?
Are people involved posting regularly?
Do the participants help each other or squabble about mundane things?
Since a prospective pilot will spend a lot of time with the airline, it is beneficial to make sure the other players are people they want to spend time with.
Follow all application directions completely and fill in each form accurately. Some applications may seem excessively detailed for a make-believe airline. Keep in mind that the owners and operators probably put in tens of thousands of volunteer hours to grow the airline and make it stable and efficient. They want to make sure everyone that gets involved is qualified and willing to participate on regular basis.
First Flight
Most major virtual airlines have a pilot ranking system. Pilot aircraft certifications are limited based on their ranking. As they gain flight hours and experience they are allowed to take on more complex aircraft. First time pilots should choose their favorite flight among the routes offered.
Some airlines will track their statistics automatically using ACARS (Aircraft Communication Addressing and Reporting System). Others will utilize a manual reporting system. Often an airline requires a minimum number of flights to maintain active membership.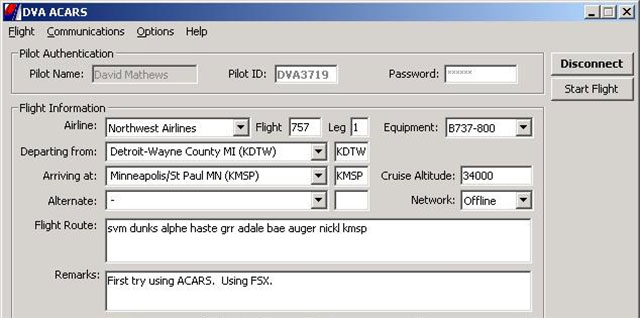 New members should take time to introduce themselves in the website forum. The forum is where much of the inside information about the airline's development, structure and growth is shared. Also, new users will get lots of tips and techniques to help make their first flights are smooth and successful.
A virtual airline needs considerable volunteer contributions to make it run smoothly. Once a new member is familiar with the airline operation, they should consider volunteering to help where they can. If they cannot contribute actual volunteer time, financial contributions are always welcome to help defray bandwidth and other expenses.
Conclusion
Virtual airlines are a great way for flight simulation hobbyists to take their love of flying to the next level. They provide an immersive experience that can help pilots expand their skills and build their confidence.
However, don't forget that the whole point is to have more fun. As one Assistant Chief Pilot said about DeltaVA, "I am 38 years old and currently not real happy with my current job. Instead of being miserable every day, I am taking matters into my own hands and going back to school to be a programmer/analyst. I love this virtual airline and it is my vice to get me out of my hectic life."
In other words, it's great to rise up in the pilot rankings and take on bigger titles and more responsibility. Just remember to enjoy each takeoff and landing on the way. Once Senior Captain or Instructor status is achieved, many pilots find that teaching others the ropes is as enjoyable as flying itself. The shared love of flying and flight simulation is the common bond that makes a great virtual airline community.
Don't forget to view our page on, "What is a Virtual Airline" - it also contains some notable VA's that you may consider joining, check it out here.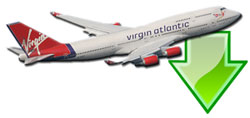 Don't forget... We have a huge selection (over 24,000 files) of free mods and add-ons for FSX, P3D & X-Plane in the file library. Files include aircraft, scenery, and utilities All are free-to-download and use - you don't even need to register. Browse on down to the file library here.