Ever since December 17, 1903 when Orville Wright flew the Wright Flyer I for the first successful man-powered flight, we have had a love affair with aviation. The birth of Microsoft Flight Simulator in the early 1980's was another milestone—the first flight simulation software for personal computers.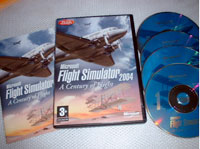 Image showing Microsoft Flight Simulator 2004 packaging compromising of instruction manual, DVD type case and 4 CD-ROM's.
To commemorate both anniversaries, Microsoft has released Microsoft Flight Simulator 2004: A Century of Flight. This edition features more planes, enhanced graphics, and more options than ever offered in a new release. One of the keys to Flight Simulator's massive appeal is the ability for users to create their own aircraft, scenery, textures (skins), and city files. If the user community contributes to FS2004 as they have past editions, Microsoft will have another hit on its hands.
Consistent Interface
Flight Simulator has stayed with a familiar interface over the years, making it easy to adjust to each new addition. Flight Simulator 2004 takes it to another level, with easy access to game options and clear explanations of their function. Users can get even more in-depth training at an interactive flight school taught by Rod Machado, a respected aviation veteran.
While most software products have sparse online help and documentation, Flight Simulator 2004's is excellent. Users will discover massive amounts of material including colorful histories of each aircraft, a detailed look at the history of flight, and extensive flying tips and guidance. There are articles with hyperlinks to other pages with more background and data on the subject. Several sections have links that will put the user directly into a cockpit so they can fly recreated simulations of the flight being discussed. Many of the in-depth historical articles were written by Flying magazine's Lane Wallace. Other articles were reprinted from AOPA Pilot and other aviation publications. It is amazing how the real-world tips provided by these experts can be directly applied in the cockpit of FS2004.
Touchy Controls
Users will need all the training and tips they can muster when they attempt to pilot some of the vintage aircraft included in FS2004. This edition is a loving look back at the history of civilian flight, leaving out jets and military planes. Some of the early planes featured in the package are the original Wright Flyer, the Curtiss "Jenny", the Vickers F.B. 27A Vimy, and the Ford Trimotor (nicknamed "The Tin Goose"). Rough and tumble in their handling, each plane requires full concentration and quick reflexes. Pilots will feel the wind in their hair as they struggle to hold the Wright Flyer off the ground. Every bone-rattling shake will keep them alert at the controls of the Ryan NYP "Spirit of St. Louis." They'll fight sudden gusts blowing across the tarmac as they battle to land a DC-3 without cracking up.
These vintage aircraft are easier to handle with some quality controller peripherals, including rudder pedals or a joystick with a twist handle. Take-offs and landings in classic taildraggers like the Piper J3 Cub are almost impossible without a lot of fancy footwork on the rudders. In the air, these old gals will resist any attempt to make a turn without stomping the pedals with conviction. The rudder pedals will be especially useful when you break out the choppers, a Bell JetRanger and Robinson R22 Beta. The Robinson reacts immediately to the lightest touch on the controls, a world of difference from the stable ride of the heavier JetRanger.
Fortunately, Flight Simulator 2004 has the same comfortable feel of FS2002, with subtle handling nuances that help control the slow, underpowered, and fragile vintage aircraft. Pilots can bring in taildraggers slowly and steeply for a classic three-point landing, or come in faster and closer to the ground, leaning on the stick until the tail loses lift and the tailwheel alights softly. This flexibility of approach is especially useful in the Piper Cub when facing heavy crosswinds.
Real-World Weather
In addition to the vintage aircraft, one of the exciting changes is the extensive weather effects. In-flight weather can be programmed in a mind-boggling variety of patterns. Users can even tell FS2004 to automatically install real-world atmospheric data from the Jeppesen database every quarter hour. Several flights to "test drive" this feature proved that the local weather conditions at a local airfield were accurately displayed through the cockpit windows.
Instead of real-world weather, users can tell Flight Simulator 2004 to change weather on-the-fly. A pilot can take off from his home airport in crystal-clear weather only to slam into a raging thunderstorm in a short period of time. Clouds are in true 3-D, merging and separating from each other as weather changes, a significant upgrade in realism from static images.
Improved Graphics
While Flight Simulator 2004 has much-improved graphics, they fall short of true photo-realism. Structures on the ground are low-resolution and look much better from the air. These shortcomings are partially made up by the very realistic interactive virtual cockpit. Pilots can use their mouse to adjust dials, switches, and knobs to their hearts content, adding a satisfying functionality to the cockpit experience. On the other hand, the cockpit textures seem blocky and ugly, perhaps a challenge to the user community to come up with a nicer design. From outside, each aircraft looks great, with accurate external gauges, cables, bolt seams and other little details that add to the realism. Even more impressive, the programmers used sound recordings from the actual aircraft, completing the experience.
The price of all these upgrades is a significant demand on computing resources. More powerful systems will be able to maintain a smooth image sequence and employ a number of effects at the same time. Our test system consisted of a 2.66 GHz computer with a Radeon 9700 Pro video card sporting 1GB RAM at 1600x1200 resolution with the graphics settings maxed out. While it slowed considerably in heavy clouds, it evened out once the clouds cleared and the ground structures disappeared in the distance behind. Users with slower systems or less robust graphics cards will not be able to enjoy many effects if their computers barely meet the system requirements. However, the software has a lot of flexibility in setting the level of graphic complexity.
New Airports
With 1,000 new airports, FS2004 boasts more than 24,000 different landing options, from tiny grass airstrips to huge international airports. A much-improved ATC works well and controlled terminals provide full ground control juggling taxi clearances and direction. Pilots can follow the taxiway signage to the destination or turn on a display that shows the specified route.
After settling in to position on the runway, pilots can press a single key to request takeoff clearance from the tower. The air traffic controllers respond to air space transition requests, as well as send directions to the airfield, and relay other important data while in the air. Once pilots request permission to land, ATC will provide instructions to enter a designated landing pattern or tell them to land straight away on a specific runway.
If a pilot makes an error while approaching, ATC will instruct them to try again. While the system works well, it has its quirks. During our testing, we tried to bring in a Cessna at a famous international airfield. Even though we followed our instructions to the letter, an AI-controlled DC-10 nearly clipped us as it roared overhead, landing on the exact same runway. Despite these nerve-jangling incidents, the ATC is much-improved from previous editions.
Garmin GPS
Another useful addition to FS2004 is Garmin GPS. Garmin is a popular brand of real world GPS products and the in-game models are striking similar. Rookies will have some difficulty getting the hang of the controls. Beginners can consult an included training video. After some trial and error, users will find GPS a powerful tool, and will refer to it often during their flying adventures.
New planes, cool sounds, better ATC, real-world weather and more. What else could a Flight Simulator fan want? Despite these improvements, a closer inspection shows that the core of the game is not that different. The flights and the graphics are basically the same. After the initial excitement of the new features fades, Flight Simulator 2004 feels similar to previous editions. Multi-player functionality is limited, allowing only basic flights and races.
Celebration of Flight
And yet, Flight Simulator remains the best-selling flight sim software of all time. Even a small upgrade is big news. Fans should invest in the new package to experience the full advantages of world class flight simulation development. Newcomers will benefit from the outstanding documentation, help screens, and extensive flight school.
More than anything, Microsoft Flight Simulator 2004: A Century of Flight is a celebration of the incredible history of civilian flight, a tip of the pilot's cap to the tinkerers, inventors, and adventurers from the dawn of aviation. Little did Orville and Wilbur know what they started that freezing December morning at Kill Devil Hills, North Carolina when Orville flew those historic 120 feet in 12 seconds, Wilbur running alongside the whole way.
Gameplay Demonstration Video
Below is a video demonstrating free flight and different aircraft available in Microsoft Flight Simulator 2004.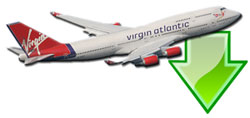 Don't forget... We have a huge selection (over 24,000 files) of free mods and add-ons for MSFS, FSX, P3D & X-Plane in the file library. Files include aircraft, scenery, and utilities All are free-to-download and use - you don't even need to register. Browse on down to the file library here.