Microsoft Flight was a flight simulator package released in 2012 and developed by Microsoft as an attempt at a new PC based simulation package to continue their Flight Simulator series. It wasn't based on old FSX code; it was a completely new engine built for modern 64-bit machines.
The community had high hopes for Microsoft Flight and there was a huge fan-base waiting for its release to bring at-home flight simulation up to modern standards.
Sadly, the project failed and didn't last long - most likely down to the revenue model (mainly based on DLC) and the world wasn't entirely "open" - you had to buy different geographical zones individually and there wasn't many of those anyway.
This article covers the release, rise and fall of Microsoft Flight in detail.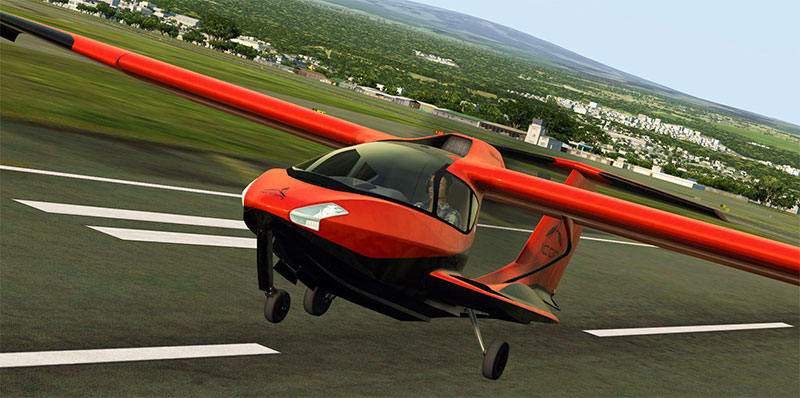 Microsoft Flight is now of course discontinued but if you did manage to grab a copy before its demise, you can still run and play the software on your PC.
There is still much interest in this release and the chatter continues to echo around the Internet so this article covers many of the questions users are still asking.
We have laid out the article chronologically for ease of reading - from start to finish.
Of course, the article is quite lengthy so you can jump to individual sections using the jump-links below;
Announcement
Originally posted Aug 2010
Announced by Microsoft on the 18th August 2010 at Gamescom in Cologne, Germany is the development of the next flight simulator in Microsoft series, now called "Microsoft Flight". They seemed to have dropped the "Simulator" ending, opening up the software to many more players and simulation enthusiasts. By dropping the "Simulator" word, the game is targeted at anyone with a slight interested in virtual aviation, not just the flight "simulator" enthusiast.
The announcement of Microsoft Flight didn't come as a complete surprise, as Microsoft Flight Simulator is one of Microsoft's best selling and longest developed software titles for the PC. While the demise of the ACES studio was saddening for the flight simulator community, we all knew deep down to expect a release of another Microsoft developer simulator package.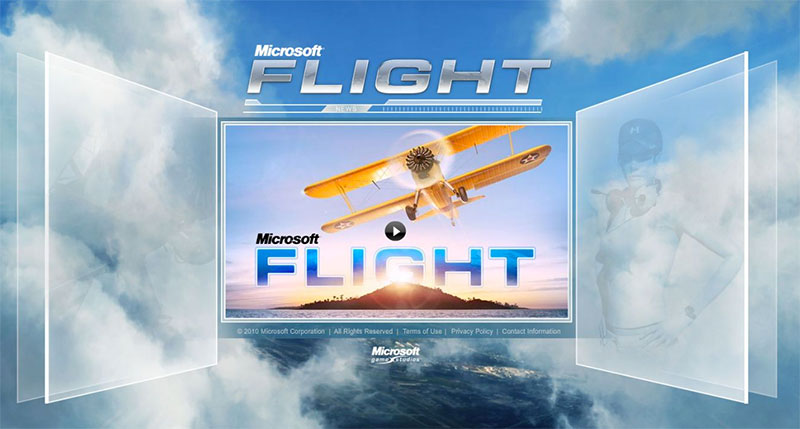 While there was no news on the development of another simulator by Microsoft, X-Plane flight simulator for PC, Mac, and iPhone started gaining popularity within the community. However, this is a much more realistic simulator and is targeted at more advanced virtual aviators.
Microsoft doesn't have a lot of information on "Microsoft Flight" yet, however, keep checking Fly Away Simulation for the latest updates and press releases on this.
"Microsoft Flight will bring a new perspective to the long-standing genre, welcoming everyone, including long-time fans, to experience the magic of flight." - Microsoft PR.
Users can expect great enhancements from FS10 aka FSX. The entire engine will be built around DX10 with advanced lighting, 3D textures and much more. This should bring the Microsoft simulator package to the next level of realism.
What Can We Expect?
Originally posted Sep 2010
With the announcement of Microsoft's next flight simulator release, Microsoft Flight, the whole community is wondering what we can expect in terms of graphics, default aircraft and scenery environment. Microsoft Flight's official version is FS11, know among the community as that. There have been thousands of feature requests from avid flight simulator users, but we're still yet to see what has actually made it into this next generation of flight simulators from Microsoft.
Included Airports
While previous versions of Microsoft Flight Simulator had increased the amount of included airports with every newer release, there were still some small community airfields and strips that didn't make it into the release. The last version of Microsoft's Flight Simulator, Microsoft Flight Simulator X included over 24,000 airports that had animated and interactive features. This includes jet-ways, moving radar and beacons.
We should definitely expect many more highly interactive airports with more advanced features such as jet-ways that move up to the aircraft doors automatically - without using an external third party add-on.
Scenery
The scenery and 3D objects have definitely improved greatly over the years, with the introduction of auto-gen, this has added an even more realistic level to the MSFS package. However, autogen is exactly what is says... automatically generated scenery; which disregards what the real world as we know it is like. Perhaps Microsoft will be using satellite maps and such features to create a more realistic simulation of the world as we know it.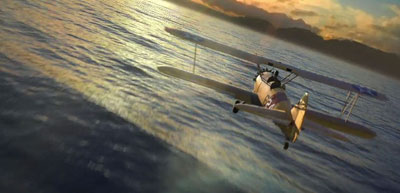 Screenshot from Microsoft Flight's teaser trailer video - This is all we can expect to see at the moment until further media and videos are released by Microsoft. Watch this space.
At the moment, we are able to purchase ground textures that use satellite imagery, however, they are usually huge files, some over 10 GB. Could Microsoft squeeze an entire world of satellite textures into a couple of DVD-ROM's?
Flight Environment
We can expect great things from Microsoft Flight in terms or flight environment such as cloud textures, lighting effects, shadows and more thanks to the release of DirectX 11 on Windows 7. We anticipate Microsoft Flight to only be released on Windows 7 and Vista and not backward compatible. We also expect you to have the latest graphics card and hardware to use Microsoft Flight at its full potential.
Clouds and lighting textures will be greatly improved using the new technical features of DirectX 11 and the latest graphics cards.
Included Aircraft
Microsoft's default aircraft have always been "standard" in terms of realism and technical features. If you are a true flight simulator user, you would know about the quality of more professional add-ons such as aircraft released by PMDG and Captain Sim. Could Microsoft step-up their game in terms of aircraft design? Perhaps we can expect some highly detailed, advanced aircraft for use straight after the install! Maybe we could see something new completely, with Microsoft including actual third party developer aircraft in the release. We can only wait and see until we have more details.
Performance
Originally posted Nov 2011
The November Update from the development team behind Microsoft Flight discusses a topic that many of us are very concerned about - performance. The update includes information on what systems can run reasonably at both high and low settings and also a screenshot to demonstrate.
Microsoft also includes a message at the bottom of their release, "check back in December for an exciting announcement." Well, we should be expecting some big news in December - perhaps a release date.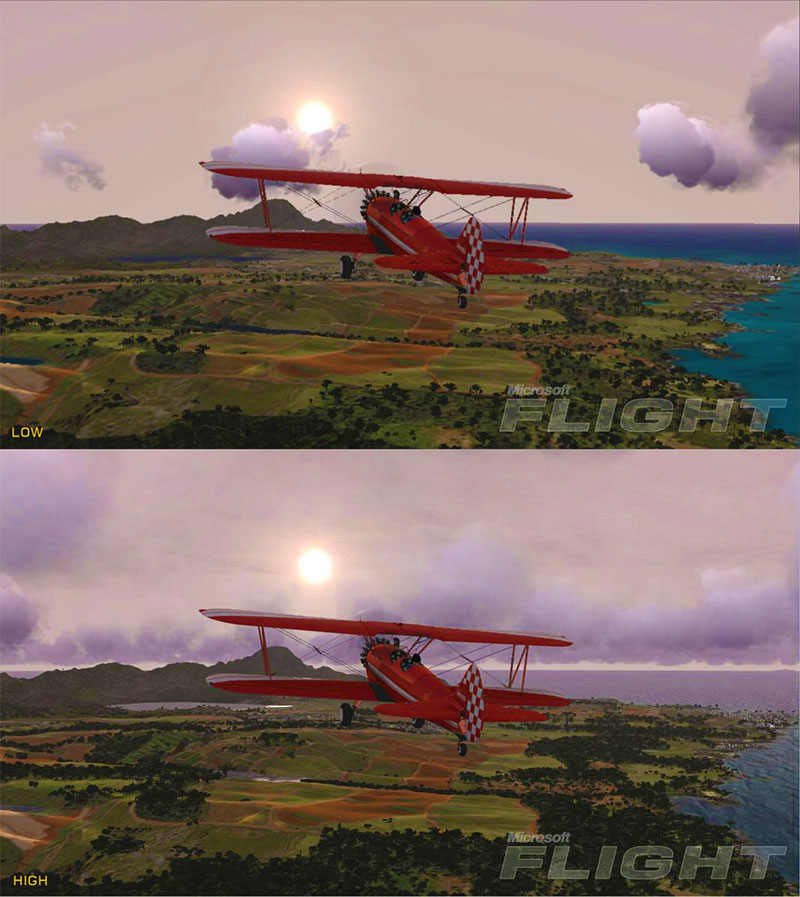 So, from what we can see - many of us that run FSX quite comfortably on our computers should also be able to run Flight too, without upgrading any of our hardware... hopefully.
Let's watch this space and see what happens on the release of Flight. Only real testing from thousands of users will provide a definitive answer.
Beta Program
Originally posted Dec 2011
Microsoft has announced a beta program for their next flight simulator release, Microsoft Flight. Anyone can now register for the beta program and provide feedback to Microsoft about the software.
So don't hang about, submit your registration today!
Also, expect news from Fly Away Simulation later in the month from behind the scenes of Microsoft Flight.
Behind the Scenes at the Microsoft Studios
Originally posted Jan 2012
On December 13th, 2011, the team at Fly Away Simulation were invited to an event demonstrating and discussing Microsoft's next flight simulator release.
Many facts, information, and topics were discussed at this event. William Luxton, a member of our editorial team was at the event and has the following report for your reading pleasure.

The team behind Microsoft Flight consists of roughly 50 people, including a mix of professional pilots, 40% of which worked on the previous team.
Three years into development, Project Manager Joshua Howard invited a select few involved in the flight sim community to visit the Microsoft campus in Redmond WA, to see the project thus far.
Joshua Howard likes to say that he works on games for humans; bringing entertainment to those that don't think of themselves as 'gamers'.
The plan was to turn the wonder of aviation into a piece of software that will appeal to anyone at all interested in aviation, not just the hardcore simmers. The faithful Flight Simmers don't like that it is referred to as a game, but dropping the word 'Simulator' helps open the product up to new people.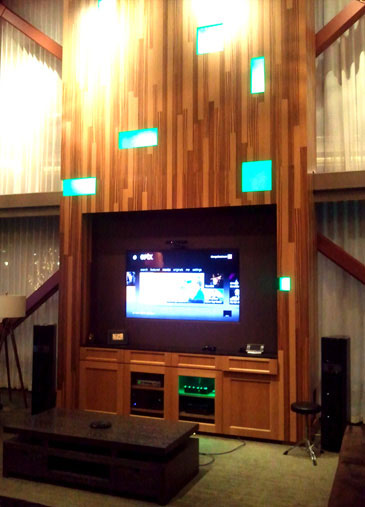 ​
​The Great Room. The most sought-after 'conference room' at the Redmond Campus.
Analysis
This new release from Microsoft is a new approach to a beloved franchise. It is a completely separate product from FSX, designed to appeal to the faithful simmers (prior primary target) as well as the casual flyers and the masses.
FSX was great but was not quite hitting the mark and reached only a fraction of its potential audience. The team's research shows that of all the people who visit flight museums or attend events related to aviation etc. only a very small percent bought FSX.
It became too easy for previous teams to focus on the faithful. While this could be seen as a good thing, at some point this became a burden that stopped the product from expanding.
The game features stunning realism, both in the models and textures. These amazing aesthetics are running on present-day hardware that some people will already have.
The way previous builds were made, the games ran very CPU heavy and didn't take advantage of the fact that graphics cards were developing quickly.
The team has put a great deal of effort into getting the game to run smoothly at its highest settings, while not requiring out of this world hardware. But also, getting it to still look good on its lowest settings, accommodating those end users with lower-end hardware and even those running the Windows XP operating system.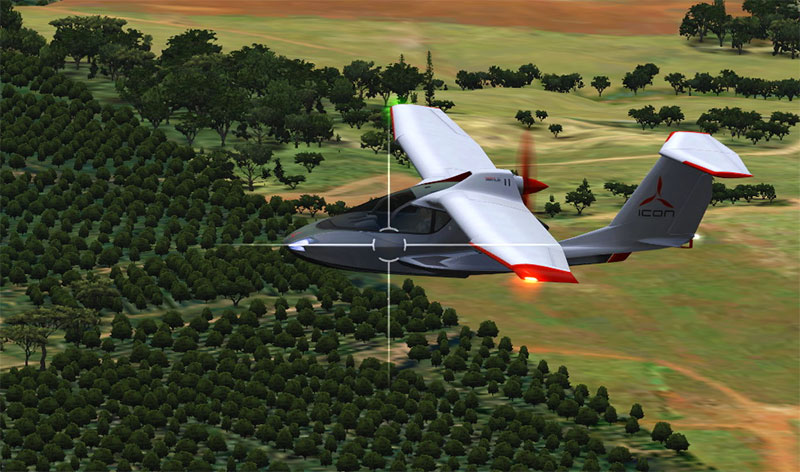 Features and Advancements
The game is built on an improved legacy engine, for large-scale scenery support. The base is still a globe, it's just that there is not enough geography yet. But they would rather launch now and not have everything than wait and let the product age. This also helps keep the download size down.
An all-new lighting system for scenery and objects, along with improved texture resolutions on world objects helps the game really come to life. The object density has been increased greatly for a given performance and the new technology allows for greater density in cities as well.
A lot of these objects are data-driven generic scenery with hand touched detail, including non-flat runways on simple airfields. These stand out now that aircraft have proper contact points, compared to the one in FSX.
Soft particle cloud and fog interaction with scenery prevents jagged game aesthetics or harsh edges and makes for some spectacular scenes.
Weather conditions are settable. When there is more geography in the game, they may add more features prevalent to a larger scale map. Such as the feature introduced in FS9, of being able to download information from real-world weather stations, and have the game simulate them.
The work that has been put into the sound really makes a difference. Down to little things like how the sound of the engine changes when the door is open.
In the previous free-form structure, players entered an open world and were left to it. This can be intimidating for someone who maybe just wants to get in a plane and experience the magic of flight, or simply go exploring.
To that end, the team has worked hard to create more structured gameplay, without making it easy.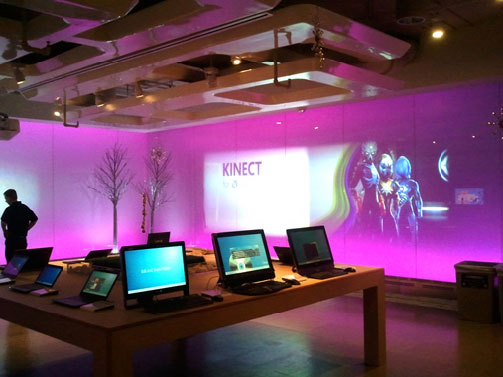 Part of the Microsoft Visitors Center.
With this software, you are at the controls and are free to play your way, whether that be structured or freestyle. The game is very accommodating, while not detracting from the finely honed skills that are required to be an ace pilot.
If you can use a mouse, you can fly. Other titles in the past have tried control set-ups where you fly by using the mouse but it has never worked. This time, it's perfect; it feels natural, it's responsive and yet very forgiving to those who aren't accustomed to flying planes.
However, the game also features full gamepad and joystick support, with complete access to key bindings and control configuration, for those who want to make it as close to the real thing as possible.
At launch, not everyone will have the opportunity to fly where they are. The team has decided to not try and make the whole world this time.
They feel that doing smaller areas at greater quality is more worthwhile. As such, the current game world is just the Island of Hawaii. The old audience may be frustrated that it's not built with everything, but it is built for everyone.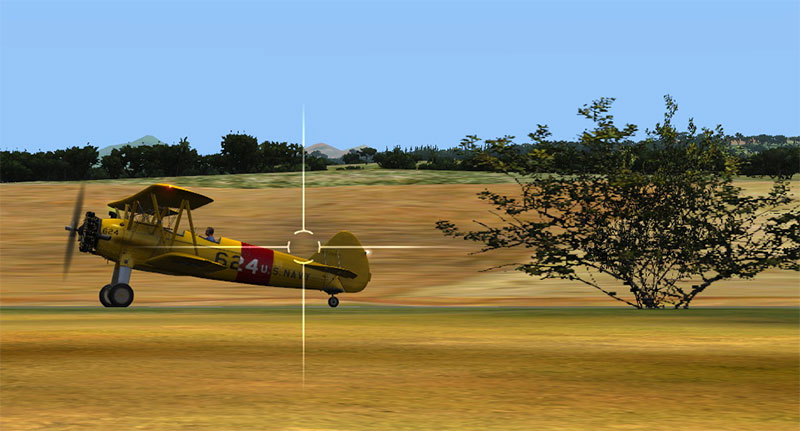 Pricing Structure and Monetization
The game will be free and will offer more content to those that use the Games for Windows Live feature, and those willing to pay small fees for new aircraft, mission packs, etc.
The game will feature its own marketplace, with content regulated by Microsoft. There will be no software development kit and hence no user-created content.
The Live marketplace allows for constant content flow and users that opt-in to share data, allow the team to react to user behaviors to improve the game and add more of what users want. It also allows for a quicker response to user requests, fixes and general improvements. On top of that, integration with the official website offers a more direct link between the team and users.
The marketplace will contain new aircraft, minor content packs such as mission packs, major content packs that contain new geography and micro-transactions for vanity items and new liveries.
These will likely come with more than just geography. Smaller content like some liveries can be unlocked in-game with no payment needed. Players are Invited in with a great free experience and allowed to personalize it.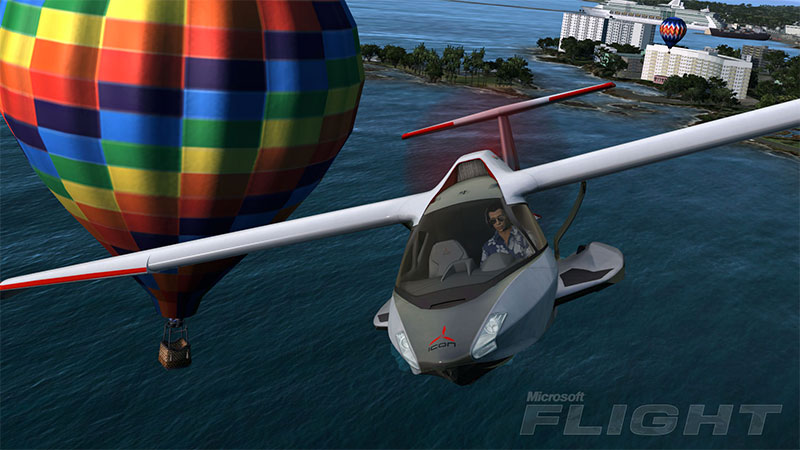 Icon A5 flying a mission.
Aircraft Included
Included aircraft are, with the first being the Icon A5. It is a light sports-plane costing around $140,000 and is the only aircraft available in the 'free 2 play' part of the game. The second is the Boeing Stearman N25, which is unlocked as soon as the player signs in to LIVE. A shared experience is a better experience, that's why there are a fair few rewards for the player if they use the LIVE feature.
There are no airlines at the moment because considering the current geography, there is no need for them. Some people may be disappointed, but it is definitely something on the team's list for the future.
There is support for multi-engine aircraft; the team says that there is nothing they cannot make.
The aircraft models are stunningly detailed and are authentically modeled with new modular systems for both aerodynamics and physical systems.
Stalls and spins, including snap rolls, are tunable per aircraft. There are also tunable ground dynamics for tires and water operations, fuselage drag for proper slips and prop-wash over control surfaces for more precise aerobatics and ground handling.
Directed play such as story-based missions, which offer the narrative feel and longer play, gives newcomers the confidence to take to free-flight.
The new user interface is friendly while still allowing users of all levels to get what they want. Thanks to this and the effective, easy flowing tutorials, first-time users have been more successful navigating UI, flying and completing missions and this early user success helps user retention over time.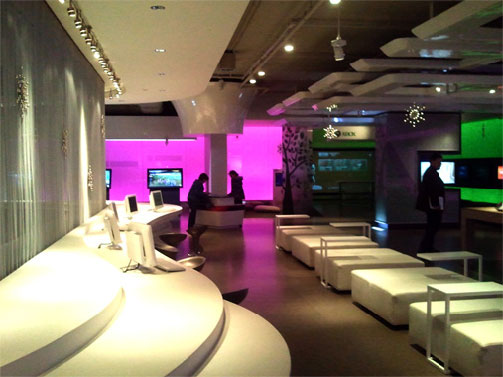 Staff and some other attendees at the Microsoft Visitors Center.
Missions and Adventures Included
The missions, whether story or not, have big replay value, as does everything else. The persistent Pilot Profile tracks in-game statistics even when not signed in to Live, but if you are signed in to Live, it allows you to compare lots of stats with your friends.
Each activity you complete earns you points, and it's very difficult not to hit the replay button to try and get those few more points you feel you missed.
The profile does not have a personalized avatar, rather you pick from a collection of static profile images. More of which will be added by launch and may, in fact, appear on the marketplace under vanity items.
The game also has a huge amount of short consumable experiences that can be found mainly in the challenges.
Hoops is a challenge whereby you have to fly through sequential rings in the fastest time, with bonus points awarded for aerobatics and special maneuvers. The landing challenges range from Level 1 to Level 5 and getting increasingly more difficult as the level increases.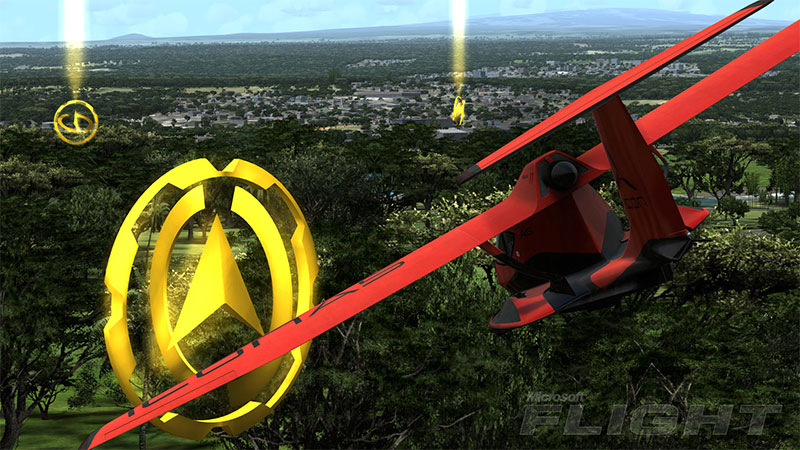 Goldrush mission.
Goldrush is a challenge that can be played on Live as well as offline. The objective is to collect as many of the gold items as you can before the time runs out. Or if you're playing with a friend, maybe your objective should be to stop them from getting as many as they can.
Although I will hasten to add, that there is no combat, as the verb is fly, not kill; it is not the experience they want to deliver. After signing in to Live, Aerobatics missions are unlocked. Players can use these to learn how to perform difficult flying maneuvers and better their overall skill in the air.
Aerocache Hunt is a fantastic idea that will suit anyone who likes to explore. Aero-cache's are scattered around the island, and exploration for them exposes scenery and landmarks that users may have otherwise missed or might be attracted to.
Players can play the challenge mode to try and find specific ones or find them in free-flight, as they are a constant in the game and will be there in any mode.
If a player chooses not to sign in to Live, there will be three Aero-cache Hunts'. On the other hand, if they do sign in, there will be hundreds, with more added every day, including themed ones. For instance, on the 4th of July, one might lead you to a hidden fireworks display.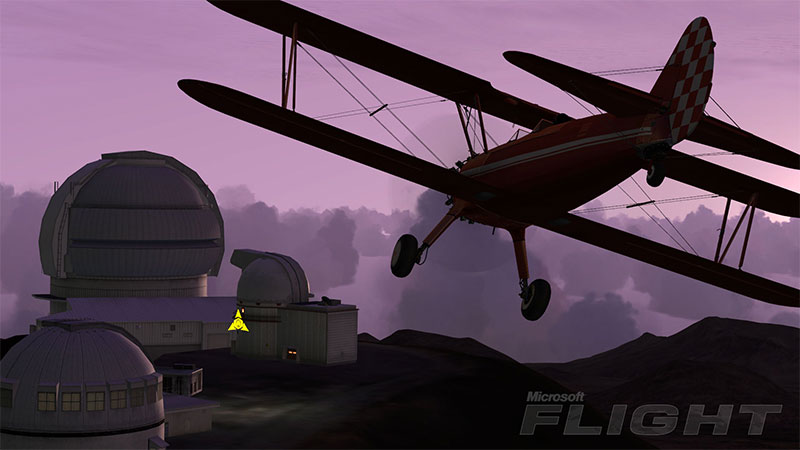 Aerocache hunt demonstration.
Multiplayer
The new multi-player model using Games for Windows Live is more accessible and more stable than Gamespy. Provisionally, a cap of 16 has been set for the number of people in one 'room'.
Since the area is so large, they have added the ability to put yourself anywhere on the map, to allow you to get close to other players. Although there are no leader-boards yet, the stat-tracking still allows players to compete against each other.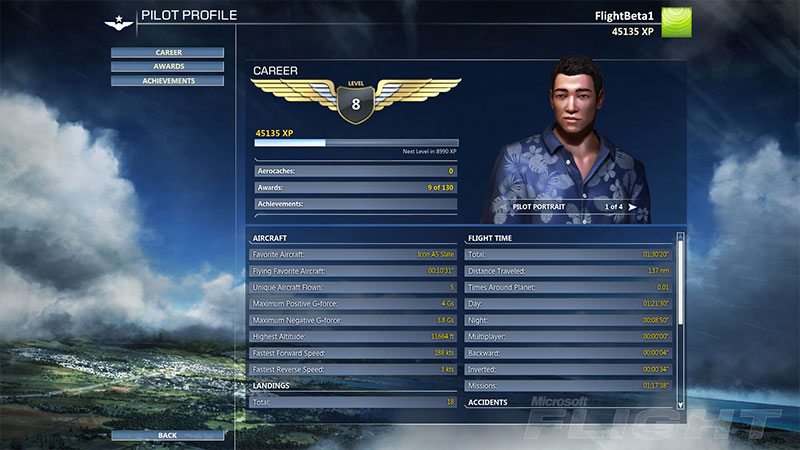 LIVE pilot profile demonstration.
Free-flight is of course, still a big feature and allows the player to do whatever they want. Including an endless amount of generated jobs that can be picked up from any of the airports. The world persistence is remarkable too.
The aircraft in use will retain its location and state for the next session whether powered up or cold and dark. Fuel quantity also persists from session to session, as well as in the hanger. Fuel management is hinted at, but not forced; it is an advanced tool to effectively manage weight.
Fuel does serve another purpose though, in this case. Because geography is an island, but the game is still technically built on a globe, fuel prevents players from flying to the edge because they would run out of fuel before they got there.
Technically, there isn't an edge. But if Microsoft sees that a lot of players are flying that far out and logging off, they will consider putting something there if they feel that's what players want.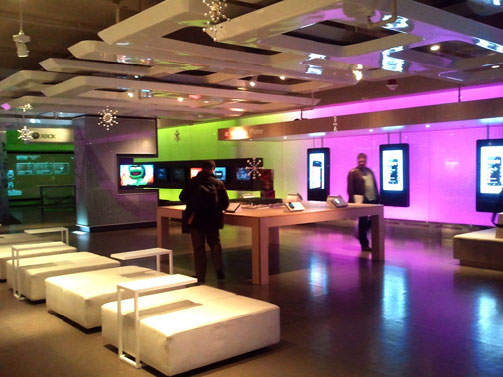 ​Attendees walking around the visitors center.
Beta & Release Date
The software is almost at its Beta stage. Microsoft has used its know-how to reach out to potential audiences, as most simmers will already have signed up from the official website. The beta has a low barrier for entry, as the team is not biased towards a type of player.
The release version will auto-set the games visuals and sounds based on the PC's performance. The Beta will be in English.
A potential release would be the first half of 2012, but the Beta will be used to asses that. The software will have a simultaneous release in all LIVE enabled countries, but will only support the following languages: English, French, Italian, German and Spanish.
Conclusion and The Community
The question remains, how are the people involved in the Flight Simulator Community's supposed to get involved? Microsoft Studios believe that this wider audience appeal will generate more customers, which will lead to franchise growth. That growth will lead to the expansion of content and features but will also most likely lead people to flight sim websites.
A lot of traffic can be expected, but how are we to accommodate these people? We can't host content downloads for this release because it's a closed, in-game marketplace. However, sticking with FSX is the best option for expandability because it has just been released on Steam and of course, our downloads still work with this version.
We hope you found this article very interesting and hope that it gives you an insight into what you can expect from this new flight sim release. Stay tuned for further updates, we will always be the first to keep you updated on development progress. We should hopefully be able to release some screenshots from the beta edition at some time soon.
William Luxton. Seattle. 13th December 2011.
Release Date
Originally posted Feb 2012
Microsoft has announced the official launch date for Microsoft Flight: February 29th, 2012.
Following a successful beta, Microsoft announced that "Microsoft Flight" will be available to download for free starting February 29, 2012, on the company's website.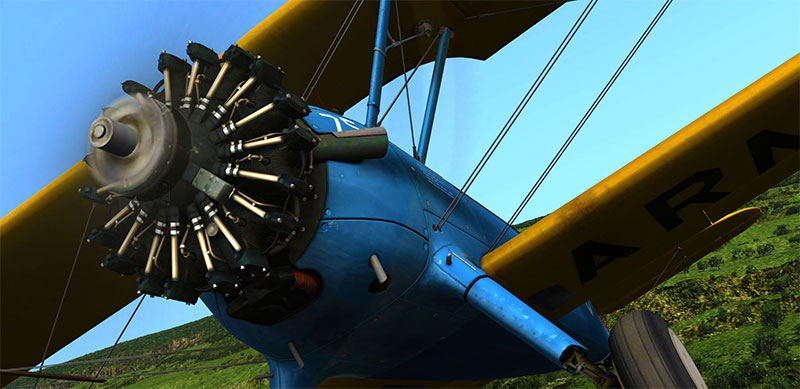 Microsoft also announced that on the same day, the Hawaiian Adventure Pack, which includes the remaining Hawaiian Islands, 20 new missions and a new plane, will also be available to purchase on the same day on the website, through Games for Windows-LIVE.
"Microsoft Flight" enables players to fully enjoy the adventure, fun, and excitement of flight. Players do not need any hardware or past experience to play "Microsoft Flight" – all that's required is a PC and a mouse – and you are ready to fly.
Explore the Hawaiian Islands
Players can explore the Big Island of Hawaii for free and also enjoy the skies above the remaining Hawaiian Islands by purchasing the Hawaiian Adventure Pack, which is first in a series of expansions for "Microsoft Flight". This includes:
Spectacular recreations of landmark features, from the breathtaking Waimea Canyon in Kaua'i to the high-rise hotels of Waikiki
Hundreds of miles to explore
20 new missions
New challenges
The Vans RV-6A, a two-seat, single-engine, low-wing homebuilt airplane which is popular because of its maneuverability and speed.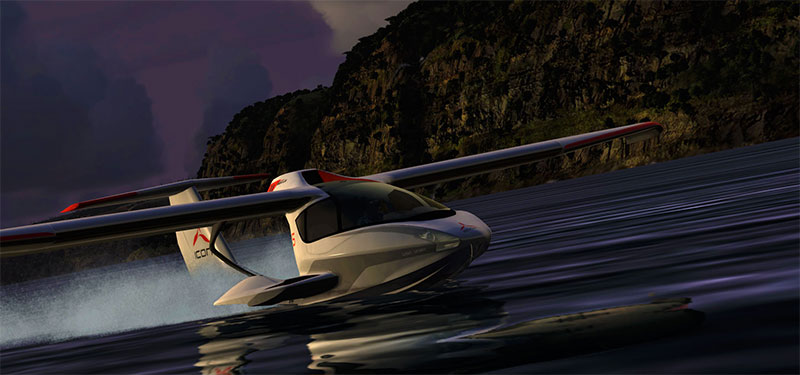 Tour the Skies in Two All-New Planes
At launch, players will be able to purchase two new planes that offer completely different flying experiences.
The first aircraft is the Maule M-7-260C which is a rugged utility aircraft capable of handling take-offs and landings on rough, unprepared surfaces. The second aircraft is the North American P-51 Mustang which is a historical fighter plane with strong maneuverability, performance characteristics and sharp looks. These planes have accurate physics and detailed graphics. They feature highly rendered, accurate cockpits and authentic piloting procedures.
Microsoft thanks its beta testers for their help in getting Microsoft Flight ready for takeoff. Microsoft's executive producer, Joshua Howard, said
"There was an overwhelming demand for access to the 'Microsoft Flight' beta and the number of requests was far more than what we initially planned for. We received amazing feedback from the beta participants and it's great to see this level of excitement from fans as we move toward the release of Microsoft Flight."
Our Review
Originally posted Feb 2012
Microsoft Flight is a brand new franchise, set to appeal to a much wider audience than previous flight simulators. It is available as a free download and can be played for free. Although more content is unlocked if you choose to sign in to GFWL (Games For Windows Live), and more content can be bought and downloaded from the GFWL Marketplace.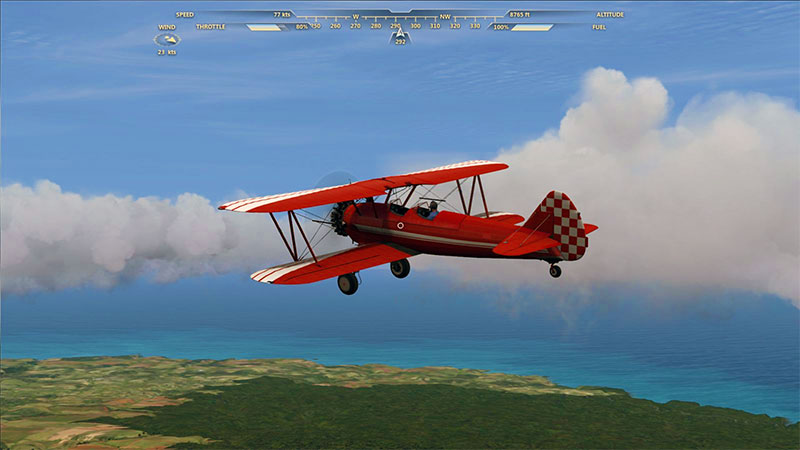 The game launches straight into its first tutorial, which has you flying the Icon A5 around hot air balloons to introduce you to the default controls. Initially, it feels odd piloting a plane with a mouse, but the tutorials are put together extremely well and give you just enough information to help you get through your first challenge, without bogging you down with loads of information you feel you have to remember.
You will end up doing some missions, maybe even this first one, more than once because you want to get a perfect score, as it always feels just within reach. This is where the option to skip the intro cut-scene of a mission that you have already played would be nice.
The voice acting and dialog of the characters that guide you through the various tutorials are brilliant; both sound honest and real and aside from sometimes hearing the same lines over and over again through replaying missions, or the occasional out of sync audio-cue, the characters themselves don't get old at all.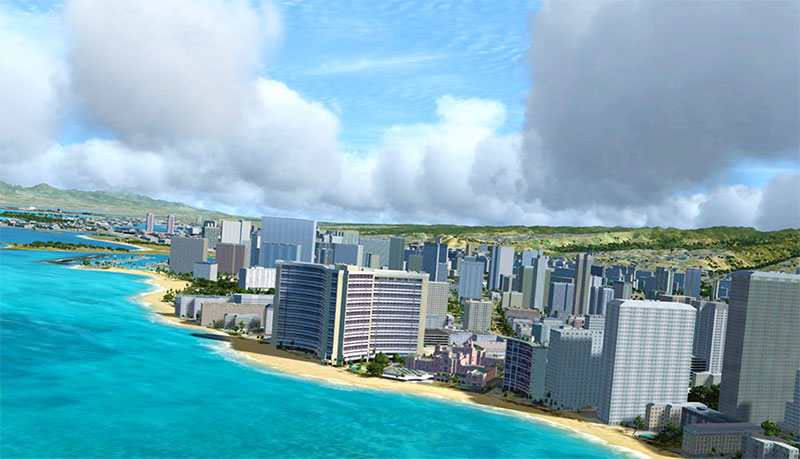 By the end of this first mission, you feel you have really achieved something. Even if you have never played any kind of simulator before, the tutorials are built so well that everything just clicks into place. They are also intuitive; if you plugged an XBOX Controller in to your PC before launching a tutorial, the game will recognize this and adapt it visual cues accordingly. So, where it might normally say use the mouse-wheel to adjust the throttle, it might instead say use the LB and RB buttons to adjust the throttle.
This was a nice surprise, I thought I would have to play it through once normally, and then figure out how to perform the same actions with a different device.
Controls
With the standard controls, the mouse is used to gently lead the nose of the aircraft. Some people will possibly be coming from a background of arcade/combat flight simulators, in which case, the feel of flying is very different.
It requires care and delicate mouse inputs to adjust the plane's course, unlike wrenching an analog stick one way or the other.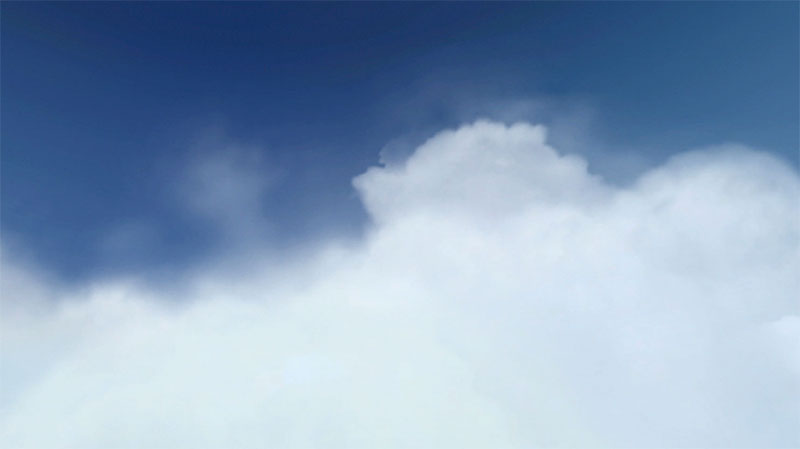 When the tutorials progress to start covering things like aerobatic maneuvers, the default controls might not be the best way to go. Firstly, in order to be able to perform aerobatics, the game will tell you to turn off the 'Increased Stability' option from the Gameplay Options menu.
If you are playing with a keyboard and mouse, you need to use the arrow keys to perform aerobatic maneuvers. However, the arrow keys have no sensitivity so this can become quite awkward. The game will auto-detect if you plug in any external devices like controllers or joysticks, which are great fun to use and occasionally make some things easier.
Camera Angles/Views
There are different cameras to choose from and you'll probably end up using quite a few of them even for routine flights. Switching between them is straight forward as they are bound to the high end of the F Keys. Holding down the right mouse button while flying locks the mouse controls, and allows you to move the camera around relative to the camera mode you are in.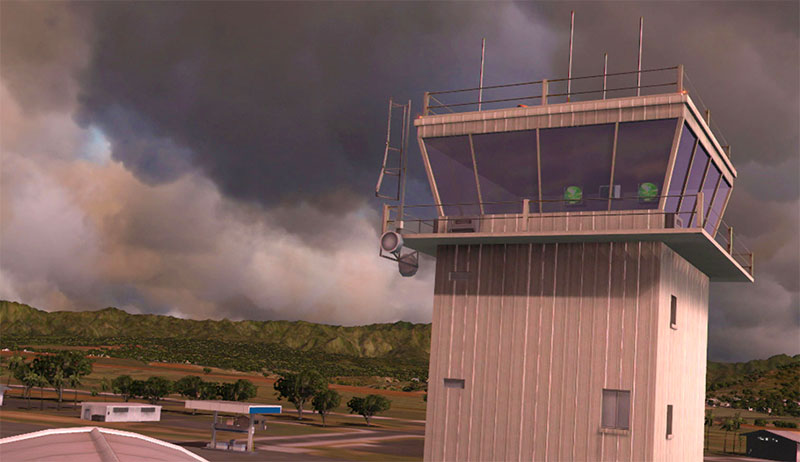 I tend to fly in Cockpit View (unless I'm flying a basic aircraft that doesn't have a cockpit view) for the majority of a journey. I've become proficient enough that I can perform a lot of basic operations using the actual interface in the cockpit. When I want to look around at either my aircraft or the scenery, I switch to Chase View, which is set behind the aircraft but still shows clearly where the nose is pointing.
I also use this to help me line up when I'm circling around, trying to line up for a runway. The last one I use is Top-Down view, which I only ever use to taxi from and to runways when I'm on the ground.
I was very appreciative of the fact that they have accommodated open-cockpit aircraft such as the Boeing PT-17 Stearman (FSX freeware here), in which it's very difficult to see over the nose. If you hold down the mouse-wheel, you can move your viewpoint and effectively lean over the side of the aircraft to get a better view.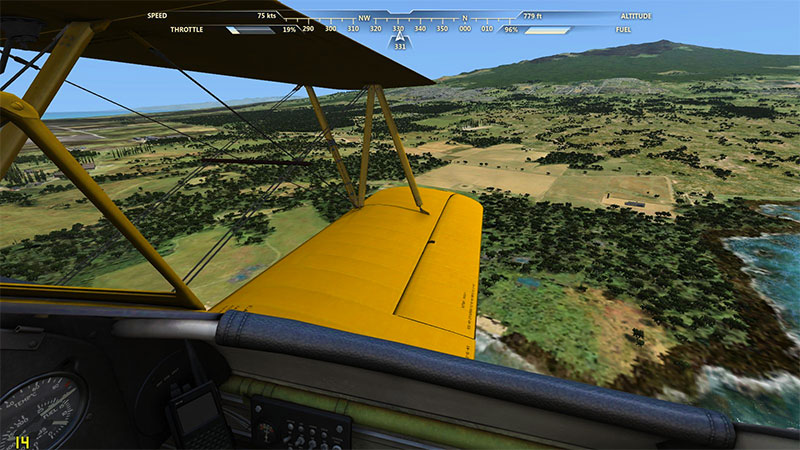 The camera views and controls are all well designed; I only experienced one little glitch whereby the camera seemed to mount on the propeller and spin uncontrollably. But it only happened once, and it was only on one camera mode.
The overall user-interface is simple, clean and efficient. Menus are very easy to navigate, especially after the 'Flight Tips' tutorials show you around. Within the game itself, when flying around, the heads-up-display sits at the top of the screen and doesn't interfere at all. All the information you need from wind speed, altitude, heading, etc. can all be found in one place.
You can, of course, turn it off altogether if you wish, and get all the information from carefully monitoring the cockpit view.
Map Screen, Hangar & Jobs
The Map Screen is where you access everything and set up your flights. It has a large clear map of all available geography in the game (the parts that you haven't purchased from GFWL are grayed out) with various icons scattered around representing airports, missions, and even other players. Using the mouse you can position the icon of your aircraft anywhere you want to start flying, or click on an airport and select a runway to take-off from.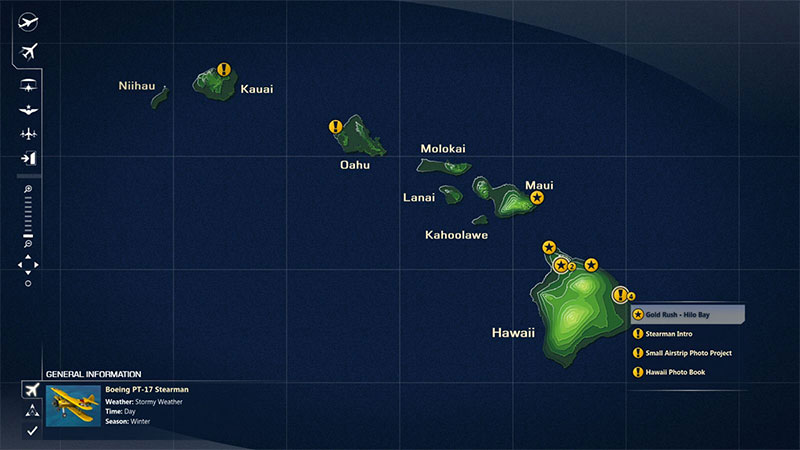 The Hangar is accessed through the Map Screen, and it contains all the aircraft you have unlocked and all the aircraft available for purchase through the GFWL.
The Hangar offers stunning models of each aircraft, with a selection of paint schemes for each one, more of which can be unlocked by meeting certain criteria within the game.
Details of each aircraft are displayed as well as a fuel option, with sliders that show how the range and weight of the aircraft change the more or less fuel you put in.
You can choose to set the Flight Conditions from the main Map Screen. These range from setting the time of day down to the minute, the season and the date. A wide range of weather conditions such as clear skies, isolated thunderstorms, dense fog, and squalls help keep things fresh.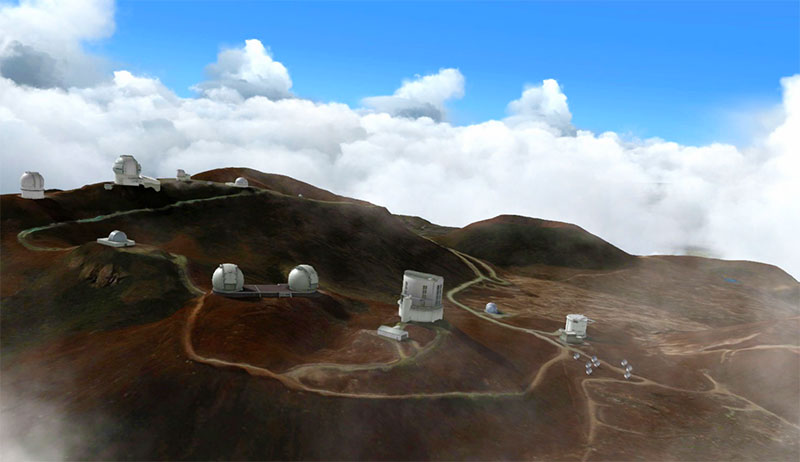 All these settings are persistent and will be active in whatever mode you play, Free Flight, Challenges, Aerocache Hunts and Missions, unless the mission has specific settings. Some of these settings can make piloting an aircraft a lot harder, so you are awarded bonus points if, for instance, you complete a challenge at night.
All the flight conditions you have selected, along with your chosen aircraft are summarized in the lower left of the map screen.
There are plenty of missions that can be accessed from the Map Screen, which you can do whenever you want, providing you meet the requirements for each one; for some, you may need to be a certain level or need to have done another mission.
These range from things like flying an astronomer to an observatory and climbing above the clouds so they can take pictures of a comet, to tutorial missions that teach you the basics of landing tail-draggers, aerobatic shows and more.
All airports have job boards, where you can pick up small, randomly generated jobs that have you, charter passengers, deliver cargo such as livestock or safely transport a nurse and her patient.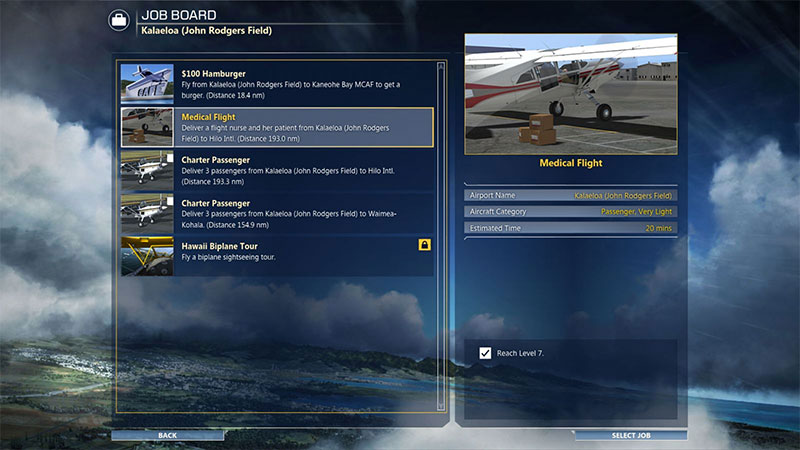 The first job that I took from an airport was to take a passenger 15 NM to a small diner so that he could have one of his favorite burgers. He was a nervous flyer, so I made an extra effort to try and get him there with minimal complications. Every now and again he would have some quirky comment that helped build his character, and really bolster the belief that I was actually his pilot, to the point where, when the option came up to 'Skip To Waypoint' I didn't want to.
I spent a good ten minutes making sure we weren't flying too low and avoiding any unnecessary turbulence so as not to upset my passenger and took special care not to bounce the aircraft on landing.
Challenges and Aerocaches
If you're not looking for the narrative side of things, there are plenty of small consumable experiences to be found. Alongside Free Flight, which allows you to do whatever you want, there are various Challenges and Aerocache hunts.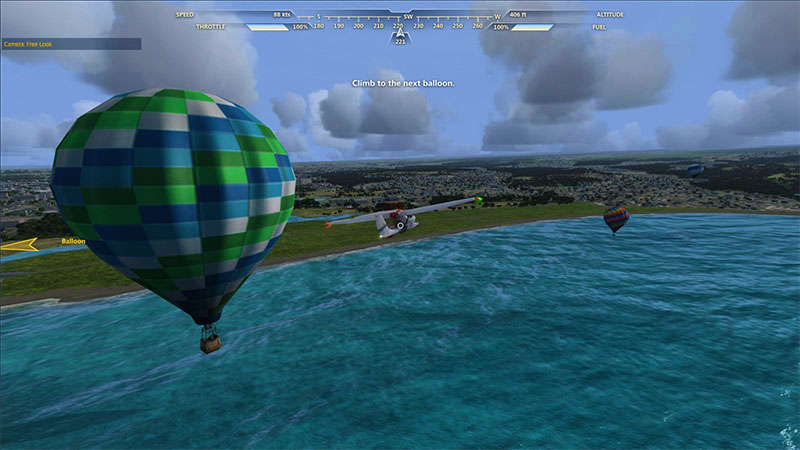 Challenges are good fun and more often than not, I found I was using them to hone my skills rather than earn points.
There is no obligation tied to them, you don't feel you have to sit there for ages trying to get gold on all of them if you do end up doing that it's because you want to. As the games like Goldrush and Hoops are the only kind of experience you can't get from Free Flight.
The aerocaches are a neat idea, I think it's great that they appear regardless of what you're doing. Plus, the fact that there are so many of them, and new ones are added all the time, gives you something else that you can keep coming back for, even if only to play for ten or twenty minutes to try and find a couple.
Microsoft Live Integration
You are always online in Microsoft Flight, if you have an internet connection. By default your multi-player session type is set to public, this means that while you're in a mission or searching for aerocaches, other pilots will appear in your game. You can change the setting to be completely private so that people can only join your session if you invite them, or allow people in you friends list to join you.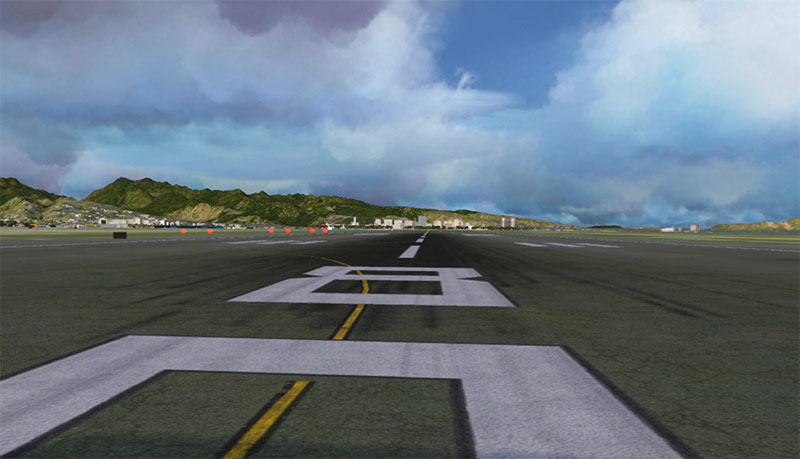 Some aspects of the Pilots Profile, that can be accessed from the Map Screen, are boggling. The stat-tracking is pretty much what you would expect down to little details like 'Maximum Positive G-Force', 'Strongest Crosswind' and 'Time Spent Inverted'. But there are also hundreds of small awards to obtain, some of which I can't even fathom getting.
Some that will require some seriously dedicated pilots. There is one to 'accumulate 10,000 hours of total flight time; three and a half years of flying 8 hours a day. But it's nice that there are rewards in place for people that have the willpower to achieve such things.
For the record, I have been playing Flight on a reasonably good computer. I'm running Windows Vista 64-Bit with a Q8300 Quad-Core Processor 2.3Ghz, 4GB RAM and a GeForce GTS460 with roughly 2GB dedicated RAM.
I have been playing on the highest settings with no fuss at all; the frame rate holds up very well. All I would have to say is that every now and again it takes a while to load when I first launch the game.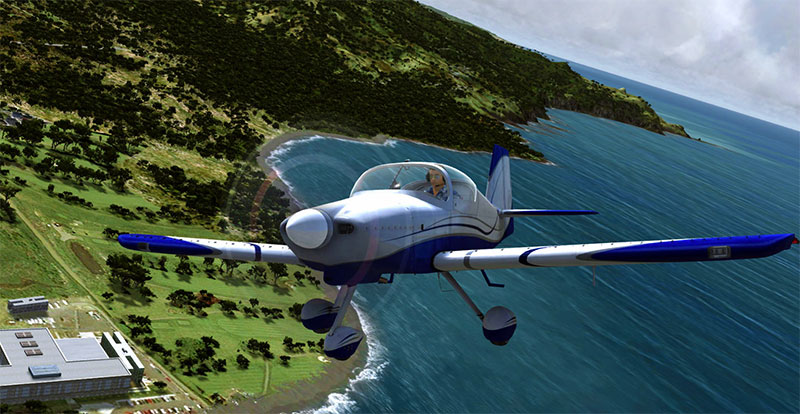 ​
On its highest settings, the game looks fantastic overall. The aircraft is extremely detailed and the terrain textures are crisp. Weather effects are pretty seamless and even flying through thick, heavy clouds makes my aircraft chug, but not my computer.
I spent some time playing the game with everything on its lowest settings and it holds up pretty well. The textures aren't nearly as crisp; it looks like someone has gone over it with a blur tool. But when you're above 700ft you really don't notice.
The cockpit is probably what holds up the best on the lower settings. That and the draw distance, which remains vast and unwavering.
Conclusion
The sound is surprisingly one of my favorite aspects of this game. I love the fact that I don't hate all the characters with voices, they're all charming and full of character. I love the detail in the engine noises, how if I decide to open the doors while stall-spinning from 15,000ft, I can hear the wind screaming at me as I try to level myself out and survive to deliver the chickens that I've got squawking in the cargo hold.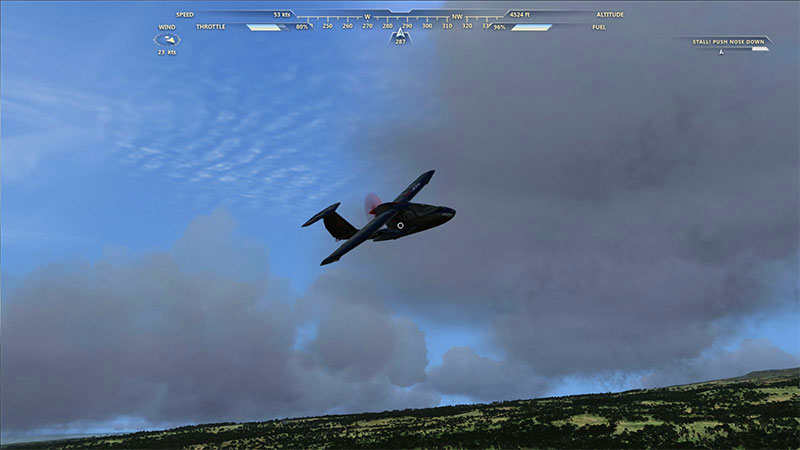 I only have a couple of small nit-picks. I would have liked it if certain scenery like the trees would lose their leaves if I decide to fly in autumn and be big and leafy in the summer.
That and the fact that when you crash (I know you're supposed to try to avoid it but it does happen) the planes act like wicker chairs falling off the back of a truck; they sort of just slide and stumble around until they eventually stop. Even if you stall-spin from 15,000ft and don't recover.
To conclude I guess I would say that this game surprised me, I didn't expect to be able to have quite as much fun as I did with it. Even if I'm making the fun up myself in Free Flight, it's been a long time since a game has asked me to use my imagination, and leave me to it, rather than hold my hand through the entire, carefully orchestrated experience.
I look forward to seeing what new content is released in the near future and hope that it is enough to help generate some strong lasting appeal for what I think is a bold attempt, and a brave new angle at a genre that has been out of reach of so many people for so long.
Screenshots & Videos
Below are some of the official screenshots released by Microsoft.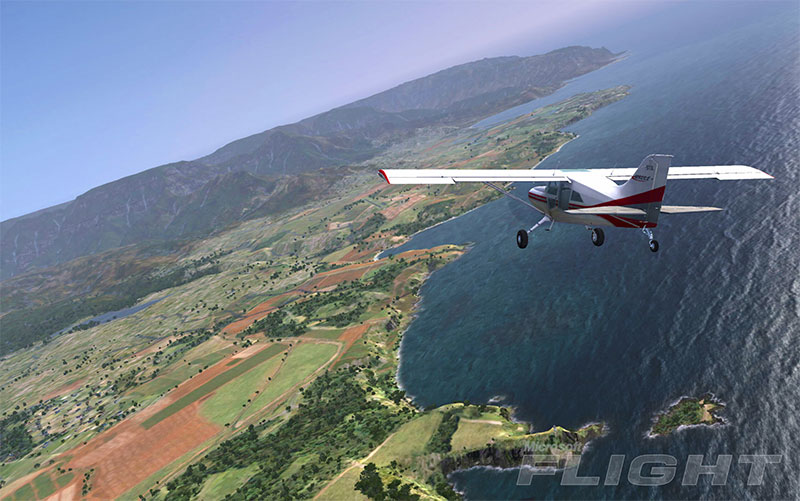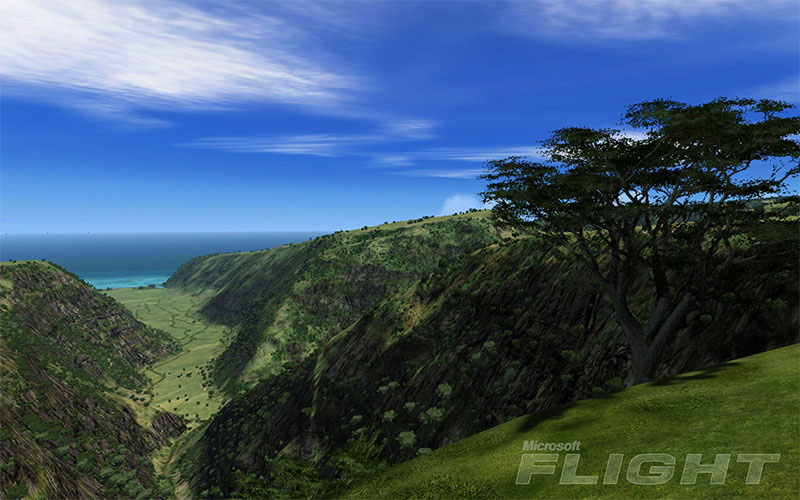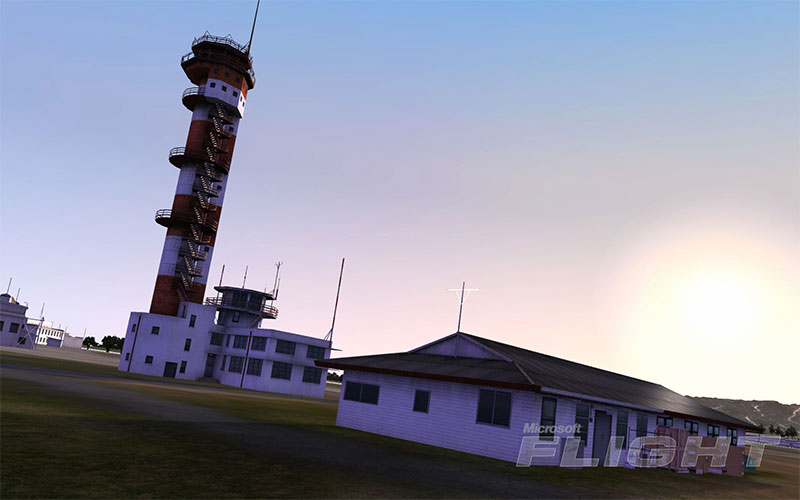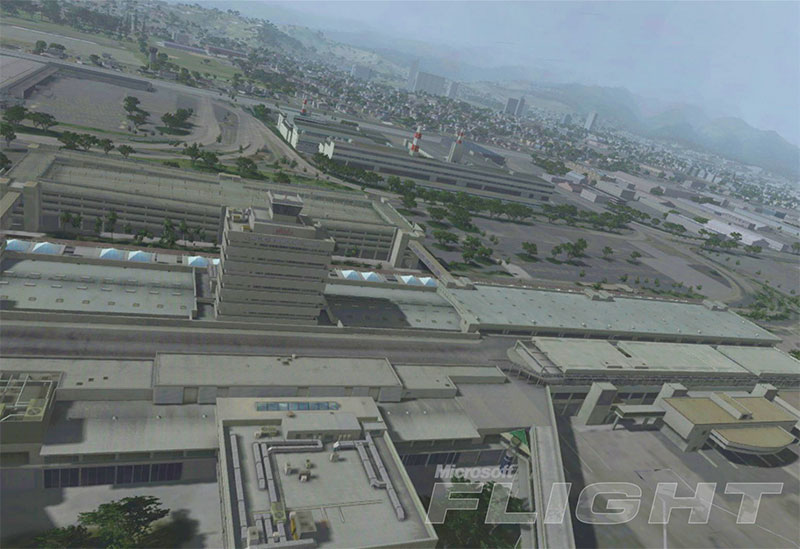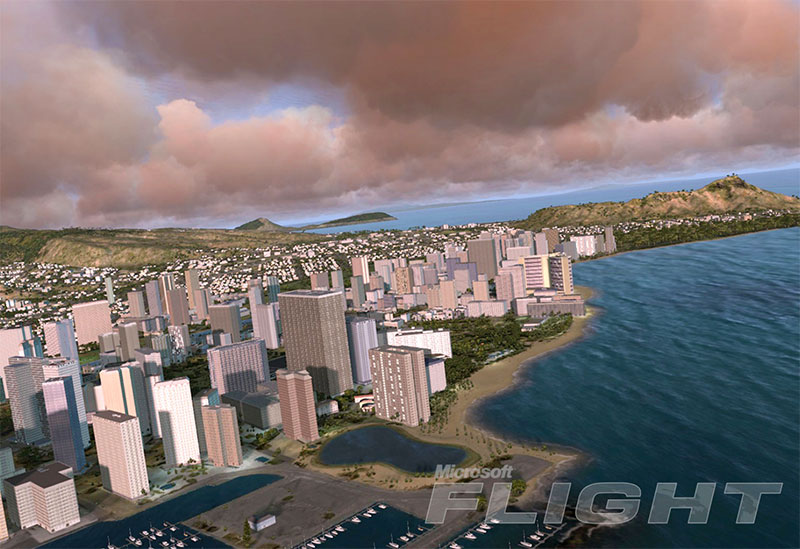 Official Trailer
Project Canceled And Staff Laid Off
Originally posted Aug 2012
After ACES studio was closed in 2009, nearly three decades of Microsoft supplying players with a means of flight simulation came to an end. So when Microsoft Flight and it's free-to-play model came to the table in February of this year, there was a faint light at the end of the tunnel in the form of a current-generation flight simulator, with constant support from Microsoft.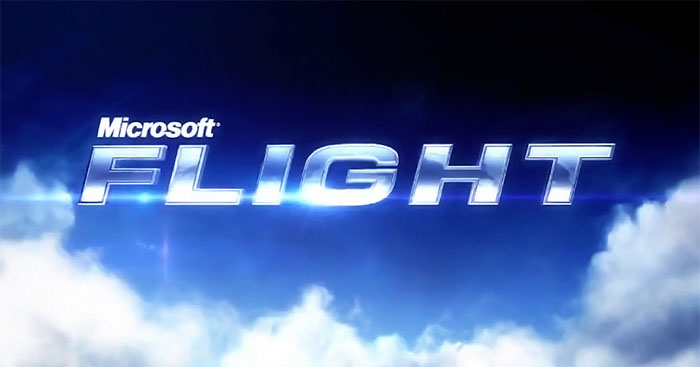 It's no surprise that there were a lot of disappointed simmers, seeing as the game was not the sequel to Flight Simulator X which people wanted. Instead, they got a game tailored to be accessible to 'anyone with an interest in aviation', with a closed in-game marketplace, shunning all those with an interest in creating add-ons and free-ware for the rest of the community. Although, at launch, it was not what people were hoping for, a lot of people have invested in downloadable content for Microsoft Flight® in the hope that in the future, content would be released that would eventually build the game up to be what people wanted.
Once again, however, we are back in the dark, as Microsoft's Vancouver studio has canceled production on Microsoft Flight. Around 35 staff members involved in the production have been laid off, due to positions within the development teams being eliminated. Microsoft has said that,
"human resources is working with the affected individuals to find new roles within the company."
Initial reports that the entire studio had been closed have been clarified and the studio will remain open but operating at a reduced capacity. We wish all the staff involved in the lay-offs the best of luck and a swift, peaceful transition to their next employment.
Microsoft Flight® will still be supported and will remain available for free both through Steam and via its website. But Microsoft states that all future content, planned or in progress, has been scrapped.
While there is no evidence to suggest that the cease of development is in any way related to how Microsoft Flight was received, it does raise the question, would this have happened if they had just made Flight Simulator 11?
Microsoft to Release New Simulator in 2020
2019 Update
It has officially been announced that Microsoft will be releasing a new simulator in 2020 called, "Microsoft Flight Simulator" or as it will become known in the community, FS2020. You can read our complete guide and analysis article here.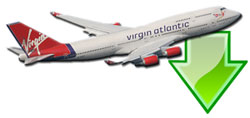 Don't forget... We have a huge selection (over 24,000 files) of free mods and add-ons for MSFS, FSX, P3D & X-Plane in the file library. Files include aircraft, scenery, and utilities All are free-to-download and use - you don't even need to register. Browse on down to the file library here.