White Knuckle Crop Dusting Fun: Piper PA-36 Pawnee Brave 375 for FSX/Prepar3D. You drop in low over the field of neat rows of soybeans waiting patiently. A crosswind is threatening to take you off course. Pulling your eyes up from the instrument panel, you take a deep breath and remind yourself to trust your instincts. This isn't like flying a jumbo jet into a giant airport. This is crop dusting, one of the last frontiers of seat-of-the-pants flying. The low passes and sharp turns demand exacting flying skills. Many jumbo jet pilots can't handle it.

As you cross the border of the field, you hit the control to activate the hopper. For soybeans, covering the surface area of each plant is critical. Contact chemicals typically protect a small area of the plant, so even spraying of each row is necessary to get full protection. Plus, certain fungicides spray better at lower flying speeds. That means you can't rush. You look out the side window as the spray bursts out of the nozzles and showers the plants below.
This kind of flying takes patience, skill, precision, and guts. It's not as easy as it looks from the ground. You don't want to skid in the turns (too much rudder) or slipstream (not enough rudder). You are fighting crosswinds, updrafts, and tailwinds. Oh, and don't forget that power line at the other end of the field. You'll have to miss that at the very last second--on every run. If not, it may be the end of your career. Not to mention the demise of a very special airplane.
Piper PA-36 Pawnee Brave 375
Alabeo's Piper PA-36 Pawnee Brave 375 for FSX/Prepar3D is a flight sim add-on built from the ground up to deliver maximum fun for pilots. It captures the unique thrills and fun of crop dusting. The PA-36 is a utility aircraft that turned out to be great at agricultural flying, which it did for many years before it was put out to pasture. Alabeo also released the C118B crop-duster add-on which you can read our review here and purchase here.

The Piper PA-36 Pawnee Brave is a low-wing, single-engine airplane originally created in the late 1960s at Piper's facility in Vero Beach. It is propeller driven and was conceived as a big brother to Piper's first agricultural aircraft: The PA-25 Pawnee. It had better ventilation and heating, a better wing and a bigger hopper, as well as an optional hopper that was even larger.
Top Speed
It had a top speed of 142 mi./h (229 km/h) and could cruise at 136 mi./h (219 km/h) with a range of 452 miles (727 km). Its rate of climb was 920 ft./m (4.7 m/s). It could only carry one crewmember and had a payload of 38 cubic feet ft capacity in the hopper tank. That is the equivalent of 275 US Gallons (1,041 L) of liquids or 2,200 lb (998 kg) of dry chemicals.
The length of the PA-36 is 27-feet, 6-inches (8.38 m) and it has a wingspan of 38-feet, 9½- inches (11.82 m). It is only 7-feet, 6-inches (2.29 m) tall with a wing area of 225.65 ft² (20.96 m²). The airfoil is NACA 633-618 and the weight when completely empty is 2,465 lb. (1,118 kg). Its maximum takeoff weight is 4,800 lb (2,177 kg).
The very first PA-36 model known as the PA-36-260 Pawnee II, featured a 195 kW (260 hp) Lycoming O-540-E engine which made its initial flight on 17 November 1969. Later in the evolution of the program, the Lycoming engine was switched out for a 210 kW (285 hp) Continental Tiara 6-285 engine. At that point, the airplane became the PA-36-285. After they used the same engine in another prototype, Piper made the decision to incorporate this powerplant in the production runs of the entire series.
Front Hopper Design
The PA-36 featured a chrome-molybdenum steel fuselage with under-skins made of metal and side panels constructed of plastic. The wings are a two-part structure made of light alloy laminated spars and covered with a light alloy. The wingtips and leading edges are covered with a glass fiber. In front of the pilot sits a hopper that has a 30 (or 38) cubic-foot capacity.

In the early 1970s, the PA-36-285 garnered approval from the FAA and began production. At the same time, the company changed the name from Pawnee II to the more dramatic name of Pawnee Brave. After some difficulties with the Continental Tiara engine, Piper enlisted a 225 kW (300 hp) Lycoming IO-540 powered model called the PA-36-3000. It took the place of the Continental Tiara engine from 1977 onward.
Beginning in the 1978 model year, the company revised the name Pawnee Brave to Brave 300. Also that year, a bigger version of the engine was made available. It was a 280 kW (375 hp) Lycoming IO-720 called the Brave 375.
WTA Incorporated
In 1981, WTA Incorporated bought all of the rights to the design. Beginning in 1982, they used the 300 kW (400 hp) ITIL-720 and dubbed it the New Brave 400. The Brave 375 became the New Brave 375. In January of 1983, the company shut down production of the Pawnee Brave completely. They were able to sell 175 New Brave models by the end of 1987.
Here is a list of the variations over the years:
PA-36 Pawnee II – This was a prototype that was driven by a Lycoming 260hp power plant.
PA-36-285 Pawnee Brave – It started out as a production model--powered by a Continental Tiara 6-285 285 hp piston motor.
PA-36-300 Pawnee Brave 300 – Featured an Avco Lycoming IO-540-K1G5 300 hp power plant. After 1978 it became the Brave 300.
PA-36-375 Brave 375 – Another variation this time with an Avco Lycoming IO-720-D1CD 375 hp engine.
PA-36 New Brave 375 – The first model from WTA Incorporated, this variation was driven by a 375 hp piston engine.
PA-36 New Brave 400 – The big brother of the New Brave 375, this model featured a bigger 400 hp piston engine.
Agricultural Aircraft
Other aircraft that were used for agricultural purposes included the Cessna Ag-wagon, PAC Fletcher, Gippsland GA200, Embraer EMB 202 Ipanema, and Grumman Ag Cat. In some parts of the country, helicopters were also used extensively.
Crop dusting by air first came on the scene in the 1920s. The original planes were biplanes from the war that were converted for agricultural use. Examples include the Stearman and the De Havilland Tiger Moth. Eventually, the biplanes were switched out for specially built fixed wing aircraft designed specifically for agricultural crop dusting.
In fact, several large airlines began as crop dusting services. Huff-Daland Dusters was the first organized company in the industry. They operated out of Monroe, Louisiana and dusted cotton crops along the Mississippi Delta.
South America
In the off-season they found work down in South America. This experience led to being hired to deliver mail over the Andes from Peru to Ecuador and back. Before long, they jettisoned the crop dusting service. C.E. Woolman took over and changed their name to Delta Air Service. Two years later, they started carrying passengers from Dallas, Texas to cities in Mississippi and Louisiana. Eventually, they changed their name to Delta Air Lines. Delta had two of the original 18 Dusters in storage. In 1967, they selected one for full restoration.
Agricultural planes are small, handle well, and are made to withstand lots of use. Typically, chemical spray systems are fixed to the edge of the wing. In some parts of the world where large farms are common, bigger aircraft have been used. Examples include the turboprop PAC Cresco, the turbofan-powered WSK-Mielec M-15 Belphegor and the twin-engine Lockheed Lodestar.
Most crop dusting planes have a short takeoff and landing design (STOL). When helicopters are used, the tanks are arranged outside the body of the chopper. The spray rig extends outward from the body and is fixed to the aircraft safely below the main rotor. When used for hydro seeding, helicopters often use similar systems to those used for aerial firefighting.
Easy Download
Alabeo's Piper PA-36 Pawnee Brave 375 for FSX/Prepar3D product files are not large and downloading is easy. There are three separate files: The program file, a mission file and a corresponding scenery file. Alabeo shows their commitment to various flight sim platforms by creating versions of the Brave 375 for both Flight Simulator X and Prepar3D at no extra charge. For consistency, the comments in this article will refer to the FSX edition.
There are two aircraft models: The original PA36 without spraying gear and another one complete with all the spraying equipment. For the uninitiated, crop dusters fly low over farm crops and disburse chemicals and other agents needed to help the crops stay healthy and grow better. The spraying equipment includes the sprayers along the wings as well as a hopper which stores the chemical agent and allows it to flow to the spray nozzles.

The pilot can add material to the hopper. A green tinted readout indicates the pounds of chemicals left on a sight bar as well as a percentage readout. It's not the most realistic rendering, but it provides another element that increases pilot engagement.
Gorgeous Textures
Alabeo provides 11 paints schemes in the package. Each is a relatively faithful reproduction of the real-world versions. Alabeo has done an exceptional job on the textures for the PA-36. In addition, the models are very realistic with rock solid animation such as cockpit doors, tail wheel, gear suspension, propeller and control surface.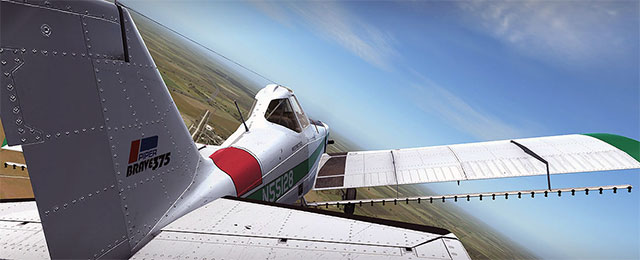 Pilots can actuate the crop spray effect by clicking the "I" key. Unfortunately, it does not change the flight dynamics appreciably, which you might feel to a certain extent out in the real aircraft as the payload was disbursed.
One commenter on FlightSim named "normac" said, "It's really disappointing that an aircraft like this can't simulate the change of weight and centre of gravity and therefore the change of flight characteristics as it loses its load of fertilizer or pesticide. It seems rather pointless simulating releasing the load if it has no impact." Nonetheless, it is a welcome feature and part of the fun of crop dusting. (If you want to get fancy, crop dusting is also called "aerial topdressing.")
Accurate Cockpit
The realism of the outside textures and unique model characteristic extends to the cockpit. There is no 2D version, so pilots will move right into virtual cockpit (VC) mode. Looking around the interior, it is clear that Alabeo did their homework. Each gauge, control, and pedal looks very realistic. Everything is crisp and sharp with a real-world feel. As you can imagine, crop dusters have limited instrumentation and these are clear and accurate. Because of Alabeo's eye for detail, pilots will enjoy flicking the various controls, switches, and buttons.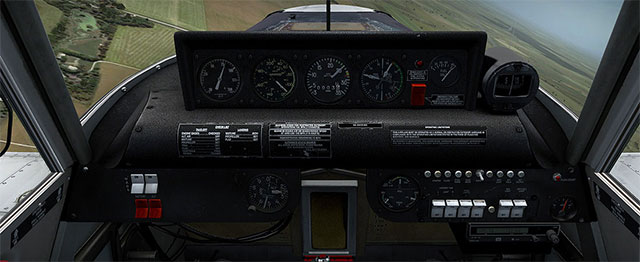 The quality continues in the engine sounds. The motor is clear and strong, providing the reliable sound of a work-horse aircraft. However, not everyone agrees. Some people have commented they didn't find the sound accurate. "Iflygary" said on FlightSim.com, "I actually sent Alabeo an email highlighting the fact that this aircraft's sound is nowhere near correct. Real life Piper Braves engines have a distinct "putt, putt, putt" sound. While their textures are extremely amazing and well done, what a deal this aircraft is considering its low price. I would have to give them a 4/5 as well. (Btw, I grew up seeing and hearing Piper Braves so that's how I knew about the sound). "

The scenery attached to the mission consists of a relatively small airfield as well as some out-buildings, stationary PA-36s on the ground, and a virgin field ready to be sprayed. Once underway, pilots will encounter a waypoint compass on the way to the field, and be able to fly several gates.
There is a clock on-screen that indicates the time spent spraying. There are no awards to be won. You are a crop-duster pilot, not an air exhibition specialist. The mission itself is not very long. Most pilots can probably complete it less than 15 minutes. The trick is to maintain the low altitude and return to the airfield intact.
Bottom Line
The PA-36 is a good example of the fun and unique products coming out of Alabeo. The company has done a good job focusing on maximum fun in their flight simulation titles. The developers are young and open to taking risks that more established players might avoid. Their modelers, pilots, aviation pros, and designers work closely together to develop entertaining and engaging flight sims.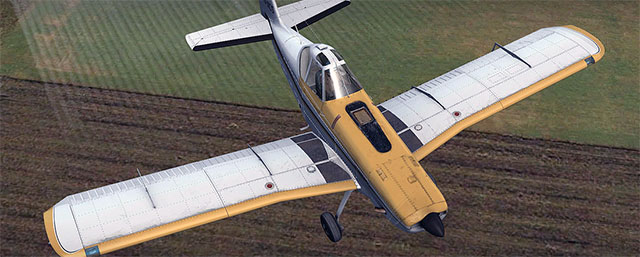 With the Piper PA-36 Pawnee Brave 375 for FSX/Prepar3D, they continue the tradition. This is a small, agile airplane that is perfect for the demands of crop dusting. For pilots without a lot of time to fly simulators, it is the perfect aircraft to take a quick jaunt out over a field, drop some chemicals and buzz back home. The gorgeous textures and realistic cockpit controls add to the experience. This work plane is loads of fun, on or off the job.
Grab Your Copy
You can grab your copy of this wonderful aircraft over at SimShack.net. There is no delivery or waiting around, it's simply a one click download immediately after purchase. Orders taken from anywhere in the world.
Preview Video
Below is the official preview/promotional video released by Alabeo for this stunning aircraft.
Official description
Features:
HD textures (2048x2048)
Chemical fumigation liquid effect
Chemical loader interface
Dynamic weight
Real weight reduction as you drop chemical liquid
Professional flight dynamics
Material shines and reflections
Custom 3D sounds
High quality 3D model, textures and sounds
Blank texture for creating your own designs
Included:
5 liveries
1 Blank texture
2 model (with and without dispersal equipment)
Custom chemical fumigation liquid effect
Datasheet PDF
Recommended requirements:
Microsoft Flight Simulator X with SP1 and SP2 (or Acceleration Pack) or Lockheed Martin - Prepar3D
Windows Vista or 7 (32 or 64 bits)
2 GHz processor or similar (Dual core processor recommended)
2 GB RAM
512 MB graphics card
Download-Size: 95 MB
Installations-Size: 340 MB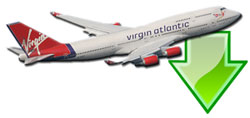 Don't forget... We have a huge selection (over 24,000 files) of free mods and add-ons for MSFS, FSX, P3D & X-Plane in the file library. Files include aircraft, scenery, and utilities All are free-to-download and use - you don't even need to register. Browse on down to the file library here.