Having been in development for some time, this release has been a long time coming. The Just Flight PA-28R Arrow III is an FSX and P3D compatible take on a popular aircraft model. Whether you are a fan of the aircraft or just curious, it's definitely worth taking the time to try out.
This is the next in line of the award-winning TB-10 and TB-20 models, adding yet more detail to an impressive selection of aircraft. Created by the masterminds behind the usual Just Flight masterpieces, this provides an authentic take on the real thing. How good, though, does it feel in a simulation environment?
About The Arrow III
With four seats, the Arrow III is a rather small class of aircraft. complete with basic features like a tri landing gear and a propeller set, this is a fine take on the typical touring and training kind of aircraft that you would be looking for.
The aircraft itself, though, is the brainchild of the Piper Cherokee, which first hit the skies in the early 60s. Brought out as a means of making aviation more affordable compared to the old Piper Comanche, the Cherokee was released as the Arrow, first arriving in 1967 – the Summer of Love!
A decade later, we had the Arrow III. With greater capacity and range than its predecessors, this is an aircraft that – even today- still draws admiring glances. The stretched and improved fuselage alongside the better space in the aircraft for passengers made it stand out as a fantastic model for various purposes.
Even today, you'll still find this old relic floating around in the skies, having become an aircraft that still impresses even today.
Getting Started
As ever, getting this to install is a piece of cake. Getting started just means downloading the software itself, and allowing it to take the time needed. At over 2GB, this is pretty big for just an aircraft so go make a brew and wait it out!
Downloaded at just under 800MB, this can take a fair amount of time to download. Once it's downloaded, you simply need to log into your Just Flight account and follow the wizard on-screen. Out of all the forms of installation that programs like this use, it's arguably one of the most simplistic to follow along with.
Thanks to this, then, you should find it easier to get started than with other takes on the Arrow III. The longest part of the process is waiting for the download. After that, especially on a Solid State Drive (SSD), the installation process can take a matter of seconds to work through and provide answers.
VIDEO: PA-28R Arrow III from Just Flight - Start Up procedure
Major Inclusions and Features
So, what do you get when you pick this model up?
You'll be flying a feature-heavy take on the model, with a 3D virtual cockpit included for good measure.
Outstanding detail has gone into the model's scale, shape and texture depth.
Full integration with third-party mods like Flight1 GGTN and GNS solutions.
A new Turbine Sound Studios audio set for that added touch of drama.
Simple to manage flight computing panels with information about your flight for a fast referral.
Ground equipment that works properly, from chocks to tie-downs.
A logbook for planning and preparing details about your flight.
Fresh new animations that make the aircraft look and feel as authentic as possible.
The ability to choose from a dark or hot start-up, ensuring you can fly the aircraft as you wish.
Authentic flight dynamics which are built upon close inspection and research of the real thing.
An engrossing level of detail, with everything written down in a fun and engaging manual.
11 liveries made to standard with a PSD capable of being edited in Adobe Photoshop with ease.
All of the above, then, should be all that you need to help see the wonderful quality of detail, intensity, and realism across the board. Out of all the takes on the Arrow III that I have tried, this is arguably the most impressive. While Just Flight will rarely let you down, this really does go above and beyond the call of duty.
The Visuals
As you might imagine, the visual appearance of the aircraft is more or less spot on. It's got a simple design in real life, and Just Flight has not done too much to move away from that. The scale is right, textures are accurate and the attention to detail both indoors and outdoors is a massively impressive undertaking.
The inside, in particular, has so many small but classical features included. For example, the cockpit has plenty of space with that real '70s' feel to it. The whacky seating and carpet arrangements really do a lot to make life in the cockpit a lot of fun!
The exterior is just as impressive, too, going for a slow and steady look that pays off. From the stubbed nose that fits the look of the real thing to the luggage compartment window having that unique shine to it, this goes the extra mile to make something extremely impressive come to life.
The Details
The little things come to life in the cockpit, too, such as the new flight instruments that you can use. The help of the cockpit being so damn impressive inside is very useful for making sure you can get to grips with this. Fans of Piper aircraft should feel at home when they step into this cockpit, for sure. With mostly standard tools such as analog flight instruments included, this offers you very little that you wouldn't have had "back in the day".
The use of a Garmin G100 GPS is a fine touch, too, making sure you have a unit that feels appropriate but powerful. It works with a single right-click to help get deeper information about the GPS.
Overall, the depth and detail of the interior is impressive and made even better with the smoothness of the whole area. A hugely impressive undertaking, and a cockpit that you should have no problems or challenges in growing to love!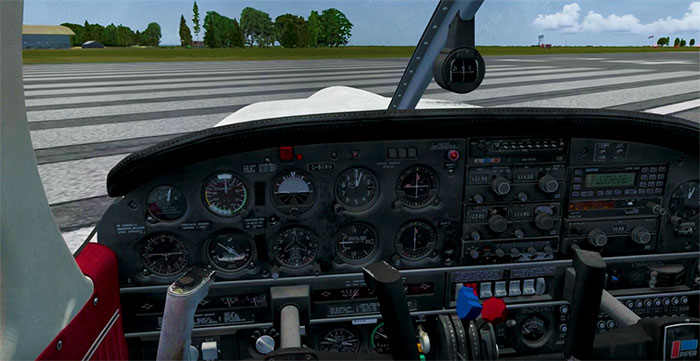 PA28 heading to the runway for takeoff.
Also, a nice touch was the addition of some fresh exterior lighting. Usually, lighting like this can feel rather dull and unimpressive, but this helps to avoid that by adding lighting that you can be in full control of. The lighting tallies well with the overall features and presentation provided.
Aircraft Performance
Of course, you never want to hop into the cockpit of an aircraft like this without enjoying some of its more out-there features. At 24.7ft x 7.9ft x 35.4ft, this is a fairly sizeable little aircraft. even with that in mind, and the accuracy of the performance being put in place, this handles itself with utter ease in the skies.
Even when flying in rough weather with all the kind of challenges you could expect, this aircraft never really seemed to run into too many snags. The aircraft felt easy to control, though it never felt unrealistic: only reliable.
The help of the easiness of aircraft management was a nice touch, ensuring that you could really easily grow to love the overall performance. Cruising along at typical altitudes, I found the aircraft never really coming out from under me or as if I was losing control.
If anything, I felt in total control!
The aircraft handles itself with competence and consistency but never feels stronger than it should. That's important, as other takes have really overestimated how kind time has been to this model.
While it flies well and can handle itself without too many issues, it feels its age. While still impressive for an aircraft with 40 years of history behind it, it's not made to feel above its station. That only helps to seal the enjoyment it provides.
Misc. Extras
This isn't all that you get, though. Some other nice features which were included with this are:
A power selector to choose if you want to go dark/cold from start-up.
An interactive checklist that offers an easy to work with panel selection for staying on track during flight.
A flight computer panel that gives you information about flight performance and resources.
A logbook for recording flight details, though it's more than a little bit awkward to get to grips with.
A Towbar control panel which means you can easily move the aircraft on the ground using the towbar.
Fuel tank selection to automatically switch fuel points on the half hour to manage the balance.
Fresh new fuel pump and gyro sounds for added immersion.
Panel selection to make it easy to turn on and off the 2D panels provided.
Full integration with Flight1 GTN and GNS GPS systems if you own them.
Overall, this helps to make a situation that allows you to really enjoy the aircraft. These are extras that users of previous Just Flight aircraft would probably expect, but it's still nice to see them return. Together, this offers an engaging and delicate process that you can easily enjoy.
Conclusion
With so much positivity added to the aircraft, without being too nice, this is a fine take on a classic aircraft. it does a great job of showcasing its strengths without trying to make it feel stronger than it actually is. That's very important, as this is a realistic rather than a fantasy-driven take on the aircraft.
Just Flight have done a fine job of bringing it together. It's one of the best in-house developments that they have put together. Whether this would be your first or fiftieth Just Flight experience, I'm sure that you will be every bit as impressed as I have been.
You can view this aircraft and others from the Just Flight inventory over at SimShack here. If you're looking for freeware, we have a stunning free-to-download model here.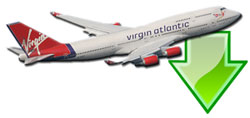 Don't forget... We have a huge selection (over 24,000 files) of free mods and add-ons for MSFS, FSX, P3D & X-Plane in the file library. Files include aircraft, scenery, and utilities All are free-to-download and use - you don't even need to register. Browse on down to the file library here.