For those who had decided to go with the Windows 10 update in recent weeks, you may have noticed that – like any new OS – it struggles to run things quite as well as you may have expected.
It can be quite limited in performance at present and many drivers, games, simulators and mods are at the moment not working with Windows 10. Naturally, this poses a significant problem for anyone trying to use a whole range of programs – and unfortunately, this includes many apps and mods for flight simulators that are available.

However, if your flight simulation fun has been halted recently then you'll be able to make up for lost time right away – at least in the account of using the brilliant Flight Simulator Platform Solutions software FSX Fiber Accelerator!
This total re-jig of one of the FSPS' most loved and popular modifications has been revamped to have full support for Windows 10. It's not also fully functional for usage with the FSX Steam Edition, meaning that you can use it with the most recent releases.
Given the way that FSX additions and changes since release have usually been built around modifying the core options file, which is the fsx.cfg file, there was always a way to improve changes and modify the experience. However, these were usually static changes that could never be edited during flight – it was a case of trial and error, rinse and repeat.
Finding the balance between performance and visuals is the great battle of any good video game or simulator, but FSX suffers more than most. Instead of finding the best setup for themselves, many people would just choose to settle instead and go with what they thought made the most sense.
Going for the 5/10 static option was the choice for many people, but what if you knew that there were other options out there that offered a more dynamic and impressive level of performance? That would mold and change to suit whatever you were up against and whatever you were dealing with along the way, making change happen all the time that you are in the air?
This is what is brought to the table with the Fiber Accelerator – it totally revamps a real-time form of performance adjustment that is rarely seen or used in any kind of virtual environment, and the difference it makes is absolutely staggering.
Who are FSPS?
Flight Simulator Platform Solutions are, without a doubt, one of the well-respected names within the flight simulation community. If you have never used any of their add-ons and products in the past then you are almost certainly missing out!
They know what to offer you and when to offer it meaning that flight simulation for fans can continue to grow and improve at an absolutely amazing pace. This offers a huge amount of change and variation across the board, helping people get all the assistance that they need to really make their mark within simulation.
If you have ever felt that FSX was missing something or needed something a little bit more added in there, then FSPS are an ideal choice to look at – they make a massive range of configuration adjustments and other mods alongside a whole host of useful features and additions that makes flying even more fun.
What is FSX Fiber Accelerator?
The FSX Fiber Accelerator is a huge amount of configurations and adjustments that make a massive adjustment to the way that you can enjoy the power and overall profile of FSX.
By working on totally adjusting the way that you are flying as you go, this offers a whole new edge and style to the performance adjustments that many of us would have been used to. Now, instead of being stuck with those changes or nothing at all, you will find that this manages to latch on and take control of the performance and the overall control that have as you fly.
By totally and dramatically altering everything around you as you fly, performance and visuals can maintain a consistent and high peak without ever favoring one over the other massively.
This allows for a much more balanced level of performance from your simulator, making it much easier to control the entire experience in the way that you are hoping. Now that it's adjusted for being used with Windows 10, various adjustments and improvements have been included along the way to make sure that this operates and serves just as you would have expected it to.
By dynamically powering you through the skies to ensure that performance maintains an extremely high level without ever dipping or dropping, you can maintain that steady level instead of the peaks and troughs that many would have gotten (too) used to with other FSX configurations.
This allows you to take a much higher level of control throughout all flights, and saves you from having to constantly jump from simulator to config file, make adjustments, and leave. The most important thing that you can have when flying in a simulator is a high level of detail and a strong frames per second rating – this monitors your computer specifically throughout the process to ensure that it can maintain the best balance possible thanks to the readings that it gets back from your CPU and your GPU respectively.
How Does it Work?
Like all good mods and changes, the strength of the Fiber Acceleration is that it is just so simple – the entire plan and strength beyond the project is its logic. All you do is launch FSX and choose a specific Target Frame Rate from your settings.
This will be the highest FPS rating that you can possibly reach when things are going well and the flight is all going according to plan. Now, you simply need to start up your FSX Fiber Accelerator package alongside FSX.
Set a Lower Target Frame Rate here, and this will be the number of frames that FSX will be using to try and fly at when there is some data catch-up to be achieved along the flight. This will make sure that things like graphical output are temporarily lowered (far outside of your view so not to limit your on-screen visual enjoyment) whilst also ensuring that FPS levels can maintain a comfortable and enjoyable level.
Now, fly to the nearest possible airport that is going to be packed and with plenty of nearby scenery that is detailed – somewhere with lots going on, in essence. Anything that you would normally have struggled to fly over, basically! Look at the difference that you notice and use this time to make some serious adjustments to the level of performance that you are getting back from your simulator.
If you find that things are not as balanced as they should be, keep looking and something will come along to give you the help that you need. Everything working in the background through the dynamic genius of the FSX Fiber Accelerator ensures that performance will be maintained in the higher and lower end airports. It will perfectly on any airport that you visit, though, so you can make sure that the overall experience – rather than specific, static experiences – can be as enjoyable as it possibly can be. After your first usage and you find your settings, by the way, all it takes is to start up both FSX and the Fiber Accelerator at once, and you'll have everything loaded!
Key Benefits
Improve performance far beyond a normal level, and make sure that your simulator has the potential to run at its very highest limits. This is the perfect add-on for anyone who is using a lower-end machine that cannot hit the consistent highs that over simulation fans might have the power to do

Remove the difficulty in flying in populated areas thanks to the strong monitoring and balancing throughout the flight – going into a high-traffic and detailed area will no longer cause the brutal slowdown that it once did. By balancing visuals and performance, you get something far more enjoyable to be a part of

Dynamically changing throughout the flight to manage the quality of the simulators performance, this ensures that you never need to worry about crashing in any capacity again. It removes the difficulty in flying effectively and stops the need for a barrage of ALT+TAB commands to make changes to the configuration file!

A very easy to use system that is designed for use with those who have both little flight simulation modification experience and those who have lower end machines. However, this still magnifies performance massively even on a modern machine that can manage everything at its very highest
What's Changed?
Higher frame rates and a much improved level of performance – it now moves like the real world on even more challenges machines

Better graphical output that will go far beyond the balance that you had found previously

Smoothness when flying to remove any motion troubles you have altogether

And much more!
You can purchase the brilliant FSX Fiber Accelerator – now working with Windows 10 – HERE.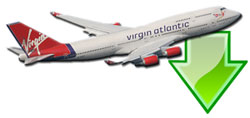 Don't forget... We have a huge selection (over 24,000 files) of free mods and add-ons for MSFS, FSX, P3D & X-Plane in the file library. Files include aircraft, scenery, and utilities All are free-to-download and use - you don't even need to register. Browse on down to the file library here.