Over the years, we've been lucky enough to have created some true works of art within aviation. One of the most beautiful periods of modern aviation, though, was that of the piston engine airliner. For many, they are the jewel in the crown. Out of all of these wonders, though, the Lockheed L-049 Constellation is probably up there. A beautifully designed piece of hardware, the Constellation tends to be in the top rankings for this kind of aircraft. Famed for its powerful performance and its, for the time, futuristic interior, the Constellation still remains a popular choice today.
For any simulation fans who would like to try out one of these wonders, the chance now exists in abundance. A2A Simulations have put together an absolutely exceptional rendition of the original Constellation itself. For around fifty years, this remained a major part of aviation across the world, picking up records and becoming part of the history of the industry.
Not only did it carry an immense level of style compared to the rather rudimentary competition for the era, it performed at a level higher than anything else on the market at that point. This jet was probably the pinnacle of piston-engine hardware, taking its rightful place in the pantheon as something truly special.
Time, though, waits for nothing. As we continued to progress technologically, we came up with the more efficient and effective long-distance piston engines and eventually moved into the jet-powered world instead. This left once utterly dominant hardware as obsolete, including this wonderful piece of hardware.
So, for many, this piece of aviation history has been more or less forgotten. Now, those who never got the chance to see a Connie in air themselves can finally try it out in a virtual format.
VIDEO: A2A Captain of the Ship 049 Constellation 12-Minute Promo
A Mix of Style and Substance
Even with that in mind, though, the fantastic Connie is still seen through misty eyes for many aviation fans. It's stood alone as a piece of magnificent hard work and seen by most as the pinnacle of piston engine-era aviation. We might be able to produce engines which are faster, safer and more reliable, but do we produce anything as authentically graceful as the Connie today?
We'd suggest not. Now, for anyone who feels the same – or would like to test our theory – A2A can help. This package gives fans and enthusiasts the chance to try one out for themselves in the most diverse manner. Created with a true duty of car to get the right message and theme to shine through, this is about as close a rendition as you are likely to find out there!
Perfectly designed to help create an aircraft that is extremely hard to replicate in simulators, this can be a treat for those who appreciate history and variety. Make your discovery of old-school aviation a little easier starting today. With this piece of kit, you get something that can be the most comfortable companion on any given journey.
Major Features
Massive Graphical Change. One of the most important changes that this aircraft made, though, was to how it looks. While many aircraft renditions of older models do their best, this goes the extra mile – and some more. With adding in all of the little features that make the difference, this really feels like the wonderful relic that it is. The graphical change has been so hard to define, thanks to the great work that has gone into everything from the scale and the look to the layout. If you favor historical reality, then this is a must.
An Authentic Cockpit. Inside the cockpit, you can see all of the gauges shooting around to correspond to their values. This isn't just a gimmick or an animation made to make the aircraft look busy. With this, you get a cockpit that looks absolutely spectacular both in performance and function. With all four crew positions – pilot, co-pilot, engineer and navigator – filled, too, you get a cockpit that feels busy. The fully modeled and totally functioning models for each of the positions makes sure that the cockpit feels as it should; a group of professionals working in harmony for safe flight.
Every Tool Provided. Also, within the cockpit you are likely to come across some key features. from managing the Navigator's map (with a zoom feature included) you can manage your flights easier than ever before. Make sure that your map is customized to provide you with all the flight facts that you need, too. Also, make sure that you use the historically accurate Sperry auto-pilot!
Automatic Mixtures. A common missing link in many mods is the use of auto-mixtures. This helps you to get around that problem with utter ease by using the auto-mixture fixture. This allows you to choose automatically reach or automatically lean selections for the fuel-to-air ratio. The perfect choice for setting the carburetor based upon various factors including the altitude.
Professional Assistance. However, these experts don't just sit on the aircraft with their thumbs twiddling. No, each of the experts included will do as you go. The engineer will manage systems, dealing with problems and conditioning issues. The co-pilot will keep you abreast of all critical facts to do with the flight. The navigator finds and posts any findings that should be made clear to you. The attendant will work to help both you and the passengers to have the safest flight possible. Over time, you'll be judged by your performance as a flight captain based on your ability to manage the flight each time. Improve, or fail, as a captain with this model!
Authentic Challenges. From the real-time load manager that allows you to load in passengers, cargo and various other presets, you can fly the aircraft with various functions and loads. You can also mess around with the events possible, from engine failures to over-heating, poor HVAC management and pressurization. Feel the stress and the strain of being a real pilot with this mod.
However, there's much more to this model than just the above!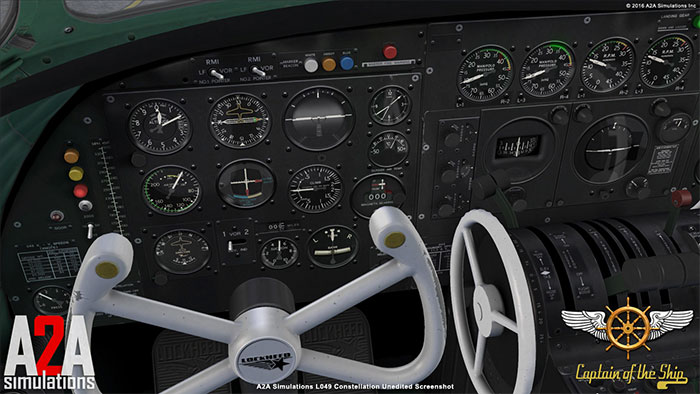 ​The detailed virtual cockpit.
Other Features
New, custom cockpit systems and gauges that add to the realism more than ever before.
Fresh new inertia starters that allows you to start the engines using authentic start-up protocol.
New feathering props are used alongside custom physics engines to manage air-stars without water.
Great cockpit lighting that is going to make sure you never need to struggle for visibility again.
Make use of dual-speed interchangers with proper super-charger physics for independent engine management.
Uses Accu-sim T-6 for safe and smooth physics when turning maneuvers.
Authentic stability – the Connie was famous for its lack of stability in the pitch. This is captured perfectly.
Piston combustion engine modelling has been carried out to the utmost realism.
When weather conditions change, so does performance – everything from temperatures to conditions will change.
Pure 3D instrumentation is used for a fresh, authentic appearance that mixes in perfectly with smooth, fresh movement.
Should items overheat then you can use the excellent fire extinguisher system with overhead panels.
Make use of the GPU system to power the systems even if the engines are off without draining batteries.
Manage cabin pressure to manage altitude intelligently as well as to alter the rate of pressure change.
Three beautiful liveries that do all the work needed to add that beautiful authenticity.
A2A specialized bump mapping and lighting is used on all of the models to create the most authentic look.
Crew reports appear on a 2D panel to keep you well-informed of any problems that you might have when in the skies.
Manage your temperatures when in the sky with engine cowl flaps and oil cooler flaps.
Watch performance plummet if you do not manage the hardware properly!
Avoid spark plug clogging by never leaving your engines idle for too long. Throttle to clean.
Asymmetrical dragging has been created so that when you open various flaps, you get that real feeling & challenge.
You can purchase your copy of this stunning aircraft over at SimShack here.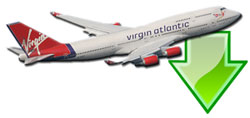 Don't forget... We have a huge selection (over 24,000 files) of free mods and add-ons for MSFS, FSX, P3D & X-Plane in the file library. Files include aircraft, scenery, and utilities All are free-to-download and use - you don't even need to register. Browse on down to the file library here.