If you have ever used the excellent Learjet 35A by FlySimWare, then an update has been released. The latest version of the mod, version 2.8, brings a wealth of awesome new changes to the previously excellent jet.
Now, you can hop into the cockpit of a Learjet and truly feel like you are flying the real thing. It's a major step up in class over the previous version, adding lots of little changes and improvements. Fans and users had asked for new changes to be included, and this latest version helps to correct some of the more complex issues that existed.
So, what's changed in version 2.8? How can users enjoy a more robust, authentic flying experience?
Before we dive into what's new in this update, you may want to watch the video below that shows you around the aircraft add-on.
What's New?
The installer has now been improved, with more information and details included on every section.
Also, you can install the Learjet with the inclusion of either 1 GTN 750, or dual 750s, which was missing before.
The GTN 750 3D now has been given a fresh click spot for the SD-Card, further improving accuracy.
Also, the 750 dual units now come with a prior configuration installed with both sounds and navigation ready to go.
Another big improvement, though, was in the XML coding – it now displays raw DME rather than a VOR/DME hybrid.
The DC & AC meters now run with a full tooltip installed for further information and clarity in cockpit.
The amperes meters now come with fresh new tool-tips which are very easy to understand.
The GPU can now open up to introduce a small army of panel windows which show up, active or otherwise.
A new user manual has been penned with joystick key listings included for easier control in the sky.
New warning labels have also been created to help offer the main panel more detail and warning when needed.
The altitude selector also comes with a new Honeywell digital unit design, which matches the Honeywell altimeter.
Over-speed warnings now come in three situational varieties, which makes it easier to avoid warnings when you already know.
The new digital section of the altimeter also shows an altitude below sea level, and will also display in metres if you adjust the settings.
However, that's not all that has been changed as part of this new package. The latest version of the Learjet brings a lot of nice things to life, including improvements such as the following:
New Cold & Dark Changes
Now, taking off on a cold or dark status has been changed. The standby battery has now been switched off, which was missing beforehand. Also, the anti-skid, the thrust levers and the switches & knobs are all turned off as they should be.
Add in the introduction of the new standby attitude gage being caged, and this really makes the new start-up system feel nice and authentic. It also improves the way that anti-skid click sounds play, as they were a big miss previously.
Add in the testing knob modes which can be used with a left-click, or throttle cut-offs for a right click, and you have a much better level of functionality than you had beforehand. The cabin pressure knob and cabin rate knobs can now be changed with a mouse drag, too, which is a nice – if minor – touch of class.
Lastly, the new N1 reminder animation will count up and down, rather than merely just up as it had done so beforehand.
Fresh New Flight Dynamics
Fuel burn rates have been fully updated to ensure that they are in line with the real thing. It's a small change, but one that makes an impressively positive difference to overall flight enjoyment as you go forward.
The intercepting ILS approach autopilot bank rate has been greatly improved by Pitch, Yaw and Roll performance also. Also, the new elevator trim maximum limit has been set to 10-degrees. Again, it's small changes but they all add up to make the whole aircraft fly a little simpler.
In terms of getting around with the autopilot, now, too, things have changed. With AP on, you will see LVL, VS and ALTSEL modes become active, and pitch 9-degrees higher than previously. With the AP off, all modes will go off, and the flight director pitch is going to rise by 9-degrees.
Bugs & Improvements
Performance always matters, and this latest mod looks to help change and improve the overall performance. One major bug fix that was needed was that the old cabin pressure selector used to get stuck. This has been fixed, so you should no longer have to deal with this annoying and time-consuming problem any longer.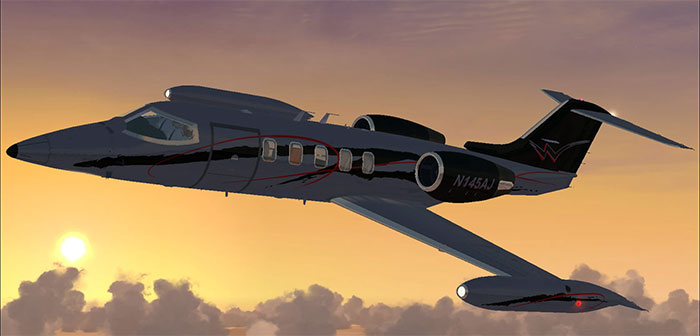 Learjet with sunset in background.
The Generator amp meter will now have a much higher charging value; a nice touch for a bit of added accuracy and detail. Also, with Generator 2 amp meters, they now display their own volumes rather than showcasing the old Generator 1-amp meter details again.
New spoilerons will now only flash spoiler annunciator light with flaps that are above 13" rather than the full flaps. Also, the alerter light has been changed – it's not on within 1000ft of the pre-selected altitude, and remains illuminated anything within 300ft.
The new alerter test now plays audio as well as caused illumination, which is another nice touch in terms of the lighting and the presentation side of things. With a missing reference marker for the slip indicator ball, this can make a nice addition to the overall control of the aircraft than before.
A new alerter audio will play when you go under 300ft of the pre-selected altitude, too!
The VAS patch is no longer needed, and lights at night now use far less memory to help manage performance while still giving you plenty of visibility as you fly.
Ground splash lights will now turn on/off depending on the voltage. Just like the recognition light bulb, both will switch off when the main bus falls below 8v.
The control panel 2D lighting functions only occur from the GNS model only, too.
Altitude reference bars have been changed to a more visible and easy to read orange instead of the dour, dull color that it was beforehand.
With all of this in mind, then, you can enjoy a much more improved level of control when flying with the Learjet with other changes such as turn coordinator balls being updated through to fresh new joystick and keyboard management, it just got a whole lot easier to have fun with the Learjet!
You can purchase the latest version of this add-on over at SimShack here. If you're not looking for payware and want freeware, we have a great model over in the file library here.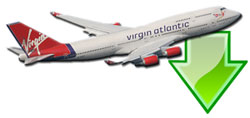 Don't forget... We have a huge selection (over 24,000 files) of free mods and add-ons for MSFS, FSX, P3D & X-Plane in the file library. Files include aircraft, scenery, and utilities All are free-to-download and use - you don't even need to register. Browse on down to the file library here.