The VC10 is an important part of aviation history, playing an important role in the Royal Air Force for quite some time. First taking to the skies in 1962, it was built by Vickers-Armstrong until 1970. That 8-year span, though, produced a memorable aircraft that was still being used by the RAF some time in 2013.
At around 158.8ft long and with a height of 39.6ft, the VC10 was a fairly large aircraft for its purpose. Being capable of taking off with a whopping 151,900kg was impressive, too, given the speeds it could hit. Powered by an impressive Rolls-Royce Conway MK301 Turbofan engine, though, it was easy to see why. Indeed, it was capable of hitting a maximum cruising speed of 580mph, with a service ceiling of 43,000ft.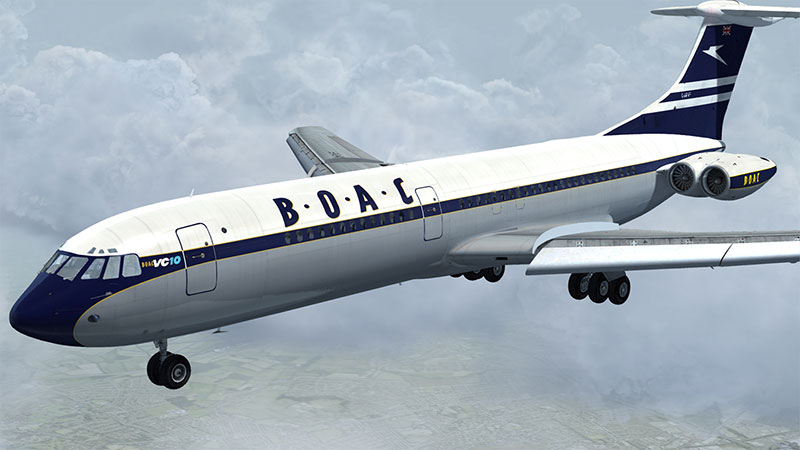 This aircraft worked with a four-person crew; a Captain, First Officer, Flight Engineer and a Navigator. Although few in number in terms of production, the VC10 went down as a popular aircraft in terms of heart of hearts. Noted for its pace and its class, the VC10 holds a proud record which no other aircraft can beat.
In just 5h 1m, the VC10 completed a world record for a transatlantic flight in a sub-sonic aircraft. A truly remarkable feat, that record played a role – amongst other things – in securing the VC10s place in history. Regularly used by flight simulation fans everywhere, the VC10 has become a commonly requested aircraft on a regular basis. If you wish to try it out, then this review will cover the Just Flight edition of the same aircraft.
Want to know what awaits you were you to pick it up? Have a look. We'll cover the main contents of the aircraft, and review its overall performance.
Before we dive into the full review, please take a minute to watch the official trailer video released by Just Flight below.
Installation
As ever, this Just Flight download will install with relative ease. All you need to do is open up the installer, which comes in a .zip file. Upon purchase, you'll be given a key as well as the .zip file from the store you decide to purchase from, and inside that .zip file, you will find the installer.
Simply choose to run the file, and choose the flight simulator you wish to use the Just Flight VC10 with. Its' compatible with both Microsoft Flight Simulator X (including Steam Edition) and Prepar3D all versions including the latest v4. Then, input the key you were given upon completion of purchase. This will initiate the installation process, which usually only takes a matter of moments.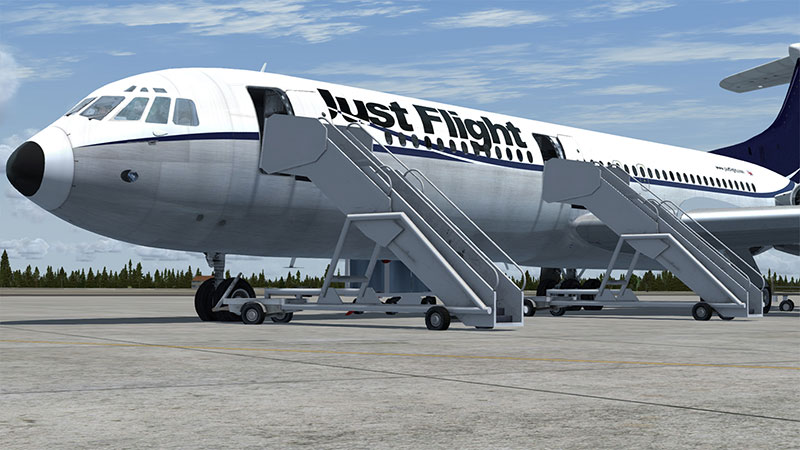 To double-check if this installed correctly, simply head to the simulator directory where you installed FSX/P3D. There, you will look for a folder called 'VC10 Jetliner' and, if that is present, you should find within a PDF document alongside other files. This will also a tutorial collection which you can use to learn how to fly the aircraft, and a paint kit to make your own livery.
You will find the PDF document included to be useful, as it helps to detail usage of the aircraft. We recommend that you read this over to get more familiar with the VC10.
Interior Model
Like most Just Flight models, there's obviously been a lot of work and effort put into researching the cockpit. It feels easy to work with, and there's been a lot of time invested into the little details. They get the big things right, too, which is a fully functional and aesthetically accurate take on the VC10 cockpit. You'll also have access to the Flight Engineer bay where you can use a few different features. However, please note that while you get a navigator's panel it does not provide any function. Also, there is a 2D panel provided so if you find that you cannot use a 3D cockpit, you can always change it up. Simply move the files around as instructed, and you should get what you are looking for.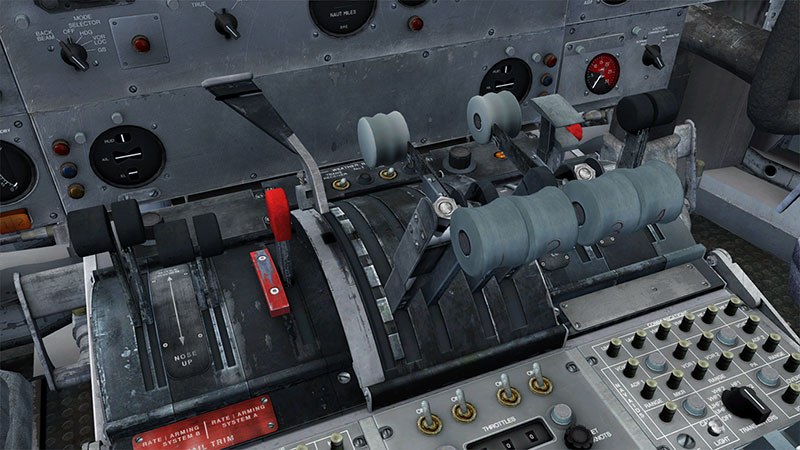 If you take a quick look around the cockpit, you'll spend a few moments taking in some very impressive little additions. The cockpit uses some weathered textures, which is good. It's rare that any aircraft interior is bright and fresh to the point of having little wear and tear. The use of bump mapping helps to sell that worn look without making the aircraft look dirty, damaged or weary.
There is some very good work involved in making the interior look great in relation to what the simulator is capable of. The only side-effect of having such good detail on the cockpit though is that even on decent machines you can suffer from input lag. This might be a bit of an issue, but those with higher quality hardware should have little issue.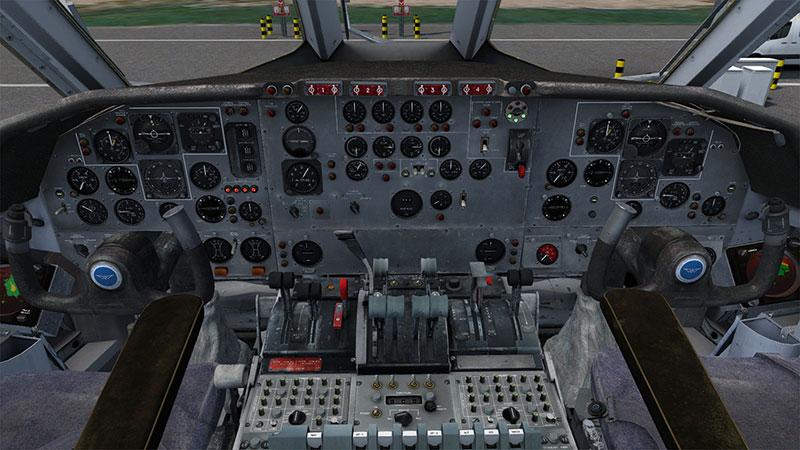 In terms of gripes, it's fair to say that the lights provided are a little out of character. They are a stark contrast to the real lighting that the VC10 carries. Again, though, small gripes. What, then, about the cockpits buttons and gauges?
Buttons and Gauges
There is quite a lot to be said for the quality work that has gone into the gauges. For one, the actual quality of the cockpit texturing in terms of buttons and gauges is very good. It's all very immersive, with accurate scaling and placement meaning that the cockpit is a really enjoyable place to spend your time. Always hailed as a fun aircraft to be in control of, this merely helps to cement that.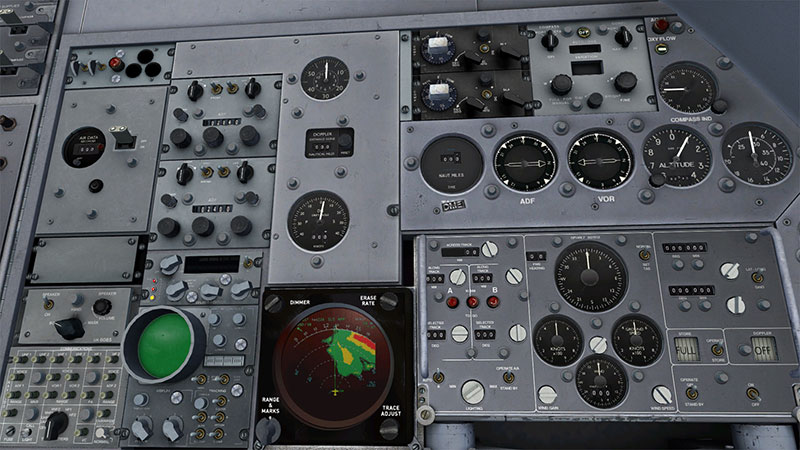 The fact that there is such an attention to detail is impressive, really helping to bring to life the interior. All of your center console, instrument, and overhead panels all work very well. You get some helpful checklists to follow, too, which follow the same procedurals you'll find in the help PDF we suggested earlier.
While one or two features are missing in terms of functionality, nothing groundbreaking is missing. For pilots, you should soon feel very much at ease in charge of this aircraft.
However, if you were to look for a negative, the weather radar is one. While it's common for Just Flight aircraft the fake-looking blank, static weather radar that is present just looks out of place. It stands out when everything else is so smooth and functional. It's the little things that can make or break that sense of immersion, and we just felt that this was a small but significant miss. It would be better to have simply been left covered up; better a normal texture than a dead radar.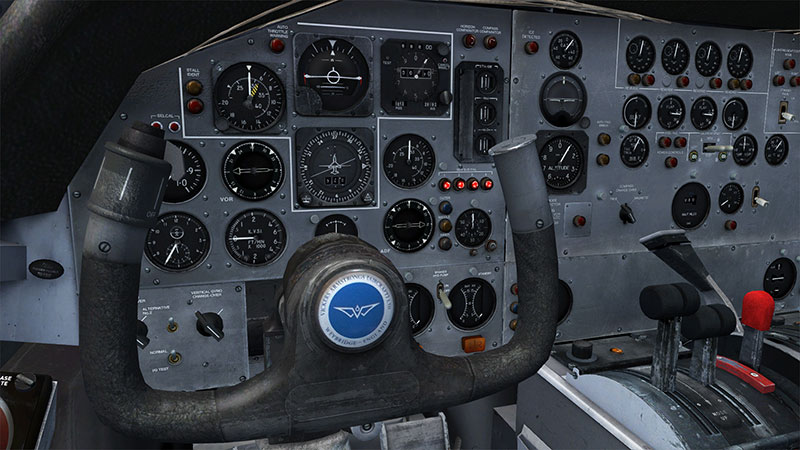 Given the work that went into making everything else so functional and fancy, it's a missed opportunity. That being said, it's a small complaint when weighed against the general quality of the rest of the content.
Button Functionality
A quick word on the functionality of it all, too. This works very well, with more or less everything that you might have expected – though not necessarily everything you want – included. For example, since this is part of their Jetliner series, some limitations do exist. For example, some parts of the cockpit can look as busy as they are in real-life, while some parts can look a tiny bit empty. This is the same with functionality, with all of the big parts working (weather radar aside). So, you should feel pretty comfortable taking control of the VC10 generally.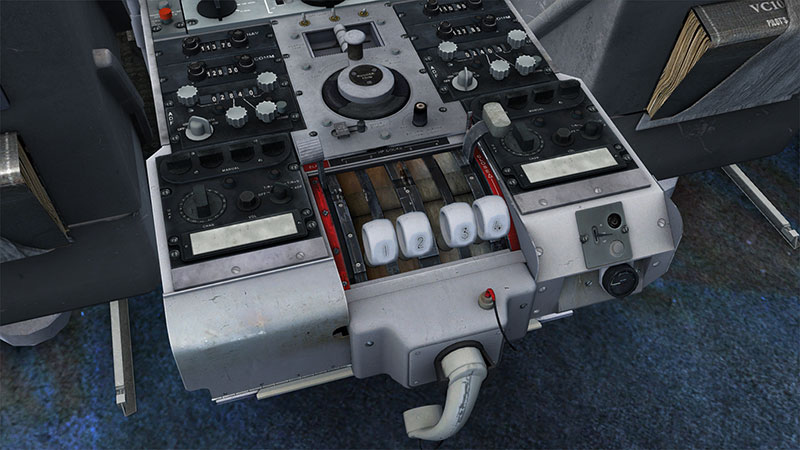 Most beginners would probably feel easy enough taking this on, but advanced pilots will be able to settle in very quickly. For that reason, it's easy to say that this has some very impressive overall functionality whilst providing a satisfying experience overall.
So, it flies great and looks good internally. What about the exterior?
Exterior Model
A lot of work has obviously gone into caring for and looking into the exterior model of the aircraft. Even with the passing of time and the general limitations in FSX/P3D when compared to the more modern simulators, this looks pretty good. There's a lot of more minor details at play here than one might expect, and that really helps it to look modern and in-keeping with Just Flight standards.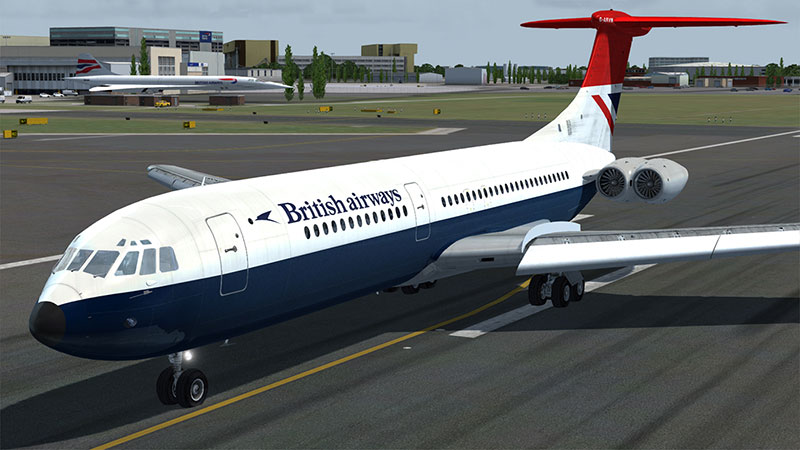 There's a lot of detail, big and small, with good use of bump mapping helping to add some much-needed realism. Like the interior, it has a slightly used look to it, which is much better than the just-out-the-wrapper look. The Just Flight team have remained faithful to the look, too, making sure it follows that classic sleekness of the real thing.
From that unique shape to the noise through to the smart and realistic rounding of each part, this looks pretty close to the real thing. The shape, scale and general layout of the model are quite impressive. For example, the placement of all four engines as – compared to photos – more or less spot-on. Each comes with a lot of the smaller details accurately boxed off, from the layout of the engines to how they are held together. This creates an impressive and realistic look to the aircraft, whilst making sure that it does not compromise performance.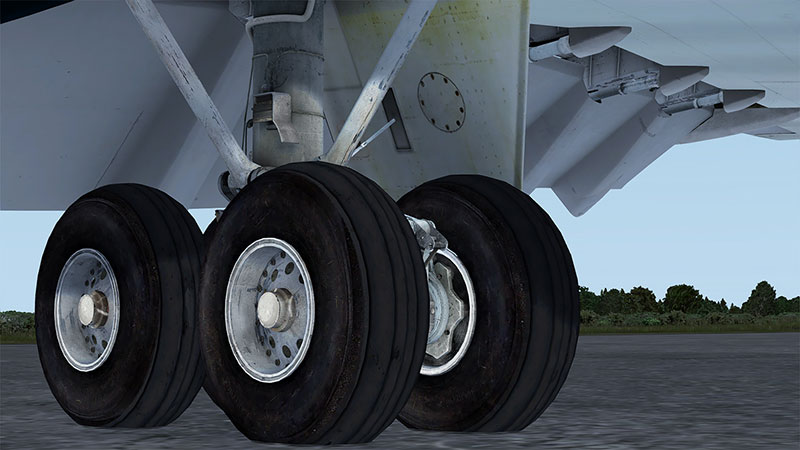 The detail that has gone into most aspects of the aircraft is pretty impressive, in truth. All of the wing details you would expect have been modeled in, with everything moving as it should. The wings are finished off with detailing on the structural struts. If you lift up the speed brakes, too, you can see some other small parts of the wing become visible, too.
Liveries and Add-ons
Another nice inclusion with the VC10 is ten pretty impressive liveries. Some of them are real, others fictional. The liveries that you get are pretty good, with relatively impressive attention to detail provided on each of the liveries in terms of color schemes. None are too jarring, and all of them should at least be tried out for completionism as much as anything else.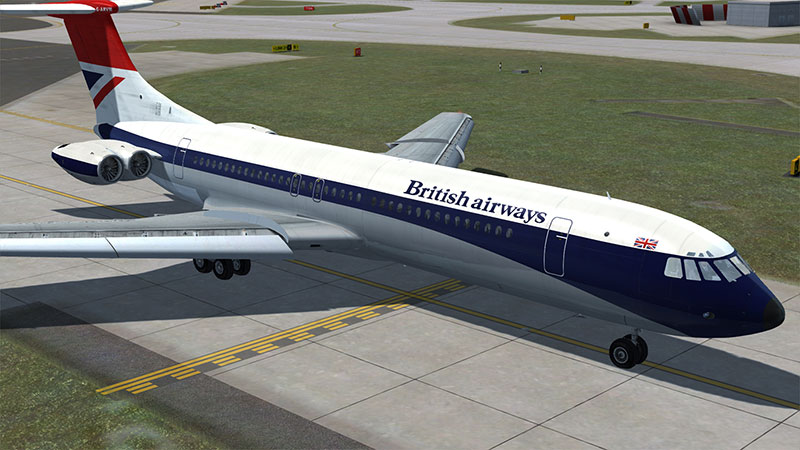 The ten liveries that you get include:
British Airways G-ARVM, both 1976 edition, and Red Tail edition.
BOAC G-ARVF, 1964 edition.
BOAC G-ARVC 1966 and 1974 edition.
G-ARVF edition.
Gulf Air A40-VI and A40-4K editions.
Nigeria Airways 5N-ABD livery.
You also get a rather interesting Just Flight livery included as a little bit of an extra. It's not essential by any means but makes a nice livery to have if nothing else. Each livery is installed upon completion of the installer, and ready to use at will.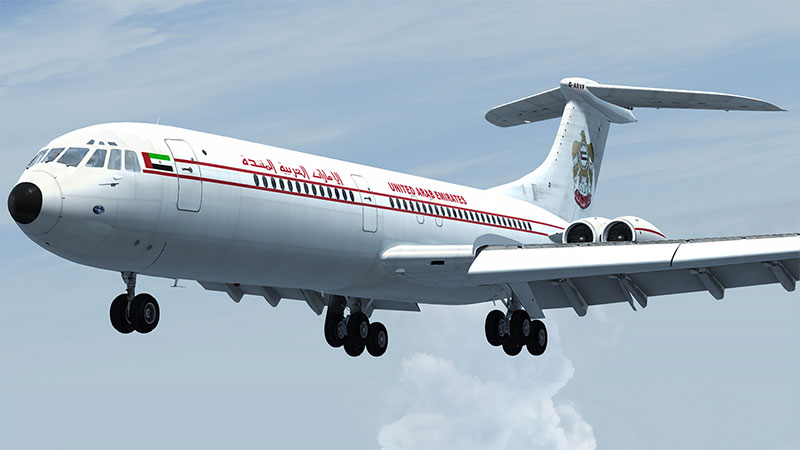 Audio
Of course, the 'other' part of the presentation in flight simulation comes from the sound. The sounds we hear often help us to find out way in the skies and the sounds you hear with the VC10 are broadly very good. They do the aircraft a lot of justice, with a crispness in the sound quality and also a lot of common sense as to when you hear specific sounds.
It's quite impressive, as the aircraft is no longer in service and therefore hard to source sounds from directly. Just Flight worked alongside Benoit Plamondon to gather a collection of authentic engine sounds from Conway 550. This helps to make sure that the sounds are both accurate in usage and in their quality. You will find that the aircraft changes in volume and in sound style from start-up to completion of the journey.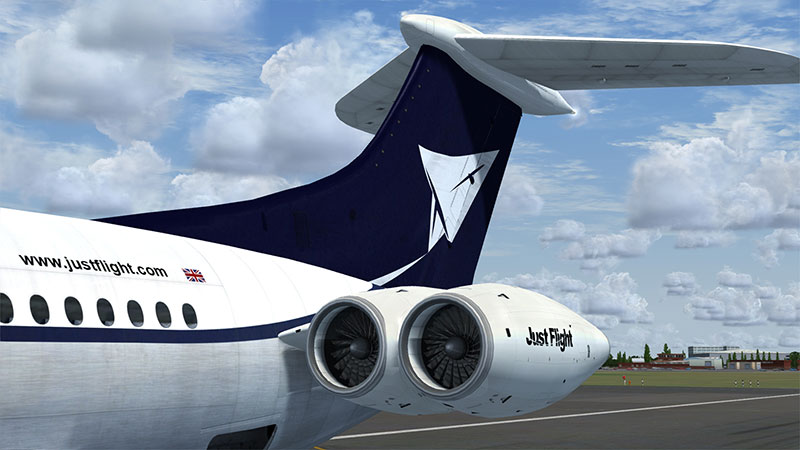 You also hear a lot of little sounds as you go, from gears clicking to flap motors operating. It's cool to make sure that you can get a better grounding of what is going on with the aircraft, and definitely helps to make the right atmosphere if nothing else.
The sounds, then, are a good as expected.
Performance
Just Flight are well-regarded for their attentive nature when it comes to flight dynamics. Their impressive attention to detail here is no different. While we've obviously never got our hands on the real thing, judging from every available piece of data and experience out there we can conclude this is a job well done.
If you look at what the general consensus of the VC10 is, this seems to match up pretty impressively. For example, the aircraft comes with a reputation for being easy to fly; that is very much the case. What it lacks in agility, it more than makes up for in raw pace. The speed of the VC10 is very impressive, given that you can easily cruise at its real Mach 0.91 speed.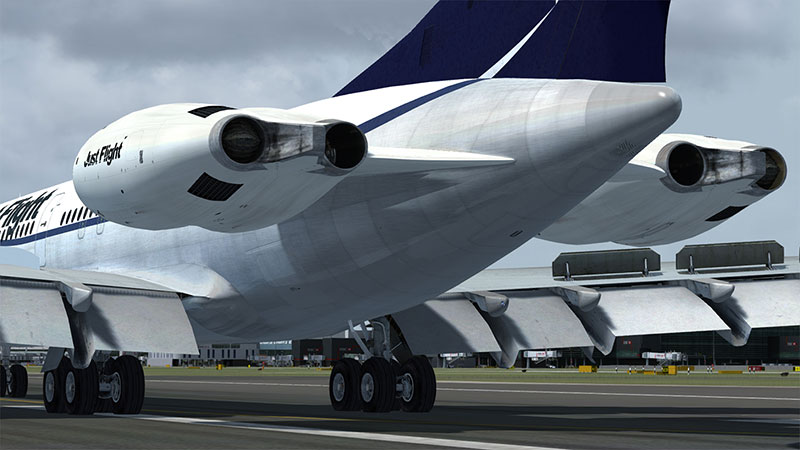 This makes it the fastest supersonic aircraft ever built for commercial purposes. For that reason, you can really feel the energy and the kick from the aircraft as you begin to pitch up. However, you will soon find that the dynamics are accurate for good and for bad; fail to control the pitching up accordingly, and you'll be all over the place.
With a take-off speed that can hit 190 knots, you can feel a certain tinge of power in the VC10 that other aircraft of its kind simply do not possess. You can easily land at speeds of 123 knots, too, which poses its own challenges for fledgling pilots. However, you will find that at even as low as 160 knots you can begin to have some stalling issues.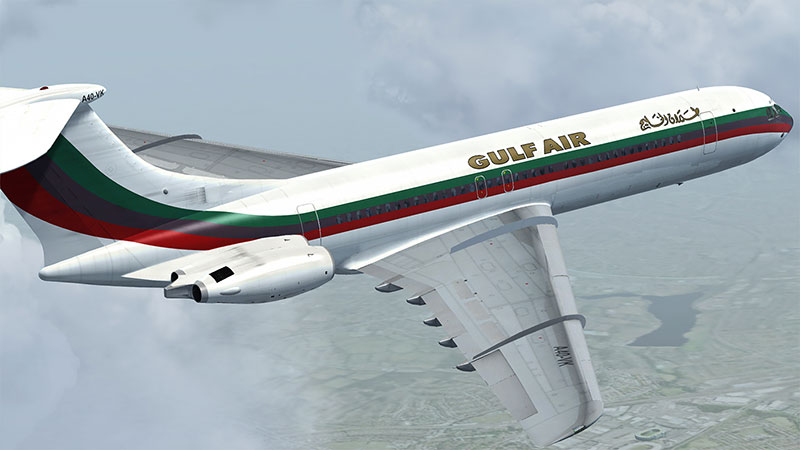 That's quite interesting, but further builds on the fact that Just Flight has done a good job to capture the aircraft and its positives as much as the weaknesses. While relatively easy to fly, it's somewhat unique style will take some getting used to.
The Verdict
Overall, it would be hard to give too much critique to the Just Flight VC10. They have done as good a job as could be realistically expected, and the performance provided was both a thrill and a challenge. At first, it felt a little jarring to fly. Within a few short minutes, though, you start to feel a genuine grip of the aircraft and can really appreciate its strengths and weaknesses better.
If you like an aircraft that can hit speeds close to supersonic levels, then the VC10 is very much fun. It's hard to pick too many faults with the aircraft, in truth. Most of the grips we would have tended to be based more on the passing of time than any failings with this particular add-on. Compared to more modern simulators such as X-Plane 11, it can feel dated. Given the limitations, though, it's a fair and accurate take.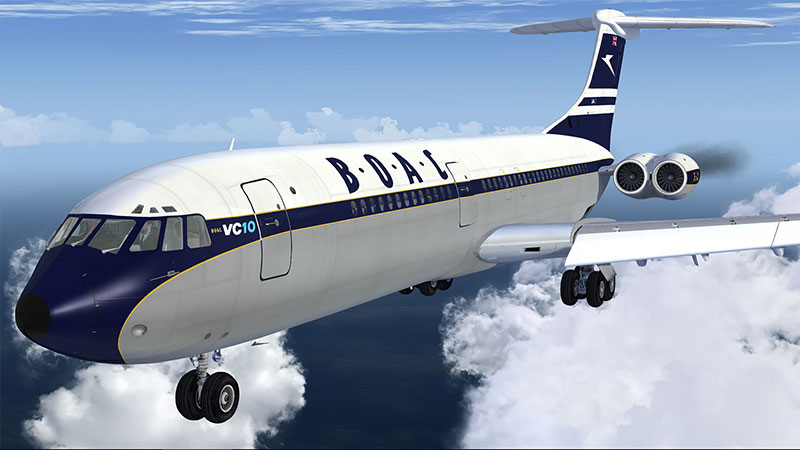 ​
If you are someone who has a love of old-school aircraft or perhaps even sat on a VC10, this is for you. The VC10 makes a fine pick-up for completionists, those seeking a challenge or simply those who want to enjoy a trip down memory lane. It's a fine balance in terms of accuracy, attention to detail and impressive features within the technological confines.
The VC10 is a classic jet and probably offers as close a remake of the real thing as you are likely to get on FSX and P3D.
You can grab your copy over at SimShack here. If you'd prefer freeware, you can take a look at some of the models we have in the file library here.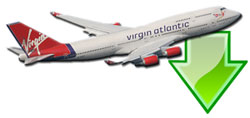 Don't forget... We have a huge selection (over 24,000 files) of free mods and add-ons for MSFS, FSX, P3D & X-Plane in the file library. Files include aircraft, scenery, and utilities All are free-to-download and use - you don't even need to register. Browse on down to the file library here.