As one of a large number of Alabeo released for FSX and P3D, the M20R Ovation, released in September, adds to a growing collection. As part of the Mooney Aircraft Company, the M20 was a very impressive model for its time. This review will take a closer look at the M20R Ovation created by Alabeo, to help you determine if it's worth trying out.
How close, then, does the Alabeo take on this classic aircraft get to accurately portraying its qualities and features?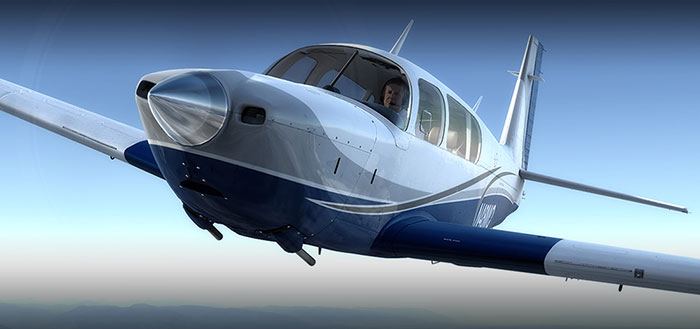 About the Aircraft
The aircraft was, as mentioned above, part of the Mooney Aircraft Company. The M in the name, naturally, stands for Mooney. The aircraft itself is part of the wider M20 family, which many aviation fans will be well aware of.
The Mooney M20 range became known for hitting historical event after historical event. For example, it has the pleasure of being the fastest single-engine piston-powered aircraft in the world at the time, hitting 201mph on just 200hp.
A four-seater aircraft known for its singular engine and distinctive low wings, the M20 is recognized in history with good reason. Comfortably the most successful of the various models designed over the years by Albert Mooney, it was capable of hitting 170mph using its 150hp Lycoming O-320 engine. The aircraft itself went through numerous changes over the years, too, going from wooden frames to metal and witnessed many a change to its engine and equipment.
The first flight for the aircraft itself took place on the 3rd September 1953. An initial success, by 1955 it was in production and this seen the birth of a brand of aircraft that, over the years, changed and altered. This edition, the M20R Ovation, was released on 30th June 1994. It was recognized for having a long body fuselage and flying using a Continental IO-550-G, 6-cylinder 280HP piston engine. This ensures that the model became quickly recognized for being different to most of the opposition on the market.
By late 1994, it had been named by Flying Magazine as their Single Engine Plane of the Year. Such acclaim sparked wider interest and, before long, the M20R Ovation became a staple of the brand. Still in production today, those looking for a classic quality aircraft would do well to try one out.
If the real thing isn't within your capabilities, though, is this worth trying?
Key Features
Outstanding attention to detail has gone into the model, making sure it looks as authentic as possible.
Huge work has gone into the textures, too, ensuring that they are as closely representative of reality as is possible.
Smart shines and reflections ping off the exterior of the aircraft, seen most reliably through the side-view prop camera angle.
Reflections also shine inside, too, with everything from sun glare on the windows to gauge reflections shining brightly.
Impressive audio input, from engines roaring to knobs being flicked and clicked, adds to the deeply impressive atmosphere.
Full integration with top quality features such as the Alabeo Garmin GNS 530 GPS unit.
This also includes the Reality XP GNS530 unit for FSX users and Flight1 GTN 750 utilization.
Authentic flight behavior makes sure that this take on the M20R Ovation feels close and authentic.
Official Preview Video
Installation
As ever, installation is very easy. Alabeo are known for making installation as easy as it could – and should – be. As a wider part of the overall Alabeo experience, installation takes only a matter of minutes to run through. You will be provided with a serial number upon purchase, and this is used during the installation wizard.
Simply put your number into the installer to activate your edition of the M20R Ovation. This helps to add an extra layer of simplicity to what can (at times) be a rather frustrating process. For beginners and those lacking in computing fluency, this makes installation so much simpler for you to work with.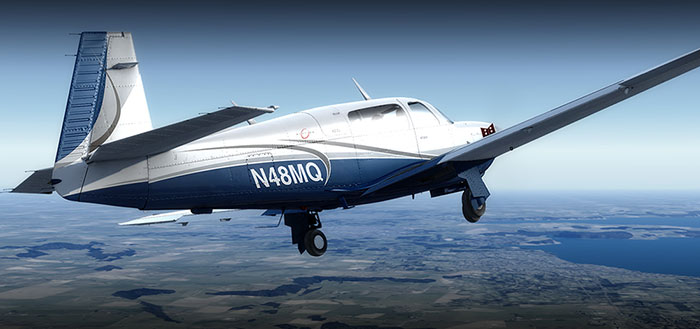 Priced at $34.95, the M20R Ovation is available for direct as a download through various resellers. You can, of course, pick up a DVD copy of the add-on as a back-up at a small additional cost when placing your order. At around 1.06GB of space, we recommend making sure you clear ample space before trying to install this add-on.
With around 500MB taken up just for the download itself, be sure to clear at least 2GB of space on the location where your simulator is installed. Overall, though, the installation process is as simple as it could – and should – be for busy pilots.
Exterior & General Appearance
The general appearance of the M20R Ovation is very well done indeed. With the clear circular lines and shapes on the liveries ensuring it carries that classic Mooney look, this is instantly recognizable. By being able to capture the heart of the aircraft, this adds an extra layer of realism to the experience.
Another nice touch here is the addition of the stabilizers leading edges alongside those characteristically roomy windows. This immediately makes the M20R Ovation look a lot larger than it is from the outside. While by no means small on the interior, from the outside it looks huge!
The elongated rear fuselage is a stand-out design addition, too, that does a great job of showing just how long this model really is. Other limitations in the past have managed to capture the scale and size of the appearance. This though does a fine job of making sure this aircraft is almost instantly recognizable.
The external model's texture work is massively impressive, too. Crisp and delivered in high quality (most of them in 4K), the quality of the textures shines brightly. Add in the fact that small showcases of dirt and build-up of grease and oils stains make the aircraft look busy, and it's a very impressive take on the model indeed.
The various liveries included also go a good job of showing off just how versatile the M20R Ovation is. You get access to various liveries, five in total, each one based on authentic aviation designs you may have seen in the sky in the past.
Size, scale, overall shape and style look about as accurate as you would expect. Alabeo has done a fine job on the bulk model, but what about the little extras?
Interior Appearance
The interior appearance is, to be simplistic about it, fantastic. It's a very impressive interior, with the standard interior configuration used for simplicity and ease of use. You enter the cabin as you would the same way in real life, with plenty of space inside the cockpit from the minute you enter. There is plenty of space in the back, too, which gives it that spacious and roomy feel that's associated with the real thing.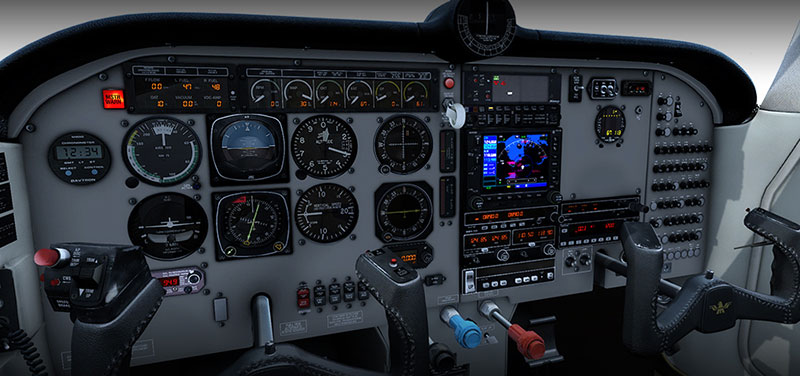 The cabin windows are very easy to see out and give you plenty of visibility when you are flying. For those who like to simulate their aviation for the view as much as anything else, this can be tremendous fun. Little extras on the inside shine through, from the light wear and tear on the cabin to the side panels, seating, and carpeting all looking a little rough. You feel like you are flying someone else' aircraft, rather than hopping into a brand-new off the conveyer belt model. That feels great.
However, the best part of the interior appearance is the quality of the systems within. The avionics platform and general aircraft system look outstanding. It carries that classic 90s cockpit feel, with the old-school analog flight instruments placed alongside the digital instruments such as the Alabeo Garmin GNS 530.
You should find it easy to work your way around the interior; the actual control of the aircraft is crystal clear and very sharp. The cockpit feels as if it has been used many a time, while the instruments are kept in (relatively) good shape, helping to add life and energy to the interior.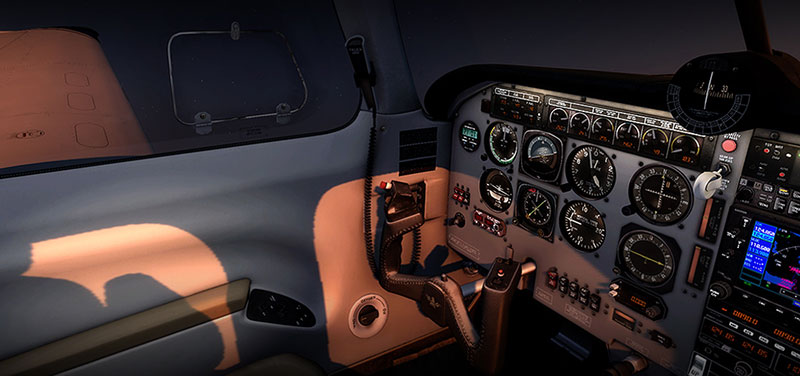 Another fine touch is the quality of the lighting from within. From visibility at night being much improved and more atmospheric to the way the light bounces off the various features in the cockpit, this creates a very inviting view. The authentic roar of the engine only completes that quality.
Overall, the interior appearance and fittings do a fine job of replicating what a pilot would feel sitting in the cockpit of the real thing, warts and all.
Audio
The sound quality is quite impressive on this model, too. We were very impressed with how the engine would rip into life, making those characteristic roars as it did so. Recorded using high-quality samples from the M20R Ovation itself, this is an authentic take on the sound this aircraft can and will produce.
Very impressive, though, is the different sounds included. From the flaps to the landing gear popping out from the bottom, this really does all it can to capture those impressive sounds once and for all. Also, the smart use of audio loops helps to make sure that there is never any pause in the sound. This helps to make the whole experience a bit more immersive, whereas other takes on the M20R Ovation clearly used non-loop tracks that would create a rather less impressive experience.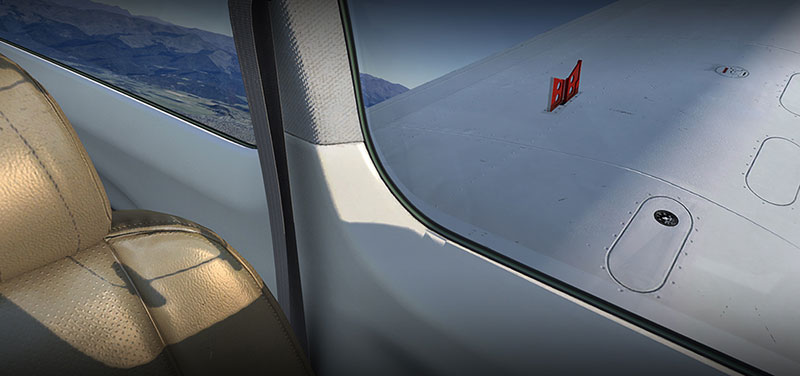 In terms of audio quality, too, it's spot on. It never leaves you unable to think, but you won't find yourself reaching for the volume button too often either. It's high quality, it sounds realistic and it delivers in terms of variety. If the audio part of the simulation experience matters to you, this really rocks.
Performance
Overall, the performance of the aircraft is very impressive. Looking online, we found that Alabeo has done a good job of mixing this up to be as close to the real thing as possible. While we can't get the virtual tape measure out, it's the full 26.9 x 36.1 x 8.4ft model just like the real thing. This means that the aircraft performs in terms of flight dynamics as it would have in the real world.
Looked at the Mooney M20R Ovation Pilot Operating Handbook, then, it's clear a lot of research went into finding these little important details. That being said, there's obvious approximation taken into account when it comes to things like range and speeds. The rate of climb (381m/minute) and range (1,554mi) seem to be accurate, though.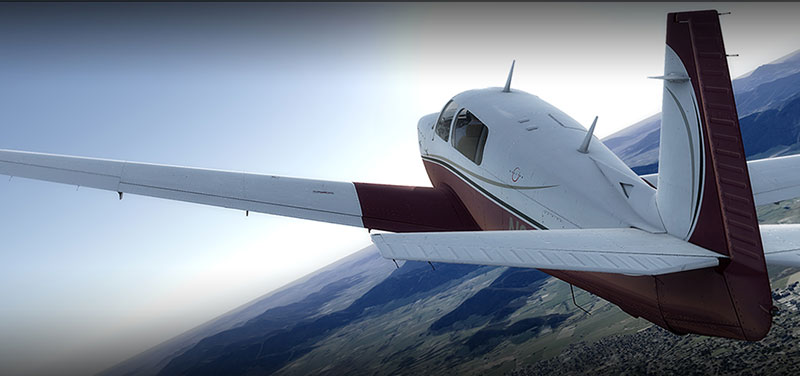 Pulled by the authentic Continental IO-550-G 6-cylinder 280HP engine, then, the M20R Ovation feels as it likely would in reality. Alabeo are regularly praised in the aviation community for their commitment to accuracy, and it appears they have done a fine job of that here.
Flight performance, though, is hugely impressive. Flying in both clear and rainy weather, we took this for a test run to really test how it dealt with the elements. Take-off and climbing were very clear and easy to handle, while we felt little to no feedback issues or errors. While it never felt unrealistic, we were told to expect an aircraft that left you with little difficulty. That's certainly the case here; it's very easy to get to grips with.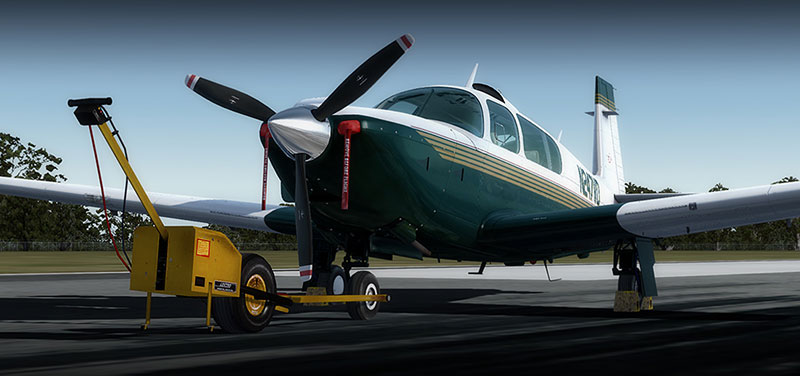 We'd have to say that looking at performance data from the aircraft itself, it would appear that its performance feels generally close to what is reported on official sources. Really, we couldn't have expected anything else; it handles itself and controls as we expected!
Flight Dynamics
The flight dynamics are very impressive indeed. It's an aircraft that some have referred to (in jest) as like 'Porsche with wings' but it's very impressive and easy to handle. If you have ever driven a Porsche, this has similar ease of handling albeit in the much more complex and challenging skies.
While it can hit good top speeds as the real thing can don't expect a speed demon. This will top out at around 165knots, which is still pretty damn impressive. More importantly, it's true to the real thing; the M20R Ovation is the most loved, not the fastest, of the Mooney range.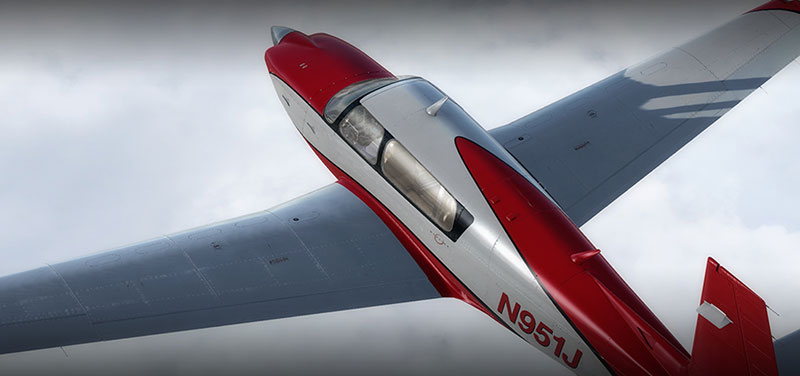 Also, keeping in mind this is an older aircraft, it impressively will begin to really struggle when you reach 1,400fpm. At this stage, it will begin to stall and, if you continue, will come back down with a bang. The level of power output is consistent with the aircraft performance modules as well as the aircraft of the time, though, so it's merely authenticity over anything else.
If you are coming into using this mod with your eyes open about its limitations and the fact it's not got anything on most modern aircraft, the M20R Ovation can be a very fun journey indeed.
Extras
Like any good Alabeo hardware, this comes with a boatload of extra quality add-ons for you to make the most of. for example, you get access to a:
14-page Normal Procedures Manual.
9-page Emergency Procedures Manual.
5-page Performance Table Document.
1-page References Sheet.
2-page User Guide for the Alabeo GNS 530.
1-page Altitude Pre-Selector Guide.
2-page Recommended Settings Guide.
Using all of the above, you should find it much easier to make the most of the M20R Ovation. The documentation is very clear and professional, with ample information for even beginner pilots to understand. While some veterans might actually find it too beginner-friendly, within the simple explanations lies some very useful information that you can learn from.
Overall, this delivers a very impressive take on a particularly popular aircraft. While it might not be for everyone, the M20R Ovation is capable of being flown by most aviation fans and simmers.
Conclusion
As ever, Alabeo has done a rather spectacular job of getting the M20R Ovation right. It's an impressive take on an aircraft that has been consistently let down in the past with regards to realism. The development team makes no mistakes here, and Alabeo shows their experience in handling hard tasks very well indeed.
It's everything that you could realistically expect. Most of the grips you may have with the aircraft are intentional; it's an older machine, after all. We would suggest that if you come into this expecting it to be as good as a new model released in 2017 then you might feel let down.
If you arrive here knowing it's an accurate take on a 1990s aircraft, though, you should be suitably impressed. It will appeal to you if you ever have set foot in one, regardless, due to the immense similarity managed across the board.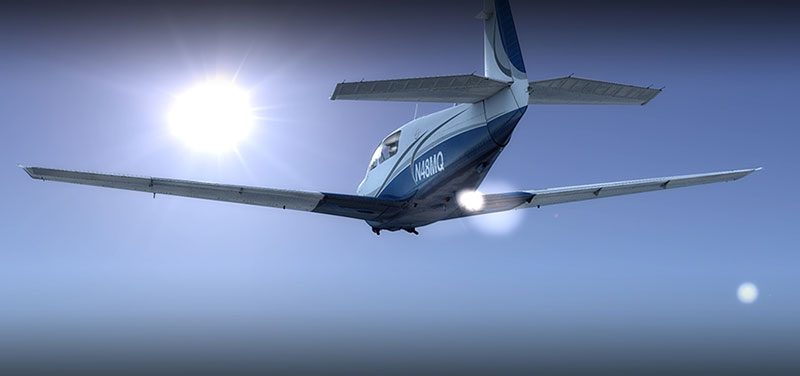 While it's a little costly, you get good value for money if you are a fan of the M20R Ovation or associated aircraft. It's not one that people who know nothing of the aircraft might get full value from, but fans of the Mooney series will absolutely fall in love with this.
It's attention to detail is hugely impressive, as is the ability to make use of high-quality 4K textures to really up the ante visually. Impressive, authentic and very close to the real thing: this take on the M20R Ovation is unlikely to be topped in the FSX era.
You can pick up your copy of the Alabeo M20R Ovation over at SimShack here. Don't forget, we also have thousands of freeware general aviation aircraft for FSX/P3D over in the file library here.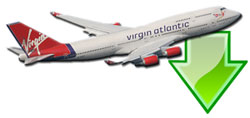 Don't forget... We have a huge selection (over 24,000 files) of free mods and add-ons for MSFS, FSX, P3D & X-Plane in the file library. Files include aircraft, scenery, and utilities All are free-to-download and use - you don't even need to register. Browse on down to the file library here.