FSX General Aviation Aircraft
Many users of FSX prefer to fly smaller, private general aviation aircraft. This section covers all of the planes that you would find at your local airfield or airstrip, from training aircraft used for your private pilots license to acrobatic propeller driven aircraft. Microsoft Flight Simulator X is a great all-round simulation, with the realism of commercial flying using IFR rules, to private social flights using VFR.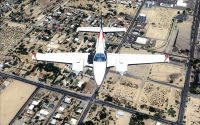 Image shows a double engine private aircraft flying over West Texas using one of the add-ons for FSX.
You don't always have to follow the "rules" when flying, you can simply jump in a smaller aircraft and go sight seeing.
General aviation aircraft are usually propeller driven and usually come in single or double engine versions depending on the size of the aircraft.
This section is growing daily, covering many of the aircraft from names such as Cessna, Piper, Beechcraft and others well know in the private aviation field. Almost all of the add-ons include detailed installation instructions to aid the user in getting the aircraft up and running in FSX.
Each of the downloads include a description and information text from the developer, explaining the file in detail. This is the second most popular section, while the commercial jets is number one. While developers usually focus on large commercial aircraft, there is a large group of developers that produce only private aircraft, and all of their creative efforts go into this; delivering high quality, highly developed freeware aircraft that is equal to that of some payware models.
Browse through the pages below to choose an add-on that suits what you're looking for.